Soft Skills: The 11 Essential Career Soft Skills
The Complete Lunchtime Soft Skills Course
Career Development
category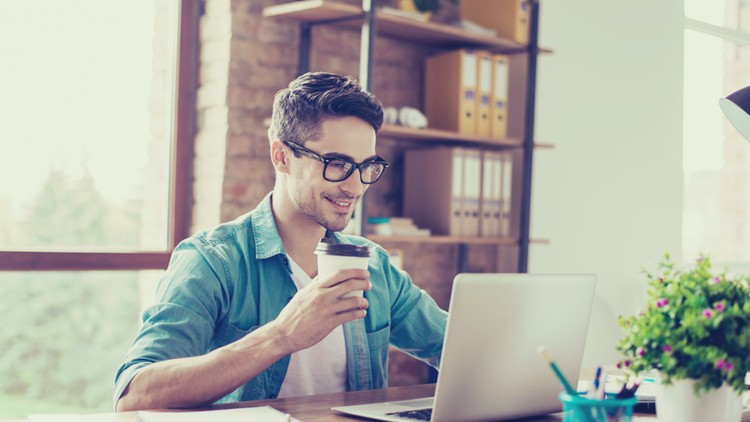 What you will learn
Understand how to be a great communicator
Become a stronger listener
Appear professional to co-workers and bosses of all ages
Avoid common career blunders that often end careers
Manage expectations for bosses and colleagues
Position yourself for promotions
Make technology your asset, even if you are afraid of technology
Avoid the Not My Job Syndrome
Develop EQ to Match Your IQ
Develop leadership qualities
Master the art of pitching yourelf
Improve your remote selling abilities
Learn to master difficult conversations
Description
Soft Skills. These are the traits, characteristics, habits, and skills needed to survive and thrive in the modern work world. Soft skills aren't usually taught in school, but you will learn them all here in this course. Are you someone that other people in your organization and industry like to work with, collaborate with, and partner with? Are you seen as a valuable asset to any new project that comes along?
This soft skills training course will teach you how to develop the skills that can make the difference between a lackluster career that tops out at middle management versus one that lands you in the executive suite or wherever you define career success. So many soft skills seem like common sense at first glance, but they are not commonly applied by most workers. This soft skills training course will give you an edge over your competitors. It will also make your job, your career and your life more rewarding and enjoyable.

What are you waiting for? This soft skills course is designed to be completed in just one or two lunch breaks. So lesson number one is, use your free time to constantly learn new skills rather than just checking the sports scores or celebrity news at lunch. There is nothing hard when it comes to learning soft skills, as long as you have a willingness to try new things and start right now.
Your academic degrees and tech skills are not enough for long-term career success. You need to become excellent in your soft skills.
Note: The instructor has recently added 5 soft skills/communications skills books in the resource section of the first lecture for those who wish for additional study materials.
What will students achieve or be able to do after taking this course?

Understand how to be a great communicator

Become a stronger listener

Appear professional to co-workers and bosses of all ages

Avoid common career blunders that often end careers

Manage expectations for bosses and colleagues

Position yourself for promotions

Make technology your asset, even if you are afraid of technology

Avoid the Not My Job Syndrome

Develop EQ to Match Your IQ

Develop leadership qualities
Please note: this is not a computer-generated soft skills course with lots of data slides and a robot voice. This is taught by TJ Walker, a real human being, talking and sharing with you directly (because one essential soft skill is the ability to speak directly to people and not hide behind computers and graphics).

Here is what Udemy students say about this course:
"I am currently in a consultant role and so far in this course, everything that is being taught is benefitting me greatly. I do feel that this course is not only something that can be applied within a set role but in various aspects of one's life. Highly recommend this course so far." Lee Quickfal
"Short and straight-forward hints and tips. Every video includes a little task or homework. Excellent so far!" Dusan Kodzopeljic
''Very informative and interesting, I am glad I choose this program.'' Latika Gulyani
"This is one of the best courses I have taken up. I really like your teaching style TJ.. and how simply you put across your thoughts. It's great to have a teacher like you... I have also registered for another course on how to be an effective communicator. so much to learn from you TJ..you are amazing!! My best to you... Regards Shweta :) " Shweta Handoo
"I liked your enthusiasm which kept me going onto the videos. I enjoyed watching them and performing tasks in between, provided by you, helped me to rectify the previous mistakes." Srsty Verma
" I feel like this is a good course regardless of your job description. As a registered nurse, I am always looking for ways to improve my communication and interpersonal skills. I have also been called upon to lead and/or provide teaching to other nurses and personal care attendants. this helped me improve my public speaking skills. It improved my interview skills for jobs I may apply for in the future. " Mary Lentz
" The instructor has a pleasant tone of voice, is very easy to understand, and uses clear examples to explain the subjects, the courses are very long, but the videos are short so is possible to take a break at any time. All the tips and advice are more valid and useful than ever. " Yenifer Julio Perez
" Very informative and greatly improve my soft skill knowledge. The course fees is very reasonable. I will recommend your course to my friends. Thanks. " Cheng Sin Yong
and so much more.
If you want to improve your soft skills for your career, then enroll in Soft Skills: The 11 Essential Career Soft Skills today!
This course also helps students in the following areas: selling with stories, virtual presentations, pitching yourself, remote selling, sales training, communicating to drive change, and how to discuss a raise or promotion.
Enroll today to learn The 11 Essential Career Soft Skills!
This Soft Skills course is ideal for anyone searching for more info on the following: soft skills - soft skill - soft skill training - TJ Walker - soft skills: the 11 essential career soft skills - personality development and soft skills - soft skills training - soft skill development - soft skill course. Plus, this course will be a great addition to anyone trying to build out their knowledge in the following areas: customer service - workplace design - business etiquette - listening skills.
Content
Take Out a "Soft" Tech Insurance Policy on Your career
The Soft Tech Savvy Way to Always Be Essential
"Not My Job" and I am Happy to do it
Talking and Connecting Your Way to the Top
You Can Become a Master Communicator!
A Part of Strong Communication Is Asking for Feedback the Right Way
Higher EQ Beats Higher IQ
Becoming a Leader without the Title or Position
Exciting New Update to this Course
Build Your Winning Team
Control Your Career By Controlling Yourself
Make Every One of Your Seconds Count
Unleash Your Inner Anthony Robbins
Course Update! Live Instructor Office Hours are Now Available
Getting a Clue Without Somebody telling you to "Get a Clue"
Avoid Being "Uncool"
Clothes Can Still Make Or Break Your Career
Developing Your Secret Sauce
Time to Give TJ a Piece of Your Mind
Be the Most Interesting Person in the Room
Bonus Communication Course
In-dept Training on Communication Skill
You Can Be a Communication Skills Master
Quick Wins! The High Tech Way to Perfect Communication
Listening is Key (and why this isn't just a public speaking course)
Become part of the top 1% of communicators right now!
Good news, the problems we think we have, aren't real
Communications skills are the most important skills for success
Direct versus indirect communication
Let's hop in with something new. Big Business Communications
Customer Communication Skills For Your Consumer Life
Communicate your message to companies, big and small, to get them to take action
One person can get a huge corporation to pay attention and make things right
This video ruined the weekend of Executives at a major Phone Company
Here's what really happened.
Never Let Any Company Have the Final Word with you again
Accomplish Exactly What You Want With Assertive, Persuasive Communication
Here is how you get Exactly Want you Want
Master the Key to Motivation and Persuasion
Nobody Cares About You, and That's OK
See It, Taste It, Touch It, Feel It, Be It - Selling with Your Story
The Ultimate in Confidence builder - Seeing is believing
It's Easy to pass a Test when the Answer Is right in front of you
A Few More Communication Fundamentals and You will Be Ready for Anything...
You Are Normal to Fear Communicating In Some Circumstances
The Power of the Positive
Debunking the Myth of Charisma
Never Fall for These Communication Gimmicks Again!
Here is where You decide if You are serious about improving your skills
Here is How to Get the Most Out of The rest of this course
If You are in A Hurry and Only Have 1 Hour, Start Here
Quick Wins! The Secret to Using Speaker Notes Effectively
Avoiding The Initial Wrong Turn Most Speakers and Presenters Make
Developing Expert Judgment for Your Public Speaking and Presenting Opportunities
The Radical Yet Simple Solution To Finding Great Messages
Your Stories Will Make Your Ideas Unforgettable
Your PowerPoint Will Create Engagement, Not Slumber
Building an Ethical Cheat Sheet Just for You
This Is The Do Or Die Moment For Your Speaking Improvement
There Is a Perfect Test for Your Speech Or Presentation
I Will give You a Personalized Professional Presentation Critique Right Here
Continuing Your Path of Public Speaking and Presentation Skills Improvement
Business Communication Skills for Job Interviews
Establishing Your Job Interview Goals
Research and Preparation for the Job Interview
How to Dress for the Interview
How to Make Small Talk
Tell Me About Yourself
The Proper Job Interview Mindset
The Strategy Memo
Rehearse Your Interview on Video
Ask for the Job
Workplace Communication: You Can Speak Up at Meetings!
How to Speak Up at Meetings Overview
Asking Questions the Right Way
Using Notes Effectively In Meetings
Risk Assessment
Be Conversational
Exude Confidence
Conclusion
Workplace Communication: Effectively Deliver Criticism - Business Communication
How to Deliver Criticism in the Workplace Intro
Start with Praise
Isolate Exactly What is Wrong
Give Highly Specific Advice
End with Positive Context
Workplace Video Rehearsal
Criticism in the Workplace Conclusion
Listening Skills: The Ultimate Business Communication Soft Skill for Leaders
Quick Wins - The Cell Phone Secret to Good Listening Skills
Stacking the Listening Environment in Your Favor
The Telephone Listening Trap Will Never Catch You Again
Housekeeping Note Sometimes You should Turn OFF Your Listening Skills
Setting Just One Agenda Item Listening
It Is Incredibly Easy to See How Well You Are Listening - Test
It's Even Easier to Listen When You Do This...
Technology Will Eat Your Brain Unless You Do This
Using Your Most Effective Body Language Tool
The Best Listening Body Language From the Neck Down
Reading the Speaker's Body
Connecting At the Emotional Level with Your Colleague To Hear All
Mastering the Art Of NOT Interrupting
Asking for Clarification Is A Great Form Of Listening
Engaging In Conversation At Just the Right Time
Strong Listening Creates Strong Reactions From You
Honing Your Sense of Timing and Judgment to Make You a Great Listener
Using The Magic of Pen and Paper Tools To Your Advantage
Summarizing the Conversation Is Great for You and Your Colleague
The One-Page Email Memo Summary Aces the Listening Skills Test - Every Time!
Your New Reputation As a Great Listener!
Eliminate Verbal Tics, Uh, Um, Er, Ya Know
Master the Quickest, Easiest Way to Eliminate Verbal Tics
Now You Know Where the Tics Come From
You Are Not Alone
Hit the Pin, Not the Sand Trap
Don't Let the Ding A Ling Get You
Appear More Confident By Using Smaller Words
You Will Avoid the Data Dump Blues
Never Worry About Remembering Again
The Number 1 Tip for Eliminating Nerves
A Focus Group To Make You Better
Full Disclosure I am Not a Speech Therapist
Eliminating the Source of Your Speaking Discomfort Once and For All
Conclusion You Can Now Speak Without Verbal Tics and Fillers
Body Language in the Workplace
Never Let These Two Classic Body Language Blunders Slow You Down
Quick Wins - You Will Look Your Best on FaceTime, Skype, Facebook Live
The Ultimate Tricky Body Language - Touching
Big Picture - Make Everyone You Work With Feel Comfortable Working With You
You'll Never Fall for These Body Language Myths Again
You'll Never Fall for These Body Language Myths Again
Here Is Exactly What to Do With Your Hands
The Composed, Confident Video Star
Never Spotlight Your Blunders and Mistakes Again
You are Now Ready for Prime Time TV
The Number 1 Tip for Curing Body Language Problems Is...
The Real Way to Improve Your Body Language Confidence
Great Body Language for Your Presentations
PowerPoint Will Never Turn You Into a Robotic Bore Again
Confident Briefing to Colleagues and Others
Keynote Speeches Will Showcase Your Calm and Confidence
Use a TelePrompTer Like a Network News Anchor
Networking Like a Pro, Not a Wall Flower
Making Sure Your Clothes Are Communicating Your Positive Story
Handshakes, Greetings and Hellos with Poise
Your Body Language Partner - The Friendly Spotter
Once Last Chance for a Body Language Personal Critique....
Congratulations - You are Now Master of Your Own Body Language
Using Your Voice As a Communications Tool
How to Improve Your Voice Overview
Famous Bad Voices
How to Improve You Voice by Recording Your Voice
Diagnosis of Your Own Voice
Feedback from Others
Defining Your Exact Problems
Listen to Natural Conversation
Practice Again and Record
Don't Lower Your Voice
Practice on Video
Other Techniques
How to Improve Your Voice Conclusions
Communication Skills for Introducing Yourself
How to Introduce Yourself Intro
What NOT to Do
How to Introduce Yourself The Right Way
How to Introduce Yourself Video Rehearsal
Friend Feedback
How to Introduce Yourself Conclusion
Telephone Business Communication Skills
Quick Wins! Do THIS To Look and Sound Great on Skype Phone Calls
Never Confuse Personal Phone Use with Business Telephone Use Again
Why Your Phone is the Best Secret Business App Ever
Planning Your Successful Phone Environment
Final Preparation for Your Successful Phone Meetings
Making Sure Your Phone Passes Your Friend Test
Planning for Winning Conference Calls
Look Prime Time Ready for Your Video Calls
Placing Phone Calls Like the Consummate Professional
Always Knowing the Best Time to Call Clients and Prospects
Now You will Never Wake Up a Client in the Middle of the Night
Answering the Phone so Everybody Knows You are Ready for Business
No Such Thing As Answering The Phone Too Quickly These Days
Your Clients Will Never Think You are Screaming At Them Again
Knowing How to Sound Your Very Best - Every Time
The Right Way to Put Someone On Hold
Making Sure They Only Hear the Magic of Your Voice
Being a Professional to Every Generation, Regardless of Your Own Preferences
Voicemail That Soothes, Not Angers
Best Voicemail Messages for Success
Take 1, Take 2, Take 3 Until You Get It Right
Avoiding The Initial Wrong Turn Most Speakers and Presenters Make
Making Your Phone Disappear At the Perfect Moments
Tit for Tat and Text for Text
Better Than the Best Hollywood Goodbyes
Conclusion - You Are Now a Master of the Telephone for Every Business Situation
Assertiveness: You Can Be A More Assertive Communicator
How to Be a More Assertive Public Speaker Intro
Diagnosis
Style and Substance
How to Be a More Assertive Public Speaker Conclusion
Business Communication With Your Boss - How To Ask for a Raise
Ask for a Raise Overview
Timing
Ask for an Appointment
Ask for a Raise Be Positive
The Future
The Ask
What Not to Do
Competing Job Offers
Ask for a Raise Video Rehearsal and Conclusion
Business Communication - Deliver the Perfect Elevator Pitch
How to Deliver an Elevator Pitch Intro
Your Goals
One Big Idea
Simplify
Role Models
2 Key Questions
The Giveaway
Watch Bad Elevator Pitches
Storytelling - The MOST Important Communicative Skill
This DEVICE Is the Single Biggest Difference Between Great Speakers and Awful
Become a MASTER Storyteller
How to Use Stories When Giving TECHNICAL Presentations
Packaging Insights for Your Audience Using Stories
Don't Tell Stories, Instead RE-Live Stories Public Speaking
Message Drives Stories Public Speaking
Share Your Emotions When telling Your Stories Public Speaking
What Characters and Conflicts are in Your Story Public Speaking
What is the setting for Your Story Public Speaking
Your Speaking Stories Must Contain Dialogue Public Speaking
Your Story Must have a Resolution Public Speaking
Advanced Storytelling
Use PowerPoint for Business Communication, Not As A Sleep Aid
You Will Never Give Another PowerPoint Presentation
The Perfect Starting Point for Any PowerPoint Presentation
This Will Motivate You Audience to Do Exactly What You Want Them To Do
What Are Your Motives for Delivering a PowerPoint Presentation
The Worst Possible Reason To Use PowerPoint Is...
Double Your PowerPoint, Double Your PowerPoint Pleasure
The Ultimate 2-Part Test for Every PowerPoint Slide
The Single Riskiest Thing You Could Ever Do When Delivering a PowerPoint
The Essential Steps of Creating PowerPoint Presentations
Your PowerPoint Presentation Must Be Just as Good as Your Q and A Session
You Must Be Ready for Disaster Striking!
It's Not PowerPoint That Is Boring, It Is (look in the mirror)
Never Forget, YOU are the Boss of Your PowerPoint
Stop Asking Your Audience to Multitask!
Here Is Exactly What Should Go On Your PowerPoint Slide
This is How to Use a Graph In a PowerPoint
Nobody Cares About What Is Easy for You To Do
Would You Want to read a Book At A Movie Theater
Your Audience Already Has a Preferred Way of Reading
The Sequence of Your Presentation Is Key
Get Your Audience to Focus On One Thing At a Time This Way
Advancing Slides the Advanced Way
Want a Remote Control Then Bring Your Own
Complexity Is Your Enemy
Ha! Nobody Can See the Bottom Half of Your Slides
Only Liars Say 'There Is No time to Rehearse the PowerPoint Presentation'
If Your PowerPoint Presentation Bores You, Guess Who Else It Bores
Laser Pointers Should Be Used Like This
One Image Per Slide Is the Golden Rule
Never Let PowerPoint Be Your Downer
Don't Become a Character In Your Own Horror Movie
The Perfect Length of time for a PowerPoint Presentation Is...
This Is How You Cheat To Win On Every PowerPoint Challenge
Plan Your PowerPoint Preparation This Way
Test Your PowerPoint On a fresh Set of Eyes and Ears
If You Don't Want Your Audience to Ignore Your PowerPoint, Do This
Answer These Questions Before Using Video In PowerPoint Presentations
Assume You Are the Only Competent, Trustworthy Person In the World
Don't Forget the Occasional Prop
Just Because You Can Doesn't Mean You Should
Notes on Special Effects
The Perfect Way to Start Every PowerPoint Presentation
Managers Will NEVER Have to Look at boring Employee PowerPoint Again!
Here Is How to Deliver Somebody Else's PowerPoint Presentation
Your PowerPoint Presentation Still Requires Stories
Never Talk About Your PowerPoint
Free Focus Group Research to Make all Your PowerPoint Presentations Improve
The Perfect Number of Bullet Points Per slide Is...
The Perfect Number of PowerPoint Slides Is...
Be Persuasive! Using Your Communication Skills to Persuade
Quick Win! Increasing Your Odds of a Face to Face Persuasive Presentation
Always Select Your Best Persuasion Opportunities and Environments
Learning Persuasion Skills to Beat the Naturals
Mapping Out Your Finish Line - In Advance!
Moving the Numbers Game To Your Favor
The Unique Advantage of Persuasion in the Business World
Never Bore With Data Dumps Again
Master the Process Of NOT Telling People Too Much About Your Process
The 5 Key Messages for Your Persuasion Success
Your Secret Source of Winning Persuasion Messages
Note I Probably Shouldn't Have to Mention This, But Don't Lie
Persuade More By talking Less
There is Nothing Like Seeing Your Persuasion Messages in Text
More for You, By Not Talking About You
Here is How You Get People to Remember Your Messages
Ironing Out the Kinks in Your Persuasion Presentation
Mastering Persuasive Body Language
Persuading Yourself to Go Outside of Your Comfort Zone
The Single Best Way to Prepare for All Persuasion Presentation Opportunities
Persuasion That Takes 6 Months Is Still Persuasion
Persuasion Is Sometimes More Effective At the Top Than At The Bottom
Conquering Your Fear To Pitch Again
Conclusion You are Now Ready to Persuade!
One-On-One Communication Skills
How to Give a One on One Presentation Intro
One on One Presentation Goals
Research the Person
Top 5 Messages
How to Give a One on One Presentation Top 5 Messages Part 2
How to Use Notes
20 Questions
One on One Presentation Stories
How to Give a One on One Presentation Conclusion
Business Communication Skills for Team Presentations
How to Give a Team Presentation Overview
Team Presentation Goals
Team Presentation Top 5 Messages
Assign Topics
Team Presentation Individual Prep
How to Give a Team Presentation Group PowerPoint
Team Presentation Rehearsal
How to Give a Team Presentation Conclusion
Communication Skills for Technology Presentations
How to Deliver Technology Presentations Intro
Technology Presentations Goal
Technology Presentations Top Five Messages
Using Technology for Your Visuals
Don't get Lost in Details
Benefits not Features
How to Deliver Technology Presentations Conclusion
Financial Business Communication Skills
How to Give Financial Presentation Intro
Financial Presentation Goals
Financial Presentation Messages
Financial Presentation Stories
No PPT for First 2 Minutes
Financial Presentation PowerPoint Tips
Draw Conclusions
Critiques From Others
How to Give a Financial Presentation Conclusion
Sales Presentation Communication Skills for Business
How to Give a Sales Presentation Intro
Sales Presentation Goals
Sales Presentation Messages
Types of Sales Presentations
One on One
2 Common Blunders
Sales Presentation Bonus Tips
How to Give a Sales Presentation Conclusion
Investor Pitching Presentation Skills
Investment Pitch Overview
Investment Pitch Core Messages
Investment Pitch Common Blunders
Investment Pitch The Power Point Deck
Investment Pitch Prototype
Investment Pitch Passion
Investment Pitch Conclusion
Communication Skills for Speaking to Large Audiences
How to Speak to Large Crowds Intro
Coping with Fear
Don't Yell
Eye Contact
Longer Pauses
PowerPoint
Possible Outcomes
Why Video Matters
How to Speak to Large Audiences Conclusion
Communication Skills for Speaking to Foreign Audiences
Speaking to Foreign Audiences Overview
Audiences Prep
Culture
Speak Slowly
Handouts
Fundamentals and Stories
Working the Room
Video Record and Test
Speaking to Foreign Audiences Conclusion
How to Use a TelePrompTer Effectively
How to use a TelePrompter Intro
Video Benchmark
Self-correction
TelePrompter 4 Key Elements
Teleprompter Speed
Volume
Pauses
Head
All 4 Together
Full Speech Practice
2 Prompter Screens
Politician Role Models
TV Role Models
Teleprompter Potential Disasters
How to Use a Teleprompter Secrets from Reagan
Reasons to Not use a Teleprompter
How to Use a Teleprompter Conclusion
Communication Skills for Making Simple Talk Head Videos
The Video Advantage In All Your Proposals - Quick Win!
Hype Versus Reality - Why Most People Never Create Simple Video
Mastering the Human Side Of Looking and Sounding Your Best on Video
How This course Will Improve Your Business
Your Proposals will Stand Head and Shoulders Above Your Competitors
Your Clients Will Find You Their Most Responsive Partner Ever
Your Website Can Be Video-Centric
Now You Can Answer Frequently Asked Questions Just Once!
Talk Your Customers Through Your Whole Business Process
Have an Even Greater Presence on YouTube
Speak Your Thought Leadership
Your Exciting Video Newsletters Will Outshine Text Newsletters
Your Client Video Testimonials Will Prove Your Credibility Beyond a Doubt
Facebook Live Will Never Scare You Again
Project Your Best Face on Skype and Zoom
Deliver Keynote Speeches Without Ever Leaving Home
Drastically Reduce Your Time Training Employees and Others
Anything You Can Type You Can Now Speak on Video
Supercharge Your Public Relations Efforts With Video
The Crisis Communications Secret Weapon
You are Now Ready to Use Video Successfully In All Communications
Communication Skills for the Media - Media Training
Doing This One Thing Will Give You Total Confidence Before Any Media Appearance
It's OK To Feel Uncomfortable On Camera - Here's How to Get Over It
You Can Look Great, Shape a Message, Answer Questions and Speak in Sound Bit
Dressing for TV and Video Success
Here Is Where to Look On Camera
How the Media Pros Rehearse Their Interviews
Move Like a Seasoned TV Pro
Never Let the Seat Swallow You Up
Never Look Bored or Scared Again
Sell the Message by Selling the Messenger
Sit Like This to Look Your Best
Standing In Front of the Camera With the Greatest of Ease
Your Turn to Be On Camera
Accomplish Your Goals With The Right Message
Anticipating the Reporters' Questions
Brainstorming Your Message Points To Get the Best
Summary of Messaging Elements
The Power Of Your Positive Messaging
The Venn Diagram for Messaging Success
Time to Test Your Messages Out Loud
You Have Solved the Problem
Your Turn to Brainstorm Your Messages
Creating Messages The Media Will Find Irresistible
Find the right Message for Your Audience
Results Won't Speak for Themselves, But You Can
Stress What Is Important to YOU
And One More Thing...to Avoid
Always Be Moving Toward Your Message Points
Brief and Bland Can Be Best
Make 'I Don't Know' Your Best Friend
Never Call Yourself a Crook
Never Lose a Media Debate By Not Debating
Never Stress Over the Questions Again
Pick the Easiest Question for You
Summary of Answering Tactics
The Ultimate Skill - Rewriting the Question
Three IS the Magic Number
Use a Cheat Sheet And Never Get Caught
You Don't Have to Control the Interview - Just Control Your Own Mouth
Your Turn to Ask Questions
Demonstrating Your Answering Abilities
Absolutes Are Absolutely Easy to Get Quoted
Analogies Are Your Friends
Attack!!! Attack!!! Attack!!!
Bold, Action Words Will Get You Quoted
Cliches Might Not Impress Your English Teacher, but...
For Example...
How Do You Really Feel About This
Laugh Your Way to Media Success
Learning Moment
Pop Culture References are Irresistible to Reporters
Putting Your Sound Bites Together
Sounds Bites Are a Means Not an End
Summary of Top Ten Sound Bite Elements
Test Your Sound Bites
The Five Potential Outcomes of Every Media Interview
The Most Important Part of Your Media Prep
The Perfect Media Mindset
The Three Simplest Sound Bite Patterns Are...
Total Sound Bite Failure
What Else Is a Great Way to Get Quoted
Your Turn to Create Sound Bites
TED Talk: You Can Deliver a TED Talk Quality Presentation
What Makes a TED Talk
Passion for an Idea Worth Spreading
Tell a Story
Plan Your Visuals
Timing is Everything
Style AND Substance are Essential
Video Rehearsal is the Most Important Thing
Great Writers Read Great Writers
Apply to Speak at TED
How to Deliver a Wedding Speech
Wedding Speech Overview
Wedding Speech One Special Thing
Wedding Speech Story
Wedding Speech What Not to Do
Wedding Speech Booze
Wedding Speech Focus on Bride and Groom
Wedding Speech Cheat Sheet
Wedding Speech Video Rehearsal
Wedding Speech Feedback from Others
Wedding Speech Conclusion
Communication Skills: Give a Great Acceptance Speech
How to Give an Acceptance Speech Intro
Acceptance Speech Goals
Thank People in a Meaningful Way
Be Entertaining
Watch YouTube Greats
Tell a Story
Just the Right Amount of Emotion
Don't Read a Speech
Speech Notes
More Common Blunders
How to Give an Acceptance Speech Conclusion
How to Be a Motivational Speaker
How to Be a Motivational Speaker Overview
Are You Motivating?
What makes You Special?
What is Your Story?
Your Process
Your Messages
Stories for Each
Stagecraft
YouTube Role Models
Video Rehearse
Show to Others
Video on YouTube
Tell the World
Speaker Bureaus
How to be a Motivational Speaker Conclusion
Giving a Retirement Speech
How to Give a Retirement Speech Intro
3 Events from Career
Outline
Rehearsal
How to Give a Retirement Speech More Tips
How to Give a Retirement Speech Conclusion
How to Deliver a Eulogy
How to Give a Eulogy Overview
One Great Strength
Accomplishments
Eulogy Stories
Eulogy Notes
Don't Drink Booze
Emotion
Video Rehearse
More Story Sources
How to Give a Eulogy Conclusion
Just for Beginners
Quick, Ethical Ways to Cheat Your Way to Communication Success
You Will Be Motivating, Not Data Dumping
Powering Your Points With Images and Slides
Practice In the Friendliest Environment of All
Getting Feedback So It Won't Hurt
Yes, Even Beginner CAN Tell Stories
Test Tubes for You
You Are In Great Company - Find Out Who
GPS for Your Communications
You have Now Mastered Basic and Beyond Communication Skills
Conquering Your of Public Speaking and Communicating
Origins of Speaking Anxiety
Fake Solutions that don't Work
The Process of Eliminating Your Fear
The Fear of Boring
Cheat the System
Practice Makes...Comfortable
The Confident Speakers Attitude
Long-Term Speaking Goals
Bonus Videos, Stories and Books
Media Training - The Complete Media Training Video Course
Crisis Communications _ The Complete Crisis Communications Overview
Communication Secrets of Ronald Reagan and Barbara Walters
Frequently Asked Questions About Communication Skills
What Do I Do With My Hands While Giving a Presentation
What Is the Best Way to Write a Presentation
Is It a Good Idea to Memorize a Presentation
What Should Happen After the Presentation
What If You Are Asked a Question and You Don't Know the Answer
Who Is the Best Speaker In The World
How Can You Remember What To Say During a Presentation
What Is the #1 Thing You Can Do to Improve Your Presentation
What is the #1 Blunder Most People Make In their Presentation Skills
What do You Do If You Are Nervous Before Giving a Presentation
My Communication Stories
Clintonian Eye Contact
My Very First Presentation
Presenting the WRONG Way to the Media
Surrounded by Machine Guns!
Teaching Clients NOT to Act
The Crying Beauty Pageant Winner
The Fluttering Bird Flying to Nowhere
You Never Have to Lurk In the Shadows Again
Conclusion to Your Communications Skills Course
Conclusion You Are Now a Master In Communication Skills
Did I Forget Anything
Final Bonus Lecture $10.99 Discount Future Courses and Learning Opportunities
Reviews
Great in-depth course, lots of aspects covered! I do think the course could be more concise and straight to the point.
I like the presenter, and his style. This is good information, especially for workers who are new to the workforce.
No technical difficulties: audio works, CC AVAILABLE in multiple languages including English, speaker talks conversationally without lots of sentence fillers( e.g. um, ah's, like, you know what I mean…). Lecture information is relevant to course. Finally speaker is motivated about topic, and in turn, his delivery makes subject matter riveting.
Thanks.. It's showing me some new perspectives in communication, by earning some examples and as well thanks a litte humor.
Hello sir, I think ? The video should be animated because, I got irritate and feel bore to watch the video. so, If you add a little bit of animation it will be interesting to watching and learning. Thanks!
This is the concise common sense "bible" of work ethics that is essential to understand--but isn't easily figured out by many. Wish I had obtained a copy of this 70 years ago (along with the maturity & a mediator to help me understand its value.) Thank you! (again) for sharing your practical wisdom.
I am in a new job, and was told there is a budget for some personal development. I thought this would be a great class for me to take. I am in an office away from the rest of the team, and I want to learn how to communicate and work well with them.
Loved the introduction to soft skills especially tech skills. Great job TJ for using simple illustrations and examples to drive the point forward.
it is really a good match for me, and i hope it ill make a difference in my life and make my life better
Some topics are kind of repetitive if you watch it all together, but is a great course for consulting and improving weak points on each individual.
Really good information and training. Looking forward to doing the rest of the course and putting it into practice.
The importance of soft skills in personal and professional development cannot be overstated. However, it is essential to scrutinize the quality and effectiveness of the resources available. In this critique, we will examine a particular soft skills course that falls short in two significant areas: the superficiality of its recommendations and the excessive length of its videos. These issues not only hinder the course's ability to deliver valuable content but also compound the problem by wasting an excessive amount of time. Superficial Recommendations: One of the primary shortcomings of this soft skills course lies in the superficiality of its recommendations. Soft skills, by nature, require nuanced understanding and application. However, this course merely scratches the surface, offering recommendations that are overly basic and fail to provide the necessary depth for true skill development. a. Lack of Practical Examples: The course fails to provide concrete, real-world examples to illustrate the application of these soft skills in different contexts. Without practical scenarios, learners may struggle to comprehend the relevance and adaptability of the skills being taught. b. Insufficient Guidance: The course lacks detailed guidance on how to develop and refine specific soft skills. It overlooks the fact that acquiring and honing soft skills often involves a complex and ongoing process. The absence of comprehensive strategies deprives learners of the necessary tools to cultivate these skills effectively. Excessive Video Length: Another major drawback of this soft skills course is the excessive length of its videos. While the intent may be to cover a wide range of topics comprehensively, the course inadvertently creates a counterproductive learning experience by burdening learners with an overwhelming amount of content. a. Time Consumption: With over 600 videos, the cumulative time required to watch the entire course becomes unreasonably lengthy. The course fails to recognize that learners have limited time availability, often juggling multiple responsibilities. This excessive video length becomes a significant obstacle to completing the course efficiently. b. Lack of Consolidation: By fragmenting the content into numerous videos, the course disrupts the natural flow of learning and comprehension. The absence of consolidated modules or chapters makes it challenging for learners to grasp the interconnectedness of different soft skills and their applications. Consequently, retention and application of the material may suffer. Conclusion: While the importance of soft skills cannot be understated, this particular soft skills course disappoints with its superficial recommendations and excessive video length. The lack of depth in the course's content inhibits learners from acquiring a comprehensive understanding of the subject matter, while the unnecessarily long videos impede efficient learning and retention. For a soft skills course to be truly effective, it must provide practical, in-depth guidance and respect learners' time constraints by presenting the material in a concise and well-structured manner.
While the content was good, the presentation and sheer volume of videos was cumbersome and a bit clunky.
My primary goal associated with participating in this training was to gain introspection of communication skills and interpersonal communication. So far the information has been informative.
My doctor in collage told us to learn soft skills .. and I'm amazed that those things I wasn't knowing are small but huge effect , I'm glad I enrolled this course , it great .
Coupons
| Submit by | Date | Coupon Code | Discount | Emitted/Used | Status |
| --- | --- | --- | --- | --- | --- |
| - | 5/4/2020 | 5A4C285F39A5A5BF3FA6 | 95% OFF | | expired |
| - | 5/11/2020 | 4AA4FA279EB3F3227D99 | 100% OFF | 40000/21233 | expired |
| Lee Jia Cheng | 5/14/2020 | PEEKSOFTS | 95% OFF | | expired |
| Angelcrc Seven | 6/8/2020 | BEC88D15C36A33335041 | 100% OFF | 40000/10139 | expired |
| Lee Jia Cheng | 8/20/2020 | D7E3D07A6C92ACEF1280 | 94% OFF | | expired |
| Lee Jia Cheng | 9/3/2020 | THANKSSEP | 92% OFF | | expired |
| - | 10/20/2020 | THANKS2 | 92% OFF | | expired |
| - | 1/3/2021 | THANKS1 | 92% OFF | | expired |
| - | 1/19/2021 | THANKS5 | 92% OFF | | expired |
| - | 3/15/2021 | THANKS10 | 92% OFF | | expired |
| - | 4/27/2021 | THANKS01 | 92% OFF | | expired |
| Angelcrc Seven | 5/23/2021 | THANKS03 | 92% OFF | | expired |
| - | 6/17/2021 | THANKS04 | 92% OFF | | expired |
| - | 9/14/2021 | THANKS05 | 92% OFF | | expired |
| - | 10/12/2021 | THANKS06 | 92% OFF | | expired |
| - | 11/15/2021 | THANKS09 | 92% OFF | | expired |
| - | 12/4/2021 | THANKS012 | 92% OFF | | expired |
| - | 1/8/2022 | THANKS016 | 92% OFF | | expired |
| - | 2/28/2022 | THANKS030 | 92% OFF | | expired |
| - | 6/16/2022 | THANKS067 | 92% OFF | | expired |
| - | 7/15/2022 | THANKS092 | 92% OFF | | expired |
| - | 7/19/2022 | THANKS095 | 89% OFF | | expired |
| - | 8/6/2023 | AUG-SALE | 91% OFF | | expired |
| - | 8/14/2023 | AUG-SALE2 | 91% OFF | | expired |
Charts
Price
Rating
Enrollment distribution
2/8/2018
course created date
8/1/2019
course indexed date