Shopify 2022 SEO Masterclass: Building eCommerce Website
Build a Successful eCommerce Online Shopify Store From Scratch, Learn SEO & Start Making Sales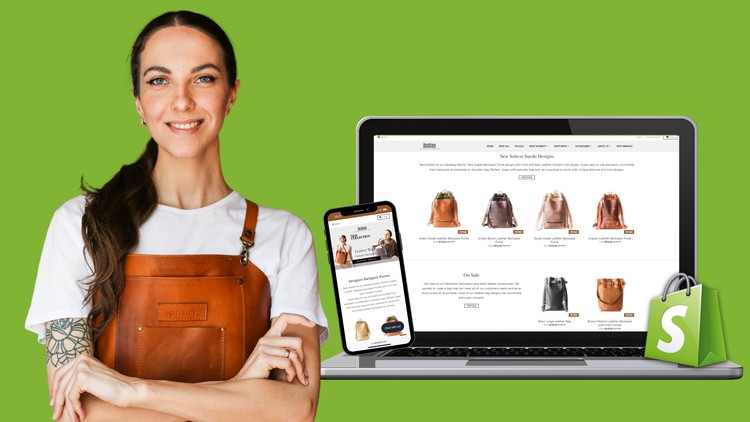 What you will learn
How to Build your own Successful Ecommerce Website in 2022
How to Do SEO and optimize your website for search engines like Google
How you can Customize and Create a professional website with Shopify 2.0 update
How to sell and market your products with Shopify through Google Sales Channel and Google Ads
How to add and Optimize Product Listings on Shopify for search engines
Description
Best tips and practices selling on Shopify in 2022 from a Full-Time Shopify and Etsy Seller.
Hello, I'm Kato - An artist, a business owner, 6 Figure Shopify and Etsy seller and an ecommerce consultant. My team and I create Premium quality leather Goods in our own Factory and in this course I'll share with you my success tips and How I was able to turn my hobby into a full-time job with just 20 USD on Shopify platform.
I'll share all the hacks and tools from my own experience managing ecommerce business, that I used to be successful on this platform in an easy and informative way, because learning should always be interesting! We'll go through the most essential topics of selling on Shopify in 2022 with the latest Shopify 2.0 Updates.
I this course we'll also go through all the steps of building a website from the scratch. I'll teach you what works on this platform in terms of SEO and what will make your shop stand out among all the others and rank in search engines.
This Full Shopify store development course is for anyone who makes amazing products, is a brand owner, a freelancer or just simply someone who enjoys creating professional, dynamic websites and is planning on expanding their online presence and ranking on various search engines.
In this Full comprehensive Shopify course you will Learn:
Introduction to Shopify Platform;
Shopify Platform Benefits;
Technical and OFF Page SEO;
Keyword Research for Beginners and SEO TOOLS;
Optimizing Shopify Settings & Preferences;
Adding Products, Collections and Navigation Menu;
SEO for Product listings and Collections;
Shopify 2.0 Features and Updates;
Shopify and Google Sales Channel Integration;
Google Merchant Center and Google Ads Campaign;
Content
Shopify Course Introduction
Shopify Introduction
Why Shopify?
SEO Basics for Shopify
SEO Basics
Backlinks and Blogs
Technical and OFF Page SEO
OFF Page SEO
On Page SEO - Keyword Research
Keyword Research
Keyword Research Tools
Adding a Product Listing
Shopify Settings
Shopify Preferences
Optimizing Shopify Setting
Shopify Website Building
Optimizing Product Page
Adding Collections
Navigation Menu
Shopify 2.0 Updates
Creating Metafields & Smart Filtering
Product Theme Templates
Adding Pop Ups
Product Page customization - Shopify 2.0
Page customization - Shopify 2.0
Landing Page customization
Google Sales Channel
Google Merchant Center
Google Search Console
Google Tag
Google Ads - Creating Performance Max Campaign
Shopify Apps
Shopify Apps for your Store
Charts
Price
Rating
Enrollment distribution
6/19/2022
course created date
7/1/2022
course indexed date