SEO Tutorial for Beginners
Learn the basics to SEO Optimise Your Site, Get to the Top of Google and Increase Sales!
Search Engine Optimizati
category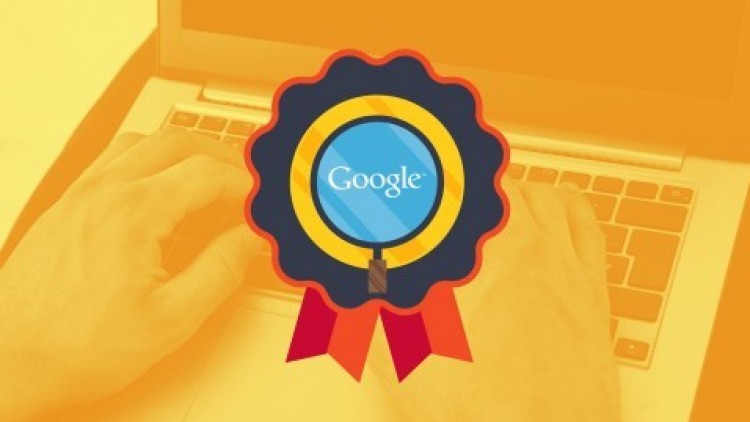 What you will learn
Get up to speed with the fundamentals concepts of SEO
Discover how to find the best keywords for your website (keyword research)
Find out how to increase your sites visibility in the search engine results (on page optimisation)
Learn how to build more authority in your niche than competitors so Google puts your at the top of the search results (Off Page Optimisation)
Description
SEO tutorial for business owners, web designers, marketers, and anyone looking to broaden their horizons with this highly paid online skill.
Student Testimonial:
"From feeling confused to now feeling confident. This course was really great, thank you!" - Emily E Hunt

"Thank you so much for this course. It was very clear and went straight to what we needed to start with SEO. - Océane Massé

"This course is well-organized, logical, and easy to follow. A helpful introduction to SEO. I was able to watch the course in one tab, and make changes to my website to improve the SEO as I took the course. - Diana Hutchinson
In this SEO tutorial for beginners, you'll learn about the Three Pillars of Powerful SEO:

Keyword Research: How to find keywords that attract visitors who want to buy

On Page Optimisation: How to increase your site visibility in the search engines

Off page optimisation: How to build authority on your site using links so Google knows you have the best content for it's users.
Getting to the top of the search results is the goal of search engine optimization because the higher you appear in the search results, the more free traffic you'll get which means more sales and more money in your pocket!
Because my goal is to get you up to speed as quickly as possible, I've been careful to make the course lectures snappy, efficient, and always delivered in plain English. Throughout the course, I've also included lots of examples to help you retain the key concepts and strategies we discuss.
This SEO Tutorial for beginners is a valuable investment to make in yourself because SEO is a skill you can use for your own online ventures AND ALSO bring to the table to help friends, colleagues, and other business partners.
And the Bottom line is if you don't understand SEO and apply it to your business online, you're MISSING OUT on Massive amounts of free traffic from the search engines
Believe me, the only regret you're going to have is that you didn't find this course 6 months ago and get started then.
So go ahead and hit the "take this course" button and join the 24000+ students already enrolled.
---
Content
Introduction to SEO
The Goal of SEO
3 Steps To Get to The Top of Google
How To Do Keyword Research
Install This Free Keyword Research Tool
Use This Keyword Strategy
On Page Optimisation
How to SEO Optimise Your Homepage
How to SEO Optimise Any Blog Post
Off Page Optimisation (Link Building)
How to Build Authority with Backlinks
How to Protect Yourself From Black Hat SEO
SEO for Local Businesses
Conclusion
Share Your Certificate of Completion with The World!
Sale Now On - Best Selling Udemy Courses
Reviews
Really nice crash course to SEO - simple, practical, great for a complete beginner. If you need to learn what's what in the area of SEO, this course will introduce you to many of essential concepts and terms. I now feel much better equipped to take on some intermediate courses - thanks, Daragh!
Great course, I thought SEO was difficult but I was able to understand the course very well and in-depth... Thanks for this great free course.
I tried reading articles on this before but got even more confused. With clear explanations, good but simple case studies and pleasant voice, it was easy to finish the course without dragging it out too much.
Outdated and unfocused info, the audio is not audible and the last conclusion stuff is blank on the Udemy web version and mobile app.
Thanks for putting up this very valuable and also most importantly FREE course which gives insights to SEO. It is very well done and covers the main points to get started in the field of SEO
Yes. The lessons are well-organized and arranged in sections brief enough to watch them on breaks from my job.
so far into the course I just realized that this is not the most up to date course. The keywordeverywhere search tool is not free anymore. The course should have identified that and explained the difference between free and paid versions of this tool.
I'm glad for the time and effort you put into this one! Well made and understandable. Have useful information even for those who already work in the field.
I came into this course knowing practically nothing about SEO and within just a few minutes, I've already learned tons!
From the first three slides I've found important knowledge of the topic. Pretty easy to follow and understand!
Ekaterina
January 30, 2023
There is a good explanation for beginners, but the information is sometimes outdated. This lecture is good to understand what SEO is in general.
I found this course to be a great introduction into SEO. The facilitator explained the key concepts in a simple way that enabled me to finally grasp the concepts of backlinking and SEO optimisation. Being able to watch examples of how to find key words etc. has enabled me to get started on this exercise for my own business.
Even though some of the content is out-of-date, it's still worth it for the high-level explanations of basic SEO concepts.
Because he simplified it for me, I use to think SEO was very complex, so far it is easy the way he is taking the course.
Udemy is the biggest platform for learning Everybody learns from Udemy and builds his career That's awesome.
Charts
Price
Rating
Enrollment distribution
4/2/2015
course created date
5/11/2019
course indexed date