SEO Strategy 2023. SEO training to TOP rank your website!
Search Engine Optimization course on how to build an effective SEO Strategy and increase your website's Google rankings
Search Engine Optimizati
category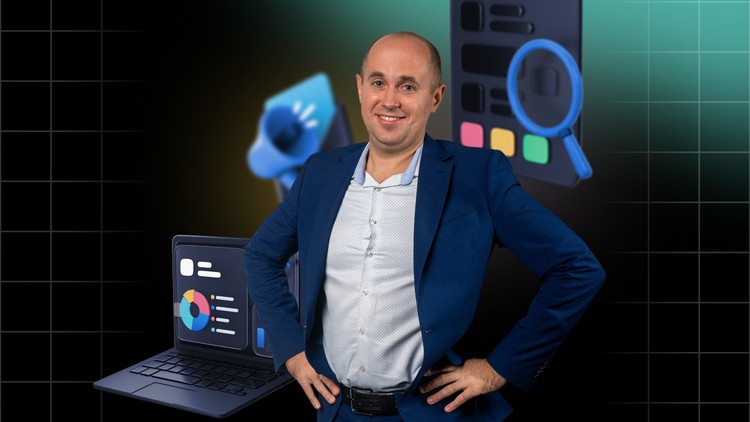 What you will learn
What is search engine optimization (SEO)?
Tips and tricks that can help you build an SEO strategy for promoting your website via search engines in 2023.
How to use the most popular SEO tools for your website.
How to reduce your website's bounce rate and increase time spent on your site
How to optimize your site pages for page speed
Technical SEO Factors: What should be checked regularly?
How on-page SEO can help your website rank higher, bring in more traffic, and convert more visitors
How to strengthen your off-page SEO and increase your domain authority.
Which SEO best practices to apply when working with content at every stage
How to create SEO articles as a PRO.
How to improve your link-building activities
What is local SEO and how to use Google My Business?
Description
Become an expert in Search Engine Optimization and learn to use the best SEO tools!
We regularly monitor trends and update our courses.
LATEST UPDATE:
Creating an SEO strategy for your website is an important step for driving traffic and achieving a high search engine ranking. Without a proper SEO strategy, you will struggle to gain traction or generate traffic and sales for your business. Do you want to build a strong SEO strategy for your business this year?
This SEO course provides over four hours of useful lectures and explains the basics of powerful search engine optimization. You will learn how to use SEO tools to optimize your digital marketing campaign and how to create a successful SEO strategy that will help your website rank higher in the search results and attract more traffic.
IN OUR COMPLETE SEO TRAINING, WE'LL BE DIVING DEEP INTO:
Off-Page, On-Page, and Technical SEO

Developing an SEO strategy

Why link building is important for SEO

What types of links you can incorporate into your strategy, including editorial, earned, and paid links

How to identify high-quality sources of paid links

How to leverage editorial links effectively for the growth and success of your business

Creating SEO content

Building high-quality backlinks and earning mentions on other resources

Local-Search SEO

What prevents your site from being number one on Google?

Which factors influence your search engine ranking?

What your competitors have already done to achieve success?

How to identify spammy backlinks and avoid them

How to use Majestic's tools to track and monitor your website's Trust Flow and Citation Flow over time and analyze a website's topical relevance and authority

Examine backlink profiles using The Majestic Site Explorer



YOU'LL HAVE THE OPPORTUNITY TO LEARN SEO FROM TOP DIGITAL MARKETING PROFESSIONALS:
We have over 14 years of experience in online marketing. Our Webpromo Agency has both Google Premier Partner status and Facebook Marketing Partner status.

I've personally collected a vast amount of digital marketing qualifications and marketing certifications (Google Analytics Individual Qualification, Google Ads Individual Qualification, Bing Ads Accredited Professional, Search Ads360 Certified, and others).

We've launched over 1,500 successful marketing strategies and campaigns throughout our careers.

Over 440,000 digital marketing specialists worldwide have enrolled in our online courses. Our free online events, blog, and YouTube tutorials help the SkillsBooster community stay in the loop and get all the tips they need to succeed in digital marketing.
OUR SEO TRAINING INCLUDES:
Theory: 4+ hours of lectures with plenty of hands-on examples. Lessons range from 3 to 15 minutes and are easy to follow.

Practice Materials: Checklists, templates, and video tutorials to make the course more interactive and valuable.

Lifetime access to the course and any future updates.

24/7 Support: If you have questions, I will always be willing to answer them.

A free copy of the "Search Engine Optimization" chapter from my Cutting-Edge Digital Marketing book.

Complete the course and receive an Udemy certificate.
TOOLS USED IN THE COURSE:
Google Analytics, Google Search Console, Google Ads, Keyword Planner, SimilarWeb, SEMrush, Miro, Ahrefs Webmaster Tool, AnswerThePublic, Keywordtool, Serpstat, SE Ranking, Majestic, PRNEWS, and other important tools.
SHOULD YOU BE WORRIED?
This course comes with a 30-day money-back guarantee.
Enroll in this SEO course right now and get your website to the top of Google!
Content
The basics of SEO strategy and why businesses need it.
What is search engine optimization?
SEO checklist
SimilarWeb service overview. Learn how to analyze traffic and study the market.
SemRush overview. Traffic analysis. Comparison with competitors. Niche research.
The pros and cons of search engine optimization and PPC advertising.
How do search engines work?
Website and Content: Level one of the SEO Pyramid
Website and Content: The Basics of SEO
How to check site availability? Uptimerobot service overview
What is a search engine index? Site visibility.
Analytic tools to measure website loading speed and mobile friendliness.
Basic SEO tools. Google Search Console Review
Traffic Analysis with Google Analytics.
Server response codes. 3 golden SEO rules that everyone breaks.
Content and uniqueness
Keywords: Second Level of the SEO Pyramid
How to choose keywords for your site.
Internal optimization. Where and how to place keywords.
Links: Level 3 of the SEO Pyramid
Links. Ahrefs service overview
Analysis of links. Majestic service overview
Where to get links?
The Fourth Level of the SEO Pyramid: UX, Brand, Social.
The Fourth Level of the SEO Pyramid: UX, Brand, Social.
How to Get Your Certificate.
Reviews
I'm enjoying learning and there is so much knowledge to consume, i would highly encourage the course.
The course materials are mostly links to SEO tools on the internet and less about the theory of SEO and step-by-step guidance to increase a website's SEO ranking. Additionally, the accent is too thick and the pronunciation is not that accurate, especially the technical SEO terms, which makes the course hard to understand without subtitles. Plus, the subtitles are not readily available for all of the topics, so the generated subtitles are sometimes wrong based on the accent. Overall, the technicality and essence of the course can be improved a whole lot.
This Course Is really Wonderfull, I Have Learnt Alot From This Course Above My Expactations . Thank You Soo Much Sir For Enrolling Me In This Precious Course Of Yours . I hope you will enroll me in all of yours courses.
I love how Anton explains the topic with screencasts, it makes learning easier to understand. Looking forward to the next chapters!
A well detailed course that addresses all the important parts of SEO. Love it and I recommend it for anyone willing to learn about SEO
GREAT!!, there's no other word to describe it, But for most of the lectures I had to watch them twice since it's really difficult to pick up every word, the thick accent makes it harder to understand (doesn't take away any value from the course though) Thanks a lot for sharing all of these tips with us, we're paying for excellence and you're definitely delivering it.
Thank you very much Anton! This course is amazing and very helpful. Looking forward for more course. However, there are words that I think is mispronounced or just can't hear clearly..
All about this course is like general information so far. Also SEMRUSH is more than $120 per month and cannot be used by the general mass. I hope the course continues with more pin pointed details and some real life data.
It's really good course for getting lots of information regarding SEO. One Should go through this course to have indepth knowledge.
This course offers very good information about SEO and I like that recommend some tools to work with. In my opinion would be more interesting if this course would have more print screens and images in the video for a better understanding.
Good course, but too much advertising for softwares which isn't necessary and a few knowledge given, still informative keep it up.
to much overview for other sites, not straight to the point, and no step-by-step tutorial, also the pronounce not so good, sorry
Thanks a lot, Anton! I´ve learned so much and our website ranked number 10 of 46 in just 2 weeks and goes higher every few days! This course is just amazing! Highly recommend it!
The tools and search techniques discussed in this course are extremely helpful. Absolutely loved this course!
Thanks For share these SEO strategy. I want some practical example about ranking in google. If you have any course please share.
Coupons
| Submit by | Date | Coupon Code | Discount | Emitted/Used | Status |
| --- | --- | --- | --- | --- | --- |
| - | 6/25/2021 | SEOSTRATEGY | 100% OFF | 40000/10878 | expired |
| - | 6/30/2021 | SEOSTRATEGYJUNE | 100% OFF | 40000/14615 | expired |
| Angelcrc Seven | 7/12/2021 | SEOSTRATEGYJULY | 100% OFF | 40000/8118 | expired |
| - | 7/15/2021 | SEOSTRATEGY2021 | 100% OFF | 40000/4208 | expired |
| - | 7/26/2021 | SEOSTRATEGY2607 | 100% OFF | 40000/9797 | expired |
| - | 8/5/2021 | SEOTRAINING0508 | 100% OFF | 40000/5356 | expired |
| Angelcrc Seven | 8/19/2021 | SEOSTRATEGY1908 | 100% OFF | 40000/2824 | expired |
| Angelcrc Seven | 8/26/2021 | SEOSTRATEGY2608 | 100% OFF | 40000/3057 | expired |
| Angelcrc Seven | 9/9/2021 | SEOSTRATEGY0909 | 100% OFF | 40000/3076 | expired |
| - | 9/20/2021 | SEOTRAINING | 100% OFF | 40000/3047 | expired |
| Angelcrc Seven | 9/27/2021 | SEOTRAINING2709 | 100% OFF | 40000/2962 | expired |
| - | 10/4/2021 | SEOSTRATEGY0410 | 100% OFF | 40000/2285 | expired |
| - | 10/12/2021 | SEOSTRATEGY1210 | 100% OFF | 40000/3161 | expired |
| - | 10/21/2021 | SEOSTRATEGY21 | 100% OFF | 40000/1585 | expired |
| Anton Voroniuk | 11/8/2021 | SEOSTRATEGY0811 | 100% OFF | 1000/829 | expired |
| Anton Voroniuk | 11/15/2021 | SEOSTRATEGY1511 | 100% OFF | 1000/948 | expired |
| Ignacio Castro | 11/23/2021 | BLACKFRIDAY | 100% OFF | 1000/857 | expired |
| Ignacio Castro | 12/6/2021 | SEOSTRATEGY0612 | 100% OFF | 1000/982 | expired |
| Anton Voroniuk | 12/13/2021 | SEOSTRATEGY1312 | 100% OFF | 1000/998 | expired |
| Anton Voroniuk | 12/21/2021 | SEOSTRATEGY2112 | 100% OFF | 1000/982 | expired |
| Anton Voroniuk | 1/6/2022 | SEOSTRATEGY2022 | 100% OFF | 1000/959 | expired |
| Anton Voroniuk | 1/11/2022 | SEOSTRATEGY1101 | 100% OFF | 1000/976 | expired |
| Anton Voroniuk | 1/18/2022 | SEOSTRATEGY1801 | 100% OFF | 1000/985 | expired |
| Anton Voroniuk | 2/7/2022 | SEOSTRATEGY0702 | 100% OFF | 1000/963 | expired |
| Anton Voroniuk | 2/15/2022 | SEOSTRATEGY1502 | 100% OFF | 1000/949 | expired |
| Anton Voroniuk | 2/21/2022 | SEOSTRATEGY2102 | 100% OFF | 1000/954 | expired |
| - | 3/2/2022 | SEOSTRATEGY0203 | 100% OFF | 1000/836 | expired |
| - | 3/7/2022 | SEOSTRATEGY0703 | 100% OFF | 1000/890 | expired |
| - | 3/11/2022 | SEOSTRATEGY1103 | 100% OFF | 1000/999 | expired |
| - | 4/4/2022 | SEOSTRATEGY0404 | 100% OFF | 1000/948 | expired |
| - | 4/11/2022 | SEOSTRATEGY1104 | 100% OFF | 1000/999 | expired |
| - | 4/20/2022 | SEOSTRATEGY2004 | 100% OFF | 1000/978 | expired |
| - | 5/3/2022 | MAYGIFT | 100% OFF | 1000/842 | expired |
| Angelcrc Seven | 5/7/2022 | SEOSTRATEGY22 | 100% OFF | 1000/947 | expired |
| Anton Voroniuk | 5/17/2022 | SEOSTRATEGY1705 | 100% OFF | 1000/971 | expired |
| - | 6/6/2022 | SEOSTRATEGY0606 | 100% OFF | 1000/970 | expired |
| - | 6/13/2022 | SEOSTRATEGY1306 | 100% OFF | 1000/997 | expired |
| - | 6/20/2022 | SEOSTRATEGY2106 | 100% OFF | 1000/997 | expired |
| - | 7/8/2022 | SEOSTRATEGY0807 | 100% OFF | 1000/953 | expired |
| - | 7/15/2022 | SEOSTRATEGY1407 | 100% OFF | 1000/961 | expired |
| - | 7/25/2022 | JULYGIFT | 100% OFF | 1000/981 | expired |
| - | 8/1/2022 | SEOSTRATEGY0108 | 100% OFF | 1000/985 | expired |
| - | 8/11/2022 | SEOSTRATEGY1108 | 100% OFF | 1000/947 | expired |
| - | 8/26/2022 | PARTNERSHIP2408 | 100% OFF | 1000/998 | expired |
| - | 9/2/2022 | SEOSTRATEGY0109 | 100% OFF | 1000/989 | expired |
| - | 9/12/2022 | SEOSTRATEGY1209 | 100% OFF | 1000/972 | expired |
| - | 9/20/2022 | SEOSTRATEGY1909 | 100% OFF | 1000/853 | expired |
| - | 10/20/2022 | SEOSTRATEGY1910 | 100% OFF | 1000/784 | expired |
| Angelcrc Seven | 10/24/2022 | TRICKYMAN | 100% OFF | 1000/742 | expired |
| - | 11/7/2022 | SEO0711 | 100% OFF | 1000/955 | expired |
| - | 11/14/2022 | SEO1411 | 100% OFF | 1000/911 | expired |
| - | 11/16/2022 | SEO1611 | 100% OFF | 1000/981 | expired |
| - | 12/1/2022 | SEO0112 | 100% OFF | 1000/951 | expired |
| - | 12/9/2022 | SEO0912 | 100% OFF | 1000/987 | expired |
| - | 12/20/2022 | SEO2012 | 100% OFF | 1000/990 | expired |
| - | 1/10/2023 | SEO1001 | 100% OFF | 1000/728 | expired |
| - | 1/16/2023 | SEO1601 | 100% OFF | 1000/801 | expired |
| - | 1/23/2023 | SEO2301 | 100% OFF | 1000/849 | expired |
| - | 2/7/2023 | SEO0702 | 100% OFF | 1000/984 | expired |
| - | 2/18/2023 | SEO1702 | 100% OFF | 1000/917 | expired |
| - | 2/27/2023 | SEO2702 | 100% OFF | 1000/850 | expired |
| - | 3/6/2023 | SEO0603 | 100% OFF | 1000/982 | expired |
| - | 3/16/2023 | SEO1403 | 100% OFF | 1000/900 | expired |
| - | 3/24/2023 | SEO2403 | 100% OFF | 1000/954 | expired |
| - | 4/11/2023 | SEO1104 | 100% OFF | 1000/928 | expired |
| - | 4/18/2023 | SEO1804 | 100% OFF | 1000/979 | expired |
| - | 4/27/2023 | SEO2704 | 100% OFF | 1000/570 | expired |
| - | 5/10/2023 | SEO1005 | 100% OFF | 1000/977 | expired |
| - | 5/17/2023 | SEO1705 | 100% OFF | 1000/938 | expired |
| - | 5/24/2023 | SEOCONF | 100% OFF | 1000/884 | expired |
| - | 6/8/2023 | SEO806 | 100% OFF | 1000/736 | working |
Charts
Price
Rating
Enrollment distribution
5/28/2021
course created date
6/25/2021
course indexed date