Sensors: Everything You Need To Know
Learn Everything there is to know about Sensors,how they work and how to interface them and why we need them in our life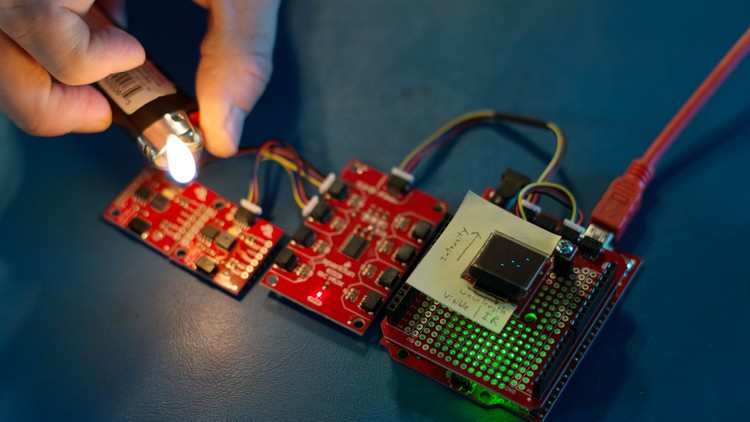 What you will learn
Know how Sensors Work
Learn How to use and Interface Sensors
Know What are Temperature Sensors and how they work
Know What are Pressure Sensors and how they work
Know What are Force Sensors and how they work
Know What are Position Sensors and how they work
Know What are Depth Sensors and how they work
Know What are Flow Sensors and how they work
Know What are Speed Sensors and how they work
Description
>>> Learn Everything there is to know about Sensors,how they work and how to interface them and why we need them in our life <<<
Welcome to this course. More Than 40 Sensors are Explained in Full Details, See List Below
Learn Sensors Interfacing and Working Principle Today
Why you should take this course?
Learn everything there is to know about Sensors

Learn how they work and what interface make a good sensor

Learn why we need them in our life

The course will also give you the knowledge on how to interface a sensor with programming and electronics

This Course will teach you how Sensors Work, What they measure, how they measure it and what is the actual working principle for sensors.
Different Type of Sensors are covered in this Course:
- Temperature Sensors
- Pressure Sensors
- Force Sensors
- Position Sensors
- Speed Sensors
- Depth Sensors
- Flow Sensors
You will know Why Sensors have Standard output Range and which sensors to buy, everything is explained in full details.
A List of Sensors and Sub Categories Covered in this Course:
THERMOCOUPLES

RESISTANCE TYPE SENSORS

LIQUID EXPANSION and VAPOUR PRESSURE SENSORS

BIMETALLIC TYPES

GLASS THERMOMETER
Mechanical PRESSURE TRANSDUCERS
BOURDON TUBE

PISTON TYPE

CAPSULES AND BELLOWS

DIAPHRAGMS
ELECTRICAL PRESSURE TRANSDUCERS
Strain Gauge types.

Piezo electric types.

Other electric effects.
OPTICAL TYPES

MAGNETIC PICK UPS

TACHOMETERS
1. POSITIVE DISPLACEMENT TYPES
Lobe type or meshing rotor.
2. INFERENTIAL TYPES
Turbine rotor types
Rotating vane types
3. VARIABLE AREA TYPES
Float type (Rotameter)
Tapered plug type.
4. Fluted spiral gear.
5. DIFFERENTIAL PRESSURE FLOW METERS
ORIFICE METERS.

VENTURI METERS

NOZZLE METERS
Mechanical types.

Hydraulic types.

Electrical strain gauge types.
RESTIVE

OPTICAL

Linear

Rotary

INDUCTIVE
Ultrasonic Sensor

Pressure based Depth Gauge
After this course, you will be able to recognize any Sensor and know the actual working principle behind the plastic boxing that most sensors have. Everything is explained in details.
Content
Introduction and Getting Started
Introduction
Into the Sensors World
Course Material
Temperature Sensors
Thermocouple
Resistance Type Sensor
LIQUID EXPANSION and VAPOUR PRESSURE SENSORS
BIMETALLIC TYPES
GLASS THERMOMETER
Mechanical PRESSURE TRANSDUCERS
Pressure Sensors
BOURDON TUBE
PISTON TYPE
CAPSULES AND BELLOWS
DIAPHRAGMS
ELECTRICAL PRESSURE TRANSDUCERS
ELECTRICAL PRESSURE TRANSDUCERS
Strain Gauge types
Piezo electric types
SPEED TRANSDUCERS
OPTICAL TYPES
MAGNETIC PICK UPS and Tachometers
FLOW METERS
POSITIVE DISPLACEMENT TYPES
Inferential Type Meters
Tapered Plug Type
Variable Area Types
Force Sensors
Force Sensors
Position Sensors
Resistive Type
Optical Type
Inductive Type
STRAIN GAUGES
STRAIN GAUGES
Gifts and Bonuses
Gifts and Bonuses
Reviews
Gianluca
September 9, 2023
Very little information, the final advertisement is almost as long as the whole course and it is also repeating the same info over and over to promote the Educational Engineering Team (this word is omnipresent). I understand branding and marketing, but the smoke cannot be richer than the roast beef. I am sure you are more than qualified, guys, but I would expect a less sloppy presentation (e.g.: formulae without closing parentheses: come on) and truly more content. I am truly sorry to have to write such a bad review.
I appreciated the fact that the course covers a wide range of topics, including the basics of electronics, the fundamentals of programming with the Arduino platform, and even more advanced topics such as communication protocols and IoT applications.
I love this course, It's straight forward to all the key points needed and the instructor is very entertaining
Thank you! I learn a lot in this course about sensors. Could be better with more illustrations of the sensor. I recommend looking for more details on the web when doing this course.
I think your course are full of new sensor . But your lecture are not up to date . I hope next you are update latest sensor
It was so worst course, badly given information...Not sure if whatever was told in this course is even correct, i doubt. I went thru this course thinking there maybe something good...But I did not find any things good....worse that I am denied refund....Money waste..will never ever see any course on Udemy
new and add in to my practical knowledge of how things works ...when you know how things work you know how to repair thing when they don't work.
Overall it was a good course, instructor provided us with a deep knowledge about sensors ,audio could have been more clear
Shubhanwita
April 30, 2020
the speaker should have spoken more clearly. The words are not clear enough to understand. and the captions and transcripts are also wrong.
The course content was good. But, It doesn't meet my expectation. I thought that each and every type of sensor is explained in detail. Only the basics are explained as well as there is no animation/video to understand the working and applications easily. It would be better if these things are also added.
Good information overview of sensors. Needs to be a better translation of English. Too many narration mistakes. I do not need to hear the narrator snap his fingers when he realizes his mistake - re-record those narrations.
Coupons
| Submit by | Date | Coupon Code | Discount | Emitted/Used | Status |
| --- | --- | --- | --- | --- | --- |
| Morten | 4/26/2020 | STAYHOME | 100% OFF | 40000/10603 | expired |
| - | 9/28/2020 | STAYHOME092020 | 100% OFF | 40000/3433 | expired |
| - | 10/11/2020 | STAYHOME102020 | 100% OFF | 40000/1607 | expired |
| - | 10/25/2020 | STAYHOME1022020 | 100% OFF | 40000/1468 | expired |
| shakil | 3/1/2021 | FEB2021STAYHOME | 100% OFF | 40000/2485 | expired |
| - | 7/18/2021 | JULYSTAYHOME | 100% OFF | 40000/7540 | expired |
| - | 7/31/2021 | 0EA4059C9FDF02A9A135 | 100% OFF | 40000/2779 | expired |
Charts
Price
Rating
Enrollment distribution
7/3/2019
course created date
11/20/2019
course indexed date