Scrum Master (PSM I) Prüfungsvorbereitung (Übungsklausuren)
Professional Scrum Master (PSM 1 / PSMI) / (Agile) Scrum Master: 6 Übungsklausuren (ENG) mit DEU Erklärungen (2023)!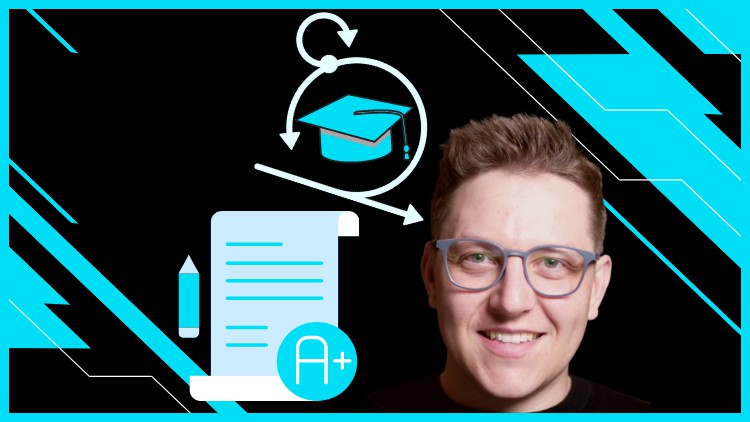 What you will learn
Bestehe die Professional Scrum Master I (PSM I ®) Zertifizierung beim ersten Versuch (2023).
Zugang zu 6 (echten) Professional Scrum Master I (PSM I ® / 2023) Übungsklausuren (80 Fragen pro Klausur).
Trainiere unter realen Prüfungsbedingungen (z.B. 60 Minuten pro Klausur).
Die beste Vorbereitung auf die Professional Scrum Master (PSM I ®) Zertifizierungsprüfung.
Teste dein Scrum-Verständnis mit hochwertigen Prüfungsfragen.
Stelle Fragen und erhalte Unterstützung bei der Vorbereitung.
Description
Warum solltest du dich in diesen Kurs einschreiben?
Dieser Kurs ist der beste online-/on-Demand Kurs (UNOFFICIAL) für die Vorbereitung auf die Scrum (.org) PSM I ® Zertifizierung und enthält: 6 Übungsklausuren die dir dabei helfen, dein Wissen in realen Prüfungssituationen zu üben.
--------------------------------------------
Ist dies der richtige PSM 1 ® Kurs für dich?
Du willst ein zertifizierter Professional Scrum Master:in (PSM I ®) werden?

Du bist sehr beschäftigt und hast nicht viel Zeit, dich mit Büchern oder Präsenzkursen vorzubereiten?

Du willst die Zertifizierungsprüfung im ersten Anlauf bestehen (und nicht 150 EUR verschwenden)?
Wenn du diese Fragen mit "JA" beantworten kannst, ist dieser (UNOFFICIAL) Kurs der perfekte Vorbereitungskurs für dich!
--------------------------------------------
Risikofrei: Du erhältst eine 100% Geld-zurück-Garantie. Dieser Kurs ist risikofrei, da die Plattform garantiert, dass du innerhalb von 30 Tagen ohne Angabe von Gründen eine Rückerstattung erhalten kannst. Was hast du zu verlieren?
--------------------------------------------
Worum geht es bei der PSM 1 ® Zertifizierung?
Nach Scrum. org: "Das Scrum Master Level I (PSM 1 ®) Assessment steht jedem zur Verfügung, der sein Wissen über das Scrum Framework und seine Fähigkeit, die Wertschöpfung und -erbringung zu unterstützen, überprüfen möchte. Diejenigen, die das Assessment bestehen, erhalten die branchenweit anerkannte PSM I ®-Zertifizierung, um ihre Beherrschung der Inhalte zu demonstrieren."
"Personen, die PSM I ® bestanden haben und die Zertifizierung erlangen, zeigen ein grundlegendes Niveau der Scrum-Beherrschung. PSM I ® Zertifikatsinhaber beweisen, dass sie Scrum verstehen, wie es im Scrum Guide beschrieben ist und wie man Scrum in Scrum Teams anwendet. PSM I ®-Inhaber haben eine einheitliche Terminologie und Herangehensweise an Scrum."
Quelle: scrum. (org)
--------------------------------------------
Häufig gestellte Fragen
Auf welcher Version des Scrum Guide basieren dieser Kurs und die Übungsfragen? Antwort: Dieser Kurs basiert auf der Version 2020 des Scrum Guide (neueste Version / 2023).

Ist die Gebühr für die Scrum. org-Zertifizierungsprüfung in diesem Kurs enthalten? Antwort: Nein: Nein, die Gebühr für die PSM 1 ® Zertifizierungsprüfung ist nicht im Preis dieses Online-Kurses enthalten und muss separat bezahlt werden.



----------- Legal Disclaimer -----------
This online course is not sponsored, endorsed by, in partnership or affiliation with Scrum . org! The terms Professional Scrum Master™, Professional Scrum Product Owner™, PSPO I ®, PSPO 1®, etc. represent the protected brand of Scrum . org. This course, the course quizzes, the course materials and practice exams are neither sponsored, endorsed by, created in partnership nor affiliated with Scrum . org.
This online course is only a certification training. The price for the PSM I ® certification exam is not included in the price of this online course and needs to be paid separately.
The statements made and opinions expressed herein belong exclusively to the creator (Friedemann Wittlinger) of this course and are not shared by or represent the viewpoint of Scrum . org. This training does not constitute an endorsement of any product, service or point of view. Scrum . org makes no representations, warranties or assurances of any kind, express or implied, as to the completeness, accuracy, reliability, suitability, availability or currency of the content contained in this presentation or any material related to this presentation. In no event shall Scrum . org, its agents, officers, employees, licensees or affiliates be liable for any damages whatsoever (including, without limitation, damages for loss of profits, business information, loss of information) arising out of the information or statements contained in the training. Any reliance you place on such content is strictly at your own risk.
-------------------------------------------------
Content
Scrum Master - PSM 1 ® / PSM I ® (2023) - Klausur #6
Reviews
This course is a excellent ressource for anyone preparing for the scrum master certification. The questionnaires provided were a great tool to test myself and to identify areas for further study. The material is easy to follow and well-organized. Many thanks to the instructor.
This course is extremely valuable and helpful as it is based on the most recent exam material and questions.
Charts
Price
Rating
Enrollment distribution
12/28/2022
course created date
1/10/2023
course indexed date