The Ultimate SAP S/4HANA Course 2023: From Zero to Expert
SAP ERP for absolute beginners: Become an in-demand SAP consultant through real-world projects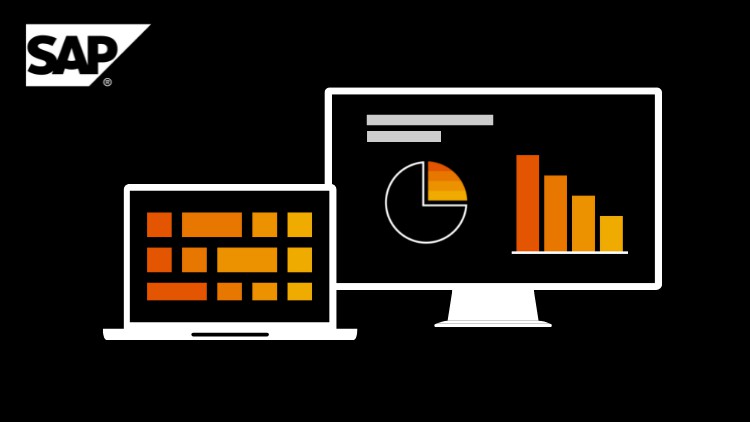 What you will learn
You will understand business processes in SAP S/4HANA, ready to apply for junior SAP jobs
You will master the most common SAP modules and how they support business activities, becoming a great SAP consultant by the end of the course
You will basic SAP navigation from using transaction codes to automating tasks
You will learn how to use SAP corporate functions like creating sales order, verifying invoice, executing production, and generating financial statements
Learn professional SAP implementation consultant best practices
You will be able to use SAP S/4HANA professionally
Description
No matter the industry, SAP S/4HANA is considered one of the world's most popular enterprise software, it is a suite of integrated modules used to collect, transact, and report on data from all of a company's business activities.
This powerful software enables the flow of information between different parts of a company and with outside stakeholders like customers and suppliers. However, many online courses can be dense, filled with jargon, and not meant for true beginners.
Hi, I'm Michael Todd. I've been an SAP consultant for over 10 years, and I've helped implement SAP at Fortune 500 companies across various industries.
Today I'm excited to go through this course because we're going to get that understanding of SAP ERP from a foundational level. And what does that mean exactly? Well the question I have for you is, what is a SAP lead? Why can they make $133,797 on average per year? Because that's what this course is all about. And a SAP lead understands and can explain how SAP solutions benefit an organization.
This course is for anyone who uses SAP at work or anyone who wants a high-level understanding of this enterprise software.
Whether you're looking for an SAP certification to demonstrate your existing skills and to show employers what you already know, or if you're looking to change careers or build your knowledge and experience with SAP technologies, you're in the right place.
We'll start with an overview of the system. Then, we'll explore the most common SAP modules and how they support business activities. Next, we'll cover basic SAP navigation from logging in to using transaction codes. And finally, we'll demonstrate basic corporate functions like creating sales order, verifying invoice, executing production, and generating financial statements.
Now join me and take your SAP skills to another level.
Content
Welcome
Introduction
Getting the best out of this course
Free gift - worth $199
Exploring the Basics
A brief history of SAP
What's SAP S/4HANA
Strength and weakness of S/4HANA
What's ERP
How to run a SAP project
Understanding SAP modules
Modules in SAP ERP
How much does SAP cost
What is SAP S/4HANA Cloud
Setting up your SAP environment on Google Cloud for free
Setting up your SAP environment on SAP Learninghub (the easiest way)
Preparing for certificate exam
Exploring SAP Business Suite
SAP software for small and midsize business
What are SAP Industry solutions
Navigating in SAP ERP: First Look
Navigating in SAP Fiori
Navigating in SAP GUI
Fundamental SAP System Concepts
Exploring organization structure
Organization structure in Materials Management
Organization structure in Finance
Organization structure in Sales and Distribution
Organization structure in Production Planning
Organization structure in Human Capital Management
Working with master data
Display a business partner
Display a material master record
Creating Evaluations and Reports
Understanding SAP reports
Finding standard reports
Exporting list to Excel
Printing
Using printing functions
Using spool requests
Automating Tasks
Introduction to background jobs
Using batch processing
Creating batch input sessions
Processing batch input sessions
Logistics
Introducing core concepts of SAP logistics
Business processes in logistics
Sales and Distribution (SD)
Understanding Sales and Distribution module
Exploring sales organization structure
Master data in SD
Checking a customer master record
Sales process
Delivery process
Billing and return process
SD module integration
Document type and item category
Availability check
Creating a sales order
Creating an outbound delivery
Creating a billing document
Complaint processing
Materials Management (MM)
Understanding Materials Management
Procurement
Inventory management
Creating a purchase order
Creating the goods receipt for the purchase order
Performing invoice verification
MM Module integration
Exploring organization structure in MM
Master data in MM
Creating material master
Creating vendor master
Creating a purchasing information record
What is SAP Ariba
Production Planning (PP)
Understanding Production Planning
Business processes in PP
Exploring production order
Creating planned independent requirements
Executing the MRP live planning run
Executing a discrete production
Accounting (FICO)
Understanding SAP Finance (FICO)
Understanding SAP Financial accounting (FI)
Using General Ledger
General Ledger accounting process
Accounts Receivable
Working with account receivable
Accounts Payable
Working with account payable
Understand the Impact of accounts payable on the balance sheet/income statement
Understanding reconciliation accounts
Company code
Chart of accounts
Fiscal year variant
General ledger posting
Display a balance sheet and income statement
Creating financial statement and profit loss statement
Understanding SAP Controlling (CO)
Organization structure in controlling module
Business area
Segment
Cost center accounting
Activity based costing
Product costing
Profit center accounting
Profitability analysis
Understanding the Integration between FI and CO
Additional modules in SAP Finance
Human Capital Management (HCM)
Understanding Human Capital Management module (HCM)
Tasks in HCM module
Working with HCM
Organization management
Introducing SuccessFactors
SAP Fiori
Understanding SAP Fiori
Starting SAP Fiori Launchpad
Navigating in Fiori Launchpad
SAP Fiori Apps Library
Navigating in Fiori Apps Library
Understanding Fiori deployment options
Embedded Analytics
Exploring Embedded Analytics
Analyzing incoming sales orders
Applying the Query Browser
SAP HANA
Understanding SAP HANA database
Core features
Dictionary encoding
Virtual data model (VDM)
Parallel data processing
Data tiering
Using SAP HANA Studio
SAP Activate
Understanding S/4HANA implementation
Exploring SAP Activate
Prepare
Explore
Realize
Deploy
Rise with SAP
Conclusion
Next steps
Course keynotes
Reviews
To this point; A good historical summary, that arrives at today with good simplicity. (possibly group intro - history as 1 section. (vid 1 to 5) - with skip option, unless it pertinent to answering test/or exam/business questions. Video 6 is the starter course of my objective taking this course, and as such the adrenaline was a lot lower when I got to view, WHAT? So, pumped up again to see the HOW, WHERE and WHEN in future videos. I hope and trust that I will get to see and hear more about this "unique" market leading database and its application. (separation from Oracle) Personally, thank you for being forthright about "not to select SAP", unless it is objectively and seriously considered of absolute necessity. I have yet to understand that implementing SAP will result in a company be a global organisation (mergers / alignment aside). Your professional "warning" has set the bar for the videos to come, and perhaps, you could highlight some of your expectations of the viewer from here onwards, as well as what to "pay special attention to" or "look out for", thereby making video important as a base/core for the course and building an understanding of the product. Thank you for the opportunity to comment. Regards, Graham
Very detailed and easy explanations helping Learning more easier and motivating to continue learning as we can understand completely new thing easily
The course covers multiple aspects of the SAP system and also an enterprise's possible structure and functioning, which was very interesting and helpful. The videos at the end on implementing an SAP functionality, plus the additional materials were a nice touch, giving you the sense of a complete training on the topic SAP S/4 HANA. At times, in 'how-to' videos what was happening on screen did not follow instructions - for example, the demonstration did not show what the lecturer was describing and that could be confusing and misleading. The rich terminology could be at times overwhelming and a bit difficult to learn for a beginner. Overall, I consider it to be a useful course and would re-watch the videos, especially the ones for FICO and HCM, as those are more close to the line of my work.
It's always a pleasure when someone who not only knows what they're talking about, but articulates their sentences as clearly as possible for everyone to understand. Thank you and happy to continue with the course!
My objective is to have SAP competence, and obtain a certificate for a procurement job. The explanations of the concepts is as clear as I have experienced in online learning.
Time is invested in explaining how an organisation should or should not implement SAP. Very few concrete information on SAP itself so far.
Modiboiyina
January 25, 2023
It was so clear of understanding about SAP4 Hana. in step by step like about history, challenges ,how organizations are in business transactions. thank you
It is easy to understand. The tutor is knowledgeable about the field and there isnt any unnecessary explanation and straight to the point.
This program is more tan perfect as it covers the key topics of SAP with very well explained contents and illustrations .
It is just very professional, efficiënt and clear honest explanation with lots of charts to make it easier to understand.
Learning SAP from the ground up and this course does a great job of breaking down this massive ERP software.
Great introduction - talked about the strengths of the software and considerations when choosing S4 HANA
The explanation is very bad. The speaker only read through the ppt and it is really hard to follow, especially the SAP system intro. If you are a beginner like me, I will not recommend this course. I have no idea what I can learn from it. Not practical and not useful for my career. I would rather watch some free videos on Youtube.
I'm a Project Manager who will be working with a System Integrator to implement SAP at the company I work for. I know nothing about the product and this course is providing a lot of useful high-level information.
Gostaria que este curso tivesse a possibilidade em idioma português, uma vez que os termos técnicos usados em Portugal são muito diferentes dos termos em inglês. Existem lições práticas nos videos, para serem seguidas na Demo SAP GUI e Fiori Launchpad, mas o conteúdo de Materiais e Plants não apresenta os exemplos dos vídeos.
Coupons
| Submit by | Date | Coupon Code | Discount | Emitted/Used | Status |
| --- | --- | --- | --- | --- | --- |
| - | 7/8/2022 | C1B5D5BDC286BA3AB445 | 100% OFF | 1000/539 | expired |
| - | 7/9/2022 | E718364980AC77F4CFCF | 100% OFF | 1000/846 | expired |
| - | 7/10/2022 | E6D5DF5023A72DFAD541 | 100% OFF | 1000/909 | expired |
| - | 8/2/2022 | 5303013A30EA308FAE44 | 100% OFF | 1000/828 | expired |
| - | 8/3/2022 | BAE597BF5956810DA921 | 100% OFF | 1000/856 | expired |
| - | 8/4/2022 | 4257ACC7ECC060247867 | 100% OFF | 1000/954 | expired |
| - | 9/16/2022 | 6261F4108DD4D27A61ED | 100% OFF | 1000/950 | expired |
| - | 9/23/2022 | 340AFC507191B4700193 | 100% OFF | 1000/992 | expired |
| - | 10/2/2022 | A40C6A6966C8ED79DF8A | 100% OFF | 1000/870 | expired |
| - | 10/11/2022 | FE6B877C69ECCC2F98A5 | 100% OFF | 1000/873 | expired |
| - | 10/25/2022 | A9FD5755C8DDDB51CE9E | 100% OFF | 1000/893 | expired |
| - | 10/27/2022 | 62708C1DA46708D43EB8 | 100% OFF | 1000/921 | expired |
| - | 11/11/2022 | A050A19D4A7CD64C6052 | 100% OFF | 1000/776 | expired |
| - | 11/22/2022 | 21ECE611E17ABA6B5108 | 100% OFF | 1000/817 | expired |
| - | 3/14/2023 | B9C70960D4C3F084C22C | 100% OFF | 1000/382 | expired |
| - | 3/29/2023 | 48126C7409E774CB4245 | 100% OFF | 1000/824 | expired |
| Angelcrc Seven | 4/15/2023 | F6BA2DD54E6345A516AE | 100% OFF | 1000/982 | expired |
| - | 5/12/2023 | D279DB1A9627234596E1 | 100% OFF | 1000/848 | expired |
| - | 8/3/2023 | 3C5079AD8B7106874613 | 100% OFF | 1000/798 | expired |
| - | 8/17/2023 | B97FE5094D883959E18C | 100% OFF | 1000/786 | expired |
| - | 8/31/2023 | F432244F988715AB68FF | 100% OFF | 1000/946 | expired |
Charts
Price
Rating
Enrollment distribution
7/6/2022
course created date
7/8/2022
course indexed date