CYPEPLUMBING Sanitary Systems
Design foul water and rainwater evacuation systems in BIM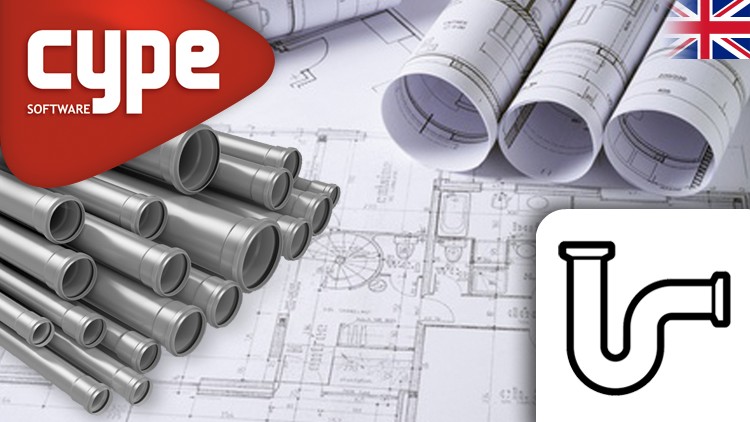 What you will learn
Perform the analysis of the evacuation of wastewater and rainwater from a building, and obtain the results of calculations based on a standard, along with their plans and measurements.
Obtain a BIM model of a building's sanitary facilities system
Description
CYPEPLUMBING Sanitary Systems carries out the analysis and design of all foul water and rainwater evacuation installations or only those selected by users, for any type of building, in compliance with predefined standards, personalised design configurations of other standards, or personal technical configurations.
The program designs networks in accordance with the selected standard or personalised configuration to apply, and carries out the required checks.
The analysis of the tree of the installation is carried out by calculating gross and simultaneous quantities of flow, where the simultaneity can be configured to be applied globally or locally.
It calculates and carries out a graphical representation of the main pipe span of the installation.
CYPEPLUMBING Sanitary Systems can design each element, i.e. a partial design of the complete installation, or an automatic global design of the complete installation, optimising the space required by the pipe in the free height of the floor and the excavation volumes.
Using warnings, the program informs users of any non-conformity with the code or any installations that have been developed incorrectly, to aid them with the correct configuration.
The results can be viewed on the elements and also in the results reports that are generated by the program.
Content
Initial Setup
Starting a project
Program Interface
Basic Explanation of the work environment
Installation Design Menu
Installation Design Menu
Project Menu
General Settings
Analysis and drawing options
Material and equipment selection
Design and check options to be carried out
Registers Menu
Registers menu
Discharges Menu
Discharges Menu
Calculation Menu
Calculation Menu
Graphical Analysis of Results
3D View and BIM Model Menu
3D View and BIM Model Menu
Floor Plan Definitions
Floor Plan Definitions
BIM Model 3D view
BIM Model 3D view
Work Area
Auxiliary Toolbar
Auxiliary tools menu
Template Views Manager
General Configuration
Drawing configuration
Results
Results
Results - Reports and drawings
Reviews
I have learned alot and I believe I have the necessary knowledge for doing tasks requiring the skill.
Thank you for a well presented course, this is a good fit for water and waste water works when assessing expected flows from known urban drainage and potable water supplies, within the responsible catchment area, both current and future. For anyone anticipating the development of multi housing projects pipe placement drawings will cut the costs of planning.
7/6/2018
course created date
11/23/2019
course indexed date