Salesforce JavaScript Developer 1 Practice Test
Salesforce JavaScript Developer 1 Certification Preparation Test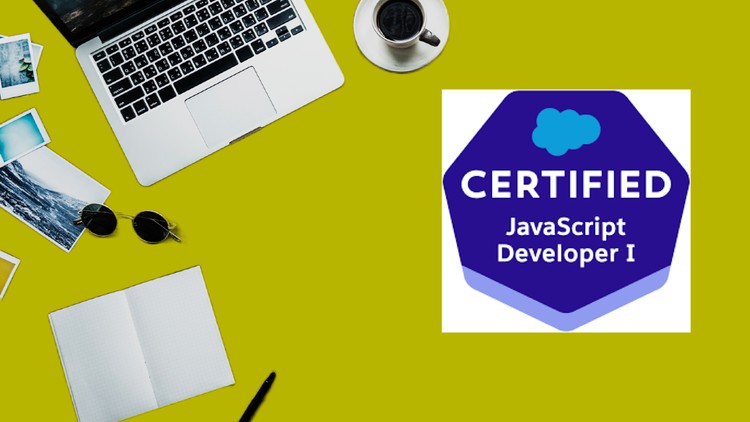 What you will learn
You will learn about variables, types, and collections
You will learn about objects, functions, and classes
You will learn about browser and events
You will learn about debugging and error handling
You will learn about asynchronous programming
You will learn about server side JavaScript
You will learn about testing
You will pass your Salesforce JavaScript Developer 1 Certification Exam
Description
This course lets you get a feel of what you may come across in the final certification exam. The course contains Salesforce JavaScript developer questions that help you identify your strengths and weaknesses in the domain.
Moreover, these Salesforce platform JavaScript developer I questions are inline with the questions that you might come across in the final Salesforce certification exam.
The Salesforce Certified JavaScript Developer Exam Preparation course will provide you 100% confidence to make you pass the Exam.
This Course will be full of practice questions, challenging material, and best of all, a chance to hone your skills. It's ok if you feel in over your head. We all did at some point, this next step is about pushing through that fear and getting ready to tackle something as challenging as the JSD1.
This New course contains Full Salesforce JSD1 Practice Tests and Unique Questions with Explanations waiting just for you so get it now!
Don't worry, you are in the right place. We have the most up-to-date and accurate questions, correct answers reviewed by our experts.
Benefits of having SALESFORCE JSD1 Certification:
SALESFORCE JSD1 certification will not only help you learn some new skills, it can position you for a higher paying job or help you transform your current role into a Salesforce JavaScript Developer. Get prepared using our course to take this exam and become one of the very first SALESFORCE Certified JavaScript Developer in the world using our relevance quality of SALESFORCE JSD1 Exam study material and so we bring best-in-industry SALESFORCE JSD1 Exam online course and practice tests for you to help in your exam preparation.
Reviews
The test has been useful in showing areas where I lack understanding. However, the test has errors in both the questions and answers. For example I have seen a question where 2 answers were exactly the same. I have also seen a question where the code was incorrect, they mean to have a new line character (even mentioned in the explanation of answer), but the new line character did not exists. I just hope none of the explanations are incorrect. This was my first "udemy" purchase, but I expect better for paid content.
Coupons
| Submit by | Date | Coupon Code | Discount | Emitted/Used | Status |
| --- | --- | --- | --- | --- | --- |
| - | 8/13/2022 | 7472EF4C9D374C5292EC | 100% OFF | 1000/976 | expired |
Charts
Price
Rating
Enrollment distribution
3/30/2022
course created date
7/16/2022
course indexed date