Sage Business Cloud Accounting 2020
Learn to use bank feeds with a free trial version of Sage Business Cloud Accounting from a practicing Certified Public A
Money Management Tools
category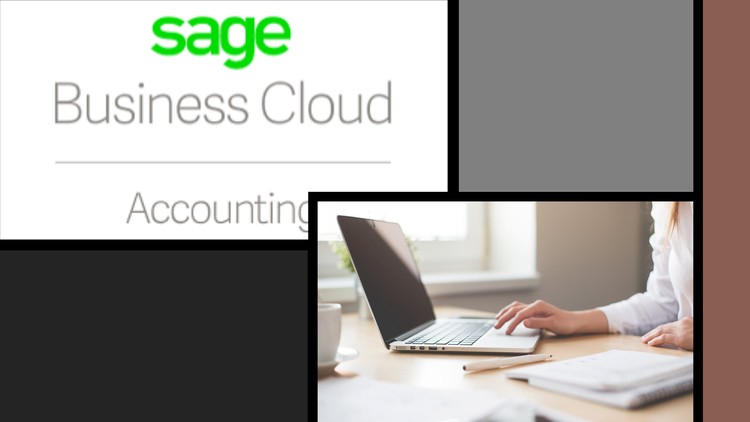 What you will learn
How to set up bank feeds for both bank accounts and credit card accounts
How to set up Sage Business Cloud Accounting software
How to add transactions and assign proper general ledger accounts to them
How to do bank reconciliations
Understand the difference between a bank reconciliation when using a cash basis and accrual basis
Record transactions from two accounts that use bank feeds like a credit card account and a bank account
Description
Sage currently offers a free trial version of the software.
This is an excellent tool to learn an excellent accounting software.
In this course, we will learn how to use Sage Business Cloud Accounting software.
This course will focus on using bank feeds. Bank feeds allow us to receive data directly from the bank and use that data to create financial statements including the balance sheet and income statement.
We will walk through the setup process for a practice company.
The course will discuss how bank feeds work and how they fit into an accounting process.
Transaction data will be provided for learners to upload to Sage, allowing us to work through practice transactions in a step by step process.
We will analyze how transactions go from the bank, to Sage accounting software, to being added to the financial statements.
Content
Introduction
10 Sage Business Cloud Accounting Free Trial
Data Files to Download
315 How Do Bank Feeds Fit Into My Accounting System
Getting Set Up
320 Project Outline
Month One - Set up Bank Feeds
Data Files to Download
325 Set Up Bank Feeds
360 Download Transactions From Bank
365 Import Bank Data
Month One - Add Transactions from Bank Feeds
Data Files to Download
370 Add Expense transactions
375 Add Capital Expenditures
380 Add Inventory Purchase
385 Add Amount Paid for Investment
390 Add Owner Withdraws
395 1 Add Bank Charge
395 2 Customer Deposit
400 Sales Tax Calculation
405 1 Deposit Owner
405 2 Deposit Loan
Month One – Bank Reconciliation
406 Bank Beginning Balance
407 Bank Reconciliation
Month Two – Upload Bank Transactions
415 1 Upload Bank Transactions
Month Two – Add Transactions from Bank Feeds
415 2 Add Expenses
420 Add Insurance
425 Add Payroll Checks
430 1 Add Inventory
430 2 Add Loan Payment
435 Add Draw
440 1 Receive Payments On Invoice
440 2 One Deposit Two Invoices
445 Sales Receipt & Bank Feeds
Month Two – Bank Reconciliation
450 Bank Reconciliation
Credit Card Bank Feeds
460 Credit Card Bank Feeds Upload
465 1 Add Credit Card Bank Feed Data
470 1 Reconcile Credit Card
Reviews
Still a lot about quick book. Need to basic Sage 50/Cloud flow charts. Would make this much simpler to follow. Make one if it isn't available!
Just what I need to learn about for a new job role. Clearly explained with a hint of humour and the relaxing videos at the end of each segment. Very glad I bought this course! Only drawback for me is that is based on an American model not British so there is no accounting for VAT etc.
I am completely new to Sage and a beginner with respect to accounting. I have found this course to be very clear. The tutor uses repetition very well to drive home commonly used functions. I had the option to speed up or slow down the playback depending on how conversant I had become with certain sections.
Coupons
| Submit by | Date | Coupon Code | Discount | Emitted/Used | Status |
| --- | --- | --- | --- | --- | --- |
| Lee Jia Cheng | 2/20/2020 | 132164C36D37A031B248 | 100% OFF | | expired |
| - | 2/24/2020 | 0CED9BB5F794915DFD8D | 100% OFF | | expired |
Charts
Price
Rating
Enrollment distribution
2/13/2020
course created date
2/20/2020
course indexed date
Lee Jia Cheng
course submited by