Sage 50cloud Accounting 2020
Learn Sage 50cloud Accounting Software in a comprehensive online course taught by a practicing CPA, CGMA, CPI, with BS t
Accounting & Bookkeeping
category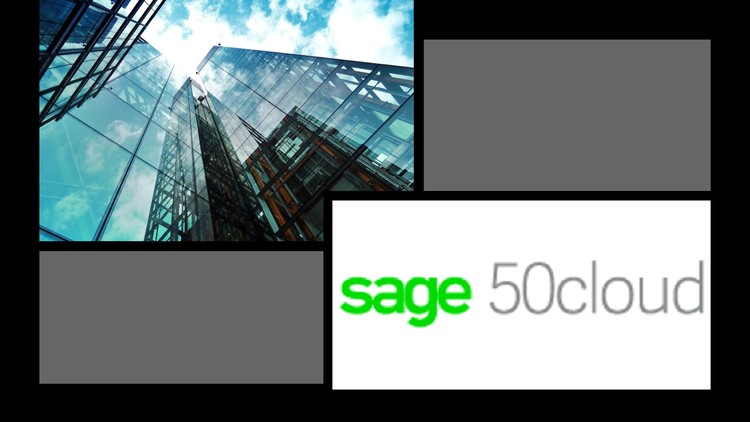 What you will learn
Set up Sage 50cloud Accounting Software
Navigate Sage 50cloud Accounting Software
Enter normal business transaction into Sage 50cloud Accounting Software
Reconcile bank accounts using Sage 50cloud Accounting Software
Generate and analyze reports including a balance sheet, an income statement, and supporting reports
Export Reports to Excel
Description
The Sage50cloud Accounting Software course content is being added to at this time. We expect to have between 20 and 30 hours of content by the end of February.
The price will go up as content is added.
The current course community will have access to the updates as we create them.
If we would like to:
· Learn Sage50cloud Accounting Software to help run our business or
· Understand Sage50cloud Accounting Software to advance our career or
· Use Sage 50cloud accounting software to understand better how accounting concepts apply in the real world by using this real-world software
This course is a course for us.
This course is comprehensive.
We will show the pricing options for Sage 50cloud Accounting.
The course will demonstrate how to download and install the software.
The first half of the course covers the navigation of the software. Learners can follow along with a FREE demo version of the software.
In the second half of the course, we will start a new company file. We will enter two months of data input, reconcile the bank accounts, and enter adjusting entries.
We will also discuss bank feed options.
Content
Getting Started - Getting Setup
.05 Recommendations For Success
.10 Sage 50 Cloud Free Test Drive
1.05 Navigation Overview
Customer Cycle , Cycle, or Accounts Receivable Cycle
1.15 Customers Section Flow
1.16 Customer Section Invoice
1.17 Customers Section Receive Payment
1.19 Customers Section Sales Receipts
Vendor Cycle, Purchases Cycle, or Sales Cycle
1.20 1 Vendors Section Overview
1.20 2 Vendors Section Bill Form
1.22 Vendor Section Pay Bill
1.23 Vendors Section Purchase Order
1.24 Vendors Section Check
Employee Cycle and Other Core Features
1.25 Employee Section
1.28 Other Sections
1.30 Reports Overview
1.40 Help Options
1.45 Print & Export Reports to Excel
1.50 Backup
Financial Statements & Reports
2.10 Balance Sheet
3.10 Income Statement
4.10 Statement of Cash Flows
4.20 Sales By Customer Report
4.30 Aged Receivables Report
4.35 Aged Payables Reports
4.40 Sales Graphs
Course Project Start - Set Up New Company File, Preferences, & Users
6.01 Set up New Company
6.09 Objective
Set Up Service & Inventory Items & Enter Inventory Beginning Balance
6.10 1 Inventory & Service Items Part 1
6.11 2 Inventory & Service Items Part 2
Add Customers & Vendors - Enter AR and AP Beginning Balances
6.15 Set Up Customers & Beginning Balances Part 1
6.16 Set Up Customers & Beginning Balances Part 2
6.20 Set Up Vendors & Beginning Balances
Add Accounts & Beginning Balances, Checking, Credit Card, Notes Payable, Equip.
6.25 Add Bank Account
6.26 Add Credit Card
6.27 Add Notes Payable
6.28 Add Equipment Account
Adjust Equity, Payroll Options, & Reports
6.35 Payroll Options
6.55 Generate Transaction Detail Report
Month 1 - Deposits from Owner & Loan, Purchase Furniture, Sales Tax Set Up
7.05 Record Owner & Loan Deposit
7.10 1 Record Purchase Furniture
7.10 2 Record Short-Term Investment
7.16 Sales Tax Set Up
Month 1 - Purchase Orders & Invoices
7.17 1 Purchase Order Part 1
7.18 Purchase Order & Add Inventory Item
7.20 1 Create an Invoice with Inventory Part 1
7.20 2 Create an Invoice with Inventory Part 2
Month 1 - Receive Payments Forms
7.25 1 Receive Payment Part 1
7.25 2 Receive Payment Part 2
Month 1 - Sales Receipt & Deposit
7.30 1 Sales Receipt Part 1
7.30 2 Sales Receipt Service Item
7.35 Deposit Records Group Deposits
Month 1 - Receive Inventory & Link Expense Form to Purchase Order
7.40 1 P.O. Billed & Paid Part 1
7.40 2 P.O. Billed & Paid Part 2
Create Invoice From Linked Billable Expense & Make Deposit
7.45 Invoice After Purchase Order Part 1
7.46 Invoice After Purchase Order Part 2
7.50 Receive Payment and Make Deposit
Month 1 – Enter Checks & Expenses & Pay Bills
7.55 Enter Check & Expense Forms
Month 1 – Customer Jobs & Sub Customers, Projects, & Payroll
7.65 Jobs Set Up
7.70 Pay Employees
7.71 Pay Employees Part 2
7.75 Sales Receipt To a Job
Month 1 – Reports & Review of Data Input
7.80 Generate Report Export to Excel
Month 2 - Loan Payments & Short Term Investment Sale
8.02 Consolidate Loans
8.03 Loan Amortization Table
Reviews
Some of the spelling mistakes were hard to overlook. The commentary got a little overboard but it was very informative.
It touches different aspects of bookkeeping and gets into details. The voice and tone of the instructor is energetic, not as boring as most accounting instructor. And the beautiful, lively outdoor clips at the end of each lessons are refreshing. Thanks for making this course not as boring as it should be.
I've taken a lot of Udemy courses. This has been my favorite. Instructor is very knowledgeable and easy to follow along with.
Coupons
| Submit by | Date | Coupon Code | Discount | Emitted/Used | Status |
| --- | --- | --- | --- | --- | --- |
| Lee Jia Cheng | 2/24/2020 | 3BE2B75007746DA94C7D | 100% OFF | | expired |
| Angelcrc Seven | 11/4/2020 | 9406BF7B68CC13FB849B | 100% OFF | 40000/1806 | expired |
| - | 12/17/2020 | 837C6311EA07A0DA3530 | 100% OFF | 40000/1303 | expired |
| - | 3/15/2021 | 5C36CA29DA3EB1EFABB9 | 100% OFF | 40000/313 | expired |
| - | 4/2/2021 | CBDCD30E30B77E6C2697 | 100% OFF | 40000/896 | expired |
| Angelcrc Seven | 5/19/2021 | 19CAF52632F1D393DB32 | 100% OFF | 40000/2400 | expired |
Charts
Price
Rating
Enrollment distribution
2/20/2020
course created date
2/24/2020
course indexed date
Lee Jia Cheng
course submited by