EQ-2 Resilience and Mental Strength - Emotional Intelligence
Bounce Back and Achieve Success in Life With Emotional Intelligence 2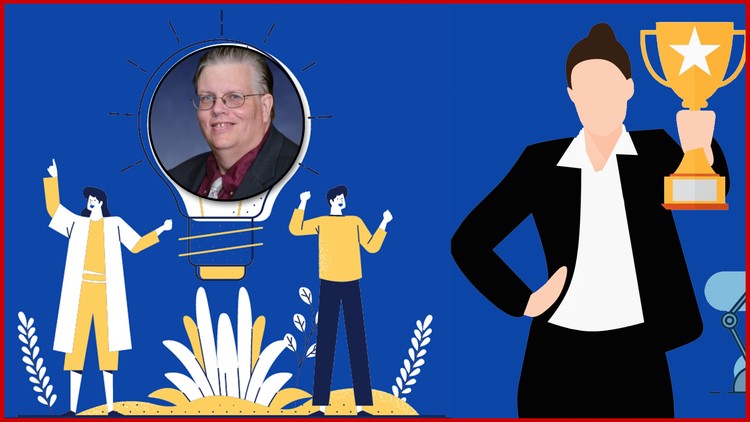 What you will learn
How to be more resilient
How to exercise their mental toughness
Description
Resilience is the ability to mentally or emotionally cope with a crisis or to return to pre-crisis status quickly. Resilience exists when you use "mental processes and behaviors in promoting personal assets and protecting yourself from the potential negative effects of stressors".
But how do we nurture resilience?
IN this course, Robert Jerus, Founder of EQ-2, the next level of Emotional Intelligence, to walk you thru powerful processes that support your journey towards greater resilience and success.
Mental Toughness

Grit

Resilience

Coping &

Adaptability

And Much More...
The EIQ-2 Emotional Intelligence Learning System is designed to be Feed-Forward, Visual, Experiential and Designed for Continuous Improvement. It focuses on learner involvement and application.
EIQ-2 Learning and Positive Psychology are based on Self-Awareness; Self-Management; Empathy/Social Awareness and Relationship Management.
The Mental Strength and Resilience Program enhances stress management, quality of life and leads to superior internal abilities to deal with life's challenges. It provides the proactive and responsive foundations to positively redress setbacks and transform them to comebacks. The primary areas of focus are mental strength; grit; resilience; coping and adaptability.
People who are skilled in these areas transform challenges into opportunities; direct themselves to areas they can impact; focus; assume personal responsibility; project a positive outlook; and achieve at higher levels (internally and externally).
Enrol today!
Content
Proactive Preparation
Get Your Mojo Back
Mental Toughness
Mental Toughness and Stress
[Exercise] Stress
Resilience
Resilience
The Recovery Clock
G.R.I.T.
Mentally Strong
EQ-2 and Mental Toughness
Adaptibility and Flexibility
The "C's" and A.C.H.I.E.V.E.
Wrap Up
Help Your Fellow Students
[Bonus Lecture]
Reviews
Sorry, but I felt that the presentation could be improved. There were a lot of busy slides, and the presenter did not always guide the listener through the slides i.e. it was difficult at times to know which part of the slide the presenter was referring to. It was not always clear what the links between each slide were either, or in what situation the contents of a slide should be used. There were references to spirituality, faith and public figures of religious faith that I found, as an atheist, quite offensive. I think the presenter should reconsider some of the comments made during the presentation. The negatives aside, there was a lot of good information contained within the course content.
This course felt like a very fast overview, and the material seemed overly repetitious. The concepts presented went around in circles. It might have saved time to just post the few exercises, and have a couple of charts with the main points.
This course has highlighted things that I thought were not important when dealing with stressful situations now I have an idea on how to deal with stress
I learned a lot of new things. Most importantly, I am going to use what I learn to develop my own life
I truly appreciate the inherent knowledge of the instructor but am disappointed in the presentation and find it very difficult to stay engaged. He says it will be very visual but it is not. There are only about 4 visuals to accompany 20 Minutes and they are mainly text which do not link to the voice. This may be because the instructor seems to have no real scripted plan but is just giving an informal talk.
A lot of what I know but also a good reminder of what I still need to do and why positive self-talk is essential and creating the rights habits are needed for a healthy life.
Yes, it is a good one..... It would lead me to read more about difference between emotional and mental stress.
This course was offered at the appropriate time for me when I need it most. The part I like is when he spoke about taking care of your diet because it makes a huge difference in your feelings. I have learned to accept that I am going through stress and to look forward to positive results than dwell in the negative emotions.
Seriously..the course has given me an insight of believing more in myself and lots of ways to deal with any forms of stress. Everyone needs to pass through this well dished course. Thanks
This course helps me a lot to understand mental abilities and how to get rid of stuffs emotionally and mentally.
Coupons
| Submit by | Date | Coupon Code | Discount | Emitted/Used | Status |
| --- | --- | --- | --- | --- | --- |
| Lee Jia Cheng | 5/19/2020 | EXPIREDMAY22 | 100% OFF | 40000/2486 | expired |
| Angelcrc Seven | 7/6/2020 | EQ-2RMSEXPJULY092020 | 100% OFF | 40000/246 | expired |
| - | 9/28/2020 | EQRMSEXPOCT12020 | 100% OFF | 40000/1509 | expired |
| - | 10/27/2020 | EQRMSEXPOCT292020 | 100% OFF | 40000/3043 | expired |
| - | 11/30/2020 | EQRMSEXPDEC32020 | 100% OFF | 40000/1514 | expired |
| Angelcrc Seven | 1/4/2021 | EQRMEEXPJAN72021 | 100% OFF | 40000/1340 | expired |
| Angelcrc Seven | 3/26/2021 | EQRMSEXPMAR292021 | 100% OFF | 40000/699 | expired |
| - | 11/24/2021 | EQRMSEXPNOV282021 | 100% OFF | 1000/847 | expired |
| Angelcrc Seven | 12/20/2021 | EQ2RMDEC252021 | 100% OFF | 1000/874 | expired |
| - | 3/4/2022 | FREEMARCH | 100% OFF | 1000/961 | expired |
4/22/2020
course created date
5/19/2020
course indexed date
Lee Jia Cheng
course submited by