Reputation Management: Take Control of Your Company's Image
Analyze your current reputation, build your company's reputation management strategy from scratch and implement it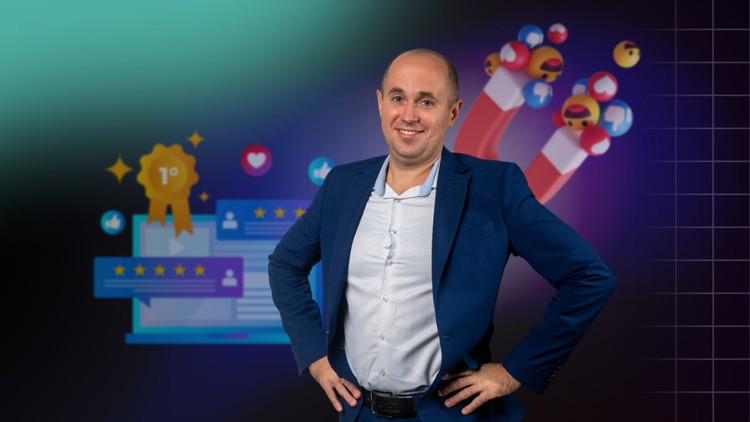 What you will learn
Definition and key features of brand reputation
Reasons to manage brand reputation
Reputation management methods: ORM and SERM
Main components of reputation management
Brand monitoring to analyze your current reputation
Manual and automatic monitoring tools
Brand Mentions as an automatic monitoring tool
Competitor analysis
Analysis of monitoring results and building reputation management strategy
Strategy implementation and brand management optimization
Ways to increase brand and customer loyalty
Work with reviews and negativity
Description
Do you want to increase your brand awareness? Are you struggling to gain the trust of your customers? And, finally, do you expect to build an excellent reputation that will always be one step ahead of your product or service? If so, this course contains step-by-step instructions on how to do all of this!
My name is Anton Voroniuk and I would like to teach you how to create your online reputation and turn it into a competitive advantage. I am the CEO of the internet marketing academy SkillsBooster, a co-owner of Webpromo Agency, and a digital marketer with over 15 years of experience. All this time, I've been working hard to ensure these companies secure leading positions within the market. As a result, I'm sure my knowledge and experience in reputation management will help your company do the same.
What will you learn in this course?
After completing this course, you will know how to build your reputation management strategy: from monitoring your current reputation to brand management optimization

Learn how to use manual and automatic monitoring tools such as BrandMentions to keep track of your company's online presence

Get to know about competitor analysis

Find out how to increase your brand and customer loyalty

Understand how to work with reviews and negativity online
Learn more about reputation management strategy quickly and without worries.
What do we offer in our course?
Structured lessons with practical tasks and examples

Reputation management strategy checklist


Why should you choose this course?
Why should you choose us over other online reputation management courses?
You will have the opportunity to learn about reputation management from the top internet marketing professionals.
We are industry experts! WebPromoExperts has over 15 years of experience in internet marketing. Our agency is a Google Premier Partner and a Facebook Marketing Partner.

I have personally obtained a vast number of digital marketing qualifications and certifications such as Google Analytics Individual Qualification, Google Ads Individual Qualification, Bing Ads Accredited Professional, Search Ads 360 Certified, and others.

During our career, we have launched over 1,500 successful marketing strategies and marketing campaigns.

More than 500,000 internet marketers have enrolled in our online courses.

Our internet marketing courses are easy to understand. We train specialists in strategy, digital agency management, SMM, SEO, content marketing, PPC advertising, SERM, email marketing, web analytics, and other areas of digital marketing.



What else do you get?
Lifetime access to the course and its updates

A certificate from Udemy upon completion of the course
Should you be worried?
Sign up now! Every second you wait can cost you one good review about your company!
This course comes with a 30-day money-back guarantee!
Click the "take this course" button to start building your reputation today!
Content
Brand Reputation
Introduction
What is a Brand Reputation?
Reasons to Manage Brand Reputation
How to Study on Udemy Effectively?
Reputation Management
Reputation Management Methods: ORM and SERM
Components of Reputation Management in Search Engines and the Internet
Brand Monitoring to Analyze Your Current Reputation
What and Where to Track
Manual Monitoring Tools
Automatic Monitoring Systems. Brand Mentions as an Automatic Monitoring Tool
Competitor Analysis
Analysis of Monitoring Results
Interpretation of Results with Brand Mentions
Building a Results-Based Reputation Management Strategy
Strategy Implementation
Brand Management Optimization
Increase Brand and Customer Loyalty
Work With Reviews
How to Work With Negativity
Types of Negativity
Reaction to Negativity - Dos and Don'ts
Summary
How to Leave a Review for the Course
How to Get a Certificate
Reviews
I am so much impressed with Anton's teaching style and expertise in the field of reputation management. His delivery of the course material was engaging and informative. Anton's relaxed and approachable demeanor made it easy to connect with the content and understand the concepts being taught. It was evident that he had a deep understanding of the subject matter and was able to convey it effectively to the participants. His ability to provide real-life examples and practical insights further enhanced the learning experience. All in all, Anton's knowledge and expertise in the field made the course highly valuable and enjoyable.
This course is a valuable resource for those aiming to enhance their company's online reputation. With practical insights and expert guidance, it's an excellent choice for businesses.
Just wrapped up Anton Voroniuk's course on Online Reputation Management, and it's a must-take. The course is a goldmine of actionable insights, particularly on monitoring tools like BrandMentions and handling negativity online. The competitor analysis section was a game-changer for me—knowing your rivals can really help you carve your own space in the market. Plus, the course comes with lifetime access and a Udemy certificate. If you're involved in brand management, don't sleep on this course; it's an investment in turning your reputation into a competitive asset. Highly recommended!
OMG the course and resources are mind blowing and especially for beginners. This course will give you clear path and encouraging you towards my ideas. I highly recommend this course.
I was expecting more tests after each course. Also other ways of achieving the goals without some of the paid per use applications
yes its really interesting for beginners and who have 0 experience in branding and company reputation management
Awesome course! I was very interested in this topic and in this course, it is perfectly disclosed. Thanks for the practical knowledge.
Coupons
| Submit by | Date | Coupon Code | Discount | Emitted/Used | Status |
| --- | --- | --- | --- | --- | --- |
| - | 1/16/2023 | REP1201 | 100% OFF | 1000/987 | expired |
| - | 1/19/2023 | REP1601 | 100% OFF | 1000/996 | expired |
| - | 1/23/2023 | REPUTATION2301 | 100% OFF | 1000/990 | expired |
| - | 2/7/2023 | RM0702 | 100% OFF | 1000/893 | expired |
| - | 2/18/2023 | RM1702 | 100% OFF | 1000/976 | expired |
| - | 2/27/2023 | RM2702 | 100% OFF | 1000/643 | expired |
| - | 3/7/2023 | RM0703 | 100% OFF | 1000/932 | expired |
| - | 3/16/2023 | RM1603 | 100% OFF | 1000/657 | expired |
| - | 3/24/2023 | RM2403 | 100% OFF | 1000/960 | expired |
| - | 4/10/2023 | RM1004 | 100% OFF | 1000/680 | expired |
| - | 4/18/2023 | RM1804 | 100% OFF | 1000/429 | expired |
| - | 4/27/2023 | RM2704 | 100% OFF | 1000/265 | expired |
| - | 5/10/2023 | RM1005 | 100% OFF | 1000/298 | expired |
| - | 5/17/2023 | RM1705 | 100% OFF | 1000/614 | expired |
| Angelcrc Seven | 5/31/2023 | RM3105 | 100% OFF | 1000/410 | expired |
| - | 6/8/2023 | RM0806 | 100% OFF | 1000/377 | expired |
| - | 6/19/2023 | RMFREE1906 | 100% OFF | 1000/329 | expired |
| - | 6/30/2023 | RM3006 | 100% OFF | 1000/491 | expired |
| - | 7/11/2023 | RMFREE1107 | 100% OFF | 1000/356 | expired |
| - | 7/18/2023 | RM1807 | 100% OFF | 1000/205 | expired |
| - | 7/28/2023 | RM2807 | 100% OFF | 1000/404 | expired |
| - | 8/2/2023 | RM208FREE | 100% OFF | 1000/315 | expired |
| - | 8/22/2023 | RMFREE2208 | 100% OFF | 1000/372 | expired |
| - | 9/13/2023 | RMFREE1309 | 100% OFF | 1000/411 | expired |
| - | 9/22/2023 | RM2209 | 100% OFF | 1000/146 | expired |
| Muhammad | 10/3/2023 | RM0310 | 100% OFF | 1000/272 | expired |
| - | 10/11/2023 | RM1110 | 100% OFF | 1000/313 | expired |
| - | 10/19/2023 | RM1910 | 100% OFF | 1000/297 | expired |
| - | 11/2/2023 | RM0211 | 100% OFF | 1000/284 | expired |
| - | 11/15/2023 | RM1511 | 100% OFF | 1000/253 | expired |
| - | 11/22/2023 | RM2211 | 100% OFF | 1000/324 | expired |
| - | 12/4/2023 | RM0112 | 100% OFF | 1000/530 | working |
Charts
Price
Rating
Enrollment distribution
12/22/2022
course created date
1/16/2023
course indexed date