QuickBooks Online Bank Reconciliation
Learn QuickBooks Online bank reconciliation process, how to enter the first bank reconciliation and read the bank rec.
Money Management Tools
category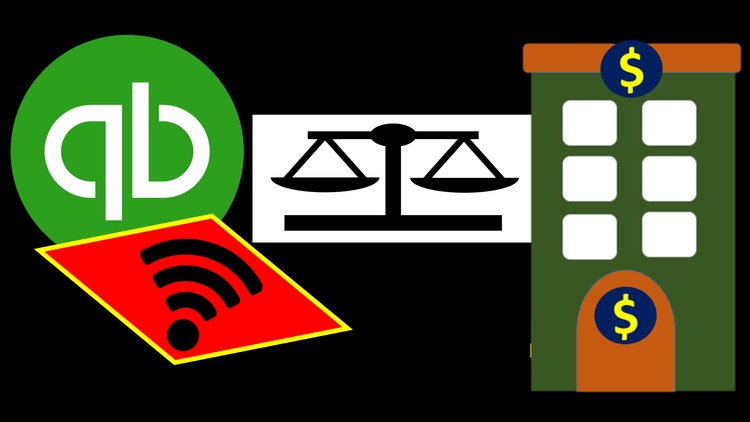 What you will learn
Bank Reconciliation QuickBooks Online
Bank Reconciliation Theory
Bank Reconciliation Excel
Description
If we are a business owner who would like more assurance about our books, a business professional who would like to advance our career by learning the importance of bank reconciliations, or an accounting student who would like to see the critical internal control of bank reconciliations applies to real work software, this QuickBooks course is a course for us. 
Why choose this course?
The bank reconciliation process is the second biggest internal control for most companies and one both large and small companies can, and should, implement. Reconciling the bank account provided a MUCH larger scene of assurance that our financial data and the financial reports are complete and correct. 
We will demonstrate the bank reconciliation process for two months in QuickBooks. The first month of operations is often the most difficult to enter because we must deal with the begging balance. The second month and thereafter is generally much easier to reconcile using QuickBooks software but something that takes some time to fully understand conceptional. 
We will also run the bank reconciliation process using Excel worksheets, which will provide a more conceptual view of how the process works and how the bank reconciliation report is generated from the process. 
Who will we be learning from?
You will be learning from somebody who has technical experience in accounting concepts and in accounting software like QuickBooks, as well as experience teaching and putting together a curriculum.
You will be learning from somebody who is a:
CPA – Certified Public Accountant
CGMA – Chartered Global Management Accountant
Master of Science in Taxation
CPS – Certifies Post-Secondary Instructor
Curriculum Development Expo
As a CPS and professor, the instructor has taught many accounting classes and worked with many students in the fields of accounting, business, and business applications.
The instructor also has a lot of experience designing courses and learning how students learn best and how to help students achieve their objectives. Experience designing technical courses has also helped in being able to design a course in a logical fashion and deal with problems related to technical topics and the use of software like QuickBooks Pro.
How will we be Taught?
Through viewing and then doing. We will demonstrate the reconciliation process in the software in such a way that it can be applied to practice. Because QuickBooks Online does not allow for static backup files at this time we cannot provide the exact data to follow along with, but we will include Excel worksheets that can be used to follow the same process. 
By seeing the process performed in QuickBooks and Excel and working the process in an Excel worksheet we will understand both the procedure and the reasoning for the procedure. 
Content
QuickBooks Set Up
QuickBooks Online Set Up
Bank Reconciliations First Month
QuickBooks - 9.10 Bank Rec Jan
Excel Files
Excel - 9.10 Bank Reconciliation January
Excel - 9.12 Bank Reconciliation Adjusting Entries January
Accounting Comic Break
Bank Reconciliations Second Month
QuickBooks - 9.15 Bank Rec Feb
Excel FIles
Excel - 9.15 Bank Reconciliation February
Excel - 9.20 Bank Reconciliation Feb. Adjusting Entries
Reviews
Bank reconciliations in QuickBooks are crucial as it helps users to ensure that the transaction number and amount are correct. This is because many bookkeeping errors and discrepancies take place while feeding the numbers. Basically, bank reconciliation Quick books helps you accomplish three goals: Transaction amounts are appropriate: Bank reconciliation not only ensures that transactions are existing on both Quick books and bank statements. But it also needs the amount to be exactly the same.The QB transactions occurred: There are instances when a transaction in QB software can be inadvertently created. If that translation involves a bank account then a bank reconciliation will spot the fake transaction. Each bank transaction is properly recorded: Quick books bank reconciliation ensures that the bank account transitions are properly recorded in the software as well. Ending balance: Here, from the bank statement, enter your ending balance. Ending date: Pick the ending date of statement duration. Service charge: Here, enter the amount, date, and expense account exactly like the statement which you have not entered into Quickbooks already. Interest earned: Enter, the interest you earn on the bank balance if you have not filled it in already.
The course was very useful and I really enjoyed it. The tutor explained the topic well and I was able to follow and copy the steps that he did for the bank rec on excel and on quickbooks. I did however raise a query with the tutor and chased him up on it but have still not heard back from him. I was able to resolve this query myself in the end however so all is good now!
A great course as usual for this instructor! Everything is explained in a clear and easy-to-understand and follow way. Bob is highly knowledgeable about the topic and, most importantly, has loads of hands-on experience in the field, which makes the course true to real-world business situations. He is also very responsive to the "issues" the students may come across throughout the course and always willing to give thorough answers and additional explanations. I highly recommend this course!
Coupons
| Submit by | Date | Coupon Code | Discount | Emitted/Used | Status |
| --- | --- | --- | --- | --- | --- |
| Ignacio Castro | 2/14/2022 | C3370A74E1EE79095B7B | 100% OFF | 1000/936 | expired |
| Angelcrc Seven | 2/20/2022 | 54A882145AC7C5AE9152 | 100% OFF | 1000/416 | expired |
| Angelcrc Seven | 2/26/2022 | 4C1F1412A1721D9EBBD9 | 100% OFF | 1000/226 | expired |
| Angelcrc Seven | 3/17/2022 | 6CF68BA9D05FAE602F11 | 100% OFF | 1000/383 | expired |
| - | 6/2/2022 | 50F71D7E3C6B8C368712 | 100% OFF | 1000/324 | expired |
| - | 6/30/2022 | CBE677412A4FC84535DC | 100% OFF | 1000/305 | expired |
| - | 7/10/2022 | 8D4C1F7923195AEEFF8E | 100% OFF | 1000/192 | expired |
| - | 7/27/2022 | 915286F74CB51799FD0C | 100% OFF | 1000/270 | expired |
| - | 8/6/2022 | 7F74C0A9A47235058C12 | 100% OFF | 1000/204 | expired |
| - | 8/14/2022 | 2ABA247289A0EDE1801D | 100% OFF | 1000/391 | expired |
| - | 9/11/2022 | 76E74D9471F53852D6AE | 100% OFF | 1000/156 | expired |
| Angelcrc Seven | 9/19/2022 | 4AA64B1D4C2753A83D4B | 100% OFF | 1000/193 | expired |
| - | 10/6/2022 | 7B8BD628FF2FDF606F4F | 100% OFF | 1000/338 | expired |
| - | 10/13/2022 | 6AF571E0A923812276D7 | 100% OFF | 1000/136 | expired |
| - | 11/7/2022 | 696748D538999F278B61 | 100% OFF | 1000/180 | expired |
| - | 11/14/2022 | 79F3CF920771637A89A3 | 100% OFF | 1000/86 | expired |
| - | 11/24/2022 | 30C0FD1890267A640B97 | 100% OFF | 1000/294 | expired |
| - | 12/2/2022 | 7B9B8227CC6A5791F0F7 | 100% OFF | 1000/90 | expired |
| - | 12/20/2022 | 584F051D8373FBFEEAB0 | 100% OFF | 1000/93 | expired |
| - | 12/26/2022 | D20F8E92ECBFA456C648 | 100% OFF | 1000/247 | expired |
| - | 1/4/2023 | 0C90EF4B9A2FC48DFF35 | 100% OFF | 1000/144 | expired |
| - | 1/23/2023 | E79795B65D32E6A81D66 | 100% OFF | 1000/186 | expired |
| - | 2/6/2023 | A352176AAE3F35AEA62F | 100% OFF | 1000/594 | expired |
| - | 5/5/2023 | 2196C628FF650064C56C | 100% OFF | 1000/170 | expired |
| - | 5/28/2023 | A7507B01A5F13B40B823 | 100% OFF | 1000/118 | working |
Charts
Price
Rating
Enrollment distribution
2/7/2018
course created date
7/18/2020
course indexed date