Best Practices for Working Remotely
Join Shelley Osborne, VP of Learning, for her best tips to set yourself up for success when working from home.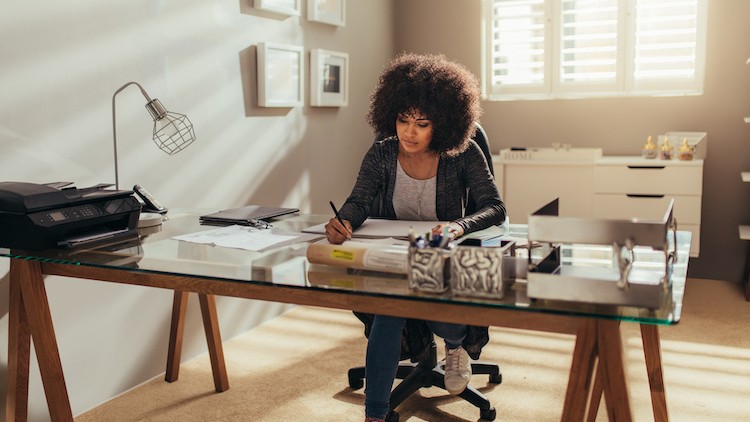 What you will learn
Use frequent communication to stay connected and social with your colleagues.
Employ the right tools to make sure you stay accountable and productive from home.
Structure your workday to maximize your time.
Create a workspace conducive to distraction-free working.
Description
NOTE: As the VP of Learning at Udemy, I originally made this course for my internal colleagues. However, given that many companies are implementing Work From Home (WFH) policies in the wake of COVID-19, I thought it would be useful to share with a wider audience. While you may hear references that are internal to Udemy, I hope you find some useful tips to use as you work from home!
Do you find yourself losing productivity when you work remotely? Do you have trouble maintaining a normal workday with all the distractions of your home?
If so, you're not alone. Many employees find that they are not set up for success when they work from home. Working remotely is not simply working from a new location. You can't just take your laptop home and expect to work in exactly the same way as you normally do. There are many differences between an office that's built for work and a home that's typically not set up for working productively.
I had to work from home for 3 years while employed at a small startup. It was my first time doing so, and I had to quickly learn and adapt my living space so I could successfully complete my job. Over those years, I collected many tips and tricks for how to best work remotely. These are simple things that you can implement right now that will make a big difference when you work from home!
In this course, I'll cover:
Ways to communicate to stay accountable (and social!) with your colleagues

Best practices for running meetings virtually

Suggestions for accountability and productivity when working from home

Ideas for structuring and planning your day and workspace for optimal results

Quick tips for managers leading teams in a remote world
If you want a QUICK & EASY primer on working remotely, please join me in this course!
Reviews
Vinícius
February 24, 2023
I like the purpose and course objective. The context lived in this video was the start of COVID shutdowns, a lot has changed since this event. Maybe this video could be updated to our actual context.
Antoinette
January 19, 2023
Great match! I currently practice a number of the suggestion provided (taking breaks, having water & coffee at my desk, setting a timer when it is time to stop working). It has been wonderful working from home, not commuting and spending more time with my family. I have mastered the art of teleworking!!
Thank you so much! I just strated my journey working remotely because I'm building my business, so it's been a roller coaster ride, BUT your best practices are very beneficial for me as a person that has never worked from home. Thank you so much! This is a great class
Hussaini
December 30, 2022
She went straight to the point of making your online work productive and she also advice setting priority of working. Thanks
I like the points she covered. I guess it is comprehensive, but I wish she spoke a little more about zooming challenges.
Guilherme
December 23, 2022
Excellent content and communication. Crystal clear sound. Very good english subtitles but not in another languages.
Some of the advises should be know to everyone but the video was a good quality recap on the most important practices to follow
Jhonkeithz
December 13, 2022
I thought that i know how to work remote properly however upon coming up to this course i have realize that i am only doing small part of it. Great training and talk. Will surely utilize these
Although I have had experience working from home, she did touch on areas that I need to consider more. The information was very useful.
This was timely, considering me desire to source for a remote job. Knowing all these will help me prepare.
Found this course to be very helpful for someone who just started their work from home journey! I can tell Shelley is very passionate about guiding employees to success. Some great reminders to help me separate work and home life balance!
It was good, not only because I'm going to use some new information I've got now but also because this is what a lot of people now need
Elizabeth
October 24, 2022
Adorei o curso. Embora bem sucinto demonstrou dicas importantes sobre apresentação visual pessoal, do ambiente de trabalho, saúde física e mental. Atitudes para ter bom rendimento de trabalho em casa através de boa escolha do local do escritório e arejado, ter metas e horários definidos. Ter pausas para rendimento de qualidade, dentre outras dicas. Muito interessante, aprovado o curso.
Very useful. I got some new ideas on how to adjust my communication with the team while we are doing WFH.
Mkhanyisi
September 8, 2022
In this cause I was able to learn more about how to conduct myself when WFH as a team players also acknowledging mental health as well while working. I've also picked that being presentable during working hours is very vital because we are always in meeting so at all time I must look presentable.
Charts
Price
Rating
Enrollment distribution
3/10/2020
course created date
3/11/2020
course indexed date
Lee Jia Cheng
course submited by