Python from Beginner to Intermediate in 30 min.
Complete Python Programming in 30 min - Get ready for Advanced Concepts.
Programming Languages
category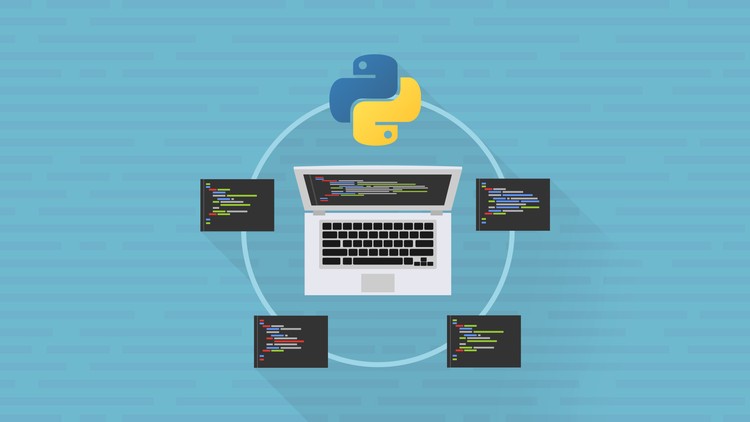 What you will learn
Efficiently Program in Python
Understand Basic Python Programming Language
Will get ready to learn advanced python programming concepts
Description
I will take your through a series of lectures and tutorials on python programming. I'll be teaching how to program using python language from scratch, starting from installation to set you up for advanced concepts
Python is a programming language is well-known for being dynamic and simple to use, mainly because it allows the programmers to use a method rich in styles, instead of doing in a specific way. It also features the possibility of extending over other customization interfaces.
With this being said, now you know we will refer to the "Python from Beginner to Expert: Starter Free" Course and the tools offered. But before, you need to know that the Python Programming is full of virtues and benefits, mostly in terms of easiness and accessibility. It is designed to be read easily, characterized by the use of words where other similar languages use symbols. This highly appreciated feature offers a dynamic environment to the programmers, allowing a steep learning curve.
Why Python?
Python Programming is a simple and easy language to interpret and read, mainly in comparison with other similar sets of tools. This way, the "Python for Beginners" Course is focused on making understand the student this fact.
This programming language is going to allow an easier and more accessible interaction with the operating system, as the result of the proper file manipulation. It is based on a set of potent scripts, capable of everything you need to create in terms of software development.
Benefits of the Course
Thanks to the dynamism offered by the programming language, we provide a Python Programming Course that guarantee fast learning processes, requiring only basic math and Basic English knowledge as well. It doesn't matter if this course is free. We still offer a free suite of lessons and tools to all the interested public who wants to fortify their knowledge about the Python Programming language.
Faster than expected, you will learn to use a language which is used more and more every day in our actual society. Every programmer, even the beginners with less experience, will be able to adapt the interface and environment of work according to their needs.
Read a little more about the clear advantages of taking this Python Programming Course if you are still in doubt:
Simplified and Fast: If you are looking a quick, efficient introduction to Python Scripting, with these lessons you will get results in a short period of time.
Elegant and Flexible: Thanks to the accessibility of the programming language itself, you will not worry too much by time-wasting details, allowing you to focus and being creative.
Productive Programming: Python has become a tool for productive work sessions, with a steep curve of learning and avoid at all cost the application of minor and self-defeating tools that waste your time. This language goes straight and simple.
Portable: This programming language is multi-platform, which means that it is perfectly usable on several operating systems like Mac, Linux and Windows. This great accessibility feature allows Python to spread fast among programmers.
Community: As this Python Programming Course implies several times, a language like this is only able to grow and improve through the contribution of the users' community. Important changes and upgrades are made in an almost democratic way, with prior authorization of the vast majority of programmers.
With this free course, which offers plenty of clear lessons and tools, you will find quickly the virtues of the Python Programming language. The shared knowledge by this course goes from Modules and Functions to Strings, Sequences and Lists. Every aspect will provide a rich learning experience, preparing you for more cutting-edge courses like "Python from Beginner to Expert: Build 2 Advanced Applications".
Enlist now!
Content
Introduction to Python Programming
Introduction
Installing Python Package
Numbers and Math in Python
Variables in Python
Modules and Functions in Python
Modules and Functions in Python
Modules and Function Libraries
Saving Python Script into a File
Coding Exercise - 1
Solutions to Coding Exercise - 1
Strings in Python
Strings in Python
Strings in Python (Various Scenarios)
Sequences & Slicing in Python
Sequences and Lists in Python
Slicing or Grouping in Python
Sequences & Basic Searching in Python
More Operations on Sequences and Lists
More operations on Slicing over Lists
Introduction to Methods
Coding Exercise - 2
Coding Exercise - 2 Solutions
Conditional Statements in Python
If and Else Statement
Nested if Statement
Loop Statements in Python
While and For Loops in Python
Infinite Loop in Python
Coding Exercise 3
Functions in Python
User Defined Functions in Python
Function Parameters in Python
Object Oriented Programming
Class, Objects & Methods
Extended Classes and Methods
File Handling in Python
Reading & Writing into File
More Operations on File
Reviews
The course was well-structured and well explained. I would suggest to include more exercises for best practise!
I found it very clearly explained and easy to follow for someone who knows nothing about coding or Python to start with, but later I struggled as the exercises were much harder than what was taught in the lecture - it should be the other way around.
Bon pour les super débutants mais un peu trop simpliste pour quelqu'un qui a déjà programmé mais ne connais pas Python.
It was good. Helped me in understanding the absolute basics of python in just an hour. now I am going to take the advanced course for further understanding. Thankyou
first half of the lecture was very informative , how ever after learning parameters a lot of going back and forth , and talking fast made things confusing. remmeber we are nubes , so clear translation helps a lot. over all i learned alot and thank you
yes, this is the course, i just needed. it helps to brushup my knowledge within less than long hours, so m happy with this purchase of course.
I chose to leave this rating because I'm not done with the course yet but it seems to be in line with a beginner's ability introduce themselves to python.
Half of time don't know what he is speaking.. his accent is not for tutor.. and he just rushing through the topics not explaining at all in detail. Totally rubbish course.. leaving in between.
Audio was not clear. It sounded like the instructor was far away from the microphone in many of the videos and he did not speak loudly enough. Also, it's great that there's a quick crash-course to Python but a lot of the concepts in this course assume some base understanding of Python.
I was attending an on-site class before Covid, where I learnt all this in like a month or so, but I did not understand much. The Tutors explanation here, is so good and cool, that I understood all this clearly, now while self-studying from this video. Thank you! Keep up the good work!
Hey,I am Mohan sir.The course that you explained had became quiet easy for me I am able to understand the concepts fine.Thank you
For a beginner course, you are making assumptions about what people know. ie the dropdown in the math functions... you do not explain how that happened
Very poor explanations for topics. For example, in the lesson where he introduces variables, he uses only integers (and in the previous lesson covering numbers specifically,. he only introduces integers), but in his wrap-up comment he says "hopefully now you understand what is variables, numbers, math and different kinds of datatypes like int and float". At no point in the lesson did he even MENTION floats. That sort of oversight can be found throughout the lessons. Another example is in the lesson named "Sequences and Lists in Python", where he introduces lists, but never explains what a sequence is, or how it differs functionally from a list. I would also expect that a tutorial on the language make use of a more sophisticated IDE than the shell, as it makes it a lot easier for the student to visualize the scope of variables that exist in a program, and understand execution flow.
Decent course. Audio a bit low and unclear at points and the practice examples are significantly more difficult than this content teaches.
The content was brief and concise (I was looking for something like to this to go over some topics). I loved the short lecture videos, they make it easier to switch back and forth while doing some other things. The practical exercises were good too. What I didn't like, most of all, was the audio quality. The video quality could be improved too.
Charts
Price
Rating
Enrollment distribution
12/20/2015
course created date
7/7/2019
course indexed date