Python for Data Analysis & Visualization 2023
Master the main data analysis and visualization libraries in Python: Numpy, Pandas, Matplotlib, Seaborn, Plotly + more
Programming Languages
category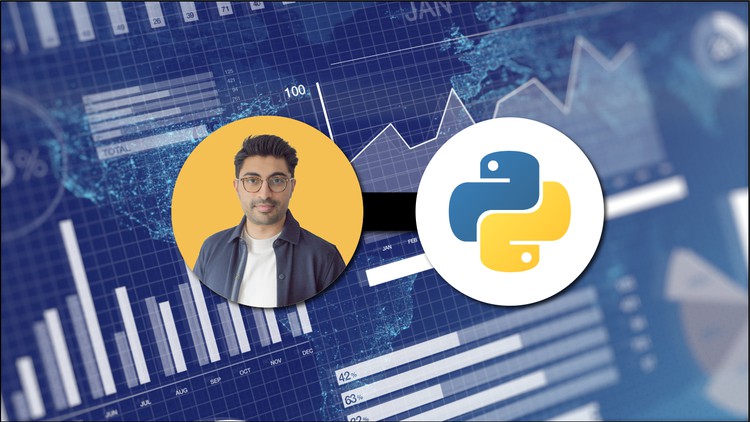 What you will learn
Python, we will be using Python3 in this course
Data Analysis Libraries in Python such as NumPy and Pandas
Data Visualization Libraries in Python such as Matplotlib and Seaborn
How to analyse data
Data Visualization
Jupyter Notebooks IDE / Anaconda Distribution
Description
Learn one of the most in demand programming languages in the world and master the most important libraries when it comes to analysing and visualizing data.
This course can be split into 3 key areas:
The first area of the course focuses on core Python3 and teaches you the essentials you need to be able to master the libraries taught in this course

The second area focuses on analysing and manipulating data. You will learn how to master both NumPy and Pandas

For the final part of the course you learn how to display our data in the form of interesting charts using Matplotlib, Seaborn and Plotly Express
You will be using Jupyter Notebooks as part of the Anaconda Distribution. Jupyter is the most popular Python IDE available.
The course is packed with lectures, code-along videos, coding exercises and quizzes.
On top of that there are numerous dedicated challenge sections that utilize interesting datasets to enable you to make the most out of these external libraries.
There should be more than enough to keep you engaged and learning! As an added bonus you will also have lifetime access to all the lectures as well as lots of downloadable course resources consisting of detailed Notebooks.
The aim of this course is to make you proficient at using Python and the data analysis and visualization libraries.
This course is suitable for students of all levels and it doesn't matter what operating system you use.
Curriculum summary:
Set Up & Installation

Core Python

Python Objects, Variables and Data Types

Control Flow and Loops

Functions

External Libraries

Data Analysis Libraries

NumPy

Pandas

Connecting to different Data Sources

Visualization Libraries

Matplotlib

Seaborn

Plotly Express

4 dedicated Challenge Sections!!!!
Content
Course Welcome & Set Up
Course Overview
Udemy 101
Python Overview
Anaconda Distribution Installation
Jupyter Notebook 101
Jupyter Notebook - Adding Comments in Cells
Course Resources - Important!
Objects, Variables and Data Types
Objects and Variables Overview
Numbers
Integer Variables
Float Variables
Strings
Print Formatting with Strings
String Operations
String Indexing and Slicing Quiz
String Methods and Properties
String Methods
String Concatenation and Formatting
Lists
Lists
Lists
Dictionaries
Dictionaries
Tuples and Sets
Tuples and Sets
Booleans
Key Words in Python
Data Types
Control Flow and Loops
Python Operators
Control Flow
Control Flow
For Loops
For Loops (continued)
For Loops
For Loops
While Loops
Break, Continue and Pass Statements
List Comprehension
List Comprehension
IN and NOT IN
Functions
Built-In Functions
Built-In Functions
User Defined Functions
User Defined Functions - Examples
User Defined Functions
User Defined Functions
Arguments and Keyword Arguments
Map and Filter
Lambda Functions
Lambda Functions
Errors and Exception Handling
Challenge Section - Core Python
Challenge Questions Overview
Solutions Walkthrough
Modules, Packages and Libraries
Built-In Modules
External Libraries
NumPy
NumPy Overview
Array Slicing and Indexing
Array Manipulation Functions
Additional Array Creation Functions
Array Arithmetic and Mathematical Functions
IO Functions in NumPy
Challenge Section - NumPy
Challenge Questions
Challenge Solutions
Pandas
Pandas Overview
Introduction to Series
Introduction to DataFrames
Selecting Data
Selecting Data 2
Data Manipulation 1
Data Manipulation 2
Data Aggregation and Grouping
Data Cleansing
Combining DataFrames
Windowing Operations
Challenge Section - Pandas
Challenge Questions - TfL Dataset
Solutions Walkthrough
Challenge Questions - Employees Dataset
Solutions Walkthrough
Data Sources
Excel and CSV
HTML
Databases
Pandas Input and Output Methods
Matplotlib
Matplotlib Overview
Choosing the Right Chart Type
Creating a Plot Area 1
Creating a Plot Area 2
Bar Plots
Line Plots
FIFA 21 Player Dataset
Scatter Plots
Histograms
Box Plots and Violin Plots
Style and Presentation
Additional Resources and Cheat Sheets
Challenge Section - Matplotlib
Challenge Questions Overview
Solutions Walkthrough
Seaborn
Seaborn Overview
Categorical Plots
Relational Plots
Distribution Plots
Regression Plots
Matrix Plots
Multi Plot Grids
Style and Presentation
Challenge Section - Seaborn
Challenge Questions Overview
Solutions Walkthrough
Reviews
This is an amazing course. Instructor will teach you all thing step by step and this course is very comprehensive and relate to beginner or intermediete data scientist.
I was looking for a course that started data analysis from the scratch for me. This definitely met my exectations
So far, the instruction in the lectures is very clear and organised. I like the teaching style, where concepts are explained by examples. Although the course has quizzes and coding exercises, I would love to have big and more challenging assignments (maybe as a bonus) to practice and polish coding. Overall, very nice course!
I was very excited to learn python and it seems this course is meeting my expectation. It is very nicely explained. Thanks.
The explanations of topics is really clear and I find usefull to have examples and review my knowlodges by doing tests.
Amazing delivery. His teachings are really easy to comprehend. He just needs to be more Audible a little.
This is an excellent, well thought out and comprehensive course that covers practical ways of using python!
A great course that provided insights and knowledge on how Python is being used throughout the process of Data Analysis and Visualization.
Very weel organized course, explanatory and easy to follow. Definite recommendation. (P.S.:the only drawback is the really low volume of the course)
First sections are for absolute beginners and don´t offer anything for Data Analysis & Visualization. Also I don´t want to install anaconda or jupyter notebook on my work pc that´s why I can´t use the resources. (I would like them to be text or python files)
This taught some good concepts, and the lectures were fairly clear to follow. The instructor said to skip certain sections of the class for those that were already familiar with Python, which I was. However, there was no way to easily mark those skipped sections (videos, practice exercises, and section tests) as complete in order to complete the class. I can't imagine I'm the first to find and report this.
It is a good match, because I am a newbie in coding and data analysis and I think I have been introduced very well into this new world! thanks
Malvik explains things really well and in-depth. He talks at an easy pace to follow and the content is top-tier.
Much much better than a course i started on freecodecamp. Coding challenges are the part where most learning happens. I wish there were some more coding challenges in between. As a beginner i takes effort to get through the beginning topics it gets better once you get to matplotlib and with seaborn excitment arrives. After some basic topics Malvik should include a syntax overview lecture and exercise to that the sytnaxes of methods, functions etc. becomes natural to the student. Malvik has a comfortable voice and way of speaking. Udemy, it hurts that i paid ~90USD and a few days later the course is offered for~ 10USD.
Yes, so far the series has introduced Jupyter Notebook, data types and some tools to play with data. There could be a little bit more exercises. The course challenge for numpy were at the end of the numpy lectures. If it is possible, include exercises right next to each video , and harder ones. Maybe for each topic, an easy exercise followed by a more difficult, which would require to look in the internet a little more. That would be fantastic!
Coupons
| Submit by | Date | Coupon Code | Discount | Emitted/Used | Status |
| --- | --- | --- | --- | --- | --- |
| Angelcrc Seven | 2/14/2022 | 1C108BCA817C9057B641 | 100% OFF | 1000/992 | expired |
| Angelcrc Seven | 2/14/2022 | 49A3DB6D6025D16892C5 | 100% OFF | 1000/954 | expired |
| - | 3/8/2022 | 8F9D789AC05E7E223B54 | 100% OFF | 1000/993 | expired |
| - | 4/2/2022 | B4BE87FA6B3B9C91B805 | 100% OFF | 1000/946 | expired |
| - | 4/2/2022 | E70F10D2B25F15920D0E | 100% OFF | 1000/769 | expired |
| - | 4/7/2022 | 83152E3D2D1B42215E41 | 100% OFF | 1000/807 | expired |
| - | 5/1/2022 | 7BC9572B36DE1A9A61F6 | 100% OFF | 1000/985 | expired |
| - | 5/2/2022 | C998020B0D1B009AE55C | 100% OFF | 1000/966 | expired |
| - | 5/2/2022 | AC0695FDFECBE1379D77 | 100% OFF | 1000/916 | expired |
| - | 6/1/2022 | BBB2FF9169E9FADEAD8C | 100% OFF | 1000/947 | expired |
| - | 6/3/2022 | 0454E3FB6B84E0B42628 | 100% OFF | 1000/945 | expired |
| - | 6/12/2022 | A6E0743939A5CB191229 | 100% OFF | 1000/976 | expired |
| - | 7/4/2022 | 60E9D616E52ADD5D3BF4 | 100% OFF | 1000/900 | expired |
| - | 7/9/2022 | 0581344A053C5F32CFE9 | 100% OFF | 1000/851 | expired |
| Angelcrc Seven | 7/25/2022 | F8546EE41E6BC1ED415B | 100% OFF | 1000/848 | expired |
| - | 8/2/2022 | 6A559DAD6F795FF461CF | 100% OFF | 1000/978 | expired |
| - | 8/23/2022 | 719907E50C636A3F7A58 | 100% OFF | 1000/950 | expired |
| - | 9/6/2022 | A0BEAEC1FFF24D14EC19 | 100% OFF | 1000/993 | expired |
| - | 9/20/2022 | FEB7770F4267F5819F41 | 100% OFF | 1000/875 | expired |
| - | 9/25/2022 | C53EADC4607EBAD7D7F8 | 100% OFF | 1000/972 | expired |
| - | 10/13/2022 | 0171D632FAF90C8FFA47 | 100% OFF | 1000/954 | expired |
| - | 10/22/2022 | E3AC8E792762600CF363 | 100% OFF | 1000/446 | expired |
| - | 11/25/2023 | BLACKFRIDAYSALE | 89% OFF | | expired |
Charts
Price
Rating
Enrollment distribution
1/2/2022
course created date
2/9/2022
course indexed date