Python for Beginners (2022)
A beginner Python course covering all of the basics you need to know
Programming Languages
category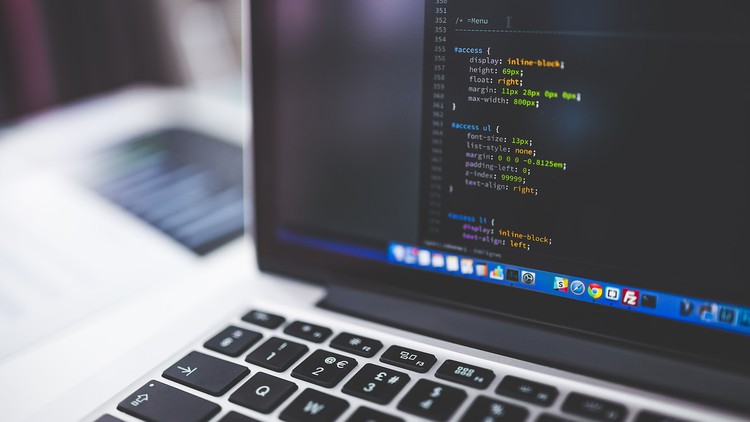 What you will learn
Python Basics from Scratch
Variables and Data Types in Python
Input/Output in Python
Working with Strings in Python
Working with Numbers in Python (Arithmetic, Functions, etc.)
Conditional Statements in Python
Loops (While, For) in Python
Lists in Python
Tupes in Python
Functions in Python
Description
Learn the basics of Python in a quick and easy-to-understand course! This course will teach you the fundamentals of Python and covers practice problems so you can advance your Python skills quickly. You will learn about installing / setting up Python, input, output, variables, data types, converting between data types, strings, numbers, arithmetic, conditional statements, loops, lists, tuples, and functions.
Topics Covered:
Installing and Setting up Python

Input / Output

Variables

Data Types

Converting between Data Types

Working with Strings

Working with Numbers (Arithmetic, Math Functions, etc.)

Conditional Statements

Loops (While, For)

Lists

Tuples

Functions
Softwares Used:
Pycharm (Platform for coding in Python)
Note: The first video of the course will teach you how to set up Python and Pycharm so you can begin coding your problems right away! The course assumes you have no prior knowledge of Python or programming.
Information about the Instructor:
AlgoSTEM is a non-profit organization led by Arushi Gupta and Akshaj Gupta that aims to increase accessibility to STEM education. Through its free online courses, AlgoSTEM has taught over 35,000 students worldwide. AlgoSTEM instructors are experienced and knowledgeable about the subjects they teach which include computer science, math, and various sciences.
Along with having multiple Udemy courses, AlgoSTEM has a popular YouTube channel called Algorythm that covers solutions to coding problems including those from Leetcode, Codeforces, Codechef, and various math competitions.
Content
Set-up and Getting Started
Installing and Setting Up Pycharm
Print Statements
Variables and Data Types
Variables
Data Types
Converting Between Data Types
Quiz 1
Working with String, Numbers, and Input
String Concatenation
Working with Strings
Working with Numbers
Input Function
Quiz 2
Conditional Statements (If/Elif/Else)
Conditional Statements
Logical Operators
Comparison Operators
Practice Problem
Quiz 3
Loops, Lists, and Tuples
While Loops
Guessing Game
Lists
List Methods
For Loops
2D Lists and Nested Loops
Tuples
Quiz 4
Functions
Functions - Part 1
Functions - Part 2
Return Statement
Quiz 5
Reviews
all the variable topic is well explained in a very easy way, like to store string value and Integer value and how to print them
I feel the course has been simplified to make concepts easier to understand. It is a really great course
The instructor is just practicing her ability to code in Python. It is more like a discussion rather lectures. It should be made considering that the person spending times on this video doesn't know anything about Python. This could be way better.
This course is definitely amazing. I couldn't have learned Python better if it weren't for Udemy. Thank you!
This is displayed very simply and to the point! And the exercises are very easy to memorize! I'm super happy with the quality of this course!!!
The explanation is very detailed, the exercises are practical. I have taken so many courses and this one is the first one I feel I have learnt. Very good teacher, very good course.
Before this course i was not able to just print a simple string message in python now i feeling confident, moving to advanced.
This course was very insightful and extremely detailed. It gave an insight on the basics of Python and has really shaped my view on this programming language considering the fact that before I started this course, I had no prior knowledge on Python but now, I'm READY to start my coding journey in full force!
Really good course. Instructor is knowledagble and breaks down concepts so that they are all easy to understand. I was confused about some parts of coding in python but this course cleared up my doubts. The quizzes/assignments also have good questions which allowed me to properly review everything. I would recommend the course to anyone regardless of whether they are at the beginner or intermediate level in Python. I learned a lot!
This is a great course that covers all of the Python fundamentals such as variables, data types, strings, conditional statements, functions, etc. Its very good for either beginners or people who want to review Python. Instructor explains concepts in concise and easy to understand manner. The quizzes are also good for reviewing what was learned in videos. Great teaching by instructor!!
This course is very easy to learn python language. It is very helpful for me .it is an excellent platform for students.
This course really helped me understand python. Before I was extremely confused but now everything is a lot more clear!
Instructor explains concepts well. The course is easy to understand and there are many good examples. Great course!
The instructor explains Python concepts very well. I can understand everything and the course is concise and clear. I highly recommend it to anyone who is interested in learning Python.
Coupons
| Submit by | Date | Coupon Code | Discount | Emitted/Used | Status |
| --- | --- | --- | --- | --- | --- |
| - | 1/3/2021 | PYTHON-FOR-BEGINNERS | 100% OFF | 40000/10452 | expired |
| - | 5/12/2022 | FREEPYTHON | 100% OFF | 1000/940 | expired |
| - | 5/14/2022 | PYTHONFREE | 100% OFF | 1000/836 | expired |
11/18/2020
course created date
1/3/2021
course indexed date