Python For Beginners Crash Course Using VS Code
Python Crash Course Provides Introduction To Python And Basics of Python Programming Language
Programming Languages
category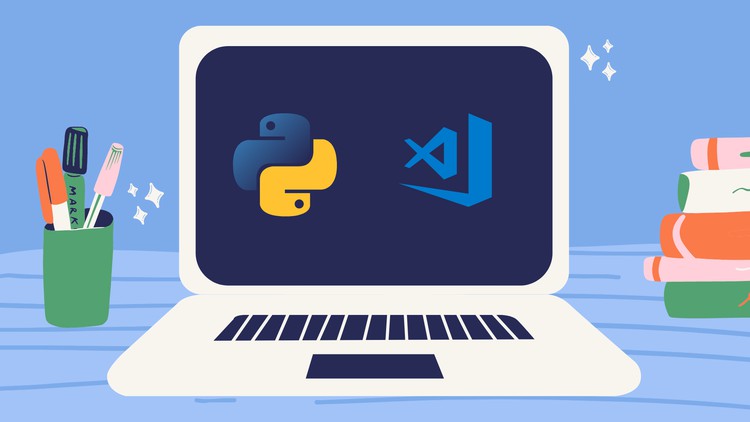 What you will learn
Python environment set-up. installing python latest version
Installing visual studio code, setting up visual studio code for python
Introduction to python variables, writing 1st program in python
Introduction to python datatypes, string datatype, numeric datatypes, list datatype
Python comments, use of the comments
Description
Learn Python From Absolute Scratch
we've created thorough, extensive, but easy to follow content that you'll easily understand and absorb.

The course starts with the basics, including Python setup, fundamentals, programming




The curriculum is going to be very hands-on as we walk you from start to become a professional Python developer. We will start from the very beginning by teaching you Python environment setup and installation. visual studio code setup for python programming, and basics programming fundamentals
The topics covered in this Crash course are:

* Beginner Python contents:

Python Environment Setup : We will be using latest released python version for this course in this we will download and install 3.9.1 version of python

Visual Studio Code For Python: It is one of the best code editors out there and we will be using visual studio code for this course we are going to setup visual studio code for python programming.

Python Fundamentals: We will start course by writing first program Hello World then introduction to the python variables, use of python variables

Python Datatypes: Introduction to various datatypes of python, we will learn datatypes like numeric datatypes (int, float,complex number), string datatype, list datatype

Python comments: Python comments and use of python comments

See you inside the course!
Content
Python Crash Course Using VS Code
Tutorial 1 -Python Environment Set Up Installing Python 3
Tutorial 2-Python Installation Version Check
Tutorial 3- Python First Program Hello World
Tutorial 4- Python Variables
Tutorial 5- Python Comments
Tutorial 6- Python Numeric Datatypes
Tutorial 7 - Python List Datatype
Tutorial 8- Python String Datatype
Reviews
He just teaching Basics of basics. Content are very much low which are required to getsoff from the basics of python.
Coupons
| Submit by | Date | Coupon Code | Discount | Emitted/Used | Status |
| --- | --- | --- | --- | --- | --- |
| - | 2/16/2021 | BAD06B16E0D9C833C9FC | 100% OFF | 40000/5487 | expired |
1/29/2021
course created date
2/14/2021
course indexed date