Python For Beginners Course In-Depth
This course is a depth introduction to both fundamental python programming concepts and the Python programming language.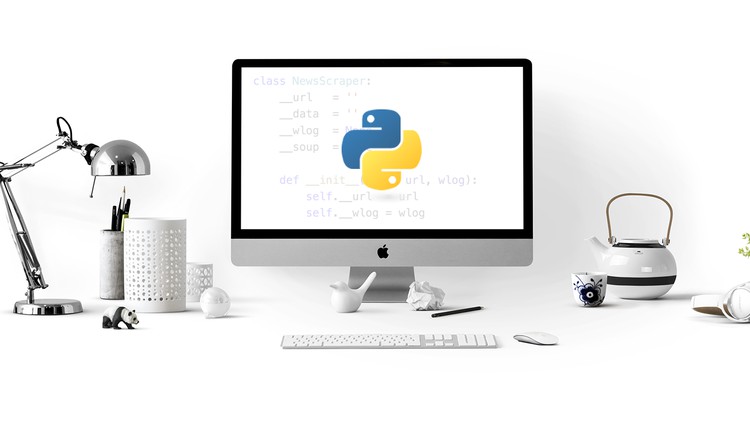 What you will learn
Getting Started, Python From Command line, Values and Data Types, Operators and Operands, Function Calls
Write scripts for general productivity tasks Read and comprehend Python code Gain knowledge in regard to general programming concepts
Use variables to store, retrieve and calculate information
Data Types, Type Conversion, Functions, Statements and Expressions
Mathematical Function, Random Number Function, Trigonometric Functions, Trigonometric Inverse Functions
CGI Programming, Web Server Configuration
Description
This course is a depth introduction to fundamental python programming concepts.
Learn Python From Beginner To Advanced Level
I've created thorough, extensive, but easy to follow content which you'll easily understand and absorb.

The course starts with the basics, including Python fundamentals, programming, and user interaction.




The curriculum is going to be very hands-on as we walk you from start to finish becoming a professional Python developer. We will start from the very beginning by teaching you Python basics and programming fundamentals, and then going into advanced topics and different career fields in Python so you can get real-life practice and be ready for the real world.
The topics covered in this course are:

* Beginner to Expert Python contents:




Array implementation

File methods

Keywords and Identifiers

Python Tuples

Python Basics

Python Fundamentals

Mathematical Functions

Data Structures

Object-Oriented Programming with Python

Functional Programming with Python

Lambdas

Decorators

Generators

Testing in Python

Debugging

Error Handling

Regular Expressions

Comprehensions

Modules

See you inside the course!
Content
Python For Beginners Course In-Depth
Tutorial 1-Python From Command Line
Tutorial 2-Python Script From Command Line
Tutorial 3-Python Command Line Options
Tutorial 4-Python Language Overview
Tutorial 5-IDLE Interactive Shell
Tutorial 6-Python Basic Syntax
Tutorial 7-Python Keywords
Tutorial 8-python Lines And Indentation
Tutorial 9-Python Identifiers
Tutorial 10-Python Quotations
Tutorial 11-Python Multiline Statements
Tutorial 12-Python Command line Argument
Tutorial 13-Python Standard Data Types
Tutorial 14-Python Numbers
Tutorial 15-Python Mathematical Functions
Tutorial 16-Python Random Number Functions
Tutorial 17-Python Trignometric Functions
Tutorial 18-Python Mathematical Constants
Tutorial 19-Trigonometric Inverse Functions
Tutorial 20-Trigonometric Misc Functions
Tutorial 21-Python Operators
Tutorial 22-Python Arithmetic Operators
Tutorial 23-Python Bitwise Operators
Tutorial 24-Python Logical Operators
Tutorial 25-Python Membership Operators
Tutorial 26-Python Identity Operators
Tutorial 27-Python Operator Precedence
Tutorial 28-Python Strings
Tutorial 29-String Basic Operators
Tutorial 30-String Formatting Operators
Tutorial 31-Python Triple Quotes
Tutorial 32-String Encoding Functions
Tutorial 33-Python List
Tutorial 34-Access Update & Delete List
Tutorial 35-Basic List Operations
Tutorial 36-Indexing, Slicing & Matrixes
Tutorial 37- Python List Methods
Tutorial 38-Built in List Functions
Tutorial 39-Python Decision Making
Tutorial 40-Python If Statement
Tutorial 41-Python if else statement
Tutorial 42-Python if elif else statement
Tutorial 43-Python single statement suites
Tutorial 44-Python Loops
Tutorial 45-Python While loop
Tutorial 46-python Infinite While Loop
Tutorial 47-while loop else statement
Tutorial 48-While Loop Single Statement Suites.
Tutorial 49-Python for loop
Tutorial 50-For Loop Using rang() Function
Tutorial 51-for loop iterating by sequence index.
Tutorial 52-Python Nested loops
Tutorial 53-Loop control statement
Reviews
I found that a key to the main fundamental of the basic of the python course. Like that, we can say it's syntax statement base it's amazing I had clear my concept and it's all helping me in bash scripting Thank you.
The course was OK, but there were just too many mistakes. Looks to have been thrown together without any thought about proof reading, etc. Pity really :-( Also, I appreciate that English doesn't appear to be the instructors native language, but I feel the terminology should be correct when teaching a subject.
This course is a waste of time and money. This is not for beginners. It was not properly explained and structured. You just gave theoretical lectures rather than practical knowledge. I suggest not to buy.
this course is not for beginners. the person teaching this course creates no link between videos and assumes that the learner already knows stuff.
This course is useless. The title says it's for beginners but the facilitator does not start with first things first. From lecture 1, he already types codes without explaining what they are used for. He does not teach you how to get python programme on your device. The course was not well thought out. It's not even structured. This video makes me doubt Udemy's credibility. I wanted to buy Udemy courses, but after this course, I strongly believe it's waste of money and time. Period!!!
This was a great lecture, but i wish it had some practical examples and puzzles so that, it will be more fun to learn
Friedrich
September 28, 2021
Meiner Meinung nach nicht für Anfänger da vieles verwendet wird, was zuvor nicht erklärt oder angesprochen wurde.
It is quite a catch so far. I really like the way the concepts are taught and demonstrated. Great job
at starting its a complete mess ,like command promt part . and sound quality is kinnda high-low pitch
I felt very happy after completing this course, you did a wonderful job according to this course, I leant so many important things in this course. thank you for providing such a great and good course.
very nice but needs to work on ide selection like vs code or pycharm or colab etc. excellent example and explanation.
The way he explain the course is easy to understand, it cover each part of the code for a better understanding and explains why is the result.
I was expecting a more experienced and knowledgeable instructor, who knows the order in which he should be teaching. Very disappointed in the course
untill now......its goes same as my class leacturer there nothing unique and entertaning so we can focused more..
I stopped at 12th lessons. Not really challenging, very difficult accent: could be understood, but it takes a lot of mental resources.
Coupons
| Submit by | Date | Coupon Code | Discount | Emitted/Used | Status |
| --- | --- | --- | --- | --- | --- |
| - | 9/25/2020 | 037A0F3C192527DC939D | 100% OFF | 40000/6996 | expired |
| - | 9/28/2020 | 3E957213362CA0F8B71F | 100% OFF | 40000/3899 | expired |
| Angelcrc Seven | 10/26/2020 | EABC6DD3145F1CE772CE | 100% OFF | 40000/5463 | expired |
| - | 10/31/2020 | 80BADBA12E579F447281 | 100% OFF | 40000/6583 | expired |
| - | 11/12/2020 | B1E815983D38C6A4715A | 100% OFF | 40000/7447 | expired |
| - | 11/24/2020 | 5CDE23880B08D81FC4BC | 100% OFF | 40000/9410 | expired |
| - | 11/28/2020 | B67A1E195AF0B8B63A14 | 100% OFF | 40000/2380 | expired |
| - | 12/2/2020 | 71D56EEB824C9E0BE59B | 100% OFF | 40000/3981 | expired |
| - | 12/6/2020 | 7EB0A3CED79EE2FFAA77 | 100% OFF | 40000/3956 | expired |
| - | 12/24/2020 | 4A714E165D5819A39763 | 100% OFF | 40000/3902 | expired |
| Angelcrc Seven | 12/29/2020 | 538ADE378AFBDFA8D52B | 100% OFF | 40000/4112 | expired |
| - | 1/16/2021 | A1C3CDC6FC9A5C7CB604 | 100% OFF | 40000/7001 | expired |
| - | 3/29/2021 | DB3175C397F9C32A06FB | 100% OFF | 40000/7130 | expired |
| - | 4/15/2021 | C69EF7C1F7CE951BC730 | 100% OFF | 40000/4252 | expired |
| mohamedxxx | 4/28/2021 | 96BD1E79052CD66780B0 | 100% OFF | 40000/4363 | expired |
| - | 5/25/2021 | DISCUDEMY | 100% OFF | 40000/5566 | expired |
| - | 6/10/2021 | DISCUDEMY.COM | 100% OFF | 40000/4767 | expired |
| - | 6/29/2021 | DISCUDEMY1 | 100% OFF | 40000/11041 | expired |
| - | 7/25/2021 | DISCUDEMY..COM | 100% OFF | 40000/12751 | expired |
| - | 8/5/2021 | DISCUDEMY.COMM | 100% OFF | 40000/4065 | expired |
| - | 8/15/2021 | 9F36A89A07253893D73A | 100% OFF | 40000/2017 | expired |
| - | 8/24/2021 | 5F27607C1628F013B9B3 | 100% OFF | 40000/699 | expired |
| - | 9/21/2021 | DISCUDEMY.COM4 | 100% OFF | 40000/4527 | expired |
| - | 10/8/2021 | DISCUDEMY.COM5 | 100% OFF | 40000/2756 | expired |
| - | 11/1/2021 | 36C4029D8AB1D1C901BE | 100% OFF | 1000/921 | expired |
| chris | 11/8/2021 | 975507CF65B97276DE81 | 100% OFF | 1000/830 | expired |
| chris | 11/16/2021 | 169551131A07FFEB230B | 100% OFF | 1000/842 | expired |
| Ignacio Castro | 12/12/2021 | E343A88F61E1ECB11A48 | 100% OFF | 1000/889 | expired |
| - | 12/14/2021 | CC5FC0CA054EC9BE8A5B | 100% OFF | 1000/780 | expired |
| - | 12/18/2021 | 60BF708A139B15207CA7 | 100% OFF | 1000/997 | expired |
| - | 1/3/2022 | E51273E5B7F603C78605 | 100% OFF | 1000/904 | expired |
| - | 1/11/2022 | 7D035A4F91607A976A35 | 100% OFF | 1000/750 | expired |
| - | 2/5/2022 | 33CA3C58C634A149BA66 | 100% OFF | 1000/960 | expired |
| Angelcrc Seven | 2/11/2022 | BC01A647306D9D896979 | 100% OFF | 1000/995 | expired |
| - | 2/17/2022 | 4943A737CCD7875CDF5F | 100% OFF | 1000/993 | expired |
| - | 3/2/2022 | 9EA8ACE859138E2BD389 | 100% OFF | 1000/946 | expired |
| Angelcrc Seven | 3/6/2022 | 76F7C6972F066C425D80 | 100% OFF | 1000/566 | expired |
| Ignacio Castro | 3/20/2022 | E6290AA546EB0BBC6D0A | 100% OFF | 1000/927 | expired |
| ANUBHAVJAIN | 4/4/2022 | 5770AFC9DAD383962323 | 100% OFF | 1000/852 | expired |
| - | 4/13/2022 | DC17925648C333598875 | 100% OFF | 1000/977 | expired |
| - | 4/22/2022 | EC01833DBAE46BDAB574 | 100% OFF | 1000/926 | expired |
| - | 5/3/2022 | 582974474E016F5D4541 | 100% OFF | 1000/903 | expired |
| - | 5/12/2022 | F53DC855EB4324E17DD4 | 100% OFF | 1000/988 | expired |
| - | 5/20/2022 | 40CEA195C1204507E84F | 100% OFF | 1000/994 | expired |
9/13/2020
course created date
9/25/2020
course indexed date