Python Complete Course For Beginners
This course is a depth introduction to both fundamental python programming concepts and the Python programming language.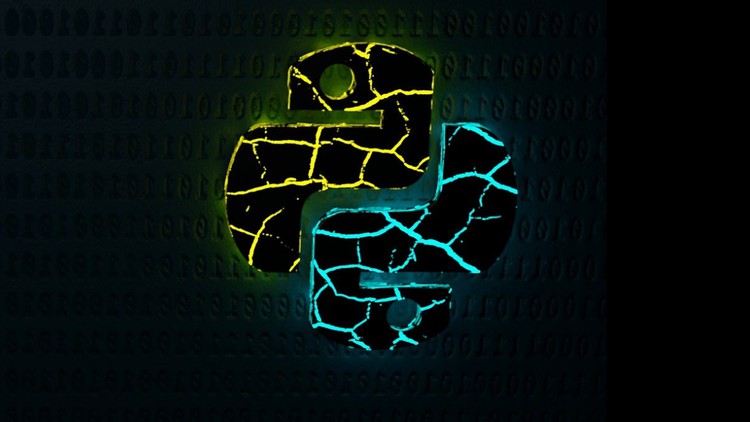 What you will learn
Getting Started,Variables,Values and Data Types, Operators and Operands, Function Calls
Write scripts for general productivity tasks Read and comprehend Python code Gain knowledge in regard to general programming concepts
Use variables to store, retrieve and calculate information
Data Types, Type Conversion, Functions, Statements and Expressions
Description
Learn Python From Beginner To Advanced Level By Demonstrations
The course is created thorough, extensive, but easy to follow content which you'll easily understand and absorb.

The course starts with the basics, including Python fundamentals, programming, and user interaction.




The curriculum is going to be very hands-on as we walk you from start to finish to become a professional Python developer. We will start from the very beginning by teaching you Python basics and programming fundamentals, and then going into advanced topics and different career fields in Python so you can get real-life practice and be ready for the real world.




While it is easy for beginners to learn, it is widely used in many scientific areas for data exploration. This course is an introduction to the Python programming language for students without prior programming experience. We cover data types, control flow, object-oriented programming, and graphical user interface-driven applications
Master the fundamentals of writing Python scripts

Learn core Python scripting elements such as variables and flow control structures

Discover how to work with lists and sequence data

Write Python functions to facilitate code reuse

Use Python to read and write files

Make their code robust by handling errors and exceptions properly

Explore Python's object-oriented features

Search text using regular expressions
The topics covered in this course are:

* Beginner to Expert Python contents:




Installing Anaconda

Python Overview

Array implementation

File methods

Keywords and Identifiers

Python Tuples

Python Basics

Python Fundamentals

Data Structures

Object-Oriented Programming with Python

Functional Programming with Python

Lambdas

Decorators

Generators

Testing in Python

Debugging

Error Handling

Regular Expressions

Comprehensions

Modules

See you inside the course!
Content
Introduction
Introduction Tutorial 1-Installing Anaconda
Tutorial 2-Python Overview(Demonstration)
Tutorial 3-Python Variables And Constants
Tutorial 4-Python Class And Objects
Tutorial 5-Python Array Implementation
Tutorial 6-Python Keywords And Identifiers
Tutorial 7-Python Tuples
Tutorial 8-Python sets
Tutorial 9-Python Different Modules
Tutorial 10-Python Directory And File management
Tutorial 11-Python Dictionary
Tutorial 12-Python Strings
Tutorial 13-Python Data Type Conversion
Tutorial 14-Python Numbers
Tutorial 15-Python Namespace and scope
Tutorial 16-Python global local nonlocal
Tutorial 17-Python Global Keywords
Tutorial 18-Python Iterators
Tutorial 19-Python Iterations Using for
Tutorial 20-Python Inheritance
Tutorial 21-Python Multiple Inheritance
Tutorial 22-Python Function Arguments
Tutorial 23-Python Functions.
Tutorial 24-Python break statement
Tutorial 25-Python continue statement
Tutorial 26-Python Errors And Exceptions
Tutorial 27-Python Try, Except And Finally
Tutorial 28-Python User Defined Exception
Tutorial 29-Python OOP Approach
Tutorial 30-Python Nested Dictionary Implementation
Tutorial 31-Python Operator Overloading
Tutorial 32-Python Statements And Comments
Tutorial 33-Python Pass Statement
Tutorial 34-Python Generators
Tutorial 35-Python Decorators
Tutorial 36-Python While Loop
Tutorial 37-Python use of If,elif,else
Tutorial 38-Python Matrix Implementation
Tutorial 39-Python Regular Expressions
Tutorial 40-Python List Comprehension
Tutorial 41-Python Recursion.
Tutorial 42-Python Input, Output And Import
Tutorial 43-Python Shallow And Deep Copy
Tutorial 44-Python Lamda Function
Tutorial 45-Python Assert
Tutorial 46-Python @property.
Reviews
you could have explained little bit better, altough im only in the 4th video, i have paused this video for 10times to understand (still didn't get it), you are explaining good for the people who have basic knowledge about python, but im a new learner, infact im new to coding, so you have to teach me like spoon feeding a baby
It was a great stuff learning python. Contents are really helpful for a new beginner without IT background.
Schreckliche Aussprache. Als deutscher Muttersprachler ist ein englischsprachiger Kurs manchmal eine Herausforderung. Aber diese Aussprache (mit stark indischem Akzent) geht gar nicht. Zum Glück habe ich diesen Kurs nichts bezahlt. Sonst würde ich mich sehr ärgern und die Gebühr zurückfordern.
The Python Complete Course For Beginners is actually a foundation of your Python learning they teach me from basics of python I cleared my all basic doubt and I must recommend you to start your python learning from this course. Thank you sir Thank you Udemy.
Tarisha
September 11, 2021
The content is interesting, but to be honest you need to spend a little more time on how you speak/edit the videos. That would make it almost perfect. Good luck!
The explanations provided are really easy to understand. This is a course which is truly apt for beginners. Really happy with the results.
Por ahora solo vi los primeros dos videos, pero algo negativo es que me cuesta entender el ingles del profesor, mayormente por el acento a pesar de que considero que hace su mejor esfuerzo. Por otra parte opino que expone conceptos importantes con un poco de desorden.
Good course but some of the lectures could be reordered. would also appreciate a few simple tasks or tests every 4 or 5 lectures.
course is good and a lot of things to learn but the main problem is the sequence of videos which leads the student to confusion i-e the inheritance concept is before the oop and much more like that if the sequence is in correct order then the course is very good
Der Kurs war sehr unstrukturiert, teilweise schwer verständliches Englisch, eigentlich wurde kaum etwas erklärt, sondern nur Code vorgelesen. Ich hatte das Gefühl ich kann nur folgen, da ich schon einiges an Vorkenntnissen habe.
could be better with some included projects or reading material to supplement videos, otherwise solid course.
This course is interesting and the mentor has cleared the concepts in a very proficient manner till now
i t was good and useful learning a course at online and the teaching method is quite nice and easy to understand
I think it could have some improvemente, its too dense for a begginer, it has a lot of information and it kind of scares you right off the bat and for some people it could be discouraging, apart from that good job!
Can't uderstand what he is saying. Very awful. Managed to get though but did not learnng much at all. Not what I expected it to be
Coupons
| Submit by | Date | Coupon Code | Discount | Emitted/Used | Status |
| --- | --- | --- | --- | --- | --- |
| - | 1/14/2021 | 47CD09D31C02B8B50C17 | 100% OFF | 40000/10973 | expired |
| - | 2/27/2021 | 43477A8B28A6E3F3F8C9 | 100% OFF | 40000/17211 | expired |
| mohamedxxx | 3/10/2021 | 7B76E04929FF7910B918 | 100% OFF | 40000/7918 | expired |
| - | 3/20/2021 | 618310D6BC3BC54CED9D | 100% OFF | 40000/9924 | expired |
| - | 4/19/2021 | CDF64A498B0EB3EF10F0 | 100% OFF | 40000/8688 | expired |
| mpapadaki | 5/25/2021 | D8ED4B975D4E2950C361 | 100% OFF | 40000/9028 | expired |
| - | 6/3/2021 | FREEBIESGLOBAL | 100% OFF | 40000/6422 | expired |
| - | 6/16/2021 | DISCUDEMY | 100% OFF | 40000/10774 | expired |
| - | 6/21/2021 | FREEBIEGLOBAL | 100% OFF | 40000/2963 | expired |
| - | 7/2/2021 | DISCUDEMY1 | 100% OFF | 40000/7371 | expired |
| - | 7/15/2021 | DISCUDEMY.COM | 100% OFF | 40000/13423 | expired |
| - | 7/26/2021 | E00EFE8202E7443617C7 | 100% OFF | 40000/6712 | expired |
| - | 8/2/2021 | DISCUDEMY.COM1 | 100% OFF | 40000/2941 | expired |
| - | 8/17/2021 | 2A044D08F600BEA40779 | 100% OFF | 40000/4003 | expired |
| - | 8/23/2021 | 36418C6F472BB3D7FC01 | 100% OFF | 40000/1736 | expired |
| - | 9/10/2021 | DISCUDEMY.COM2 | 100% OFF | 40000/1788 | expired |
| Angelcrc Seven | 9/18/2021 | 17B9535B68C622F09C62 | 100% OFF | 40000/4237 | expired |
| - | 11/9/2021 | 0225CF29452BFAE7113C | 100% OFF | 1000/970 | expired |
| Ignacio Castro | 11/22/2021 | F5C247340514D5A3EE58 | 100% OFF | 1000/735 | expired |
| Angelcrc Seven | 12/3/2021 | 0AC133208C8A9FB02635 | 100% OFF | 1000/937 | expired |
| Angelcrc Seven | 12/12/2021 | 88AD38E1893000E84FE4 | 100% OFF | 1000/987 | expired |
| - | 12/24/2021 | 6EC9EA998D3B41010BCB | 100% OFF | 1000/983 | expired |
| - | 1/5/2022 | 4BD225BB45E770C07091 | 100% OFF | 1000/912 | expired |
| Angelcrc Seven | 1/15/2022 | 0A31116E611B35E18CB8 | 100% OFF | 1000/815 | expired |
| - | 1/25/2022 | 281B68448BBD735A5A2C | 100% OFF | 1000/805 | expired |
| ANUBHAVJAIN | 2/14/2022 | FB7E597C75528E959D44 | 100% OFF | 1000/992 | expired |
| Ignacio Castro | 2/24/2022 | FREEBIESGLOBAL-22-2 | 100% OFF | 1000/909 | expired |
| - | 3/8/2022 | E30B7A1BCD324D0FFD7A | 100% OFF | 1000/957 | expired |
| Ignacio Castro | 3/17/2022 | EDFD9A9E08F88DC2A053 | 100% OFF | 1000/900 | expired |
| Ignacio Castro | 3/26/2022 | 67B2DD64E0F912DCA997 | 100% OFF | 1000/918 | expired |
| - | 4/10/2022 | 3FE1CA9986D02884D557 | 100% OFF | 1000/968 | expired |
| - | 4/16/2022 | 8F8B259240C78A9C850B | 100% OFF | 1000/786 | expired |
| - | 4/28/2022 | E01A0D846C523105A381 | 100% OFF | 1000/991 | expired |
| Ignacio Castro | 5/14/2022 | FD3CE09E264EBD121236 | 100% OFF | 1000/973 | expired |
| - | 5/22/2022 | A59B09DEC5DDF6B7DAD1 | 100% OFF | 1000/945 | expired |
12/10/2020
course created date
1/14/2021
course indexed date