Public Speaking for Beginners
Public Speaking Skills Developed From Scratch, in Little Time
Career Development
category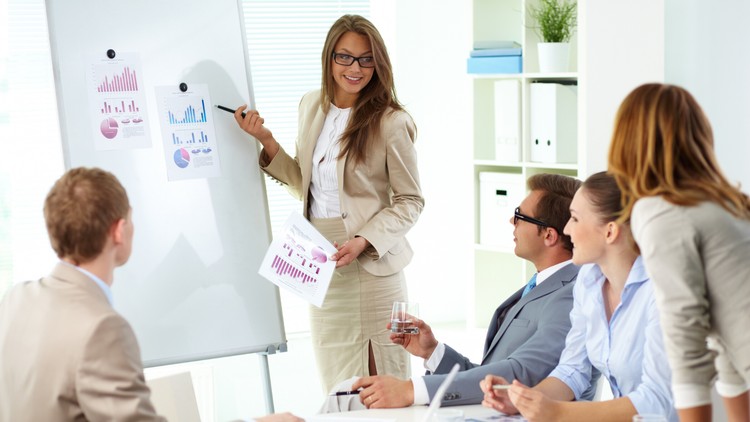 What you will learn
Give speeches, presentations, talks and briefings
Display confidence when speaking
Speak in an understandable manner
Make messages memorable
Description
Public speaking--Even if you have never given a speech and the idea of public speaking scares you, you can become competent and professional in your public speaking skills-and quickly! TJ Walker is arguably the premier public speaking coach in the world, with more published online public speaking training courses than anyone else, and with a 6-continent client list. Walker will show you how to bypass normal beginner pitfalls and get to a comfortable, confident state for all your public speaking. And he shows you how to do this in less than 45 minutes!
Are you in a new job or position that requires you to speak in public or to colleagues or clients? This course will help you master all the public speaking basics-and then some. You may be a beginner when it comes to your public speaking skills, but nobody else around you has to know the secret.
After enrolling in this course, your colleagues and clients will never believe you when you try to tell them you were recently a beginner in public speaking. What will students achieve or be able to do after taking this course?
Give speeches, presentations, talks and briefings

Display confidence when speaking

Speak in an understandable manner

Make messages memorable

Be proficient at public speaking
This course is designed with hyper-efficient methods so that you can learn all public speaking skills basics in less than 45 minutes.

Please note: this is a communications course conducted by a real person who is speaking and demonstrating communication skills. If you are looking for a course with lots of animation, slides, special effects, slick edits, and robotic voices, this course is not for you.

Content
Public Speaking So That Nobody Will Know You Are a Beginner
These Simple Secrets Will Make You Look Like a Public Speaking Veteran
You Will Never Have to Be Scared, Even Though Everybody Else Is
This Is How You Get Your Audience to Do What You Want
Unlock the Keys to Motivating Your Audience
Refining Your Public Speaking Skills the Smart, Systematic Way
Getting Feedback the Right Way to Make You Stronger
Mastering the Easiest Public Speaking Technique of All
Assignment: Testing Your Communication To Make Sure It Works.
Exciting New Update to this Course
Your Picture Will Be Worth More The a 1000 Words
Only Perfect Practice Makes Perfect
You Can Pass the Ultimate Test
You Have Earned a Personalize Coaching Session Now
Course Update! Live Instructor Office Hours are Now Available
Conclusion Public Speaking for Beginners
Time to Give TJ a Piece of Your Mind
Conclusion - You Are No Longer a Public Speaking Beginner
Extra - Tips on How to Get Over Nervousness and Being Scared
Final Bonus Lecture re Future Courses and Learning Opportunities
Reviews
Ehtashamul
August 21, 2023
In these sections, I came to know lot of psychological strategy and hand tricks. Recapitulation of whole presentation based script into top 5 points, be relaxed and interaction in front of audience, not to have temptations of covering all points like a machine instead of being friendly towards people, a seek of having feedback and make sure that people are remembering script are the top things I will surely mention.
very good course for beginners and the instructor is a very nice person and has the ability to teach students.
I'd appreciate if TJ would add more visual effects like animated texts or pictures to make the videos more interesting
I think this is one of the best courses i have taken. The tutor explained to my understanding. With this understanding i know i will become a pro in public speaking where the audience will be yearning for more of me.
Sir, your course is very informative for me. Thank you so much for that. So I have to tell you something. The 14th video is too long. can you separate that video for two parts.
The course was well-organized and easy to follow.The instructor was clear and concise in their explanations.
i remembered to use a cheat sheet , write bold 2-3 words for a particular idea , not to write full sentences, practice on phone recorder and examine yourself how you spoke, and when practicing in front of someone don't just ask what they think about my presentation other than that ask what do they remember from it.
Thank you for the well-informed video regarding Public Speaking. Such as focusing on our energy to inform the audience through the presentation, and narrowing down the full speech to main five points. Moreover, that would be helpful if you could add short video examples for each main section. thank you!
Better than expected. The way it has been broken down makes it easier to come back to, should you need to.
1)I learned that everyone in scared and uncomfortable at beginning. 2)Best way to practice is by practicing on phone. 3)write important points in bullets and write in large size o only one sheet of paper.(don't put pressure on mind) 4) Think about messages you want to convey to your audience. 5) Question yourself what you want them to think and learn. 6) At the end ask them about what do you remember from your presentation.
Currently I started this course. But after watching section 1 . I feel like I need to follow this. Because As I really needed to make my self open while talking with anyone. I am a person who feel shy when start speaking with unknown people. I am let hopping I will not to be feels shy. While speaking after watching this course. ?
The course is a good match for me. Points to remember: use a cheat sheet, a cheat sheet should not be more than one page, and use bold fonts on cheat sheets. Additionally, write in one sentence what you want from the audience and what will motivate the audience to give you what you want. Limit your points to a maximum of 5. The section on nervousness is particularly very useful to me. Despite practices, I keep getting nervous. Hope I will be able to apply the concept highlighted in the course. Increasing the timing and content will be helpful.
I love the way you explain the subjects. You are an excellent intructor. Anybody can understand this course with the examples you give! Thank you!
This has been very helpful for me. It will help me organize the material that I need to present so my audience gets the most out of my presentation. Only having 5 major points instead of more will help the listener take away for information from the experience. The only thing I have concerns about is where the discussion board he keeps mentioning is located.
Hi TJ, This course helps really in setting up some foundations. I request to add examples like videos or content for topic covered so that it will have good effect on people taking the course.
Coupons
| Submit by | Date | Coupon Code | Discount | Emitted/Used | Status |
| --- | --- | --- | --- | --- | --- |
| Lee Jia Cheng | 6/14/2020 | 42405B3A4AFD84F6CA09 | 100% OFF | 40000/6794 | expired |
| - | 7/20/2020 | 273F5E74D780C3846346 | 100% OFF | 40000/3946 | expired |
| - | 8/12/2020 | AE719CA087F04B9D2224 | 100% OFF | 40000/2999 | expired |
| - | 9/15/2020 | 361A39DC04D6F5CEC3C7 | 100% OFF | 40000/5297 | expired |
| - | 9/21/2020 | 1D190710EF55A1953106 | 100% OFF | 40000/2771 | expired |
| - | 10/26/2020 | 2979E8D97444605D7156 | 100% OFF | 40000/3102 | expired |
| - | 11/19/2020 | 73E492D0D8E11225CBF8 | 100% OFF | 40000/2446 | expired |
| - | 12/21/2020 | 765BE5D2F5E6421FFB7D | 100% OFF | 40000/2485 | expired |
| Dean | 6/3/2021 | 87C235A67891B643D2E8 | 100% OFF | 40000/10754 | expired |
| - | 7/26/2021 | 767157D47E8C2F8681B5 | 100% OFF | 40000/4320 | expired |
| - | 5/1/2022 | 2C60BE7F801110CB3B5F | 100% OFF | 1000/965 | expired |
| - | 7/21/2022 | C4FF8EAD22B8830C08D6 | 100% OFF | 1000/920 | expired |
| - | 8/15/2022 | EA891AB3FD353A31AD37 | 100% OFF | 1000/938 | expired |
| - | 10/2/2022 | B4A119201406215AFA8A | 100% OFF | 1000/949 | expired |
| - | 10/24/2022 | 5411AEBB006119ADEDB5 | 100% OFF | 1000/987 | expired |
| - | 11/2/2022 | CD8ECCCDC2CF77FB269A | 100% OFF | 1000/566 | expired |
| - | 11/3/2022 | 60CB9BFE65A2EA679F7F | 100% OFF | 1000/234 | expired |
| - | 11/10/2022 | FA4894E379009CC9C5D9 | 100% OFF | 1000/469 | expired |
| - | 11/27/2022 | 3C7D852E3D83DD67EE21 | 100% OFF | 1000/987 | expired |
| - | 12/10/2022 | 6B07B376A4A80DAB7575 | 100% OFF | 1000/940 | expired |
| - | 12/30/2022 | 33A1B25B1EA232E89D1F | 100% OFF | 1000/988 | expired |
| - | 4/26/2023 | 1B714E8E132122735C3C | 100% OFF | 1000/506 | expired |
| - | 4/30/2023 | BF8E04226701173C658E | 100% OFF | 1000/452 | expired |
| - | 5/8/2023 | 18EB343A793F52B481FA | 100% OFF | 1000/249 | expired |
| - | 5/23/2023 | 28783484AC9B23846D34 | 100% OFF | 1000/347 | expired |
| - | 6/21/2023 | THANKS020 | 100% OFF | 1000/999 | expired |
| - | 7/23/2023 | 5D1455858EB206ED591C | 100% OFF | 1000/745 | expired |
| - | 8/13/2023 | 33ABC6275C7709A47F9C | 100% OFF | 1000/943 | expired |
Charts
Price
Rating
Enrollment distribution
2/12/2018
course created date
11/20/2019
course indexed date