Advanced Scrum Product Owner II Practice Tests questions
Prepare for PSPO2™ Scrum Product Owner 2 certification with many professional practice tests and tips. Get a high score!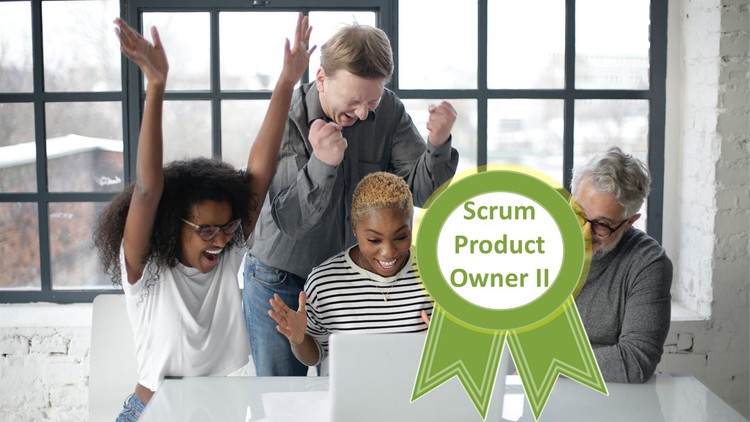 What you will learn
Answer questions for Scrum Certification exams
Practice and answer questions for the PROFESSIONAL SCRUM PRODUCT OWNER II™ PSPO II™ PSPO2™ exams
Prepare for PSPO2™ / PSPO II™ certification
Difficult certification questions
Validate your Scrum knowledge
Practice Evidence Based Management™ EBM™ questions
Description
IMPORTANT: "Professional Scrum Product Owner", "PSPO 2", "PSPO II", "PSPOII", "PSPO2", and "PSPO" are registered trademarks of Advanced Development Methods (Scrum .org) and this course is not licensed, endorsed, or affiliated with Advanced Development Methods (Scrum .org) in any way. This course and practice exams are neither endorsed by, nor in partnership, nor affiliated with (Scrum .org) or any other organizations.
---
Are you looking to take a Scrum Certification exam like Scrum Product Owner II™ PSPO II™ but you still feel insecure, or are you curious about what the questions look like? Do you want a course aligned with the latest Scrum Guide™ 2020 and EBM Guide™ 2020? Do you want to pass the exam with a high score?
This unofficial course will prepare you for the Scrum Product Owner II™ exam with professional practice tests so you can get familiar with the questions and receive an explanation of the answers. You will become sharp, fast, and accurate in answering Agile and Scrum questions correctly.
Note: Be aware that this course does not include any videos—only practice tests. The certification exam is not included and must be purchased separately to correspondent institutions like Scrum (.) org.
*Requirements*: You need a good knowledge of the Scrum Framework and EBM Guide to take these practice tests.
Includes:
Exam Preparation Guide

Scrum cheat sheet

EBM cheat sheet

Scrum Guide™ 2020 vs. 2017 critical changes

6 Practice Tests:

4 complete and realistic PSPO II™ simulation tests of 60 minutes each. Just like the real thing.

Scrum Guide™ 2020 Hard Questions: 1 additional test of 60 minutes to practice 80 hard questions to become sharp with your knowledge of Scrum.

EBM Guide™ 2020 Hard questions: 1 additional test of 90 minutes to practice with a total of 70 hard questions to become sharp with your knowledge of EBM Guide™ 2020.
Answers explained: All questions contain an explanation of the answers.
True Scrum: This course is totally aligned with the latest version of the Scrum Guide™ 2020 and EBM Guide™ 2020. The explanations of the questions contain quotes from these guides to prove that all answers must be within the rules of the Frameworks.
--
What will you learn?
· Answer questions for PSPO2™ Certification exams.
· Understand why an answer is correct or incorrect.
· Prepare for PSPO2™ certification.
· Difficult certification questions.
· Validate current Scrum knowledge.
This course is specifically for:
· People that want to take a scrum certification exam like PSPO II™.
· People that know the Agile approach and Scrum framework. To learn about Scrum, you can take the course: Agile & Scrum in Depth: Guide, Simulation and Best Practices
Why take the class? What will you gain?
· Understand how the exam is.
· Become ready to take the real exam.
· Become fast and accurate to answer scrum questions with confidence.
About me
Hi, my name is Ignacio.
I am the author of books, and I have more than 100,000 students and 17 courses.
My main goal is to help you with new knowledge that you can apply at work and be a successful and professional leader.
I am a Certified Agile Team Coach. I led, coached, led, and managed Agile projects and Scrum teams since 2005 for customers from all over the world.
During my career with intensive learning, I got many advanced scrum certifications including Certified Scrum Professional Scrum Master, Professional Scrum Master II, Certified Professional Scrum Product Owner, Certified Agile Leadership, etc.
I worked 15 years as a Professor for Agile Methodologies and Systems design.
I love to teach Agile and Scrum and I designed a lot of hours of training that I am bringing online. I prefer to teach with games and activities that can simulate the real world.
I trained thousands of students in Agile that became top and certified professionals in the industry.
Teaching what I learned in my 20 years of experience allows the students to gain realistic learning that they can apply at work.
Join me and share your experience!
-------------------------------------------------------------------------
A DISCLAIMER STATEMENT
The statements made and opinions expressed herein belong exclusively to the creator of this course and are not shared by or represent the viewpoint of Scrum dot org. This training does not constitute an endorsement of any product, service, or point of view. Scrum dot org makes no representations, warranties, or assurances of any kind, express or implied, as to the completeness, accuracy, reliability, suitability, availability, or currency of the content contained in this presentation or any material related to this presentation. In no event shall Scrum dot org, its agents, officers, employees, licensees, or affiliates be liable for any damages whatsoever (including, without limitation, damages for loss of profits, business information, loss of information) arising out of the information or statements contained in the training. Any reliance you place on such content is strictly at your own risk.
A TRADEMARK NOTICE STATEMENT
Scrum dot org, Professional Scrum Master (TM), Professional Scrum Product Owner (TM), PSM, PSM I, PSM 1, PSM II, PSM 2, PSPO, PSPO I, PSPO 1, PSPO II, PSPO 2, SPS, Nexus, PSK, PAL, Professional Agile Leadership, Evidence-Based Management, PAL-1, PAL-EBM are trademarks of Advanced Development Methods (Scrum .org) and may be registered in the United States Patent and Trademark Office and in other countries.
ATTRIBUTION AND USE FOR THE SCRUM GUIDE (TM), EBM GUIDE (TM), NEXUS GUIDE (TM), AND KANBAN GUIDE FOR SCRUM TEAMS (TM)
This course or document may use screenshots, quotes, interpretations, and extracts from the Scrum Guide (TM), Nexus Guide (TM), Kanban Guide for Scrum Teams™, and Evidence-Based Management Guide™ to point the attention of the student to important concepts, ideas, rules, and practices.
The authors of the Scrum Guide (TM) are Ken Schwaber and Jeff Sutherland.
The Nexus Guide (TM) is developed and sustained by Ken Schwaber and Scrum dot org.
Evidence-Based Management (TM) was collaboratively developed by Scrum .org (TM), the Professional Scrum Trainer community, Ken Schwaber, and Christina Schwaber.
The Kanban Guide for Scrum Teams (TM) was developed and sustained by Scrum .org, Daniel Vacanti, and Yuval Yeret.
No changes have been made to the content of the Scrum Guide (TM), Nexus Guide (TM), Kanban Guide for Scrum Teams (TM), and Evidence-Based Management Guide (TM).
License: Attribution Share-Alike license of Creative Commons.
Content
EBM Guide 2020 Hard questions - 70 questions in 90 minutes
Reviews
Thanks Ignacio, got 98 on my PSPO2. I consider this course a must have for preparing to the exam, additionally I recommend the PSM2 Exam bank as it has more questions in it.
I'm trying to crack PSPO1. But looking into the cost of $200, I'm trying to over-prepare just to be safe than sorry. I attempted this test and scored 95% on first attempt. Not sure whether the questions are easy or I can comfortably crack PSPO1. Let me hope for the best. Any suggestion appreciated. I missed to understand that scoring high in Scrum Guide shall not make one ready to tame the PSPO II animal. While started failing in Practice Tests 2, 3, 4 I started thinking whether the questions are too tough. Also, the logic of the responses I went wrong I was not convinced! Hence, I checked creator's profile and Review Ratings, and understood that it might be me who is not yet ready to tame PSPO II. With lots of deliberation, I bought creator's PSPO I course, and found that course in-line with my preparation and understanding. Now, I'm convinced that I can clear PSPO I easily but not PSPO II for sure. Important for PSPO I and PSM I aspirants - Practice Test 1 on Scrum Guide 2020 shall give you enough confidence to crack PSPO I and PSM I. Having said this, you can also check your preparedness for PSPO II since there are not many PSPO II practice tests. Suggestions to crack PSPO II from creator will help me since those I might like to apply later.
The questions are great for learning. It helped me to pass the PSPO II exam with over 90%. The test about the EBM Guide was really helpful for me.
I have been building and delivering software for a long time, and easily passed the PSPO I exam, but the PSPO II is on another level. Really tough questions, not just regurgitating information, and it covers a lot of material/concepts. This course was essential to passing that exam. I studied the original guides, plus the materials provided by this course (summaries of key info in the guides), then took each practice test. Of course i failed the first time around, learned from the answers I got wrong, and repeated until I was able to easily pass. All that prep paid off, I passed the real/live exam with a 94%. Thank you for creating this course, I hope you make a version for PSPO III!
Passed PSPO 2 exam in first attempt just by ensuring I score above 90% in all practice tests. The explanations for each answer are helpful amd make remembering easy.
Kavaskar
February 19, 2022
Really good to understand the PSPO-II concepts and practice for PSPO-II exam. Highly recommend to all PSPO-II aspirants.
Kedharnath
February 8, 2022
Ignacio's course for PSPO-II is really good and must have for anyone preparing for PSPO-II. The cheat sheets prepared by him are excellent and streamlined. Simulation Tests too are of high quality with answers quoting the actual statements from the respective guides.
This course has been great help. I have completed the PSPO II certification after completing this course. Gone through the explanation provided in the answers carefully and kept giving the practice exam till scored above 90% is each attempt. Efforts paid off and I scored 92.7% in the actual exam. My recommendation for preparing for the exam is to :- A-Go through the following topics, before giving your practice tests :- 1- Scrum Guide (Mandatory) 2- EBM Guide (Mandatory) 3- PO Stances (Mandatory) 4- Nexus Scaling Scrum Guide (Recommended) 5- Kanban Guide (Recommended) 6- Understand the concept of Product Vision, Product Roadmap, Release Planning, Cone of Uncertainty, User Personas, Experimentation and Product Backlog Management (Mandatory) B- Once you start hitting above 90% in your practice test, then appear for the actual exam.
Great! The simulations have a great variety of questions, topics covered and explanations. The author is very helpful in answering questions sent in the Q&A session.
I passed the exam with nearly 97%. Thank to Ignacio for the tests. They are really helpful in the actual exam. My advice is to do the test as much as possible and try to understand his explanations. This is essential to handle similar questions in the actual exam.
I enrolled for Ignacio's course to check my knowledge after completing my preparation. The sample questions in this course helped me identify my weak areas which I studied again. I then attempted the PSPO II (Advanced) exam and score 95% on the assessment. Ignacio's sample questions are very realistic and are of the same difficulty level as the real exam hosted by scrum.org. I highly recommend this course for your PSPO II exam preparation. It is well-worth the effort to go through these sample questions.
Happy to share that I passed the PSPO-II exam with 94.2%. I strongly recommend this course, it literally covers all the aspects that are needed to have a solid understanding for Product Ownership.
I pass the PSPO-II exam with my 1st try after finishing this course with 91%. Highly recommended for anyone really want to get the PSPO-II. All the questions and explanation are PERFECT to me. My tip is try to pass all the practice tests with >90% and then you would be fine. Already got PSM-II course from the Ignacio to support my next target.
Good questions for PSPO II exam preparation. And Yes, AWESOME Instructor who guide you greatly on exam preparation! Thank You!
This exam set is very similar to the ones in Antonio Fernandez's course, but it has more content regarding the Scrum guide and EBM guide. For improvement: Most of the explanations are only copy-pasted from the official guides. It would be helpful to have more elaborate ones!
Coupons
| Submit by | Date | Coupon Code | Discount | Emitted/Used | Status |
| --- | --- | --- | --- | --- | --- |
| - | 7/20/2021 | FREENEW | 100% OFF | 40000/1547 | expired |
| - | 7/26/2021 | 0343AEA20C764EF513C2 | 100% OFF | 40000/535 | expired |
| - | 7/31/2021 | LASTJULY | 100% OFF | 40000/433 | expired |
7/7/2021
course created date
7/20/2021
course indexed date