Programming Network Applications in Java
TCP and UDP sockets in Java
Network & Security
category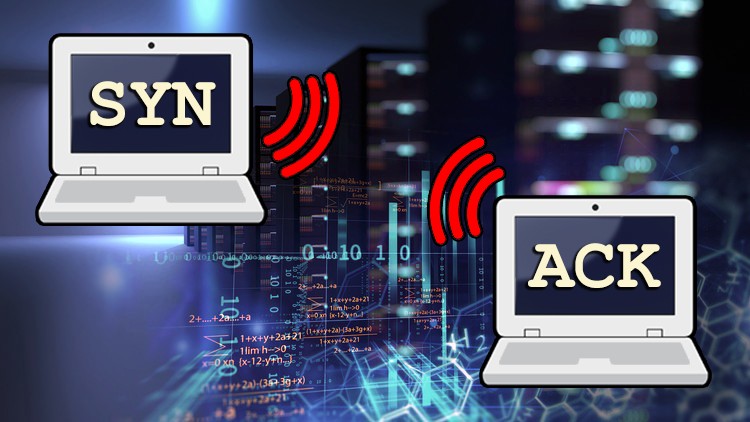 What you will learn
Programming basic network applications
Programming client-server applications
TCP Sockets in Java
UDP Sockets in Java
Running multiple clients at the same time (multithreading)
Description
If you have a great idea for an app that needs to communicate through a network, or you're just beginning to learn Java, or you're a network engineer looking to implement one of many network protocols, you've come to the right place!
In this course, you'll get the tools to build both client-server and peer-to-peer applications. We'll cover both the use of TCP and UDP sockets, and I'll leave it to you to choose which one suits your application better. There are some bonus examples that you can use to practice, and you're more than welcome to post your questions, ideas or struggles in the Q&A section.
All of the code is thoroughly explained, so you don't need much prior Java knowledge, but basic understanding of programming in general is a plus.
Content
Introduction
Introduction
Installing Eclipse and JDK
Running Eclipse for the first time
TCP Socket in Java
Simple TCP Program (Server)
Simple TCP Program (Client)
Thorough Explanation of the Code for "Simple TCP Program"
Advancing the Simple TCP Program
Bonus: Wireshark Analysis
Multithreading
Simple TCP Program (with multiple threads)
Advancing the Multithreaded TCP Program
Bonus Examples
UDP Socket in Java
Simple UDP Program (Receiver)
Simple UDP Program (Sender)
Thorough Explanation of the Simple UDP Program + Adding a Loop
Simple UDP Chat
Reviews
Facil de entender (si comprendes inglés), te lleva de la mano por todo Easy to understand, guides you through the whole process
She teaches well but the course is very shallow and basic, there's so much more to sockets than what this course teaches. Was expecting so much more.
Course is really good for Java programmer and explain in details line by line theoretically and also practice with hand on exercise.
Muy buena explicacion pero necesitamos mas zoom de cerca no se puede apreciar bien para los normales e cortos de vistas.
Thnk you very much for this course This is a very good course. and short The teacher explains things very well,
An excellent to the point course It's a learning by doing course. I recommend it for newbies or anyone who wants to learn Network programming (Socket) in Java It really helped for my collage course!
Las letras deberían ser mas grandes, y debería ir más pausado, de otras manera hay que pausar el video a cada rato.
Oghenerhume
January 2, 2021
It's super exciting. The instructor is not just teaching but giving good rationale for choices made why coding.
i was see well what i want about sockets in java and how the server is going to resver the message from client side is awesome
This course was only good for those who have some knowledge about the course..But,in the description of the course it was mentioned that no prerequiste is required..So,I found this thing bad
This is a very good course. very short indeed but the teacher explains things very well, the thing that i would like this course to have apart from being larger is challenges or exercises; specially in the last part. However it is a great course and I learned a lot from it
It is very good learning experience. Instructor explains each and every topic in depth and very nicely.
this is very nice cource this consist of the entire thing which are needed to beacome a master is this topic joi this for becoming a hero
This course is awful. I just saw a couple of videos to confirm what I was expecting and definitely, I was right, the course is bad. I will point some thoughts about the course and some improvements than can be made. 1.- There's no theoric background. The teacher doesn't even explain what a socket is and how it works in java. How im supposed to know how it works? How about explaining tcp/upd osi model? nothing. Improvement: Before actually starting to code (which is what most coding tutorials on udemy do, that's why udemy is a bad platform to learn how to code) start doing some diagrams, draw what your'e going to expose. If you really understand what you do, you should be able to draw it. If not, you have no idea what you are talking. 2. Bad coding habits. Come on, your'e supposed to teach for 'beginners', what about computer science principles like SRP? Separate stuff in methods, why write everything on a constructor? Improvement: Separate concerns. Introduce design patterns there where is needed and explain them properly with what you are going to present. 3. Video recording quality - The quality of the videos exposed is relatively low. 720p is not acceptable, to be honest. There are multiple free tools that allow you to record up to 4k if you want to. Improvement: Use recording tools that allow you to record in at least 1080p. 4. Monotony. The general feel is monotony. Is all exposing code. You could also increase the size of the code because I could barely see it. Improvements: Make it more vivid. Make camera close-up to code introduce diagrams in middle of the coding your'e presenting, use music background, there's lots you can do to avoid monotony. As a final thought I wouldn't recommend it. I would rather get a good book or search for another platform rather than udemy. I can't believe someone grasped anything out of this without actually background of tcp/udp, sockets.. basically java io api. That's all I have to say, I hope your next course will be better.
Recommendable to learn how to work communications with sockets in java, and to build chats. I am very happy to remember sockets in java: good explanations and well suited topics.
Coupons
| Submit by | Date | Coupon Code | Discount | Emitted/Used | Status |
| --- | --- | --- | --- | --- | --- |
| Lee Jia Cheng | 6/21/2020 | 90562B7C059DF1BB2EF2 | 100% OFF | 40000/18034 | expired |
| Angelcrc Seven | 8/19/2020 | FREEBIESGLOBAL.COM | 100% OFF | 40000/5280 | expired |
| Angelcrc Seven | 10/2/2020 | QUINCE_FREE | 100% OFF | 40000/4416 | expired |
| - | 1/1/2021 | HAPPYNEWYEAR | 100% OFF | 40000/10964 | expired |
| - | 1/24/2021 | CYBERQUINCE | 100% OFF | 40000/3170 | expired |
| - | 2/13/2021 | 657680BC4251EFB7962E | 100% OFF | 40000/6926 | expired |
| - | 3/6/2021 | FREE-MARCH2021 | 100% OFF | 40000/5036 | expired |
| - | 3/16/2021 | FREE_MARCH | 100% OFF | 40000/1989 | expired |
| - | 3/25/2021 | UDMFREE | 100% OFF | 40000/402 | expired |
| - | 4/30/2021 | FREE_APR21 | 100% OFF | 40000/4763 | expired |
| - | 5/22/2021 | MAY21FREE | 100% OFF | 40000/7287 | expired |
| - | 7/14/2021 | JULY21FREE | 100% OFF | 40000/12181 | expired |
| - | 8/4/2021 | AUGUST21FREE | 100% OFF | 40000/6593 | expired |
| Angelcrc Seven | 9/17/2021 | AUGUST21FREE2 | 100% OFF | 40000/681 | expired |
| - | 9/24/2021 | SEPTEMBER21FREE2 | 100% OFF | 40000/2968 | expired |
| Angelcrc Seven | 10/11/2021 | OCT21FREE | 100% OFF | 40000/3801 | expired |
| Angelcrc Seven | 12/26/2021 | XMAS21 | 100% OFF | 1000/763 | expired |
| Angelcrc Seven | 2/26/2022 | 4A7143145E16E6F45C2B | 100% OFF | 1000/974 | expired |
| - | 3/7/2022 | 92EF0E43FE9A0FADAA33 | 100% OFF | 1000/914 | expired |
| Angelcrc Seven | 4/20/2022 | 03CE53DCD68FF0566CA5 | 100% OFF | 1000/989 | expired |
| Facialix | 5/3/2022 | 3BC7788F730038B13AAB | 100% OFF | 1000/831 | expired |
| - | 5/6/2022 | FA72F00170C58A8ADAAA | 100% OFF | 1000/937 | expired |
| - | 5/16/2022 | 8976B6CAFD199AB06B0E | 100% OFF | 1000/955 | expired |
| - | 6/9/2022 | 50EEDE9CFA77A8E00646 | 100% OFF | 1000/839 | expired |
| - | 6/21/2022 | 045B68F9E331FA3FAC15 | 100% OFF | 1000/377 | expired |
| - | 6/28/2022 | 51BC8FF2256E74C66FFD | 100% OFF | 1000/991 | expired |
| - | 7/9/2022 | 657B06D8FD1364DBD037 | 100% OFF | 1000/996 | expired |
| - | 7/20/2022 | 12C09B7BBE721552E8CB | 100% OFF | 1000/644 | expired |
| - | 7/23/2022 | 2BBB0FB6EE05C616E479 | 100% OFF | 1000/916 | expired |
| - | 8/5/2022 | CA5AC12DBDBFC6C9AAA1 | 100% OFF | 1000/890 | expired |
| - | 8/12/2022 | 58FF8F505F49FDE397E5 | 100% OFF | 1000/591 | expired |
3/7/2019
course created date
11/21/2019
course indexed date