Scrum with Kanban Certification Exam Prep PSK I
Get ready for the your Scrum with Kanban PSK I by practicing 110+ questions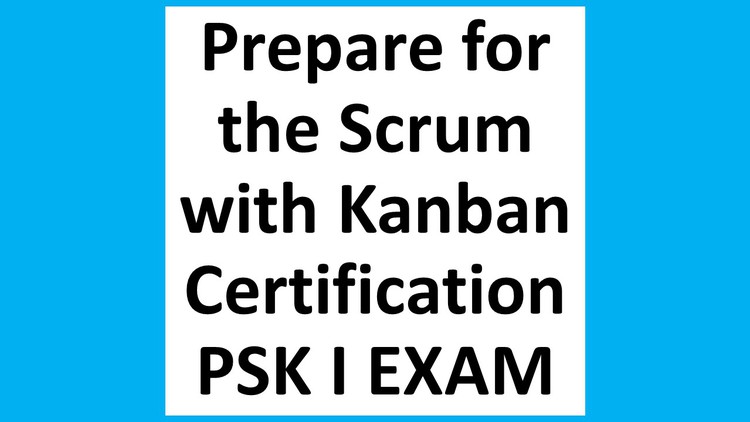 What you will learn
Get Ready to Pass the Scrum with Kanban PSK I certification
Improve your understanding of the Scrum framework
Get exam tips that can really make a difference
Ask questions in the Q&A section
Description
Please note that this course and practice exams are neither endorsed by, nor in partnership, nor affiliated with Scrum . org.
This course will help you prepare for Scrum . org Professional Scrum™ with Kanban level I exam also known as PSK I ®.
In this course you will learn more about:
Kanban Practices

Agile Metrics for Kanban

Questions that help test your knowledge of the required metrics listed in the Kanban Guide for Scrum Teams and how to use them effectively

Questions that help test your knowledge of the Kanban practices listed in the Kanban Guide for Scrum Teams

Exam simulation with the help of mock exam questions
Scrum with Kanban
The Scrum with Kanban PSK I assessment is available to anyone who wishes to validate their knowledge of how Scrum Teams can use Scrum with Kanban's ability to support value creation and delivery.

This course includes three full practice exams, more than 110 questions, and time-boxed into 1 hour as per the real PSK I exam and as per the Scrum . Org standards.

The PSK I practice tests of this course are based on Scrum Guide, Kanban Guide for Scrum Teams, and the Scrum glossary, all these documents are published by Scrum org

Who Should Attend?
The Scrum with Kanban course is an advanced course designed for experienced Scrum Practitioners who have a good understanding of the Scrum framework. It is particularly beneficial for Scrum Masters.

About the PSK I ® Exam:
Fee: $200 USD per attempt

Passing score: 85%

Time limit: 60 minutes

Number of Questions: 45

Format: Multiple Choice, Multiple Answer and True/False

Difficulty: Intermediate

Language: English only
There is a tip: work on Scrum with Kanban open assessment, to pass the PSK I ® (Professional Scrum with Kanban ®) exam in your first attempt. Once you start getting 100% on every effort, consider yourself ready for the test. After you have finished your preparation, you can register for the exam. If we talk about the exam fee, it's $200 for every attempt, and if you attend a Scrum . org training center, then your second attempt would be free. All you get is a personal password without an expiration date through which you can get connected to their page and can give exams.


Recommendations:
Follow these steps before taking your Scrum with Kanban exam:
1) Go through this Scrum with Kanban Certification Preparation and answer all the questions of this course
2) Read and understand very well the latest official Kanban Guide For Scrum Teams from Scrum . Org
3) Take these Scrum with Kanban practice tests and make sure you understand all the questions and answers
4) Create an account via Scrum . Org website, buy the voucher, and take the exam as soon as possible
We Wish You Good luck!
Disclaimer:
Questions & Answers © 2020. All rights reserved.
The terms Scrum Open, Professional Scrum™, Professional Scrum Master™, Professional Scrum Product Owner™, PSM, PSM I, PSM 1, PSPO I, PSPO 1, etc. are the protected brand of Scrum . Org. These practice exams are neither Endorsed by nor affiliated with Scrum . Org or Scrum Alliance.
Reviews
Really helped me with the needed mindset change to further study for the course. Saved me time in the areas to focus. Explanations were very helpful.
Very good set of questions covering all the topic in PSKI exam. I believe 3 answers are not correct which needs to be corrected. I have passed exam with more than 95%
12/17/2020
course created date
1/16/2021
course indexed date