Professional Scrum Master-PSM1 Practice Exam Questions 2022
Prep for the Professional Scrum Master Exam (PSM1) 80+80+80 = 240 Similar questions to the exam - Get Certified !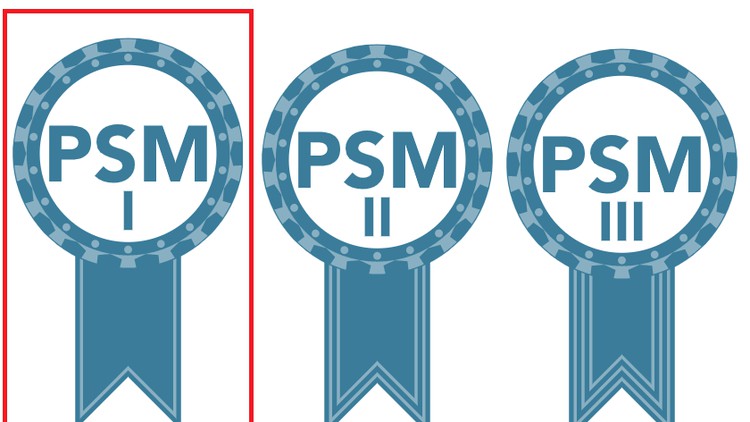 What you will learn
Practice Questions and Answers for the Professional Scrum Master Exam (PSM1) 80+80+80 = 240 Similar questions to the exam
Practice Questions and Answers for the Professional Scrum Master Exam (PSM1) 80+80+80 = 240 Similar questions to the exam
Practice Questions and Answers for the Professional Scrum Master Exam (PSM1) 80+80+80 = 240 Similar questions to the exam
Practice Questions and Answers for the Professional Scrum Master Exam (PSM1) 80+80+80 = 240 Similar questions to the exam
Practice Questions and Answers for the Professional Scrum Master Exam (PSM1) 80+80+80 = 240 Similar questions to the exam
Scrum Framework
Scrum Theory
Scrum Practice
Scrum Team
Scrum Artifacts
Other required Scrum topics
Description
Scrum is a lightweight framework that helps people, teams and organizations generate value through adaptive solutions for complex problems.
This course will allow you to digest the Scrum material in detail, it is made and extracted from the Scrum guide 2020, it will allow beginners to understand the concept and also upskill already scrum masters to edge on their experience and get them updated on the knowledge. This course is designed for you to pass the Professional Scrum master (PSM1) it is likely to be similar to the exam questions and if passed 95 % for all tests you will be successful in the real life exam.
This Mock exam questions and answers are desgined for anyone who wants to pass the Real PSM 1 (*Professional Scrum™, Professional Scrum Master™, PSM, PSM I, PSM 1, etc. is the protected brand of Scrum org.).
Get passing with these batch of questions, which are very similar to the actual exam. The questions are constructed to test your knowledge with the Scrum Guide 2020, and all questions are aligned to the Scrum Guide 2020. Best practice is to make sure you get 90% above in these Practice exam questions before sitting the exam, they are a very accurate representative of the actual exam, but are not the EXACT but close to the actual exams questions.
Very Similar to the actual Exam !
Pass first time !!
The questions covers all the below topics End to End:
Scrum Definition
Scrum is simple. Try it as is and determine if its philosophy, theory, and structure help to achieve goals and create value. The Scrum framework is purposefully incomplete, only defining the parts required to implement Scrum theory. Scrum is built upon by the collective intelligence of the people using it. Rather than provide people with detailed instructions, the rules of Scrum guide their relationships and interactions.
Various processes, techniques and methods can be employed within the framework. Scrum wraps around existing practices or renders them unnecessary. Scrum makes visible the relative efficacy of current management, environment, and work techniques, so that improvements can be made.
Scrum Theory
Transparency

Inspection

Adaptation
Scrum Values
Successful use of Scrum depends on people becoming more proficient in living five values:
Commitment

Focus

Openness

Respect

Courage
Scrum Team
Developers

Product Owner

Scrum Master
Scrum Events
The Sprint

Sprint Planning

Daily Scrum

Sprint Review

Sprint Retrospective
Scrum Artifacts
Scrum's artifacts represent work or value. They are designed to maximize transparency of key information. Thus, everyone inspecting them has the same basis for adaptation.
Each artifact contains a commitment to ensure it provides information that enhances transparency and focus against which progress can be measured:
For the Product Backlog it is the Product Goal.

For the Sprint Backlog it is the Sprint Goal.

For the Increment it is the Definition of Done.
This course is designed for the following:
- New to scrum
- Project manager
- Scrum master
- Developer
- Product owner
- Product manager
- Agile project manager
- IT professionals
- Anyone that wants to learn
This course focuses on the key topics above and will allow you to become knwoledgable in this area. Scrum is a framework and is an agile methodology, you will understand more with all these questions.
As described in the Scrum Guide, the Scrum Master is responsible for promoting and supporting Scrum. Scrum Masters do this by helping everyone understand Scrum theory, practices, rules, and values. This Scrum Master learning path provides a structured guide to help you understand the role of the Scrum Master with a way to continue learning on your journey as a Scrum Master.
These set of questions will also be suited for people who are taking the Certified ScrumMaster (CSM) governing board exam. I can assure you, you will not be disappointed with these questions coming in to the exam. The Similarities on here will be sufficient enough for you to pass your real exam if you are able to pass them all 90% and above.
Before you start:
These practice exams use content from the Scrum Guide™ and the Nexus™ Guide only for educational purposes. Read the Scrum Guide a couple of times and become familiar with it before taking the assessments. You can find the guide on Scrum*org. Read the Agile Manifesto prior to taking the Agile Manifesto Quiz. You can find this on AgileManifesto*org
Legal Information and Disclaimer
The practice exams, are neither endorsed by nor affiliated with Scrum*org. Professional Scrum™, Professional Scrum Master™, PSM™, PSM I™, PSM 1™, Scrum Guide™ and Nexus Guide™ are protected brands of Scrum*org, the organization responsible for developing and sustaining both, the Scrum Guide™ and the Nexus Guide™.
Good luck!
Reviews
Constance
November 8, 2022
I'm beginning to question some of these answers. Both questions 15 and 80 on test 2 and 3 respectively are the same question however, they have two different answers. How is that? I know that the correct answer is, ' Monitor communications between them and facilitate direct collaboration' to that question. I don't know why it says that answer is wrong on question 80, test 3. Can someone explain please?
Je trouve dommage de ne pas pouvoir sélectionner avec la souris les réponses pour les traduire dans un autre site de traduction
Thank you for this practice. If the real exam is so easy, I'll be happy? For now I have a question about inconsistency in the question from the first test: "What two characteristics of Scrum promote self-management? Select the three best answers" Two characteristics and three answers. How is that? As for the whole course, I'm a bit disappointed because: 1) there is no real explanation of why the right questions are really "right" 2) Also, I'm very disappointed that almost entire Test 3 consists of questions from the previous 2 tests and some questions even repeated several times in the same test. So in this course there are actually 2 tests, not 3. If I had known that, I would have bought the other course.
Such a informative and helpful course. It was easy to use and easily understood. I felt better having done this and would highly recommend this to all.
The course is amazing! By far one of the best courses which have been very useful and user friendly. I have previously used others but found this course is really easy to understand and preps you well for the PSM 1 exam. I found The questions that come up are very similar to the actual exam paper. Therefore I can not thank you enough.
Les questions permettent de comprendre au mieux tout ce qu'il faut savoir sur les fonctionnements et les enjeux derrière le framework Scrum.
Fabulous course! The questions are just like the ones which came up in the actual exam. Passed first time with 97% - Thank you!!
Absolutely splendid set of questions, kudos to you I was able to ace my psm 1 first try. I can not thank you enough as this was similar to the actual exam as the question you have here are also tricky allowing you to get in the mind set in answering questions which are constructed to trick you in the real exam. I have enrolled in other mock questions but none of them compare to this. Thank you once again!
Coupons
| Submit by | Date | Coupon Code | Discount | Emitted/Used | Status |
| --- | --- | --- | --- | --- | --- |
| - | 11/22/2022 | DE352F0FC557EE852A17 | 100% OFF | 1000/984 | expired |
| - | 11/24/2022 | CE3AE6D8A58945561DC4 | 100% OFF | 1000/997 | expired |
| - | 11/24/2022 | 4D2F64D5C90BE6470C19 | 100% OFF | 100/28 | expired |
Charts
Price
Rating
Enrollment distribution
8/14/2022
course created date
10/3/2022
course indexed date