Presentation Skills for Beginners
Presentation Skills to Expand Your Career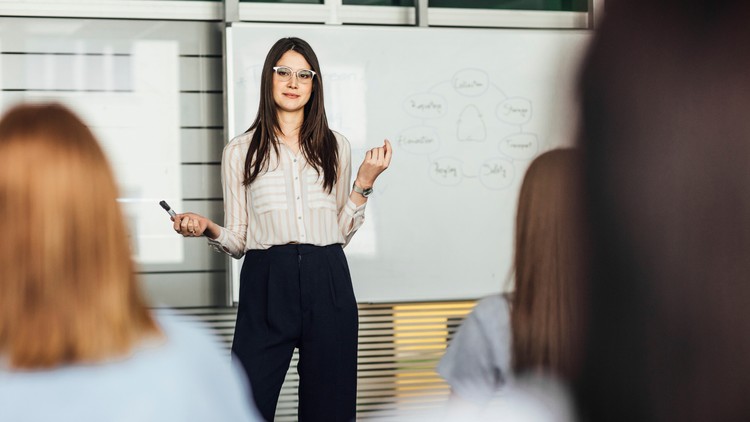 What you will learn
Deliver competent presentations
Display confidence when giving presentations
Be understood by audiences
Make messages memorable to audiences
Influence people when giving presentations
Description
Presentation skills are the most important skills most people can ever develop during their career. The higher you advance in your career, within any organization, the more time you will spend using your presentation skills to communicate with colleagues, customers, clients, investors, and the public.
But wait! You are a beginner, but that doesn't mean can't start learning presentation skills basics right now. And it doesn't mean you have to spend years or even decades getting comfortable with basic presentation skills.
You can quickly and easily master presentation skills now, without tedious memorization or creating boring PowerPoint slides. You won't have to practice in a mirror or visualize your audience naked either.
"I have devoted the last 30 years of my life to teaching people strong presentation skills. After having trained more than 10,000 clients from six continents, I have learned every trick on how to master presentation skills in the absolute shortest time and with maximum effectiveness. Are you ready to learn presentation skills the fast, easy way?" TJ Walker
What will students achieve or be able to do after taking this course?
Deliver competent presentations

Display confidence when giving presentations

Be understood by audiences

Make messages memorable to audiences

Influence people when giving presentations

Master basic presentation skills
This course is designed with hyper-efficient methods so that you can learn all essential presentation skills basics in less than 45 minutes.
Please note: this is a communications course conducted by a real person who is speaking and demonstrating communication skills. If you are looking for a course with lots of animation, slides, special effects, slick edits, and robotic voices, this course is not for you.
Content
Beginning Your Presentation Skills Mastery
4 Quick Tips to Improve Your Presentation Skills In the Next Five Minutes
You Now Know the Dirty Little Secret of Presentation Skills
Never Waste Time Starting a Presentation Again
You Can Get the Audience to Do What You Want
Assignment: Testing Your Communication To Make Sure It Works
Exciting New Update to this Course
The Easy Way to Tell Relevant Stories
Never Be Convicted of Death by PowerPoint
Refining and Testing Your Presentation Skills
Your Own Free Focus Group
The Most Efficient Way to Practice Your Presentation Skills
Passing the Ultimate Test
Now You Have Earned Personal Coaching
Course Update! Live Instructor Office Hours are Now Available
Conclusion - Your New Presentation Skills
Time to Give TJ a Piece of Your Mind
Conclusion- You are No Longer a Beginner at Presentation Skills
Extra-Tips On How to Get Over Nervousness and Being Scared
Final Bonus Lecture re Future Courses and Learning Opportunities
Reviews
good i get some information about public speaking and how to give a presentation without getting nervous and ill try the ideas hoping it will work for me
I appreciate the course and all tips you propose. What I learn: - having 5 subjects to present and not giving so much informations - having a cheatshit - focus on people - practising by recording a video and not by mirror, what I usually do
The presentation class was help and I learnt new ideas on how to engagement my audience while speaking. Thank you
Yeahh absolutely it's a gud match for me. Because I can relate with it. I have given 3 to 4 presentation. Now i come to what I did wrong or how can I improve it. So that's a nice course
It was a wonderful lecture and I have learned a lot about presentation and will try and implement on that
This course helped me a lot in knowing how to improve my presentation skills..... No one usually tells these tips and tricks which actually work in real..... Thankyou sir, for making such an informative videos..... I also have taken few other courses of yours and the thing which I like the most in your all videos is the way of explaination..... You always try to explain everything by taking examples which make it too much easier and crystal clear to understand the content of the course...... Thankyou very much again.....
It has been a pleasure listening while being taught, Ihave learnt so much and will continue spreading a word about this presentation.
First, for you to know, I'm from Puerto Rico and my first language is Spanish, it was easy to understand everything clearly in English. I learned great tips and methods to be a good presenter. I will be practicing everything I learned in this course. Definitely recommended, Thank You.
Recording and reviewing parts of your presentation is a highly effective training technique, I found it immensely helpful. Focusing on needs of the audience and using compelling stories to illustrate major points helps address both presenter nervousness and increase audience participation and material retention. Illustrating your major points with pictures and using personal stories to promote understanding and retention might help improve the course.
It was a great lecture to know what to include and what to prepare for the presentation. Although my presentation is going to be in Japanese (my own language), I got great tips for the preparation of my preparation next month. As I am a non-native English speaker, I am sorry I won't be able to show you how my presentation will be in Facebook page. If I get a chance to make a presentation in English I would be happy to upload it on the Facebook page.
This Course made me to think alot beyond expectations... thank you sir for explaining the stuff in detail.
Margareth
December 27, 2021
I really like the simplicity of your tips, TJ. I've taken several similar courses, but you delivered it more clearly and openly, and it was only you who suggested that I record myself during my presentation. I would probably do it, need a few extra kicks in my own ass, but seriously, I probably would.
There were a lot of great points. I am feeling a tad bit more confident for my upcoming presentation.
This course was almost an eye-opener for me on how it is likely for the professionals to become an expert from the beginner stage of public speaking. Will look forward for more such courses of the instructor. Thank you so much!!
Overall this course is very helpful for me to improve my presentation skills, but i want to know about body language while delivering the presentation. If possible please update... Thank you so much for this wonderful course that you provide us.
Coupons
| Submit by | Date | Coupon Code | Discount | Emitted/Used | Status |
| --- | --- | --- | --- | --- | --- |
| - | 5/7/2020 | PEEEKTEN | 80% OFF | | expired |
| Lee Jia Cheng | 5/13/2020 | PEEEKO | 100% OFF | 40000/10053 | expired |
| - | 7/1/2020 | B0E4B2B5A70509F23208 | 100% OFF | 40000/2829 | expired |
| - | 10/22/2020 | 4F80F0BCC069A5EBBBCD | 100% OFF | 40000/3527 | expired |
| - | 11/2/2020 | 1A91D95447FDE0A43685 | 100% OFF | 40000/3422 | expired |
| - | 12/21/2020 | 730699806AD88473A64F | 100% OFF | 40000/3646 | expired |
| - | 6/12/2021 | 580A858C5E23A0510684 | 100% OFF | 40000/7045 | expired |
| - | 7/30/2021 | 11F49A0161B23F4E0413 | 100% OFF | 40000/3259 | expired |
| - | 5/23/2022 | B25C0C480D758B2CBAA0 | 100% OFF | 1000/934 | expired |
| - | 8/15/2022 | F64B5F4960446AF8C7AD | 100% OFF | 1000/974 | expired |
| - | 10/3/2022 | F5BF0362074F544E8E25 | 100% OFF | 1000/830 | expired |
| - | 11/1/2022 | A948A2CC12A75A1C6467 | 100% OFF | 1000/979 | expired |
| - | 11/10/2022 | 0FACC2F6DD252D887E0F | 100% OFF | 1000/978 | expired |
| - | 12/10/2022 | 911991C1E63D1CE06D19 | 100% OFF | 1000/972 | expired |
| - | 12/20/2022 | E89B5084970443EDCC0B | 100% OFF | 1000/900 | expired |
| - | 12/27/2022 | 7668787C78AE925A6BEA | 100% OFF | 1000/821 | expired |
| - | 1/8/2023 | 94421D1C8FBB3F6630EB | 100% OFF | 1000/992 | expired |
| - | 1/16/2023 | 01E0E2B51D6A1BDFF0D0 | 100% OFF | 1000/996 | expired |
| - | 1/30/2023 | 17E0938E38D40FC3B97D | 100% OFF | 1000/957 | expired |
| - | 2/22/2023 | D22ED151507F1A776486 | 100% OFF | 1000/623 | expired |
| - | 2/27/2023 | THANKS025 | 100% OFF | 1000/912 | expired |
| Angelcrc Seven | 3/6/2023 | THANKS006 | 100% OFF | 1000/688 | expired |
| - | 4/1/2023 | 06233C711B990CE1A2DC | 100% OFF | 1000/664 | expired |
| - | 4/26/2023 | EAC060560EA73EFB9F64 | 100% OFF | 1000/944 | expired |
| - | 5/3/2023 | F2467E1AE4A316D4E99A | 100% OFF | 1000/579 | expired |
| - | 5/8/2023 | C7FFEDE360F206271AAB | 100% OFF | 1000/324 | expired |
| - | 6/21/2023 | THANKS020 | 100% OFF | 1000/983 | expired |
| - | 6/26/2023 | B2E3686C5129D316F9BF | 100% OFF | 1000/648 | expired |
| - | 7/23/2023 | 5CA2650120859335BBA9 | 100% OFF | 1000/494 | expired |
| - | 8/13/2023 | 6319E28556347EFAE42D | 100% OFF | 1000/511 | expired |
Charts
Price
Rating
Enrollment distribution
2/12/2018
course created date
8/1/2019
course indexed date