Prepare the Safe 5.0 Leading Safe certificate
Leading SAFE 5 SA (SAFE Agilist)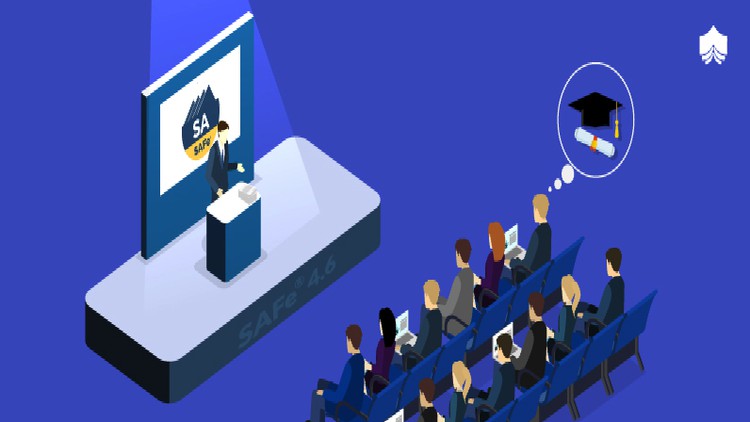 What you will learn
Core competencies
Core Values
Business Agility
Lean-Agile Leadership
Leading SAFE Framework
SAFE Agilist
Description
These practice exams are neither endorsed by, nor in partnership, nor affiliated with SAFE.
These practice tests will help you prepare for SAFE 5 Leading safe SA (SAFE Agilist) exam.
It will prepare you for the certification thanks to Mock tests. No previous experience with Scrum is needed but it is better to read the Scrum Guide before and Agile Manifesto.
In this course you will:
Exam simulation with the help of mock exam questions

Lean-Agile mindset

Core competencies

Scrum of Scrum
Information about the exam :
This course prepares you for the SAFE 5 Leading safe Exam.

The simulation test has between 20 and 30 questions, 60 min to complete and 77% pass mark.

The test questions are perfect preparation for the SAFE 5 Leading safe Exam.

Contact the Author for any questions you have around the Exam or test questions.

You should have read through the Scrum guide on Scrum (dot) Org.

You should have read over the scaled Agile Framework (dot) com.

You should have experience with the Scrum Framework and ideally have experience being a Scrum Master.

This is an intermediary course/exam.
It is mandatory to subscribe a course in scaledagileframework platform and follow the path of the training. Each step will enable the next step and after the exam.
If you pass the exam, you will receive this message by SAFE :
Hi ***** *****,
Thank you for taking the SAFe 5 Certified Member Upgrade Exam (5.0).
Congratulations! You passed with a score of 100.0 percent.
We've included a breakdown of your scores in each section.
Section Scores:
SAFe 5 Upgrade Section 1: Business Agility:100%

SAFe 5 Upgrade Section 2: Team and Technical Agility:100%

SAFe 5 Upgrade Section 3: Agile Product Delivery:100%

SAFe 5 Upgrade Section 4: Enterprise Solution Delivery:100%

SAFe 5 Upgrade Section 5: Lean Portfolio Management:100%

SAFe 5 Upgrade Section 6: Organizational Agility:100%

SAFe 5 Upgrade Section 7: Continuous Learning Culture:100%

SAFe 5 Upgrade Section 8: Lean-Agile Leadership:100%
You may now accept your digital badge to share your SAFe® certification achievement with employers and peers.
If you want to study before to do the exam, you should study these sections :
Business Agility

Team and Technical Agility

Agile Product Delivery

Enterprise Solution Delivery

Lean Portfolio Management

Organizational Agility

Continuous Learning Culture

Lean-Agile Leadership

Safe Principles

Customer Centric
Reviews
While the author may have worked hard to create these tests, they are so poorly written that I do not trust them at all. UDEMY : Why are you allowing such a poorly written course and why are you charging me $$? I would like a refund.
The explanations are incoherent - seems to be cut and pasted from some other web page and has missing references.
great contents, well organized, helped prepare my examinations. Highly recommended! Fiver Start support as well.
The wording of questions and answers is so bad , at times it was really unclear for example whether the question is asking for cause or effect and it was not at all clearer from the answer choices. It was more confusing than helpful, sorry...
The answers are not very clear and it would be great if the answers contains a link to a document or cheat sheet for additional info and context.
Good collection of questions. The missing thing, is that answers are not properly explained or are not to the point. At most places, definition of the topic is provided, instead of explain why a particular choice and correct and other is wrong.
I was hoping to find a course that taught the subject matter of Lean SAFE practices. I didn't want to learn by continually guessing at the practice exams.
Many of the questions were poorly worded and some of them covered rather obscure topics. Would not recommend.
Overall good as it shows the answers are mostly basic tied to SAFe even though questions are twisted so idea is to stick onto what SAFe prescribes than go with an option that may be best suited. One question where I felt was a confusion in practice 3 was Applying Cadence where I felt the answer should have been "Consistency" and not "Variability"...overall good experience
Lot of grammatical mistakes and few answers are really wrong when i compared with the actual safe Guide..I think this guy's question paper should not be available in Udemy....It is creating so much Confusion.
In which frequency to update Lean budget distribution? The provided answer is wrong. The correct answer is Twice Annually. Also, provide the justification of answer for Test 3
Given the test. Questions taken from sample tests. Need to add more questions closer to exam questions
1) Explanation to answers is not adequate to understand why a particular answer is correct. 2) Some questions have incorrect answers. I have verified with SAFE website. 3) Grammar mistakes especially in the first test. This is shocking and not expected in Udemy.
The grammar of the questions is frequently incorrect. This is confusing and misleading to a native English speaker. This should be fixed to make the course valuable
GONZALEZ
December 27, 2020
It's a good set of questions to find out where I should put more study on the material. As an addition, Practice Test 2 - Question 9, there's a repeat answer.
Coupons
| Submit by | Date | Coupon Code | Discount | Emitted/Used | Status |
| --- | --- | --- | --- | --- | --- |
| Nassim Lehri | 3/5/2021 | D0CF9A273037BE6FD834 | 35% OFF | | expired |
| Nassim Lehri | 4/25/2021 | 54C4779973EF1A9D5FC4 | 35% OFF | | expired |
8/24/2020
course created date
8/31/2020
course indexed date