P.O.W.E.R Resume System: Proven system to get job interviews
Learn to create a Winning Resume to get Jobs-On-Demand!
Career Development
category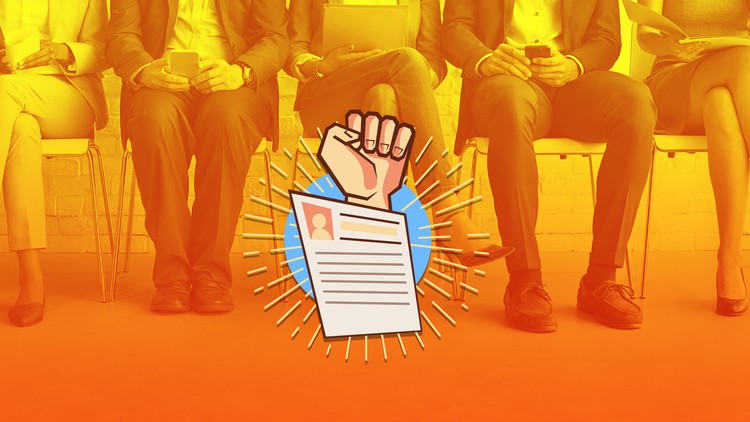 What you will learn
Learn the Top 5 mistakes job-seekers make which may be costing them 100s of job interviews
Learn how to create a powerful resume
Discover the art of getting interviews using your resume
Learn the Resume strategies irrespective of where you are in your career
Description
P.O.W.E.R Resume System 3.0 - The #1 BEST-SELLING Resume Writing Course! (with over 500 ratings)
>> COURSE REGULARLY UPDATED (Last updated: MAY 2023): NEW TIPS, MORE LESSONS <<
>> CERTIFIED COACH, SPEAKER, AND TRAINER <<
>> OVER 270,000 STUDENTS IN TOTAL <<
Did you know it's ONLY for 6 seconds any recruiting manager looks at your resume that's why it is a must to have a unique resume to catch the utmost attention of the employer within that 6-second span of time.
It's not easy to present your career in an easy-to-read way that does justice to your experience and is attractive enough to ignite the urge in the recruiter to perk up and reach the phone to make a call to you for an interview. That's where this course will help. In this course, you will learn the tools and techniques which will enable you to create a masterpiece resume for yourself.
Once you have learned the tools and techniques of writing a POWER Resume, getting an interview call will become a cakewalk for you.
If you are one who finds it difficult to write or cannot organize your ideas, thoughts, experiences, and qualifications, I can assure you that you will be able to learn to do all these things. In this course, I have explained step by step process of creating your resume which is your self-advertising copy, nothing more and nothing less.
Do you know if your resume becomes successful in creating the desired amount of mystery in the recruiter's mind, they will look forward to meeting you and will be more willing to hire you as their employee?
Let's face it, when it comes to writing a professional resume or even updating one, most of us could all use a bit of help. You might consider hiring a professional (available all over the internet nowadays), to write your resume. But, do you think anyone else knows you better than you do? Even if you provide complete information to the resume writer, what if there is some chance that you might have to make it in the resume? And if you know everything about resumes and their parts, you can create your own masterpiece and it's always up to you how you want to have it updated.
Writing a great resume for yourself will be the stepping stone that lands you a job interview and you will want one that sets you apart from the rest.
It does not matter if you already have a successful career or are just starting out as a fresh graduate, or are looking for a promotion at your current place of employment. If you know the tools and techniques of creating a powerful resume, YOU will always be a winner and will be able to get as many interviews calls from companies of your choice at any point in time.
So, let's get started to create a new YOU and grab that DREAM job!!
Are you a Non-Profit or Charity helping the world?
Awesome! The world needs more people like you. Keep up the good work and let me know how I can help. To start with, get in touch with me to unlock free access to all of my courses. Just message me privately and I'll get that sorted for you and your team.
Content
Introduction
Introduction
Steps for Using the Course and Getting More Help!
Resume Myths
Start With WHY?
POWER Resume Planning
9-Point Strategy
Resume Formats
Important Parts of the Resume
POWER Resume Structuring and Quantification
Skills and Accomplishments
The Objective
Quantifying Achievements and Accomplishments
E2A Presentation
ATS and Keywords
Applicant Tracking System
Best and Worst words for POWER Resume
POWER Resume DO's and DONT's
POWER Resume DO's
POWER Resume DONT's
Certificate of Completion
Test Your Learning!
Reviews
Muhammad
February 15, 2023
The course is in very easy words and delivers a clear message. Great. The best part of the Course is Understanding of Application Tracking Systems and Power words.
Course is good and gives idea of how and what the resume should be so that one need to be shortlisted. Relevance of knowledge is shared with eg. for the preparation of resume.
Lectures are very good, simple and easy to understand. One can build an attractive resume after that. But however, resume samples provided in Section-2 (6) are not clear. 8-10 samples must be provided for better understanding. Thank You
Resources in PDF Format Could Have Been Provided for All to Easily Refer Whenever Need Arises. And Instead of Just 'VOICE-OVER', the person should have actually appeared on the Screen to have continuous 100% attention while listening.
This was really an eye opener to the little yet powerful things keeping my resume in the pool of average. Thank you!
There's a lot of tips in this lecture video. I hope I can demonstrate my resume to the instructor of this course to evaluate the quality of my resume.
there are good tips in this course. but after i finished this course I still need tutorial on how to make a resume. so basically this is just tips on how to make a good resume but it doesn't teach you how to make one. and some of the resume example are blurred you cant see it clearly.
This course has given me such a boost and confidence in my resume writing strategy and document development. It gave me confirmation that my hard work and efforts are not in vain and that I am indeed on the right track. This program also gave me an opportunity to hone in on areas that needed improvement and opened my areas to new design techniques, resume formatting and layout options, and the overall importance of "strategy first - then writing second."
Your program was outstanding and I would highly recommend it to all job seekers. You have greatly enhanced my writing skills and confidence. I look forward to other programs you might offer in the future.
Thank you for taking away the worry and concern. I am now very confident that I will create my professional looking resume without spending money online
This video is very useful, thank you for uploading it. I had no idea that LinkedIn is so resourceful in resume creation. your tips and techniques are to the point and very useful
Susmita, this is Margaret. Holy Cow, I am impressed! Excellent course! This resume course was worth every penny.
Wow! I'm speechless! The resume looks amazing after adding your suggestions to my resume. It now portrays the fact that I am an experienced marketing communications manager with unique attributes vs. just another MarCom Manager.
Loved the complete step-by-step process. I have taken 3 other resume courses, but this is the best course as I have learned a lot and I myself feel so much better after looking at my improved resume after incorporating all her suggestions.
Excellent course! She has a get-to-the-point presentation style and offers hundreds of tips, suggestions and examples. I highly recommend the course to anyone who would like to land multiple interviews.
Coupons
| Submit by | Date | Coupon Code | Discount | Emitted/Used | Status |
| --- | --- | --- | --- | --- | --- |
| - | 8/8/2019 | SPECIAL2019 | 100% OFF | | expired |
| - | 11/2/2021 | FREE_O2021_2 | 100% OFF | 100/92 | expired |
| - | 11/16/2021 | NOV2021FREE01 | 100% OFF | 1000/994 | expired |
| Ignacio Castro | 11/20/2021 | NOV2021FREE001 | 100% OFF | 1000/847 | expired |
| Angelcrc Seven | 11/23/2021 | NOV2021FREE0001 | 100% OFF | 1000/859 | expired |
| Ignacio Castro | 12/5/2021 | DEC2021FREE1 | 100% OFF | 1000/753 | expired |
| Angelcrc Seven | 12/21/2021 | DEC2021FREE01 | 100% OFF | 1000/955 | expired |
| Angelcrc Seven | 12/31/2021 | DEC2021FREE001 | 100% OFF | 1000/956 | expired |
| - | 1/9/2022 | JAN2022FREE1 | 100% OFF | 1000/693 | expired |
| Angelcrc Seven | 1/17/2022 | JAN2022FREE01 | 100% OFF | 1000/836 | expired |
| Angelcrc Seven | 2/1/2022 | JAN2022FREE001 | 100% OFF | 1000/815 | expired |
| - | 2/11/2022 | FEB2022FREE1 | 100% OFF | 1000/975 | expired |
| - | 2/20/2022 | FEB2022FREE01 | 100% OFF | 1000/941 | expired |
| - | 3/1/2022 | FEB2022FREE001 | 100% OFF | 1000/985 | expired |
| - | 3/11/2022 | MAR2022FREE1 | 100% OFF | 1000/950 | expired |
| - | 3/20/2022 | MAR2022FREE01 | 100% OFF | 1000/970 | expired |
| - | 3/31/2022 | MAR2022FREE001 | 100% OFF | 1000/873 | expired |
| - | 4/10/2022 | APR2022FREE1 | 100% OFF | 1000/857 | expired |
| - | 4/21/2022 | APR2022FREE01 | 100% OFF | 1000/889 | expired |
| - | 5/11/2022 | MAY2022FREE1 | 100% OFF | 1000/973 | expired |
| - | 6/11/2022 | JUN2022FREE1 | 100% OFF | 1000/746 | expired |
| - | 6/22/2022 | JUN2022FREE01 | 100% OFF | 1000/936 | expired |
| - | 7/1/2022 | JUN2022FREE001 | 100% OFF | 1000/460 | expired |
| - | 7/11/2022 | JUL2022FREE1 | 100% OFF | 1000/627 | expired |
| - | 8/2/2022 | JUL2022FREE001 | 100% OFF | 1000/872 | expired |
| - | 9/1/2022 | AUG2022FREE001 | 100% OFF | 1000/954 | expired |
| - | 9/14/2022 | SEP2022FREE1 | 100% OFF | 1000/755 | expired |
| - | 10/12/2022 | OCT2022FREE1 | 100% OFF | 1000/871 | expired |
| - | 10/22/2022 | OCT2022FREE01 | 100% OFF | 1000/902 | expired |
| - | 11/1/2022 | OCT2022FREE001 | 100% OFF | 1000/972 | expired |
| - | 11/13/2022 | NOV2022FREE1 | 100% OFF | 1000/883 | expired |
| - | 12/1/2022 | NOV2022FREE001 | 100% OFF | 1000/978 | expired |
| - | 12/12/2022 | DEC2022FREE1 | 100% OFF | 1000/991 | expired |
| - | 1/15/2023 | JAN2023FREE1 | 100% OFF | 1000/985 | expired |
| - | 2/4/2023 | FEB2023FREE1 | 100% OFF | 1000/880 | expired |
| - | 2/11/2023 | FEB2023FREE01 | 100% OFF | 1000/532 | expired |
| - | 2/22/2023 | FEB2023FREE001 | 100% OFF | 1000/943 | expired |
| - | 3/1/2023 | MAR2023FREE1 | 100% OFF | 1000/987 | expired |
| - | 3/11/2023 | MAR2023FREE01 | 100% OFF | 1000/829 | expired |
| - | 3/19/2023 | MAR2023FREE001 | 100% OFF | 1000/954 | expired |
| - | 4/2/2023 | APR2023FREE1 | 100% OFF | 1000/685 | expired |
| - | 4/11/2023 | APR2023FREE01 | 100% OFF | 1000/974 | expired |
| - | 4/20/2023 | APR2023FREE001 | 100% OFF | 1000/842 | expired |
| - | 5/4/2023 | MAY2023FREE1 | 100% OFF | 1000/551 | expired |
| - | 5/16/2023 | MAY2023FREE01 | 100% OFF | 1000/186 | expired |
Charts
Price
Rating
Enrollment distribution
4/5/2015
course created date
8/1/2019
course indexed date