Podcast Covert Hypnosis Masterclass
How To Use Hypnosis To Explode Your Podcast Audience, Boost Your Downloads And Ramp Sales Through Better Podcasting!
Esoteric Practices
category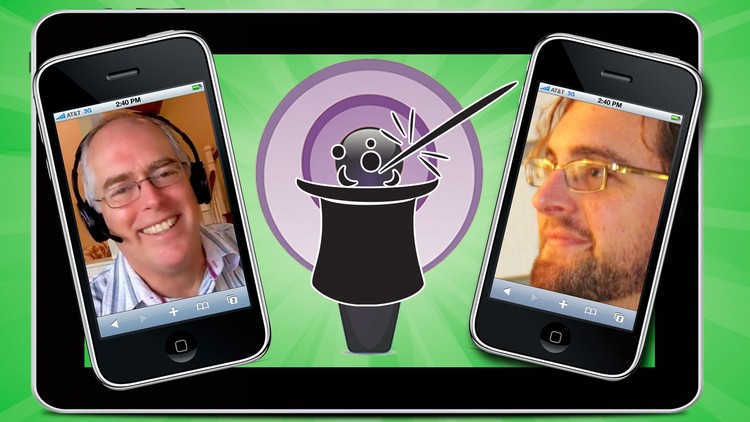 What you will learn
Communicate more effectively
EXPLODE your audience growth!
Use powerful hypnotic secrets to instantly persuade listeners
Description
One of the biggest issues Podcasters bring to me is how to get their audiences to take action, whether that is getting them to buy your product or service, join your coaching program, changing their level of mental, emotional, physical, spiritual and financial success.
The problem is that while people can be very, very influential and charismatic, the vast majority of Podcasters have never been taught that skill. Most podcasters work alone or in very small groups on their shows. The result is that unlike their Radio brothers and sisters, Podcasters don't get professional feedback.
Many also spend their time elevating their expertise in their area of study, which is usually NOT "How to Influence Your Audience". This results in a huge disconnect between the Podcasters' goals and their audiences reactions.
So we have two groups of Podcasters: a huge one that has no idea how to 'sell' their tribe or get them to do anything and a very small group that has an audience that buys all their recommendations.
In 2005, my Podcast, "Weight Loss and The Mind" grew from zero to 375,000 listeners in 12 months. We did absolutely no promotions, except a Press Release when we hit 2000 subscribers. We started out with no idea if anyone would ever listen.
The production values were terrible. But each week we published a 20 to 30 minute podcast episode. Our artful use of Conversational Hypnosis and NLP kept everyone glued to their computers, and word of mouth spread our show far and wide.
If we could do it, you can do it. This Master Class starts you on your way. You will learn and practice proven, very effective techniques which only the top experts in communication know.
In this course, Drexel Scott and Scott Paton cover:
The Role of Your Conscious and Subconscious Minds
The Structure of Language
The Power of Your Vocal Inflections
Who is the Gatekeeper?
How to Use Slip Phrases and Embedded Commands
And much more!
Give your Podcast a fresh start by registering for this game-changing Master class now.
Every moment you delay, you lose out. Simple as that.
All the ongoing updates to this course are free, always, forever.
+++++++++++++++++++++++++++++
And the unconditional, Udemy backed, 30 day money-back guarantee is not just any old guarantee, it's our personal pledge to you that you will influence your audience, build your brand or reach your goals ... just like our ten thousand plus Udemy students have.
Join us today.
Content
Introduction to the Basics of Influence
Introduction
Introduce Yourself
What is Hypnosis?
Introduction
Conscious Mind vs. Subconscious Mind
The Structure of Hypnotic Language
Vocal Inflection
How to Mark Out Commands
Putting It All Together
Slip Phrases and Commands
[Activity] Practise a Slip Phrase and an Embedded Command
[Activity] Recording a Hypnotic Podcast
Conclusion
Next Steps
Join Our Private Facebook Group
Help Your Fellow Students
Reviews
I prefer to leave off giving my opinion until a later time. I haven't really learned anything that I had not already gleaned through research and reading - but I am looking forward to getting into this a bit more.
I enjoyed the material presented. Though seemingly basic NLP, it was information I had not heard yetu
I have taken other courses by Scott Paton and really enjoy his style, information, and willingness to go above and beyond to help his students. Each lecture is clear and easy to understand, and he is quick to respond to questions. He and the co-instructor clearly define and differentiate the type of hypnosis used for improving your results from the entertainment style hypnosis and show how to incorporate it for better results. I highly recommend this class for anyone wanting to learn more about using NLP/Hypnosis in your podcasts as well as other interaction with those you come into contact.
I thought that combining NLP principles into communication was very complex. The instructors are very experienced and lectures are very easy to understand. You only have to put the work. If you are a podcaster or speaker and want to improve your communication skills then this course is a must!
This course is an excellent overview of how to create a slip phrase before the command phrase in NLP. I strongly suggest, purchasing Drexel's course "NLP for Sales and Persuasion" which teaches the most comprehensive information. It is the next level and well worth it. Joan
Coupons
| Submit by | Date | Coupon Code | Discount | Emitted/Used | Status |
| --- | --- | --- | --- | --- | --- |
| Lee Jia Cheng | 2/21/2020 | 76EAEF472CF9427E2822 | 100% OFF | | expired |
| - | 6/22/2020 | PCHMEXPJUNE252020 | 100% OFF | 40000/1805 | expired |
| - | 6/12/2022 | PCHMEXPJUN162022 | 100% OFF | 1000/895 | expired |
| - | 6/28/2022 | PCHMEXPJUL032022 | 100% OFF | 1000/259 | working |
10/2/2015
course created date
2/21/2020
course indexed date
Lee Jia Cheng
course submited by