Podcast With NLP for High Audience Growth
Increase Your Podcast Audience Using NLP and Hypnosis. Podcasting for Success
Social Media Marketing
category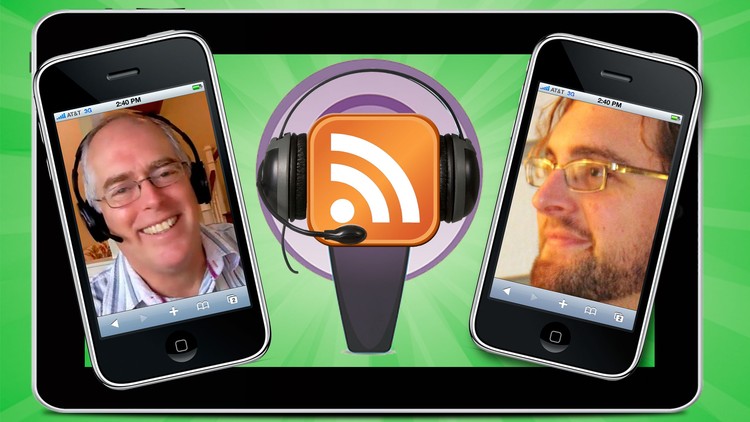 What you will learn
Grow your listenership
Increase sales from your podcast
Influence your audience to spread the word about your show
Develop close bonds with your tribe
Understand the "Three Modalities Of Communication" and how they build trust and rapport
Description
This course is not just about NLP training; it's about refining the communication process in your Podcasts by making use of the principles of NLP.
Communication is one of the most important skills in business life, and it goes without saying how essential it is to the success of your Podcast, yet no one really talks about it or trains Podcasters on communication. After all, everyone knows how to talk! Excellent and compelling communication skills are be the difference between an ignored Podcast and a profitable, high-growth one.
This program incorporates tools and ideas used in Neuro-Linguistic Programming (NLP) and explores ways of communicating that make a real difference in your Podcast.
Benefits of Podcasting NLP Power Communication & Influence Magic Secrets:
Become more persuasive.

Increase your Podcast's popularity

Deliver memorable messages, that get shared.

Increase your confidence when communicating.

Communicate clearly and concisely.

Understand and work better with other people.

Use your mind to its full potential.

Add flexibility, structure, effectiveness and better choices into your life.
Who should attend?
Anyone whose Podcast success depends on the strength of their verbal communication.
It will benefit people making any Podcast, but particularly those in sales, marketing, customer service and anyone wanting to inspire their audience into action!
This NLP training is not about NLP! It's simply about learning how to communicate more effectively in your Podcast.

Learn about:
The Three Modalities of Communication

The differences in how the genders give and receive information

How to build instant rapport and trust with your audience

How to avoid the number one mistake, podcasters make when addressing their audience
About this Course:
Full, free lifetime access

All future extra lectures and upgrades are always included for free

Unconditional Udemy 30 day money-back guarantee - that's my personal promise of your success!

Regular free surprise bonuses to increase your income even more!
Join us today and start growing your Podcast Profits!
Content
Introduction
Introduction
How Can NLP Help Your Podcast Grow?
What is NLP?
Are NLP and Hypnosis the Same?
Introduce Yourself
Who is Drexel Scott
Who is Scott Paton
The Three Modalities of Podcasting NLP
Introduction
The Map is not the Territory
The 3 Modalities
How to change your language
Men and Women
Summary
Modality Quiz
NLP Keys to Audience Growth
Rapport and Trust
Speaking Directly to One Member of Your Audience
NLP Keys to Podcast Growth Quiz
Next Steps
Appealing to All Modalities - Conclusion
Share Your Podcasts
Help Your Fellow Students
Join Our Facebook Group
Continuing Education - Drexel Scott
Continuing Education - Scott Paton
Reviews
Well thought out and presented course. If you have a podcast and you have not been exposed to NLP, this course will show you how to easily integrate basic NLP language patterns into your podcast that will help you build better rapport with your audience, get your audience to take the action you want (including referring your podcast) and get more downloads.
I was very much looking forward to taking this course, because of the need to use NLP to be successful in online promotion. I wish I could be more upbeat about my comments but I feel somewhat disappointed in what was taught. There was too much 'about me info' at the beginning - I had already purchased your course, so you don't need to tell me social proof. Do this before I buy if you think this is necessary. You need to get right to the meat. The first half should have been a free intro because there was very little meat. As you moved thru the course, each section should have had a take=away. There were several sections with virtually no value. There was a lot of overview that could have been dealt with in a notes pdf like other courses have done, rather than a chitchat conversation. The conversational style took up too much time. The little "test" sections were superfluous. The last 9 minutes of plugging each others work was offputting. Get the to point. While there was some good content - specifically the phrases and where to use them in your podcast - this course could have been taught in 1/2 the time. I have taken a number of UDEMy courses and this took far too much time for what I got out of it. Finally, I found your backgrounds to be unprofessional and very distracting. They detracted from your delivery. Apologies for my bluntness.
Scott and Drexel, Thank you so much for this course. I have known about NLP for many years. I am fascinated by its application in counseling and well as sales. This course is a must for anyone interested in learning how people communicate and process information.
You guys packed quite an informational punch. You can tell you are both in different fields, but your interests and explanations complemented each other so well! Great job and thanks! Teresa
How we communicate has a direct effect on the growth of our audience, how engaged they are and how likely they will be to purchase our products, courses or programs. This course is a wonderful introduction to the world of NLP and how it can be applied to Podcasting. Of course these communication skills can be applied to all areas of life, for example when presenting your online course material... I highly recommend this course (and any course by Scott Paton).
Coupons
| Submit by | Date | Coupon Code | Discount | Emitted/Used | Status |
| --- | --- | --- | --- | --- | --- |
| - | 2/25/2020 | 59A44D8E17D1BF811689 | 100% OFF | | expired |
| Angelcrc Seven | 6/18/2020 | PWNLPHAEXPJUNE212020 | 100% OFF | 40000/3402 | expired |
| - | 5/25/2022 | PWNLPHAGEXPMAY272022 | 100% OFF | 1000/628 | expired |
| - | 6/22/2022 | PWNLPHAGEXPJUN272022 | 100% OFF | 1000/838 | expired |
9/8/2015
course created date
2/25/2020
course indexed date