Podcasting Success Strategies: Get Podcast Sponsorships
Discover How to Turn Your Podcast into a Business. Discover How We Get Our Sponsors & You Can, Too!
Content Marketing
category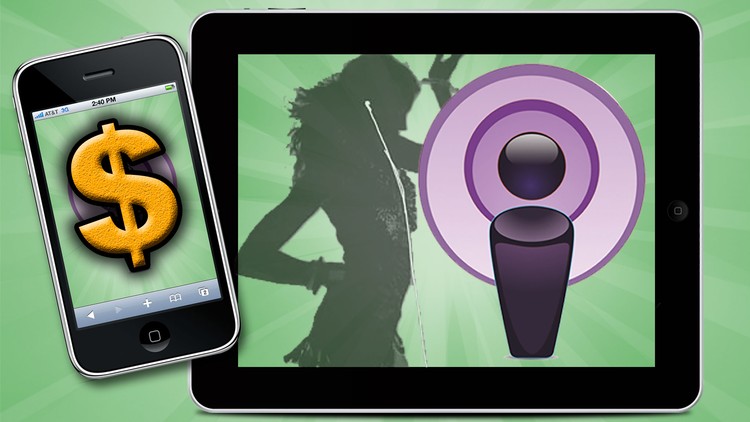 What you will learn
FInd sponsors for their podcasts
Description
Sponsorship is the support, financial and otherwise, of your Podcasts, multi-media broadcasts, and production for your marketing and promotion.
Sponsors are the organizations or individuals that are willing to fund and recommend you and your information for their own benefit and profit.
There are Corporations, Associations, Foundations and even individuals looking for, and actually having budgets marked for sponsorship. Why not YOU??!!
Power Podcasting Sponsorship reveals step-by-step what you need to do and how to do it. Just follow the easy video training as listed below.
Find sponsors. Discover how to benefit from Power Podcasting Alliances with corporations, large companies, associations, foundations, lobby groups and media to:
Pay for your marketing and promotion
Push your message to their customers & networks
Acquire resources and people to work for you
Explode your list building & prospect opportunities
Preserve your hard-earned cash & bank it
Win instant credibility and use it for a lifetime
Eliminate risk and chance in advertising
And create Instant Credibility with your audience. Discover how Power Podcasting Sponsorships can take your Podcast to the next level by opening the doors to Celebrity Podcast guests and instantly position you in front of huge untapped audiences.
Think about it. What would it mean to your business if you could have a leading company in your industry, or niche, recommend and refer your Podcast to their entire customer base? Can you imagine how much more credibility (and celebrity) you could gain in the eyes of your prospects?
Sponsorships are successful in many areas outside of Podcasts, where our focus happened to be. We just got 'traction' there and one thing lead to another.
Sponsorships work anywhere there is marketing going on.
Anywhere you're targeting a similar demographic, and anywhere people are gathered, there exists a Power Podcasting Sponsorship opportunity.
Sponsorships is big business
2014 top sports sponsorship spenders:
PepsiCo $360M
AB-InBev $305M
Coca-Cola $295M
Nike $265M
GM $195M
The new Sponsorship era is digital, global, direct-to-consumer, evidence-led and confident in its impact. Podcast Sponsorship, as a medium, is more than capable of delivering all of these things; the Podcast industry is posed for a huge evolution into sponsorships.
Above all, if you get stuck or experience any difficulties along the way, you won't ever have to struggle on your own and worry about having no one to turn to for help.
************************************************************************

Upon becoming a student of Power Podcasting Sponsorships - Make Money From Your Podcast, you will receive continuous support from both of us: Martin and Scott – help that comes with no expiry. We will be here to share our advice and answers to all your questions whenever you need help from us and we have over 180 Five Star Reviews to prove it!
This course will stay updated regularly to bring you more great ideas and tips! By enrolling in this course now, you will have access to all new content additions and future updates at no additional charge... ever!
************************************************************************
30-DAY GUARANTEE PERIOD
If you are not completely satisfied with this course, you have the option to refund it within the first 30 days, and get all your money back. No questions asked, no hassles.
************************************************************************
Are you excited to start experiencing the enjoyment from Profitable Podcasting that earning money and more from sponsorships?
Click the blue 'Take This Course' button at the top to enroll yourself and start signing up Sponsors!
Content
Start Here
Why You Need To Take This Course
Six Figure Sponsorships For Your Podcast
Sponsorships are Big Money!
How Sponsorship Gives You INSTANT Credibility
Please Introduce Yourself
No Podcast? No Problem!
How to Find Sponsors
Introduction
Is Sponsorship Just About Money?
Big Brands Bring You Bigger Business
Where Do I Find Sponsors?
Summary
[Activity] Make a List of Potential Sponsors
Finding Sponsors
How to Approach Sponsors
Introduction
Should You Have Multiple Sponsors?
The Wrong Way
The Right Way
Swallowing an Elephant
Summary
[Activity] Sponsorship Action Plan
Approaching Sponsors
How to Pitch a Sponsor
Negotiation Strategies
[Activity] 17 Point Money Making Sponsorship Formats Checklist
Closing the Deal
Pitching Sponsors
Conclusion
Aim... Fire! Ready...
Learn to Podcast
Join Our Exclusive Power Podcasters Facebook Group
Help Your Fellow Students
Google Goes After Podcasting
Reviews
I really liked the course really easy to get thru. The only thing that stopped my 5-star rating is that I wish you provided an example of the sponsor deck.
I'm leaving this review after the second lecture. The video quality is insanely low, and the guys talking about how they make $6,000/week off podcasts are in incredibly cramped environments with super low quality video and audio, leading me to have little to no credibility in them. I'll admit I'm only two lectures in, so they may change my mind drastically as I watch more, but... we'll have to find out. (Also the main guy talking about making money is a conventionally attractive older white guy who is certainly describing the experience of a white guy in America as if that translates to be true for everybody else.)
Christina
December 6, 2019
Quality is good. Guest host was good. Didn't really give much guidance or how to actually do anything, which is what I needed. I wanted actual steps to take and places to find sponsors.
So far its not very applicable. It's all stories without wise one-liners, or actually instruction. The small podcast I work for isn't about to get Microsoft to sponsor us any time soon. I need realistic help and guidance. Not stories like the ones told on this course so far.
It was very comprehensive, practical and gave step by step directions to approach and negotiate with sponsors in creative ways.
Scott and Martin have put together a comprehensive course on finding Sponsorships for your podcast. As I'm marching close to my 100th episode finding sponsor is something that I've been working toward myself and this course is a huge step in the right direction.
Coupons
| Submit by | Date | Coupon Code | Discount | Emitted/Used | Status |
| --- | --- | --- | --- | --- | --- |
| Lee Jia Cheng | 2/27/2020 | 0A040620D7E1DDFAB469 | 100% OFF | | expired |
| Lee Jia Cheng | 3/11/2020 | MARCH13PODCASTING | 100% OFF | | expired |
| Lee Jia Cheng | 6/12/2020 | PSSGPSEXPJUNE152020 | 100% OFF | 40000/399 | expired |
| Angelcrc Seven | 6/29/2020 | PSSGPSEXPJULY022020 | 100% OFF | 40000/594 | expired |
| - | 6/15/2022 | PSSGPSEXPJUN202022 | 100% OFF | 1000/951 | expired |
| - | 6/30/2022 | PSSGPSEXPJUL052022 | 100% OFF | 1000/538 | working |
8/19/2015
course created date
2/27/2020
course indexed date
Lee Jia Cheng
course submited by