Podcast Host Masterclass
Discover how to host podcasts professionally. Grow your podcast, reputation and your audience. Learn to prep your guest
Social Media Marketing
category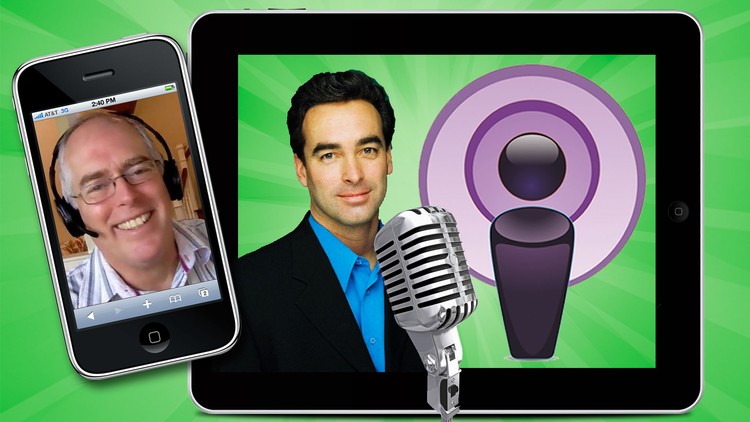 What you will learn
Give excellent interviews
Understand how to be a great Podcast show host
Description
Up to Date as of October, 2015.
Podcasting is booming! There has never been a better time to get 'On the Air'. Low start up costs and the massive improvements in electronics and technology means that if you can talk, are passionate and know something about your topic, you can host your very own show.
Fame and Fortune await, if you know how to run your show professionally.
From one of our students:
"Thanks for the shout out Martin, or should I say thanks for the endorsement smile emoticon We went from 25k downloads of our show a month to 50k in 9 months using your suggestions and your training was very concise and easy to understand. This series has got me all jazzed again look out here we go again."
No prior experience or formal broadcast education is required to be a talk show host or produce your own show. Anyone can become a professional Podcast Host, if you have the proper guidance and mentoring.

Scott Paton and Martin Wales have over 30 years experience, and thousands of episodes under their belts when it comes to hosting shows and interviewing guests.
Let them share their expertise with you and shortcut the learning curve to becoming an exceptional host.
Are you ready to become the next Larry King? Jay Leno? Oprah?
In this fast-paced, fun course, you'll learn:
The Do's and don'ts of being a Host
What your job really is
The best way to prep your guest
How to interview and some great questions no one asks
How to control the conversation
And much more!

About this course:
Full, free lifetime access
All future extra lectures and changes are always yours for free
Unconditional Udemy 30 day money-back guarantee - that's our personal promise of your satisfaction!
Click the "take this course" button, top right, now ... every hour you delay is costing you fame and fortune...
Content
Be an Excellent Podcasting Show Host
Introduction
Hosting a Show
Introduction
The Host's Job Description
Do's and Don't of being the Host
[Activity] Preparation
Summary
Podcast Host
Interviewing Skills
Introduction
Questions
[Activity] Interview Questions
Controlling the Conversation
Seguways
Conclusion
Podcast Interviews
Next Steps
Course Summary
Help Your Fellow Students
Join Our Private Facebook Goup
One Last Thought...
Reviews
introduction of an introduction and let's laugh onto the camera a lot. The entire content could be squeezed into 20 minutes, but some parts were actually useful. I would recommend the authors to delete the part where they make fun of reading disabilities - it might have been recorded 5 years ago, but the course is still available in 2020
It's great that the two hosts recognised a need for this particular course because hosting a podcast successfully requires a very different skill-set to creating a podcast from a technical perspective. The two hosts are clearly well intentioned and want to do their best work. I just wish that the production value of the content could have been higher. The entire course is presented through skype conversations between the two hosts and certain episodes lagged as a result. Second, i feel like the material points the hosts tried to make could have taken a lot less time and some of the longer conversations could have been much shorter and succinct while offering the same advice. It seems as though the hosts themselves could have done with a bit more preparation and put a bit more effort into the actual production of this course.
Great course - short and to the point. Lots of relevant information and tips on hosting and improving your podcast style and content.
Starting from the first steps, Martin and Scott take you through all the little things to think about to create a high-quality podcast. Highly recommended for those just starting out AND those who have experience and want to increase their skill.
Martin is a tremendous person who gives great insight without over-complicating with excessive detail that only serves to confuse the viewer. The information presented is outstanding- go back and listen repeatedly until it sinks in!
Interviewing and communication is not quite the inherent skill people think. This course is very informative and easy to follow. The teachings will help create necessary skills to be a show host. I highly recommend it.
Coupons
| Submit by | Date | Coupon Code | Discount | Emitted/Used | Status |
| --- | --- | --- | --- | --- | --- |
| - | 3/2/2020 | 642C42F2D45C464F6543 | 100% OFF | | expired |
| Lee Jia Cheng | 6/5/2020 | PHMEXPJUNE82020 | 100% OFF | 40000/3035 | expired |
4/22/2015
course created date
3/2/2020
course indexed date