PODCAST MASTERY: How to Make, Market, and Monetize Podcasts
Discover the Power of Podcasting to attract hot customers and clients
Video & Mobile Marketing
category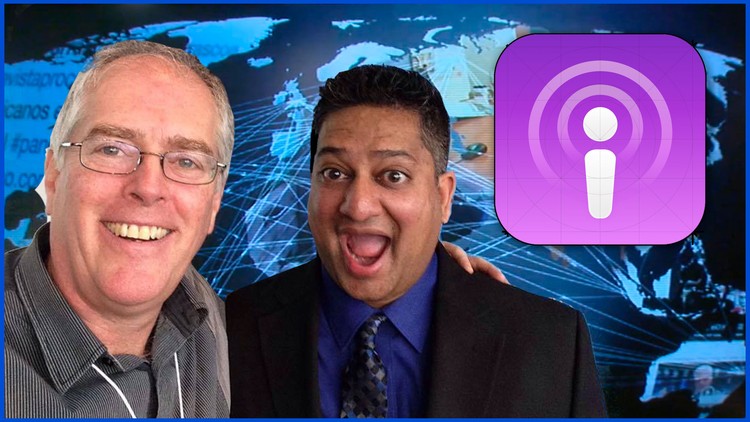 What you will learn
Learn how to market their podcasts effectively
Understand how to find awesome guests for their show
Be able to use their podcast as a more effective tool
Description
Ricky Shetty and Scott Paton recently celebrated their 500th podcast episode in 18 months: Digital Nomad Mastery Podcast. It gets 1000's of downloads a month and growing daily. Scott has been teaching podcasting since 2005.
In this fast-paced course, Ricky and Scott share how they were able to create such a successful podcast and leverage it into the vehicle that funds their dream lives of traveling the world.
You'll discover:
The best equipment to use

How to find awesome guests

Why appearing on other people's podcasts is crucial to your own podcast's growth

How to quickly find hot topics to talk about

Why sponsorships are so easy for podcasters to get

How to leverage your podcast for your own product sales

What to do if you don't have a product or service

And much more!
If you ever wondered why you should podcast or how you should structure your podcast, this course is for you!
Enrol today!
Content
Introduction
Introduction
What is Podcasting?
Why is Podcasting Important?
Getting Your Podcast Started
Recording Equipment
Editing Software
Show Theme and Topics
Finding Guests to Interview
How can you Launch a Successful Podcast?
Marketing Your Podcast
Email Marketing, Social Media Marketing, Blog Marketing
Repurposing Your Podcast to YouTube
Being a Guest on other people's Podcasts
Monetizing Your Podcast
Creating and Selling Your Own Products and Services
Affiliate Marketing
Podcast Sponsorships
Wrap Up
Next Steps
Help Your Fellow Students
Free Podcast Hosting (MyPodcastWorld.com)
Reviews
Yes it was a surprisingly good match. I am not a technical person but making a podcast sounds a lot easier than I thought. The guys are easy to listen to and they have given me the confidence to go ahead with the idea I have about making a podcast.
Very well done :D Highly recommend for all students interested in learning how to launch their podcast. I did so after implementing the advice from this course
so far so good. you guys made some good point why i should look at the number of people who are in the podcast field i have a podcast on i tunes as well but just have to stay more constant with producing them i have a music podcast i plan to have a talk one soon
Yeah it was. I'm learning so much on podcasting and getting encouraged not to give up and just keep up the good work
It's hard to give such a low rating to a free course, but I find it impossible to give it a higher mark. For starters, the sound, the SOUND, out of anything from a Podcasting course, is simply horrible. The whole course is recorded on basic wired earphones and you can regularly hear static. It's the same poor quality you'll find on their actual podcast.
Good intro to podcasting, these expects have a lot of experience. Good start for beginners and some tips that people with more experience would find helpful too.
The introduction to podcasting was very informative and enlightening. I never realized how under-adsorbed the podcasting market really is. As a technical writer and online business developer and trainer, I realize there is a quicker way to reaching people that want to become successful at something and take that something to others very quickly.
I have been wanting to do podcasting for the last years since i finished my degree in 2016. The things which both of you have said until now seem like a universe that I have been longing for is just opening up. So I can't wait to hear more and get started asap. I would like a more clear describtion of what the steps are that Scott does when launching a podcast. Scott is very motivating in his down-to-earth and relxed manner of being sure the podcast one does no matter what will have its success (faster or slower). Also pushing the point that there is still lots of space for new podcasters on the market!
Coupons
| Submit by | Date | Coupon Code | Discount | Emitted/Used | Status |
| --- | --- | --- | --- | --- | --- |
| - | 12/23/2019 | EE858AADC0BC9B84B9A6 | 100% OFF | | expired |
| Lee Jia Cheng | 3/20/2020 | MARCH22PODCAST | 100% OFF | | expired |
| Angelcrc Seven | 6/29/2020 | PMHMMMPEXPJULY022020 | 100% OFF | 40000/633 | expired |
| Angelcrc Seven | 9/18/2020 | PMHMMEXPSEPT212020 | 100% OFF | 40000/3667 | expired |
| - | 1/9/2021 | PMHMEXPJAN112020 | 100% OFF | 40000/2151 | expired |
| Ignacio Castro | 12/1/2021 | POMHMDEC52021 | 100% OFF | 1000/892 | expired |
| - | 5/18/2022 | PMHMMMPEXPMAY202022 | 100% OFF | 1000/957 | expired |
| - | 6/3/2022 | PMHMMMPEXPJUNE082022 | 100% OFF | 1000/654 | expired |
| - | 6/20/2022 | PMHMMMPEXPJUN252022 | 100% OFF | 1000/849 | expired |
8/15/2018
course created date
6/24/2019
course indexed date