Palo Alto Firewall Course v10
By taking this course, you can prepare for the Palo Alto Next-Generation Firewall Training PCNSA and PCNSE exams.
Network & Security
category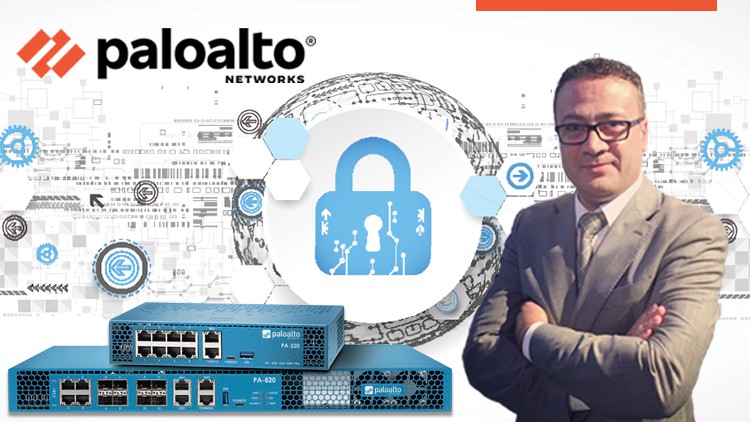 What you will learn
Palo Alto Firewall Installation
Palo Alto Firewall Management
Network Address Translation (NAT)
HTTPS Inspection
URL Filtering
Application Control
Virtual Private Network - VPN
Palo Alto Global Protect
Description
In this course, you can learn how to install and manage Palo Alto Firewall with step-by-step lab applications on sample topology.
Palo Alto Networks is one of the leading companies in the field of Network and Cyber ​​Security today, by taking this course, you can prepare for the PCNSA - Palo Alto Networks Certified Network Security Administrator and PCNSE - Palo Alto Networks Certified Network Security Engineer exams, this course will help you a lot in preparation for the exams. .
By taking this course, you will be able to easily install and manage Palo Alto Next Generation Firewalls. In order for you to practice in this course, you can also explain the installation of Virtual Firewall on VmWare Workstation. You can download the VmWare Ova file required for this installation from the resources section under the relevant course.
What you will learn in the training, Palo Alto Firewall installation, basic settings, interface settings, routing settings, DHCP server settings, creating security policies and rules, protection from malware, protection against security vulnerabilities, prevention of DoS attacks, File blocking and Data Filtering, NAT settings, You will learn many topics such as Palo Alto Global Protect, Authentication Portal, Captive Portal, Site to Site VPN configuration and Device management.
I tried to convey this training to you in the best way with my 23 years of experience in the sector. I had a lot of fun while preparing the training, I have no doubt that you will enjoy watching it too.
Content
Introduction
Introduction
Overview of Palo Alto Certifications
Installation
Lab Topology
Installation Preparation
Virtual Firewall Installation
Home Lab
Basic Settings and License
Network and Routing Settings
Creating a Security Zone
Interface Settings
Interface Management Profile
Creating a Sub Interface
DHCP Server Configuration
DHCP Relay Configuration
Static Route
Security Policies and NAT
Introduction to Security Policies
Dynamic NAT (PAT)
Static (Source) NAT
Destination NAT
Application Control (App-ID) and Filters
SSL Decryption (Https Inspection)
Use of Tags
Security Profiles and Content ID
Antivirus
Anti-Spyware
Vulnerability Protection
URL Filtering
File Blocking
Data Filters
Wildfire Analysis
DoS Protection
Zone Protection and DoS
Authentication and VPN
LDAP and Authentication Profiles
Enable User-ID
Authentication (Captive) Portal
Installing CA Certificate
VPN Zone and Tunnel Interface
Global Protect and Portal Settings
Global Protect Portal and SSL Client VPN Access
IPsec Site to Site VPN
Device Management
Role Base Administration
PAN-OS Software Update
High Availability (HA)
Panorama
Export Config - Factory Reset - Import Config
Reviews
In overall course is interesting, but I do not like text to speech and also resolution is to low - should be full HD (no 720p).
It has been a very useful training for me, a simple, clear and understandable training. I can recommend everyone.
2/11/2022
course created date
3/17/2022
course indexed date