Online Course Masterclass: Create Your Own Course In 30 Days
Complete Guide For Passive Income, Teaching Online, Video Production, Marketing Strategy & Working From Home!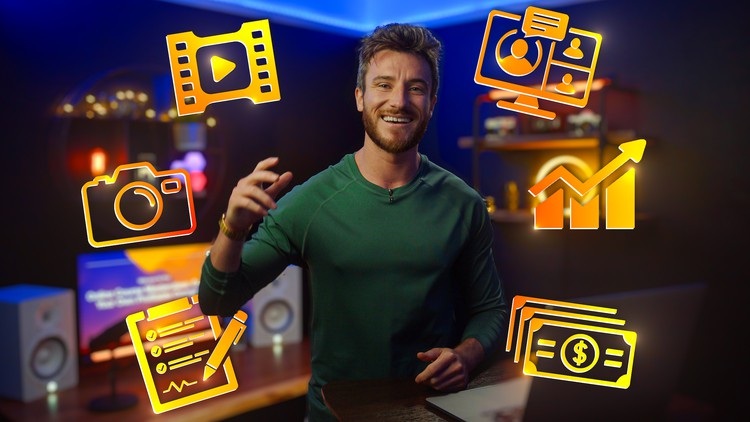 What you will learn
Step-by-step process to plan, organize, and create a highly profitable online course!
Determine your target audience and strategically use analytics to insure course success!
Create professional looking and sounding videos with professional level filming and editing techniques!
Choose the absolute best audio and video equipment/software for your specific needs!
Turn your passion into a passive income stream that truly gives value and education to others around the world!
Utilize your social media channels to drive course enrollments and expand your reach!
Become a confident speaker on camera and learn how to effectively captivate your audience!
Description
Do you want to create and market a revenue generating course that truly makes a positive impact in people's lives?
Are you wanting to become a more confident speaker, share your passion with the world, and make money in the process?
Perfect! In this course, we'll work together to accomplish this in 30 days!
By the end of this course, you will successfully WRITE, FILM, EDIT, LAUNCH, GENERATE INCOME, and MARKET your very own course from start to finish using these main steps:
1. Understand the Entire Course Process, Revenue, FAQ's
To begin, we start with understanding the most essential course creation fundamentals. How do you choose your course topic, do you have what it takes to teach, how much money will you make? We'll dispel all of the possible barriers holding you back from creating your course while creating the foundation for you to make the most successful course possible!
• Develop in-depth comprehension of what will make your course a huge success versus a potential failure
• Turn your favorite passion or hobby into a revenue generating course outline
• Fully understand your audience, their buying habits, how sales and revenue works
• Properly format your course so that it's fun, easy to follow, and really offers value to your audience
• Get all FAQ's about the online course process answered and create course action plan
2. Write and Create Your Course Content
Whatever skill level you are at in the course creation process, I've got you covered! In this chapter, I walk you through the most effective way to write an absolutely top-notch course with an easy to follow process. The lessons in this chapter are focused on practical/actionable steps that structure the writing process, which will save you tons of time!
• Choose the perfect course topic and create a course title that's going to drive the most enrollments
• Organize your knowledge on the course topic into easily digestible chapters, lessons, and sections
• Make professional looking presentation slides that will make your course stand out
• Upgrade the student learning experience with downloadable assets, learning activities, and chapter recaps
• Improve your student retention, course shareability, lesson watch time, and receive more 5 star reviews
3. Speak Confidently and Film Your Course
Now that we've created an excellent foundation for your course... Here's where we turn you into a confident speaker on camera and learn the most essential filming techniques such as composition, lighting, and capturing crystal clear audio! These hands-on lessons will give you the exact step-by-step process to create stunning looking and sounding videos.
• Properly prepare for recording days so that filming goes by quickly with less time wasted on camera and editing
• Speak on camera with real confidence, authenticity, and full engagement with your audience
• Learn what camera gear, props, decorations, lighting, wardrobe, and microphones will be best for your course
• Effectively use your phone or camera's top audio and video settings to create the best footage possible
• Create a completely custom looking filming background and present on camera like a true pro
4. Edit Your Course Lessons, Trailer, and Thumbnail
You've worked alongside me to create a high quality course outline and film professional level video lessons. Now we'll edit your lessons along with your two most important pieces of content, your course thumbnail and trailer. The goal of this chapter is to minimize the time needed for you to edit while maximizing the quality of the final videos the student will watch!
• Organize all of your content, create your initial video edits, and refine them into high quality lessons
• Learn how to color correct, stylize your footage, add music and animations to improve each of your edits
• Edit a stunning course trailer that will drive tons of enrollments and is shareable on all social media platforms
• Create the most clickable course thumbnail ever that will draw a larger audience to your landing page
• Additional trailer and high clickthrough thumbnail bonuses for maximizing your course success
5. Successful Course Launch Hacks and Marketing
You've made it! We've worked together to plan and create your high quality course from start to finish. In this last step, you'll learn from expert marketing guest speakers, follow the marketing roadmap that I've used for my bestselling courses, and learn how to continually bring in monthly revenue far beyond your course launch!
• Write the most effective course landing page and content descriptions to increase student purchases
• Successful launch hacks that assist driving more potential sales for your course release
• Implement the steps from the "Course Marketing and Maintenance" strategy to continually increase enrollments
• Strategically use course lessons as shareable social media posts to drive engagement and interest
• Effectively use tried and true sales strategies, psychology, and CTA's to expand your audience
My biggest goal for you:
The goal of this course is to give you the knowledge and techniques that you need to enjoy the course creation process, help others by sharing your passion with the world, and creating some financial freedom with a new source of passive income!
Creating a successful course no matter what:
Whether you're a novice with writing, shooting/editing videos, are unsure about where to start or don't feel comfortable speaking on camera... The actionable takeaways from this course will benefit you regardless of your skillset or equipment.
You'll have lifetime access to:
• 95 Individual video lessons
• 8.5 Hours of learning content
• 18 Downloadable assets
• 4 Articles and external links
• 100 Gigabytes of streamable content
• Updates to all future course materials
• One on one with me in the Q&A section
If you want to turn your passion into a course, choose the right equipment, speak confidently on camera, film high quality videos, edit a professional trailer, and have a success course marketing strategy, then this is the course for you.
I'll see you inside!
Julian
Content
Course Planning and Maximization
Course Introduction
Simple Course Formula
Research Your Course Topics
Market Research: Udemy Insights
Analytics Research: Vid IQ
Online Trends Research: Google Trends
Learning Activity: Complete Your Research
Finalize Your Course List
Most Important Course FAQs
Course Creation Timeframe
Proper Course and Lecture Length
Best Way To Organize Your Course
Additional Course Organization
Top Reasons People Purchase Courses
Teacher Qualifications
Hosting Your Course On Udemy
How Revenue Share Works
Write and Organize Your Course
Intro To Writing and Organizing Your Course
Learning Activity: Find Your Target Student
Learning Activity: Create Your Course Title
Upgrade Your Course Title
Course Main Steps and Chapters
Learning Activity: Outline Your Chapter Lessons
Script vs. Lesson Outline
Lesson Writing Main Steps
Case Study: Example Lesson Outline
Transfer Your Lesson Content To Slides
Learning Activity: Write Your Lesson Content
Case Study: Slide Creation Process
Learning Activity: Create Your Course Slides
Learning Exercises and Quick Wins
Learning Activity: Create Your Learning Exercise
Articles and Downloable PDF's
Add Images, Videos, and Citations
Recap What We've Learned So Far
Presenting Like A Pro On Camera
Introduction To Presenting On Camera
Mindset And How To Prepare
Speak To Your Audience
Be Engaging On Camera
Inflections, Pacing, and Candor
Eye Contact, Gestures, and Distance
Purposefully Choose Your Outfit
Learning Activity With Recap: Film Your Test Lesson
Setup, Light, and Film Your Course
Learning Activity: Choose Your Filming Location
Learning Activity: Gather Location Inspiration
Learning Activity: Props and Decorations
What Gear to Purchase
Supplemental Content: Gear Purchase Links I Recommend
Mobile Recording Apps and Settings
Maximize Your Camera's Settings
Hands On: Initial Set Up and Camera Settings
Hands On: Rule of Thirds and Focal Length
Light Your Course Backdrop
Hands On: High Key, Low Key, and Rim Lighting
Hands On: Upgrade Your Shot with Practical Lighting
Hands On: Studio Lighting with Colored Gels
Recap of Setting Up Course Backdrop
Intro to Audio Recording
Upgrade Your Sound Quality
Recap of Sound Dynamics In Your Space
Dial In Your Microphone and Settings
Case Study: BTS of Shooting a Lecture
Edit Your Course
Intro To Editing Your Course
Organize and Backup Content
Supplemental Content: Helpful Editing Links
Create Your Lecture Rough Edit
Choose Your Music
Add Photo and Video Assets
Add Text Animations
Color Correction and Grading
Color Grading In-Depth
Export Your Lectures For All Platforms
Create Your Course Image And Trailer
Course Image Overview
What Creates An Excellent Course Image
Case Study: Successful Course Image Examples
Additional Course Image Editing Breakdown
What Makes A Great Trailer
Trailer Script Template In-Depth
Case Study: Trailer Script and Final Product
Trailer Review and Recap
Learning Activity: Film Your Trailer
Case Study: Editing A Successful Trailer
Releasing And Marketing Your Course
Create Your Course Landing Page
Supplemental Content: How To Create Your Udemy Instructor Profile
Complete Your Course Details Page
Fill Out Your Course Description
Course Promotions and Coupons
Create Your Course Messaging
The Perfect Course Launch Strategy
Continuing Course Success After Launch
Choose Lectures for Social Media
Case Study: Effective Social Media Posts
Successfully Using Email Campaigns
My Top Launch Hacks
Complete Course Recap
Congratulations On Completing This Course!
Reviews
The instructor's teaching style is engaging and encouraging, and they break down complex concepts into easy-to-follow lessons.
If you've ever dreamt of creating your own course, don't miss this opportunity. It's worth every penny and more!
The step-by-step guidance, practical exercises, and invaluable insights from the instructor made the learning experience not only enjoyable but also highly effective.
Masterclass indeed! This online course is an absolute game-changer. In just 30 days, I went from having no idea how to create my own course to having a comprehensive, engaging, and professional program ready to share with the world.
I'm amazed at how clearly he is explaining these concepts and their context. This is exactly what I've been looking for.
Good information. But the course seems mostly based around creating a Udemy course. The title of your course misrepresents what you are offering. This is really for someone who wants to create a Udemy course. Also quite distracting that your eye contact is not looking at the camera to engage your audience. Nice guy, but a bit disappointed with the course presentation. Sorry. Maybe have a course that is not so Udemy based. My course is independent and premium priced, so that's why I find this misleading.
Actually this course is very important and necessary for me. I was able to learn everything well by watching this course.
Amazing course! The way he explained everything is so clear, understandable & in-depth. Thank you so much Julian for this course.
An outstanding instructor! All contents are explained in simple terms yet very effective. A very sincere instructor as well. I leave the course with more than what I expected! Thank you so much Julian.
Easy to learn and clear demonstrations. I highly recommend it to anyone willing to learn how-to create Your Own course!
The instructor's knowledge and zeal were infectious. I was compelled and inspired to design a course that would highlight my expertise and enthusiasm.
I loved the use of real-world examples and recommendations throughout the course. It gave me the assurance I needed to produce a top-notch course that appeals to my intended audience.
Creating my own course seemed like a daunting task, but this masterclass broke it down into manageable steps, making the process enjoyable and rewarding.
My expectations were exceeded by this course! It gave me the step-by-step instructions I required to construct my own online course in less than 30 days.
I love this course because it is very well explained and I love the teacher's communication with the student
Coupons
| Submit by | Date | Coupon Code | Discount | Emitted/Used | Status |
| --- | --- | --- | --- | --- | --- |
| - | 7/7/2023 | COURSE1 | 100% OFF | 1000/922 | expired |
| - | 7/10/2023 | COURSE2 | 100% OFF | 1000/997 | expired |
| - | 7/14/2023 | COURSE3 | 100% OFF | 1000/918 | expired |
| - | 8/5/2023 | COURSE-4 | 100% OFF | 1000/914 | expired |
| - | 8/19/2023 | COURSE-5 | 100% OFF | 1000/577 | expired |
| - | 8/27/2023 | COURSE-6 | 100% OFF | 1000/971 | expired |
| - | 9/22/2023 | ONLINE1 | 100% OFF | 1000/956 | expired |
| - | 9/25/2023 | CLASS1 | 100% OFF | 1000/919 | expired |
| Muhammad | 10/3/2023 | CLASS2 | 100% OFF | 1000/962 | expired |
| - | 10/11/2023 | COURSE-A | 100% OFF | 1000/984 | expired |
| - | 10/18/2023 | COURSE-B | 100% OFF | 1000/970 | expired |
| - | 10/26/2023 | COURSE-C | 100% OFF | 1000/977 | expired |
Charts
Price
Rating
Enrollment distribution
10/13/2022
course created date
12/16/2022
course indexed date