NLP and Sentiment Analysis for Beginners
The complete program to master NLP from ground up
Software Engineering
category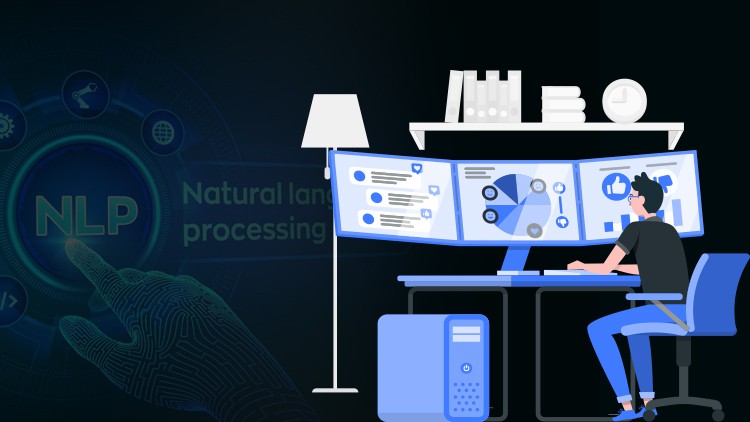 What you will learn
Learn NLP from ground up
Learn to build NLP solution using Python and Jupyter notebook
Learn to use Sentiment analysis in your product
Learn to build real world NLP solutions
Description
Want to learn how to use NLP and sentiment analysis in your products
This program will give you in-depth knowledge of how NLP and sentiment analysis helps you determine the emotional meaning of communications. You'll learn how NLP applications and Sentiment analysis help you to read, understand, and decode human words in a valuable manner. This program will walk you through different NLP algorithms, and you'll get practical knowledge on how to write code in Python, and implement NLP algorithms.
This program will help you learn NLP, Sentiment Analysis, and Deep Learning from basic to advance. You'll learn the various aspects of language assimilation, ways of language processing, and the composition of languages.
So, get yourself ready to learn and master the state of the art of the NLP and sentiment analysis
Major Concepts That You'll Learn!
Introduction to NLP
Linguistic Techniques
Text Processing
Bag-of-Words and N-grams Model
Probabilistic Language Models
Sentiment Analysis
Speech Tagging and Sequence Labelling
Why Should You Learn NLP & Sentiment Analysis?
Natural Language Processing is an important factor to determine whether data is positive, negative, or neutral. Also, it helps resolve vagueness in language and gives useful numeric structure to the data for many downstream applications, such as speech recognition, text analytics, and even behavior-based data building.
Perks Of Availing This Program!
Get Well-Structured Content

Learn From Industry Experts

Learn Trending NLP Tool & Technologies
So why are you waiting? make your move to learn trending NLP & sentiment analysis skills now.
See You In The Class!
Content
Course Introduction
Course Introduction
Introduction to NLP
Section Introduction
What is Text Mining?
Keyword Extraction
Google Trends
Syntax and Semantics
Summary
Quiz 1
Linguistic Techniques
Section Introduction
Introduction to ZIP's Law
Term Frequency - Inverse Document Frequency
Tokenization, Stemming and Stop-Words
Setting up the Environment
Implementing Data Pre-Processing Techniques
Summary
Quiz 2
Text Processing
Section Introduction
Introduction to Corpus
Lemmatization
Informational Retrieval
Implementing Lemmatization, Stemming and Cosine Similarity
Summary
Section Introduction
Quiz 3
Bag-of-Words and N-grams Model
Bag-of-Words Model
Word-embeddings
Support Vector Machines
Implement Support Vector Machine
Implement Word2Vec
Summary
Quiz 4
Probabilistic Language Models
Section Introduction
Language Modeling as a Probability
Latent Dirichet Allocation
Application of Latent Dirichet Allocation
Application of Probabilistic Language Models
Summary
Quiz 5
Sentiment Analysis
Section Introduction
Introduction to Sentiment Analysis
Sentiment Analysis Extraction
Twitter Sentiment Analysis
Implementing Sentiment Analysis
Summary
Quiz 6
Speech Tagging and Sequence Labelling
Section 6 Introduction
Introduction to Speech Tagging
Machine Translation
Dialog Systems
Implementing Chatbots
Summary
Quiz 7
5/5/2022
course created date
5/31/2022
course indexed date