NFT Beginner Voxel Art - Create From Scratch. METAVERSE
Complete Beginners Guide To Creating an NFT To Sell on the Market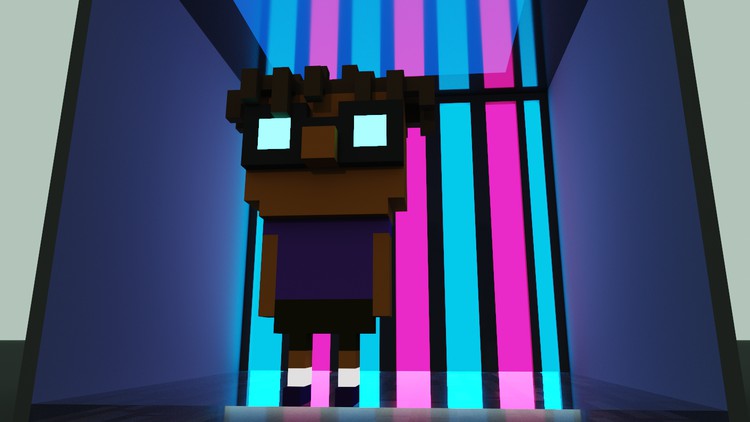 What you will learn
How to Create NFT Art From Scratch
How to Mint Your NFT For Free
How to Export NFT
How to List Your NFT For Sale Into The Market
Description
Includes all you need to know to get involved in creating this NFT. Learn how to create and sell NFT.
I'm going to guide you step by step and show you how easy it is to create an NFT completely from the ground up using only free websites and software that you can use to sell on-site such as Opensea.
Anybody can create an NFT, but there are some important steps, In this course, I will be showing you the exact method I choose to use to get mine made and minted for free.
I will guide you through the steps and good practices to create an NFT so that you can be confident that you also do the right steps when you create your first NFT.
You don't need any coding skills to create an NFT, you don't even need to have a talent in art and design it's really simple. So even the worst of us can do it and still make a profit in creating your own NFT From Scratch. The METAVERSE is here and it's only getting bigger.
You'll Learn
Step-By-Step Minting an NFT Completely For Free

create an NFT

Make Voxel Art

High Definition Resolution

Character Modeling

Material Editing To Design Your unique NFT
Content
Downloading
MagicaVoxel
Shader
Creating Wood Floor
Wood Floor pt.1
Wood Floor pt.2
Creating Wall Light
Wall Light creation pt.1
Wall Light pt.2
Creating Reflective Light and Glass
Light Reflective Floor
Neon Coloring Light
Making Glass
Creating Roof and Walls
Sunroof
Adding Walls
Coloring Glass Ceiling
NFT Character Creation
Making The Head The NFT
NFT Apparel
Hair and Backpack
Some Touch Ups
Putting It All Together
Resolution, Export and Rendering.
High Def Resolution
Exporting in Magicavoxel
Rendering Your NFT
Creating and Minting Your NFT To Sell In The Market. Completely For Free!
Minting and Listing Your NFT
Reviews
only problme i have so far is when i get stuck dont know what to do an end up starting all over to catch back up lol
Maybe have more about selling the NFTs instead of just saying post them on opensea. The character and environment lessons were outstanding.
12/22/2021
course created date
1/17/2022
course indexed date