Navigating and Using Web3 – Blockchain for everyday users
Understand and Navigate Web3, Blockchain and Cryptocurrency with ease with this practical hands on course
Cryptocurrency & Blockch
category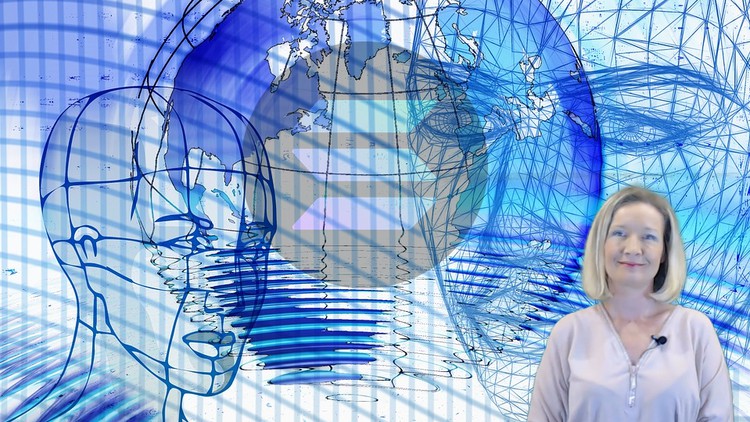 What you will learn
Define Web3, Blockchain, Smart Contracts DeFi and NFT's
Select and set up a hot wallets
Define key types, understand their uses
How to store cryptocurrency and tokens safely
Buy and Sell cryptocurrency for fiat or other tokens
Send cryptocurrency or digital tokens from one wallet to another
Follow transactions on a block explorer
Explore blockchain ecosystems
Use Defi and Staking products
How to mint, buy and Sell NFTs
Define the metaverse as it currently stands
Description
Web3, Blockchain, Cryptocurrency, NFTs, DeFi, and the Metaverse, would you like to know what they are, and how they are linked? Would you like to be able to explore them and use them safely, but don't know where to start?
welcome to this course Navigating and Using Web3 – Blockchain for everyday users
Web3, Blockchain, NFTs, DeFi, and the Metaverse have all made headlines in the last few years. With companies like Facebook rebranding to Meta & investing billions in the metaverse, and brands such as Gucci and Nike crushing it with NFTs, it's hard to escape from these terms. But I'm here to help you embrace them instead of escaping them so you can hop on this trend and not get left behind.
The aim of this course is to give you the skills needed to navigate and participate in web3 and use blockchain applications. This course is a practical hands-on course, with lots of demonstrations, along with live online Q&A classes and giveaways.
By the end of this course, you will have a better understanding of web3 & blockchain as we will explain the main concepts in an easy-to-understand way. You will learn how to select and set up a wallet and store digital items safely. You will learn how to use block explorers, how to buy and sell and transfer cryptocurrency, you will gain a better understanding of NFTs and DeFi and you will be equipped with the skills and confidence needed to interact with apps based on blockchain and web3
A Block of Crypto has been grant funded by the Solana Foundation to run this course. This means as a student, you get some extra benefits. Such as regular live classes on Zoom to answer your questions and monthly NFT giveaways for just practicing what you learn.
Content
Introduction
Introduction
Live classes and Giveaways
Resources, Live class schedule and giveaway form
What is Web3?
What is Blockchain
Private keys and Public Keys
Securing the network - The role of a miner
How blockchain transactions work on Solana
What is a Blockchain explorer
How to use a blockchain explorer
Choosing a wallets and storing tokens safely
How to set up a hot wallet
Buying Cryptocurrency or selling cryptocurrency for Fiat
Sending and Receiving Cryptocurrency and digital assets
An Introduction to blockchain programs and Smart Contracts
Blockchain ecosystems
How to explore an ecosystem
An Introduction to Defi
An introduction to stablecoins
How to Staking and secure a network
How to use Decentralized Finance (DeFi) products
How to mint an NFT
An introduction to Non Fungible Tokens (NFTs') and the Metaverse
How to buy an NFT
Conclusion
Reviews
Very interesting. A good introduction to blockchain and how to understanding more behind how crypto fits together. Thanks very much.
I have dabbled a little with cryptos and blockchains. It's nice to have the logic laid out and explained so clearly.
Charts
Price
Rating
Enrollment distribution
8/25/2022
course created date
9/7/2022
course indexed date
Angelcrc Seven
course submited by