Mindfulness Strategies for Success in the Workplace
Strategies for Reducing Stress, Increasing Happiness, Communicating Better & Achieving Your Goals Through Mindfulness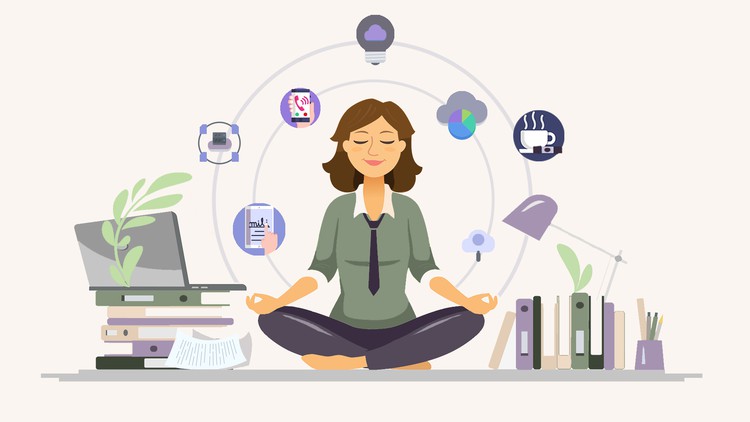 What you will learn
Quick and easy mindfulness practices for busy professionals to feel more calm and in control of their emotions at work
Communication and conflict resolution with mindfulness resulting in better outcomes at work and overall happiness
Setting and achieving goals, reducing stress and better decision making and problem solving skills
Cultivating a positive work culture and improved teamwork and collaboration
Mindfulness for better time management, productivity, enhanced creativity and innovation
The science of stress and how mindfulness can help reduce it
Description
Hello and welcome to Mindfulness Strategies for Success in the Workplace: Strategies for a Happier, More Productive Work Life!
My name is Alli and I'm excited to be your Instructor on this journey toward a more mindful and fulfilling career.
As a business owner and Best Selling Instructor here on Udemy with over 400,000 students trained and 130,000+ reviews, I understand firsthand the challenges of juggling a demanding career. That's why I'm passionate about sharing the tools and strategies I've learned over the years to help others create a happier and more productive work life.
In this course, you'll learn:
How to integrate mindfulness into your daily routine and use it to reduce stress, increase happiness and boost productivity

Discover powerful mindfulness practices that you can use anytime, before, during, and after work

90 Second Breathing Reset for more peace, presence, and happiness

How to identify and protect yourself from other people's negative energy

Become clear on what the Lowest and Highest Version of yourself would and should do in work situations

Compassion Meditation, Manifestation Meditation, and Stress Relief Meditation

How to visualize for success

How to write affirmations that work

Common workplace situations that cause stress and anxiety, and how you can best handle them to create a happier and more productive environment for yourself and others

How to positively impact your fellow colleagues to create a shift in energy for the entire team
Whether you're an employee, manager, or business owner, or simply looking to improve your well-being at work, this course is for you!
I'm looking forward to helping you discover the power of mindfulness in the workplace so you can create a happier, more fulfilling career and I can't wait to see you in the course!
-Alli
Content
Introduction to the Negative Effects of Stress and How Mindfulness Will Help
Introduction to the Course and Your Instructor
02 The Negative Impact of Stress at Work and Why You Need to Take Action for Pos
Introduction to the Concept of Mindfulness in the Workplace
How Can Focused Breathing Help You to Relieve Stress and Anxiety?
Mindfulness Tools To Protect You Against Other People's Energy & How to Reset
90 Second Reset Breathing Technique and The Power of Smiling
The Real Impact of Other People's Moods and Energy: Battery Drainers & Chargers
How to Protect Your Energy The Invisible Bubble
Change Your Space to Change Your State of Mind
How to Show Up at Work as Your Best Self and Let Things go that Hold You Back
How to Show up as The Highest Version of YOU and The Lowest Vibe Version
How A Compassionate Meditation Can Promote a Happier You at Work
Compassion Meditation For Letting Go
Letting Go
The Power and Benefits of Manifestation and Visualization
Creating Your Ideal Work Life Through Manifestation
Defining Your Work and Career Vision A Path to Fulfillment
The Power and Benefits of Intentional Visualization
Using Visualization to Thrive in Stressful Work Environments
Visualize Your Way to Success How to Use Mental Imagery at Work
5 Steps to Writing Affirmations that Transform Your Work Life
What are 3 of the 5 steps in Writing Affirmations That Work?
Some More Mindfulness in the Workplace Practices and More!
More Short and Easy Mindfulness Tools to do at Work
Congratulations and Other Resources
Reviews
Enjoying it so far. Lots of good advice I hadn't before considered about how to deal with tough work situations better .
Exactly what I needed to get me mentally back on track to feel and show up as my best. I work at home and in the office and this helped me feel more confident in my interactions with others and has useful tips for getting back to calmness when stressed.
Yes, it is what I am looking for. Right now I feel very stressed, irritated and burnt out. I was very proactive at first but now I have been very lazy in my work which is irritating me further.
I like that there are lots of practical tips you can incorporate into your day to day life. This is useful for work life and your personal life
I think this course is going to help me feel calmer and more in control of my emotions and help me be more present. I like that the teacher provides downloadable short meditations.
12/28/2022
course created date
1/30/2023
course indexed date