Microsoft Excel - Learn MS EXCEL For DATA Analysis
Excel: learn how Excel can be used for data analysis by creating excel project-excel app-other excel tools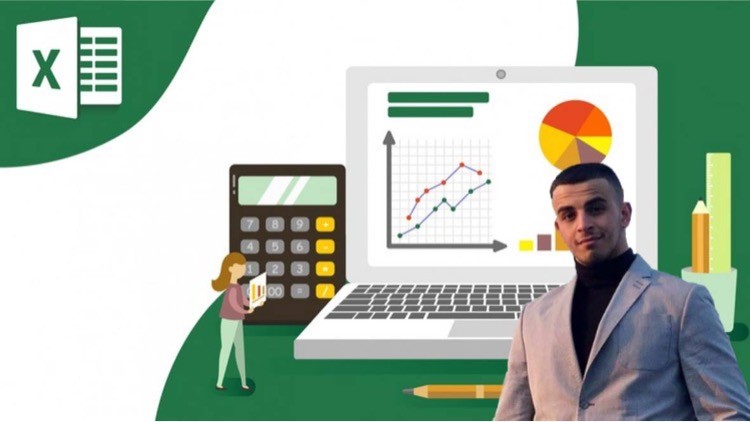 What you will learn
Learn to write down basic excel formulas
Understand how to think outside of the box to create powerful excel projects
Learn how to make basic data analysis with Excel
Learn how to work with massive amount of data
Learn how to perform Data analysis by creating multiple projects
Understand the Basics of Microsoft Excel and be able to use this amazing application for different tasks
Description
Whether you are interested in learning
- Different ways of how to properly use Microsoft Excel
- Learn the basics of Data Analysis
- Learn how to create different Excel Apps
- Just grow your Knowledge about this amazing Microsoft App
Or any other reason, this course is definitely for you. The way this class have been designed was to offer to the student an easy way to learn Microsoft Excel and the basics of Data analysis at the same time. Indeed, not only this course is teaching you all the basic concepts and functions of Microsoft Excel but at the same time you will have all the required knowledge to create basic Apps that can be used to analyze Data.
The structure of the course
​The way the course is structured is help you learn by practice. In other words, there is way more practice than theory. The main reason of why I structure my courses this way is that for me the best way to learn something is by practicing it enough. This means that if you want to learn how to properly use Microsoft Excel for Data analysis it will be through practice and not simply by learning the theory.
The course is divided in big projects. This way, each time that you learn a new concept you will create a project around it. This will help you not only have a better understanding of the concept but also be able to see in what real life situation a certain concept can be useful.
For who is this course designed
​My goal when I was creating this course was to help the maximum of people not only learn Data analysis but also Microsoft Excel. This means that if you wanted to learn how data is analyzed and at the same time learn the basics of Microsoft Excel then you will enjoy this course. It has been created for everyone who has interest in learning more about Excel, different ways to analyze Data or simply learn a new skill that can be very useful not only in the business world but also in your everyday life.
Why should I take this course
​There is a lot of Microsoft Excel courses that exist, but this course is very unique. Not only it offers you the possibility to learn how to properly use this App, but you will also learn the basics of Data analysis. Also, all the concepts are presented with clear examples and you will be able to learn them by creating your own projects around those concepts. This means that you will have a strong knowledge of Microsoft Excel but also will know and understand how to properly use this app to perform different simple but also more complicated tasks. The best part, is that the APPS that you will create in this course can be used in your business or in your every day life.
There is no risk involved in taking this course
​This course comes with a 100% satisfaction guarantee, this means that if your are not happy with what you have learned, you have 30 days ​to get a complete refund with no questions asked. Also, if there is any concept that you find complicated or you are just not able to understand, you can directly contact me and it will be my pleasure to support you in your learning.
This means that you can either learn amazing skills that can be very useful in your professional or everyday life or you can simply try the course and if you don't like it for any reason ask for a refund.
You can't lose with this type of offer !!
This is why more than 75 000 students have already took the course !! Don't wait anymore
ENROL NOW and start learning today :) ​
Content
Introduction
Introduction
What is data analysis
The Bases of Excel
Excel important functions to know
Condition formating
Project 1: Project analysis
Creating our data base
Defining our goals
Extraction of basic data (part 1)
Extraction of basic data (part 2)
Extraction of advanced Data
Creation of a dashboard part 1
Creation of a dashboard part 2
Project 2 evaluation of a stock
Importation and creation of a Data Base
Defining the goal of the analysis
Extraction of data
Generating a simulation with our results
Creation of a dashboard and results evaluation
Project 3: Create a basic movie suggestion program
Creation of a data base for 1 users
Defining the goal of the app
Extraction of data and results analysis
Dashboard creation
Project 4: Creation of a HR management APP
Creation a data base
Defining all the goals of the app
Creation of the app part 1
Creation of the app part 2
Creation of the App part 3
Creation of the App part 4
Reviews
Kofoworola
February 16, 2023
Perfect. A more comprehensive learning on excel. This came in handy, and helped in my data analysis journey.
Good course. I wish the instructor taught us how to clean the data and make it ready to predict and analyze
Way he deliver the lecture,course content, presentation and also flow of his lectures are really appreciated. As a beginner, I got so much of knowledge from this course.And this course motivated me to learn excel further.This will be good course for those who dreaming to be data analyst like me.
No tiene subtítulos en español y es difícil seguir su inglés ya que no lo habla al 100, repite muchas cosas que ya dijo. Algo bueno que puedo rescatar es que es Excel y bases de datos. Sigue así, gracias por el curso.
The instructor takes his time to teach, and with detailed explanations it's easy to understand all that the instructor is trying to talk about.
First two classes were repetitive. First Class was 10 minutes long saying the same sentences over and over. Second course was describing data analysis. If you are taking this course you know about what you use data analysis for. It should jump into how to start inputting data.
The course was extremely thorough and straightforward. The educators ensured that they are giving the data in a manner that won't make me befuddled. Thank you kindly for this incredible course!
The course is very good, his way of making difficult things simple is what captured me the most. I love the course
I learn some new useful stuff and it is also a good refresher on function(s) that I don't commonly use. The legibility of the course could be improved by increasing the font size (or zooming). Otherwise, everything appears rather small.
The instructor is knowledged but is not fluent in english and his voice is also not very exciting and energetic.Let's see how he guides me in next lessons.Till now,I am satisfied.And after the frst project,I understood everything he taught and now I can say that he is a good teacher.
I was hoping for some complicated functions to be taught. Till now it has been extremely basic stuff.
Creo que por el tema del idioma, se siente que el instructor a veces no está muy seguro de lo que quiere decir; sin embargo no es nativo en el idioma inglés (como yo tampoco lo soy) y por eso es entendible.
Not a bad course that covers basic data analysis. Section 4-6 are examples of applying these into practice. The author was clear and easy to understand, although I feel some parts of the course was a little too detailed and some sections such as going through what data to use was not as necessary (could have just plonked all the data ready into the spreadsheet instead of going through the whole process of deciding what data and information to use).
The content is educational, but it feels like there is a lot of time wasted repeating the exact same phrasing several times, then doing the exact same method the exact same way several times, with no variables. That format works well in a classroom, but when it comes to a video, if I need to see the exact same thing again, I can rewind. It comes across as serious padding for time.
The lecturer takes one through the projects in a way that students can follow. Really enjoyed and learnt a lot.
Coupons
| Submit by | Date | Coupon Code | Discount | Emitted/Used | Status |
| --- | --- | --- | --- | --- | --- |
| Lee Jia Cheng | 5/1/2020 | FREE16 | 100% OFF | 40000/18245 | expired |
| Lee Jia Cheng | 5/9/2020 | EXCEL2FREE2 | 100% OFF | 40000/8093 | expired |
| Angelcrc Seven | 5/18/2020 | EXCEL2-FREE2 | 100% OFF | 40000/13815 | expired |
| Lee Jia Cheng | 6/4/2020 | 0353C482279521512604 | 100% OFF | 40000/7450 | expired |
| Angelcrc Seven | 6/13/2020 | A68B733BDDEC4FFFB647 | 100% OFF | 40000/6751 | expired |
| FifetyFive | 6/18/2020 | 5BE521792BAE6C19DC61 | 100% OFF | 40000/4466 | expired |
| - | 7/5/2020 | FREEJULY1 | 100% OFF | 40000/6255 | expired |
| - | 7/12/2020 | JULY2PROM | 100% OFF | 40000/4697 | expired |
| Angelcrc Seven | 7/22/2020 | 71C33C7AD21610745EDB | 100% OFF | 40000/3613 | expired |
| Lee Jia Cheng | 8/4/2020 | 856DBFA89107DB3AA91A | 100% OFF | 40000/4011 | expired |
| Lee Jia Cheng | 8/10/2020 | AAB623DB7B0ED5B368A8 | 100% OFF | 40000/3702 | expired |
| Angelcrc Seven | 8/21/2020 | A65463AFE287D36FA249 | 100% OFF | 40000/6232 | expired |
| Angelcrc Seven | 9/4/2020 | 5F7200F80DFE3BE620D3 | 100% OFF | 40000/3421 | expired |
| - | 9/11/2020 | DC9F1D8A8DCE1BCEC1E6 | 100% OFF | 40000/5423 | expired |
| - | 9/22/2020 | 215D72873E3B7AC56291 | 100% OFF | 40000/3586 | expired |
| - | 10/5/2020 | 3701832B8872F5DD0F90 | 100% OFF | 40000/5454 | expired |
| - | 10/19/2020 | EB515946BED17CC3E508 | 100% OFF | 40000/1415 | expired |
| - | 10/26/2020 | 23966F2BE2A43C33E5ED | 100% OFF | 40000/3232 | expired |
| Angelcrc Seven | 11/8/2020 | 172AD8D9C4AC7051E89A | 100% OFF | 40000/3718 | expired |
| - | 11/18/2020 | 81AD2CED0BBFD760DD88 | 100% OFF | 40000/3077 | expired |
| Angelcrc Seven | 11/25/2020 | B2ED6FDF15736CF7148F | 100% OFF | 40000/2654 | expired |
| Angelcrc Seven | 12/5/2020 | 251D3C0972992E239CCC | 100% OFF | 40000/2746 | expired |
| Angelcrc Seven | 12/23/2020 | BAF2746C9AEC712D2F5C | 100% OFF | 40000/5029 | expired |
| - | 1/12/2021 | 489F426FAC75E37856A7 | 100% OFF | 40000/1233 | expired |
| - | 1/21/2021 | 81E3DC5A2F133F499E36 | 100% OFF | 40000/4537 | expired |
| - | 2/6/2021 | 300965429E06CF1229AC | 100% OFF | 40000/3760 | expired |
| AhmedELKING | 2/14/2021 | 7EA302A14836137BF410 | 100% OFF | 40000/1228 | expired |
| - | 2/23/2021 | 6A7A254CFAEF7C9582CC | 100% OFF | 40000/4219 | expired |
| - | 3/4/2021 | 128C4E4787AC4E550290 | 100% OFF | 40000/3199 | expired |
| - | 3/15/2021 | 9ADDA53BAF1F58A50288 | 100% OFF | 40000/3687 | expired |
| - | 3/25/2021 | 42A473663FE0035811D8 | 100% OFF | 40000/2132 | expired |
| - | 4/6/2021 | B17F768AB82595E3649A | 100% OFF | 40000/4074 | expired |
| - | 4/14/2021 | 69AC97AE7A3F8309F9CA | 100% OFF | 40000/2253 | expired |
| mohamedxxx | 4/23/2021 | BE624D75CCFEE17574B2 | 100% OFF | 40000/1748 | expired |
| ANUBHAV JAIN | 5/5/2021 | EA472961AE34E71AD735 | 100% OFF | 40000/3225 | expired |
| - | 5/14/2021 | 4AE530AC45E6CF789E8D | 100% OFF | 40000/2831 | expired |
| - | 5/24/2021 | 227759C29F600320CC6D | 100% OFF | 40000/3924 | expired |
| - | 6/5/2021 | CF011C54DBBA3431A0A4 | 100% OFF | 40000/5796 | expired |
| Angelcrc Seven | 6/26/2021 | 36863678D7EDC60EDA51 | 100% OFF | 40000/8461 | expired |
| - | 8/25/2021 | C4B1AE9F3E0CD6D58485 | 100% OFF | 40000/4591 | expired |
| - | 9/3/2021 | B1FF0A6CC44F140A41DE | 100% OFF | 40000/4148 | expired |
| Angelcrc Seven | 9/14/2021 | 3005D597772215EDEC8F | 100% OFF | 40000/1436 | expired |
| - | 9/24/2021 | 420FF18DD0F843A60C58 | 100% OFF | 40000/2352 | expired |
| - | 10/26/2021 | E9E43C589E8B0922B1A8 | 100% OFF | 40000/2278 | expired |
| - | 11/10/2021 | 3D27696E91A95E9702F4 | 100% OFF | 1000/655 | expired |
| - | 11/24/2021 | CF95021125F59E1CC706 | 100% OFF | 1000/459 | expired |
| - | 11/30/2021 | 70E7FB6FBFF8F2DDCCEB | 100% OFF | 1000/901 | expired |
| - | 12/8/2021 | EA0FD0DD8B56DB88FF13 | 100% OFF | 1000/998 | expired |
| Angelcrc Seven | 12/18/2021 | C64071F439CCE6657294 | 100% OFF | 1000/725 | expired |
| Angelcrc Seven | 12/31/2021 | E7A46CFB77B7578A82BD | 100% OFF | 1000/963 | expired |
| Angelcrc Seven | 1/8/2022 | AB9DD8B07FA8F5FDB66E | 100% OFF | 1000/906 | expired |
| Angelcrc Seven | 1/21/2022 | 67D922F969CB9D988A85 | 100% OFF | 1000/943 | expired |
| Angelcrc Seven | 1/28/2022 | 9E272FF7AD392227B814 | 100% OFF | 1000/986 | expired |
| - | 2/7/2022 | BC020FE9C05E919AB582 | 100% OFF | 1000/899 | expired |
| Angelcrc Seven | 3/9/2022 | 68A5299562F0BBC45491 | 100% OFF | 1000/987 | expired |
| - | 3/19/2022 | CF33396C77275A835551 | 100% OFF | 1000/998 | expired |
| - | 3/29/2022 | 0FCBCF6C2546D9C0F39C | 100% OFF | 1000/996 | expired |
| Angelcrc Seven | 4/9/2022 | D89BB2D4F2C5B2228B53 | 100% OFF | 1000/967 | expired |
| Angelcrc Seven | 4/20/2022 | 0AD6C46B4E4974F98520 | 100% OFF | 1000/914 | expired |
| - | 5/1/2022 | 2A59A130E0F932D9A201 | 100% OFF | 1000/698 | expired |
| - | 5/20/2022 | E2890826B5A91FE557B2 | 100% OFF | 1000/920 | expired |
| - | 6/1/2022 | DBF7F1BE27086A413E39 | 100% OFF | 1000/985 | expired |
| - | 6/8/2022 | 9F146C2F1162AAB4B909 | 100% OFF | 1000/985 | expired |
| - | 6/26/2022 | 2920F5A2FF00FA1F066F | 100% OFF | 1000/534 | expired |
| - | 7/9/2022 | 0DCF2EFD62BBB2D0F6DC | 100% OFF | 1000/996 | expired |
| - | 7/22/2022 | F326B44CDE64D744FC0A | 100% OFF | 1000/938 | expired |
| - | 7/30/2022 | 5AE94DA79408CF51742A | 100% OFF | 1000/809 | expired |
| - | 8/10/2022 | 992E461A26A6555351B0 | 100% OFF | 1000/985 | expired |
| - | 8/19/2022 | 46F5CD414164196CCD47 | 100% OFF | 1000/958 | expired |
| - | 8/30/2022 | FE712DA1A6B18DF1152D | 100% OFF | 1000/999 | expired |
| - | 9/9/2022 | 2C60140BB306434E59E3 | 100% OFF | 1000/972 | expired |
| - | 9/30/2022 | 5D535FEF8343BFC9045C | 100% OFF | 1000/893 | expired |
| - | 10/8/2022 | 486FB5B688B1A0A30C74 | 100% OFF | 1000/928 | expired |
| - | 10/25/2022 | BC9AA443EF3E3B28C552 | 100% OFF | 1000/818 | expired |
| - | 10/31/2022 | 8BB79D83D63E767B962B | 100% OFF | 1000/643 | expired |
| - | 11/8/2022 | 5F5CEB5694EFDF169A75 | 100% OFF | 1000/37 | expired |
| - | 11/18/2022 | C1F2E3D65F17F2743BEF | 100% OFF | 1000/910 | expired |
| - | 11/26/2022 | A4E9A85A2CC4BBBF20BD | 100% OFF | 1000/945 | expired |
| - | 12/9/2022 | 4EED83CF929C58655013 | 100% OFF | 1000/948 | expired |
| - | 12/20/2022 | DC7E701E4C89356C8336 | 100% OFF | 1000/762 | expired |
| - | 1/10/2023 | 272C31AB5B6DB607207E | 100% OFF | 1000/949 | expired |
| - | 1/21/2023 | FAA472087F4C53475B7F | 100% OFF | 1000/965 | expired |
| - | 1/27/2023 | 5FB7CA219C26B0C04B16 | 100% OFF | 1000/719 | expired |
| - | 2/8/2023 | 0AF58EA18A7A2746526E | 100% OFF | 1000/506 | expired |
| - | 2/27/2023 | 66A94DBD59CFC5B0E0AB | 100% OFF | 1000/894 | expired |
| - | 3/18/2023 | 63E3C5AE5A63FB0672ED | 100% OFF | 1000/907 | expired |
Charts
Price
Rating
Enrollment distribution
4/16/2020
course created date
5/1/2020
course indexed date
Lee Jia Cheng
course submited by