AZ-900 : Microsoft Azure Fundamentals Real Exam Questions
Pass Microsoft Azure AZ-900 Exam in First Attempt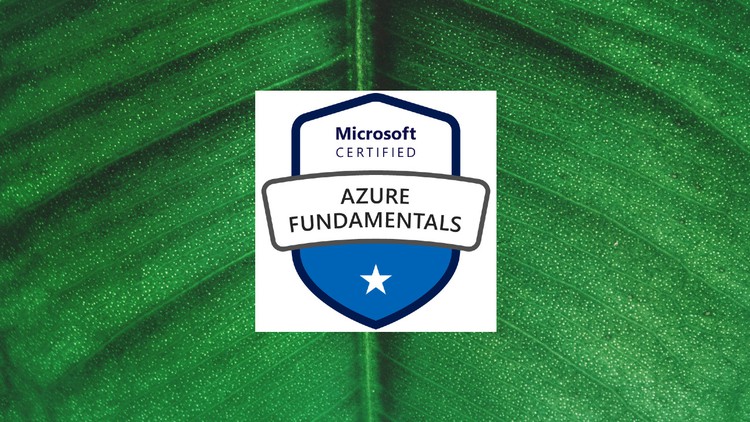 What you will learn
Learners and Professionals preparing for the Microsoft Certified: Azure Fundamentals exam [AZ-900]
Learners who want to test their skills and knowledge before taking actual AZ-900 exam which will cost 99$ .
Anyone who want to be certified and get AZ-900 (Foundation) certificate From Microsoft Azure.
Microsoft Azure has brought new dimensions in the IT industry and is considered as a platform that leads to a successful future.
Description
Includes questions types found on actual exam.

This course provides the knowledge required to pass the Microsoft AZ-900 exam.

Everything you need to prepare, learn & pass your certification exam easily.

All the questions have brief explanations and Microsoft Official azure documentation links which you can use for reference.

Complete preparation for the new AZ-900 Azure Fundamentals exam.



AZ-900 Exam contains questions from Following Areas of Azure Cloud Services.
Cloud Concepts (20-25%)

Core Azure Services (15-20%)

Core solutions and management tools on Azure (10-15%)

General security and network security features (10-15%)

Identity, governance, privacy, and compliance features (20-25%)

Azure cost management and Service Level Agreements (10-15%)
Exam Pattern:
35-50 Questions based on Above topics
Multiple Choice, Multiple Selection and Drag and drop type of questions will be asked in Az 900 Exam.
Total Marks : 1000 Marks
Minimum 700 Marks Required to pass AZ-900 Certification.
We are Providing a Free Book to prepare all the concepts and confidently face AZ-900 Certification Exam.
This is always-up-to-date book completely covers the AZ-900 exam from start to finish.
· Why use Cloud Services
· Infrastructure-as-a-Service (IaaS)
· Platform-as-a-Service (PaaS)
· Software-as-a-Service (SaaS)
· Resource Groups
· Resource Manager
· Availability Zones and Sets
· Azure Compute services
· Azure network services
· Azure Storage services
· Internet of Things (IoT)
· Azure Management Tools
· Azure Advisor
· Azure AD
· Azure Monitor
· Understand Azure Pricing and Subscriptions
· Pricing Calculators
Reviews
Spelling errors in questions Some questions have wrong answers Some questions don't tell you they are multi-choice Some questions provide no feedback Some explanations contradict the "correct" answer. This should be free until these problems are resolved.
Good Practice Tests to Prepare for AZ 900 Certification. Thanks For Awesome Reading material on Azure Services.
These are the best practice tests for Azure Fundamentals. Thank you for the resources you provided to study more about Azure cloud. It is a must-have course before taking the Azure Fundamentals AZ900 Exam.
I did AZ900 practice tests before taking the exam and it really helped me passing the exam. The explanation was really helpful and in a simple language. Taking this practice tests given me the confidence about my preparation. I passed with 850+ score in Actual Az 900 Exam.
Coupons
| Submit by | Date | Coupon Code | Discount | Emitted/Used | Status |
| --- | --- | --- | --- | --- | --- |
| - | 2/10/2022 | AA2AB59406B68B73EFC9 | 100% OFF | 100/95 | expired |
| - | 2/19/2022 | D22186657DFE4128FD0A | 100% OFF | 1000/841 | expired |
| - | 4/3/2022 | 86B87DAC61D0C27D5D0B | 100% OFF | 100/90 | expired |
| Angelcrc Seven | 4/20/2022 | 511D995A5A85F3170BA8 | 100% OFF | 1000/641 | expired |
| - | 6/18/2022 | DDA4B4F0872CF9DB1BEF | 100% OFF | 100/95 | expired |
| - | 6/18/2022 | B1F635880AB72E495F83 | 100% OFF | 100/68 | expired |
| - | 7/8/2022 | E589B34117D256EB97B8 | 100% OFF | 1000/797 | expired |
1/30/2022
course created date
2/10/2022
course indexed date