Learn To Focus: Meditation & Mindfulness For ADHD
Don't "cure" your ADHD - transform it into a superpower!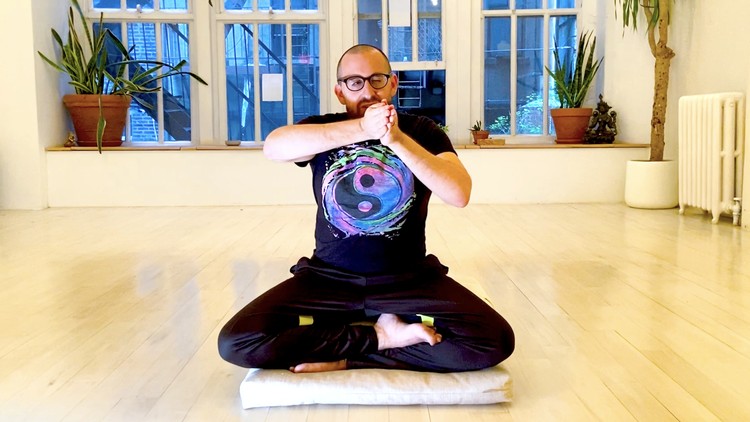 What you will learn
How to meditate in five different styles, tailored for ADHD
How to strengthen your brain's capacity for focus & concentration
How ADHD works in your mind, and how to use it to your advantage
How to control your ADHD superpower: Hyperfocus Mode
Description
ADD and ADHD can make it hard to focus & get things done. You have lots of mental energy (that's why you're so smart!) but you have a hard time directing it to one thing at a time. Many people go through their entire lives in this scatter-brained state, jumping from thing to thing, never fully concentrating on, or actually enjoying, anything. This can lead to major school & career problems (not paying attention in class, not paying attention at work, not caring about what you're working on, bouncing from job to job, career to career, etc), and problems becoming a successful adult.
For some handicaps, there is simply no cure, no way out. Thankfully, ADD/ADHD is NOT one of those handicaps. ADD & ADHD can actually be a blessing in disguise, if you learn how to channel your mental energy, to focus it, to make it like a laser. This is called hyperfocusing, and it is a superpower unique to ADD/ADHD people!
You may have noticed that while you sometimes can't focus on anything at all, sometimes you can get extremely zoned in to one thing (like these words, for example). And oftentimes (for some of us, more often than not), the thing that you're zoned into is the wrong thing. For example, my first year in college I got so sucked into social media that I barely went outside and met actual friends. Sometimes this still happens to me, if I pick up my phone right when I wake up and click on a social media notification before I start meditating for the day. Social media platforms are designed to suck you in -- that's how they make money. That's bad news for ADD / ADHD people. And there are tons of other useless, unproductive, time-wasting things that can suck in your attention, if you don't learn how to control your hyperfocus.
The good news is that you can learn how to control your hyperfocus, and use it to supercharge your life by focusing on the things you actually want to be focused on! It's not easy, but it is actually very simple. The answer can be written in just ten letters: MEDITATION.
Meditation is the single most important key to controlling your hyperfocus, focusing on what you want to focus on, and moving your attention to the things that you want it to be on. Meditation is not some woo-woo magical thing... it's literally just training your brain to focus. That's literally what meditation IS. It's a practice of bringing your mind into the present moment, and focusing it on one thing at a time. This practice strengthens the parts of your brain that are responsible for regulating your attention. Just like lifting weights builds muscles in your body, practicing meditation builds neural connections in your brain (it's a process called neuroplasticity -- look it up!). Just like your muscles get bigger from lifting weights, your brain gets bigger by practicing meditation! And just like you can focus your exercise on strengthening a particular part of your body (arms, legs, chest, etc), you can focus your meditation on strengthening a particular part of your mind (deep focus, broad focus, generating joy, love, happiness, etc).
Many of the world's most successful entrepreneurs, futurists, inventors, and celebrities are people who have learned to direct their ADHD energy and control their innate powers of hyperfocus. In this course, we will use meditation to do that, and more -- to become more focused, successful, stable, joyful, energized, and just plain happier in life!
By the end of this course, you will be experienced with five different meditation techniques, which you can practice in daily life:
- breathwork
- mindfulness
- mindfulness of breathing
- concentrating on a physical object, and
- concentrating on an activity,
You'll be equipped with the tools you need to become the best version of yourself, and transform your ADD/ADHD from a handicap into a superpower!
The skills you'll learn in this course will be worth 1000x more than the price of the course. Not only will this course save you money on ADD/ADHD drugs like Adderall & Ritalin, and help you make tens, hundreds, or thousands of times more successful in life than you would have been without being able to control your superpowers of hyperfocus, the meditations you learn in this course will make you immeasurably happier, over the course of your lifetime. And that's kind of the point of this whole "life" thing anyway, isn't it? What's $50 in comparison to a lifetime of sustainable happiness?
Don't get distracted by any shiny things or other tabs. Click the button to sign up for this course now. This may be the single most important moment in your life. Stay focused, sign up now, and start watching right away!
Content
Introduction
How Meditation Helps With ADHD
Introduction
How ADHD Works
ADHD As A Superpower
Meditation Techniques
Breathwork
Mindfulness (Broad Focus)
Mindfulness of Breathing
Effort vs. Relaxation
A Little Taste of Bliss
Concentrating On A Physical Object
Applying Meditation To #adhdlife
Activating Hyperfocus Mode
Practicing Hyperfocus While Cleaning
Playing With Broad vs. Narrow Focus
Focusing on What's Important
Building Your Practice
Additional Resources
Reviews
For the most part, the course is good, but he does explain how to use HyperFocus and did not respond to my question about it.
Alexsandro
August 18, 2023
Kevin exceeded my expectations. In addition to being a fantastic instructor, what he teaches really works. For the first time I felt my mind clear and slow down, giving me calm and a chance to better deal with the racing thoughts. Thank you very much, Kevin!
Amazing, I didn't even finish the course yet, but I already felt a moment of bliss and relaxation. Something that I wasn't feeling since 10-15 years ago. I felt like a kid again, with no stress, no worries, just enjoying the moment. No regrets about this course so far.
I loved how the instructor takes you through all three forms of Meditation and combines them into one. Again you feel the results once you do the exercises and the process is action oriented. To get the full benefit of the course you must do all the exercises accordingly and they are not hard to do. This course requires that you take action.
I loved this course. It really helped me to take a look differently at the problems I had with meditation and even solved most of them. I'm so glad I took it.
The content was clear and to the point. I had done mindfulness meditation quite a few times before, but picked up some new concepts and ideas from the course that are really helpful. I'll definitely be building a practice incorporating some of these ideas.
Love this course so far, his voice is very soothing. I like that he keeps each video short and to the point.
Some great tips on how to get started on meditation and how to apply the practice to helping ADD and ADHD. It's short and sweet, easy to get through in one day if you're terrible with commitment like I am! (I've had Udemy for two years and this is the first course that I've actually completed!). Highly recommended, especially if you're new to meditation, or if your previous encounters haven't been particularly ADHD friendly, as has been my experience with mindfulness in the past.
I like the simple and straight forward approach. No unnecessary content, just the essence. Disclaimer: This review was written after the first section. Edit: It is way more than I expected. I recently took a course about productivity thinking it would help me solve my problems. It didn't really help me and unexpectedly this course even gave me some tremendous insights on the productivity side of things. If you have ADHD and struggle I highly recommend buying this course! To the creator of it: Thank you!!
Does a great job of explaining how meditation can help is a way very relatable to an ADHD mind! Straight forward and to the point.
TheBeastea
January 14, 2023
Well described, to the point, while expanding perception towards New alternative way of observation, focus and Meditation practice. Very powerful course for those struggling with ADHD, while also making it easier to jump into practices like Shadow Work, or simply another Udemy course for Educational purposes.
It's awesome. I could see the changes in myself just after watching 2-3 videos . Now I am thinking how will I be after the completion of the course.
HE DID IT VERY PROFESSIONALLY. AND HE KNEW WHAT HE IS DOING. SO IT WORTH, PURCHASING THE COURSE. I M VERY GLAD. THANKS KEVIN
I haven't yet seen the techniques of meditation, but I like this guy, he looks smart :) One piece of advice: Please don't use Elon Musk as an example of a successful person with ADHD. He's terrible.
It's a very pleasant experience. You can't express it in words. You can just Feel it. It's like a gift for me, an aid for myself Really Amazing ... LOVED IT MAN. // Thank you very much for this lovely Gift //
Coupons
| Submit by | Date | Coupon Code | Discount | Emitted/Used | Status |
| --- | --- | --- | --- | --- | --- |
| - | 6/5/2020 | MEDMAG-FREE-COURSE | 100% OFF | 40000/2711 | expired |
| Lee Jia Cheng | 6/13/2020 | FRIENDS-AND-FAM-15 | 50% OFF | | expired |
| - | 8/8/2020 | ADHD-AUG-1299 | 57% OFF | | expired |
| Lee Jia Cheng | 9/5/2020 | FREE-FROM-SEP4-SEP7 | 100% OFF | 40000/2520 | expired |
| Angelcrc Seven | 10/3/2020 | FREE-OCT-3-6 | 100% OFF | 40000/1984 | expired |
| Angelcrc Seven | 10/17/2020 | FREE-OCT-16-19 | 100% OFF | 40000/861 | expired |
| Angelcrc Seven | 11/7/2020 | FREE-NOV-6-9 | 100% OFF | 40000/2327 | expired |
| - | 11/19/2020 | FREENOV18TO21 | 100% OFF | 40000/1299 | expired |
| Angelcrc Seven | 11/29/2020 | BLACKFRI-CYBERMON | 100% OFF | 40000/733 | expired |
| Angelcrc Seven | 12/10/2020 | DEC9TO12 | 100% OFF | 40000/2323 | expired |
| Angelcrc Seven | 12/18/2020 | HOLIDAY-GIFT-18-20 | 100% OFF | 40000/1081 | expired |
| Angelcrc Seven | 12/22/2020 | HOLIDAYS | 100% OFF | 40000/923 | expired |
| - | 1/2/2021 | NEWYEARS | 100% OFF | 40000/1263 | expired |
| - | 1/6/2021 | JAN5THRU8 | 100% OFF | 40000/1678 | expired |
| AhmedELKING | 2/11/2021 | 4B9EA0BE48644197771C | 100% OFF | 40000/640 | expired |
| Angelcrc Seven | 3/2/2021 | 4D77876CB380E29F7D2B | 100% OFF | 40000/5329 | expired |
| - | 4/10/2021 | 76DEE833543A995DF899 | 100% OFF | 40000/2431 | expired |
| ahmed gomaa | 4/22/2021 | ACEA111B1DF3FD65B9D7 | 100% OFF | 40000/1643 | expired |
| - | 4/28/2021 | 29210B6B30445459C6A4 | 100% OFF | 40000/933 | expired |
| - | 5/5/2021 | 872C213D29210E7C84B3 | 100% OFF | 40000/1346 | expired |
| - | 5/22/2021 | EB46FD36051C9DA0F5C8 | 100% OFF | 40000/1012 | expired |
| - | 5/30/2021 | E4CFD4293221AD86BA62 | 100% OFF | 40000/2295 | expired |
| Angelcrc Seven | 6/12/2021 | CAD28541945A8CAB50F3 | 100% OFF | 40000/2242 | expired |
| - | 6/19/2021 | 0CD4D06BCDC6D693611C | 100% OFF | 40000/965 | expired |
| Angelcrc Seven | 6/27/2021 | 2D41C40EBA6EED141FAE | 100% OFF | 40000/2260 | expired |
| - | 7/7/2021 | 6F5882EBAB59334E6DC1 | 100% OFF | 40000/2399 | expired |
| Angelcrc Seven | 7/12/2021 | 7DD635D465B7AB43DA12 | 100% OFF | 40000/1494 | expired |
| Angelcrc Seven | 7/21/2021 | BE97D5FE78A6E1651C46 | 100% OFF | 40000/1269 | expired |
| - | 8/5/2021 | 32A71E8DC56095FFA45A | 100% OFF | 40000/166 | expired |
| Angelcrc Seven | 8/22/2021 | 4BEECD4BC5EA968EBF32 | 100% OFF | 40000/1101 | expired |
| Angelcrc Seven | 9/2/2021 | 0B1B2DAD7120B55BE3EF | 100% OFF | 40000/95 | expired |
| Angelcrc Seven | 9/15/2021 | 346D84424542CCE0B035 | 100% OFF | 40000/929 | expired |
| - | 9/28/2021 | 232CE28E9E843B11BB53 | 100% OFF | 40000/1177 | expired |
| - | 10/11/2021 | 76FF918B738F8E2BB020 | 100% OFF | 40000/832 | expired |
| - | 10/22/2021 | 0CF12F05652C0691EB65 | 100% OFF | 40000/910 | expired |
| Angelcrc Seven | 10/30/2021 | 8F2C3D8021E3967D2B7D | 100% OFF | 1000/742 | expired |
| Angelcrc Seven | 11/18/2021 | CAD918A187E6667B37D3 | 100% OFF | 1000/535 | expired |
| Angelcrc Seven | 11/29/2021 | D5B11EA7A7EC97C0A1B9 | 100% OFF | 1000/309 | expired |
| Angelcrc Seven | 12/13/2021 | 5C19A0048D4506E667F9 | 100% OFF | 1000/902 | expired |
| Angelcrc Seven | 12/21/2021 | 366280CE9BFE1D4843CA | 100% OFF | 1000/519 | expired |
| Angelcrc Seven | 12/31/2021 | 2DF1E5C424DE26EE6CAA | 100% OFF | 1000/163 | expired |
| Angelcrc Seven | 1/5/2022 | 0D9F862C41C6DB5EF662 | 100% OFF | 1000/597 | expired |
| Angelcrc Seven | 1/22/2022 | 3691E72BE307E085842D | 100% OFF | 1000/193 | expired |
| Angelcrc Seven | 1/29/2022 | CFBD86B6A1A8BB430492 | 100% OFF | 1000/585 | expired |
| Angelcrc Seven | 2/17/2022 | 46ADCE2AE82E3FD7415A | 100% OFF | 1000/184 | expired |
| Angelcrc Seven | 2/28/2022 | 43EE032BD5ABB6CA6F30 | 100% OFF | 1000/189 | expired |
| Angelcrc Seven | 3/10/2022 | 6BD6DF660FFBA37ABFA1 | 100% OFF | 1000/546 | expired |
| Angelcrc Seven | 3/20/2022 | B9839C8097C5E0C264DB | 100% OFF | 1000/169 | expired |
| Angelcrc Seven | 3/28/2022 | 22766F9EB11B00B1A536 | 100% OFF | 1000/448 | expired |
| - | 5/16/2022 | A307E5ACBF9923AEBB56 | 100% OFF | 1000/234 | expired |
| - | 5/24/2022 | CFBB47CCDB4D7E376CAF | 100% OFF | 1000/388 | expired |
| - | 6/4/2022 | 40D505043BBA0502E3BD | 100% OFF | 1000/557 | expired |
| - | 6/18/2022 | 7970EBF87652B0252AEE | 100% OFF | 1000/331 | expired |
| - | 7/1/2022 | 36914CD659D1A8A5D64E | 100% OFF | 1000/186 | expired |
| - | 7/12/2022 | 3026421E6E505D171304 | 100% OFF | 1000/154 | expired |
| - | 7/21/2022 | 9E3163C9845DF11D6D5A | 100% OFF | 1000/133 | expired |
| - | 8/2/2022 | 15A6DFCCACBFC0BF2D75 | 100% OFF | 1000/591 | expired |
| - | 8/11/2022 | 42B3EBE5B8C4CCDF56EA | 100% OFF | 1000/286 | expired |
| - | 8/28/2022 | 08B03DE65A98C80D762C | 100% OFF | 1000/955 | expired |
| - | 9/10/2022 | C434BA8AD727251C2F0C | 100% OFF | 1000/858 | expired |
| - | 9/27/2022 | 8695E573F28A5A9085F8 | 100% OFF | 1000/215 | expired |
| - | 10/1/2022 | BC851872CE88896F803B | 100% OFF | 100/93 | expired |
| - | 10/11/2022 | 517F28606E4AC6C3708D | 100% OFF | 100/93 | expired |
| - | 10/23/2022 | A74D0DB1E9CE6BEBB5B6 | 100% OFF | 1000/242 | expired |
| - | 11/15/2022 | 28C99BE69EEEB63548AA | 100% OFF | 1000/304 | expired |
| - | 11/23/2022 | A3FB503289F41C40124C | 100% OFF | 1000/186 | expired |
| - | 12/1/2022 | C4BD618A6250E10A600B | 100% OFF | 1000/249 | expired |
| - | 12/11/2022 | F6C3EFAF4348011CFEAC | 100% OFF | 1000/581 | expired |
| - | 1/10/2023 | 69BEA6657D68536DA4BB | 100% OFF | 1000/622 | expired |
| - | 1/23/2023 | 8192E8EAB8D6B199DA9E | 100% OFF | 1000/998 | expired |
| - | 1/30/2023 | 45B73A638264630F7F74 | 100% OFF | 1000/209 | expired |
| - | 2/18/2023 | 2E95D2550A09B8814098 | 100% OFF | 1000/298 | expired |
| - | 2/24/2023 | C23CFF14D08B318AD990 | 100% OFF | 1000/706 | expired |
| - | 2/28/2023 | DD39C55CA0FD7F92095D | 100% OFF | 1000/67 | expired |
| - | 3/14/2023 | 516F1050C893856ED9B4 | 100% OFF | 1000/200 | expired |
| - | 3/24/2023 | 019807C8B3EB60EBE31F | 100% OFF | 1000/184 | expired |
| - | 4/2/2023 | B8508D035BB30AE40176 | 100% OFF | 1000/521 | expired |
| - | 4/12/2023 | 4B326D59A44E737A2F94 | 100% OFF | 1000/295 | expired |
| - | 4/23/2023 | 995DCBDC32F24FD0D543 | 100% OFF | 1000/178 | expired |
| - | 5/1/2023 | D30FD84BECFC5C0F5AF3 | 100% OFF | 1000/335 | expired |
| - | 5/15/2023 | CB5ACE273A98B49DF637 | 100% OFF | 1000/107 | expired |
| - | 5/23/2023 | CDAA9248D54389B39C0E | 100% OFF | 1000/203 | expired |
| - | 5/30/2023 | BDFB0DF5F8460AD43920 | 100% OFF | 1000/126 | expired |
| - | 6/14/2023 | DCF8C1BF1DCEB5813A64 | 100% OFF | 1000/68 | expired |
| Angelcrc Seven | 6/21/2023 | 1CE9C91554E894FBA732 | 100% OFF | 1000/193 | expired |
| - | 7/25/2023 | E43AF3E7E00238E49A09 | 100% OFF | 1000/227 | expired |
| - | 8/1/2023 | EB2B1B63F444EB0B91A4 | 100% OFF | 1000/243 | expired |
| - | 8/12/2023 | 10F565C8750CAAA4D4FE | 100% OFF | 1000/308 | expired |
| - | 8/31/2023 | 5F9CDD5B6D276C193FBC | 100% OFF | 1000/218 | expired |
| - | 9/16/2023 | 5BE75F215FE0483C6CB1 | 100% OFF | 1000/39 | expired |
| - | 10/13/2023 | 76F587340ADB7090BD24 | 100% OFF | 1000/115 | expired |
| Angelcrc Seven | 10/23/2023 | BCFACBE0AA03040EEE80 | 100% OFF | 1000/62 | expired |
| Angelcrc Seven | 11/15/2023 | 6C8D8E548B98FF8A5384 | 100% OFF | 1000/162 | expired |
Charts
Price
Rating
Enrollment distribution
5/23/2020
course created date
6/5/2020
course indexed date