Media Training: The Media Interview Protection Plan
Media Training: Receive last-minute coaching on your media messages and sound bites from a media pro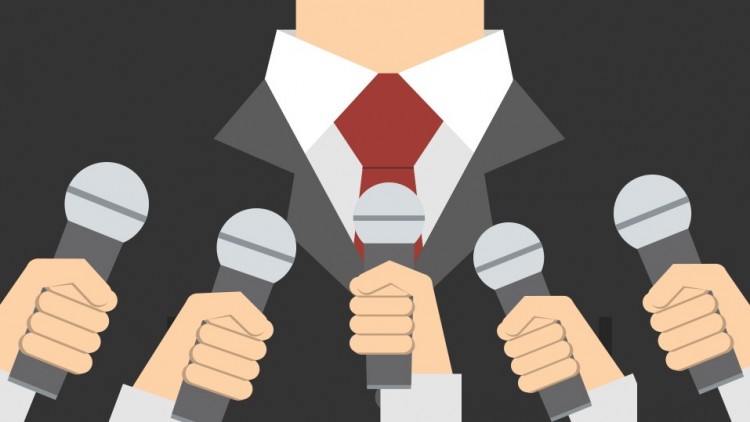 What you will learn
Create messages for media interviews
Answer reporters' questions
Speak in sound bites
Have confidence in being able to ace any media interview
Description
Media Training: The Media Interview Protection Plan
Imagine having complete confidence in how well you are going to do in your upcoming news media interviews. You can come across your best and get the exact quotes you want in the final story, even with little time to prepare.
The Media Interview Protection Plan - Media Training
In this "Media Interview Protection Plan" course you will learn how to be 100% prepared for your next media interview. Your message points, sound bites and visual appearance will be critiqued by TJ Walker, a world-renowned media trainer. By receiving independent feedback, you will be able to improve your message points, create great sound bites and deliver you answers with confidence. For when the stakes are high, you need a personalized media interview protection plan delivered by a true media training expert.
Why risk even one bad or average media interview? Sign up today for this course today.
There is a 100% Money-Back Guarantee for this Media Training course. And the instructor also provides an enhanced guarantee.

What will students achieve or be able to do after taking this Media Training course?
Create messages for media interviews

Answer reporters' questions

Speak in sound bites

Have confidence in being able to ace any media interview
Join us now!
Content
You Must Have This Specific Strategy Going Into Your Next Media Interivew
You Can Have the Highest Possible Standard for Your Interviews
Create Winning Messages This Way
Please Introduce Yourself
Succeeding in a Sample Interview
Learn the Magic of Creating Irresistable Sound Bites
Exciting New Update to this Course
Cheat Sheet
Final Rehearsal
Housekeeping Matters
Before We Start, Here is the #1 Tip to Improving Your Communication Skills
7 Steps For Getting the Most Out of this Course
Who is TJ Walker?
Your Questions Will Be Answered Here
Conclusion
Conclusion
Feedback
Update - You Should Get on the TikTok App Now
Extra videos
How to Look Your Best on TV - Overview
How to Frame a Media Message
How to Answer Questions in a Media Interview Overview
What is a Sound Bite Overview
A Media Message Answers all Basic Questions
Re-Write the Reporter's Questions in Media Interviews
The 5 Outcomes of Every Media Interview
Here Is How You Can Get your Certificate of Completion for this Course
Bonus Lecture
Reviews
"Develop a soundbite," needs more content. Needs more instructions, examples of good and bad, case studies, personal examples, et cetera, is a useless piece of advice and is a useless course.
Coupons
| Submit by | Date | Coupon Code | Discount | Emitted/Used | Status |
| --- | --- | --- | --- | --- | --- |
| Angelcrc Seven | 7/27/2021 | 9B8B0CE41F8DB696BE09 | 100% OFF | 40000/3070 | expired |
| - | 10/9/2021 | 5E533F7005ADC864DAB2 | 100% OFF | 40000/880 | expired |
| Angelcrc Seven | 9/4/2022 | 032CC2543B906D07D325 | 100% OFF | 1000/617 | expired |
| - | 7/19/2023 | 9E4E66BC86E5940A421A | 100% OFF | 1000/341 | expired |
| - | 9/18/2023 | ACED35D3B268B39880F9 | 100% OFF | 1000/248 | expired |
| - | 9/24/2023 | DDCE5EA8192FF2F1E59F | 100% OFF | 1000/72 | expired |
| - | 10/15/2023 | 688AC583C6F8B10B5DB4 | 100% OFF | 1000/217 | expired |
| - | 10/24/2023 | 43BAE2234587FF030BE9 | 100% OFF | 1000/167 | expired |
| - | 11/19/2023 | 1EC909E8AFE068678FD7 | 100% OFF | 1000/389 | expired |
Charts
Price
Rating
Enrollment distribution
11/10/2014
course created date
7/27/2021
course indexed date
Angelcrc Seven
course submited by