Master Classes for Web Designing Course (HTML, CSS, JS, SEO)
You will Learn 100% Web Development Professionally from 0 to End with HTML, CSS, JS, Creating Website or Templates & SEO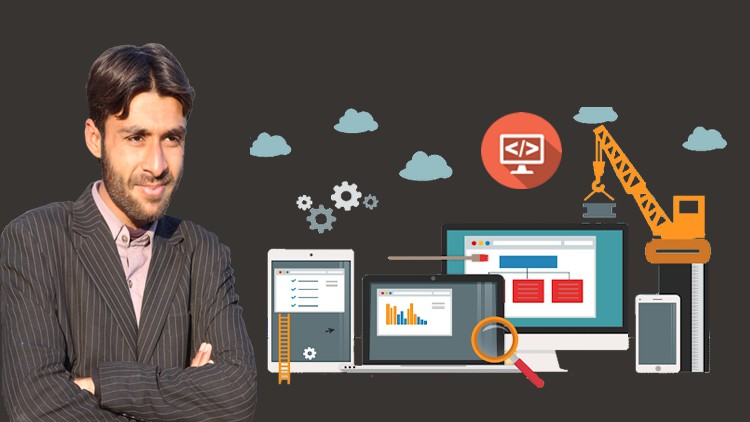 What you will learn
You can learn HTML, CSS, JavaScript, SEO, Complete Website and Web Templates Creation
You will be able to develop an attractive Website template
Website Structure and Layout, Complex as well simple
Learn Responsive web design
Website SEO (Search Engine Optimization)
Description
We are Updating every time this course!
This course is created by Faisal Zamir for beginner students who want to learn Web Designing from a basic level to reach an advanced level. So in this course, I created videos lectures in such a way that, a beginner will become a good front-end web designer, if he/she take an interest, do hard work, and practices.
You know, web designing is the process of creating or designing a website using different skills like HTML, CSS, JavaScript, Jquery, etc. There are different skills you have to learn if you take part in the website creating field. As in this course, we have added lectures that are very necessary for a student.
What is included in this web designing master classes course:
HTML: HTML is the hypertext markup language which is a basic and fundamental web language to create an abasic of website. For example, if you want to create a basic structure, insert any media field like image, video, or audios, or contouring width & height, or create and control text-based content, all these activities are done with writing code in HTML.
CSS: CSS is the cascading style sheet, which has responsibility for website look, beauty, and attraction. We cannot use only HTML for website creation, we need to learn CSS, which is must not optional. Because without HTML we cannot create a website using CSS and without CSS we cannot work with HTML. Because attraction, beauty, and good design of a website is the basic unit of a successful website. There are different topics you will learn in CSS classes like Margin & Padding, Animation, Text Effects, Transforms 2d and 3D, Dropdown menu, etc
JavaScript: Javascript is the programming language that is used to control the front end of a website. It is a famous and necessary web language that is taught by all instructors on online or offline platforms. There is powerful functionality we can get using JS with simple and easy code like HTML element controlling using DOM, Form validation, etc.
SEO: SEO is search engine optimization if you want to rank your website legally to all over the world to the audience. You have to market you have to do market for your website legally. So SEO is the technique that follows the legal way to rank or optimize your website in search engines. It is the basic rule of SEO, that you have to create a website in which way that, it should be liked by the search engines as well as your audience. So the website should be user-friendly as well as search engine friendly.
I update all course regularly, so you can ask any question at any time, if there is any issue with understanding any topic, I can create another version of a lecture that clear your concept.
Thank you and do hard work!
Content
Who is the Instructor?
Introduction to Instructor
Introduction
1 Introduction to HTML
HTML 4 Editors Explained
HTML Basic Structures with Full Explanation
HTML Tags and its Types with Examples
HTML Elements with Explanation
HTML Attributes with detailed Examples
HTML Headings and its Types
HTML Paragraphs with Explanation
HTML code, kbd and samp tag with examples
HTML Comments with Examples and Theoretical concepts
Reviews
Amazing process for a beginner web developer to an expert. Faisal Zamir sir is an amazing person to learn anything from him, I love this.
it is really good for us and we just learn alot of thong about this video .it is best for the beginners who have starting and growing their knowledge about the html and css.
For a professional Web Designer his Website is Pretty simple and build from wordpress. it seems like a Template i would not recommend this course for anyone.
It was a good match and I enjoyed every bit of it... The methods and ways used throughout the course was also good... Thank you so much
Mr. Faisal Web Development course serves as the fundamentals to ensure that even those who are not familiar with web development can follow along. His teaching style is fit for everyone as his videos are very detailed with examples.
I am watching this course, in which he explains each and every thing to clear student concept with examples. And instructor update this course on regular basis. Thank You
Coupons
| Submit by | Date | Coupon Code | Discount | Emitted/Used | Status |
| --- | --- | --- | --- | --- | --- |
| Athea | 10/20/2021 | 404FE8B599DE364BBE65 | 100% OFF | 40000/7215 | expired |
| - | 10/27/2021 | AFF000FC49004A640DDE | 100% OFF | 40000/8265 | expired |
| Angelcrc Seven | 12/10/2021 | A6D9233A825E0DD6382F | 100% OFF | 1000/948 | expired |
| - | 1/1/2022 | 1426091F538F1C889360 | 100% OFF | 1000/727 | expired |
| - | 1/6/2022 | 26C2557055792408D92C | 100% OFF | 1000/642 | expired |
| - | 2/2/2022 | 1F5E11C52E9E27296159 | 100% OFF | 1000/611 | expired |
| - | 2/7/2022 | 91E49A0D09B76AE41814 | 100% OFF | 1000/974 | expired |
| Angelcrc Seven | 2/17/2022 | C976DC34DC2D89F27F73 | 100% OFF | 1000/976 | expired |
| Ignacio Castro | 3/4/2022 | 9990BA4531024948BA43 | 100% OFF | 1000/908 | expired |
| - | 3/12/2022 | BF4B29F15215309D300A | 100% OFF | 1000/956 | expired |
| - | 3/23/2022 | 79C2BE5C769979CAF17A | 100% OFF | 1000/831 | expired |
| Angelcrc Seven | 4/4/2022 | 49E23D2B57CC9DF0C700 | 100% OFF | 1000/973 | expired |
| Angelcrc Seven | 4/15/2022 | 2843031E37F82F6C2DE1 | 100% OFF | 1000/979 | expired |
| Angelcrc Seven | 4/20/2022 | 8474C8C30A184F5EAA3E | 100% OFF | 1000/701 | expired |
| - | 5/6/2022 | BE34C2FCCDA01D2C853F | 100% OFF | 1000/862 | expired |
| - | 5/15/2022 | 2F930861D360DFF6176C | 100% OFF | 1000/927 | expired |
| - | 5/19/2022 | 2BFC065CC6F9A08D8112 | 100% OFF | 1000/841 | expired |
| - | 6/6/2022 | B90B9B1DDD158A2F6372 | 100% OFF | 1000/981 | expired |
| - | 6/10/2022 | 09B94E13009DA052F595 | 100% OFF | 1000/941 | expired |
| - | 6/17/2022 | DB6A7AD9A80D77C69863 | 100% OFF | 1000/816 | expired |
| - | 7/5/2022 | C8EA593D59DA97FBAFA6 | 100% OFF | 1000/993 | expired |
| - | 7/11/2022 | 669FA3DCA5161938CDDC | 100% OFF | 1000/661 | expired |
| - | 8/3/2022 | 5A9D4C57C31EA641929E | 100% OFF | 1000/609 | expired |
8/20/2021
course created date
10/20/2021
course indexed date