Master all the MS Excel Macros and the basics of Excel VBA
Learn automation of tasks with Excel Macros and Excel VBA With different Excel Projects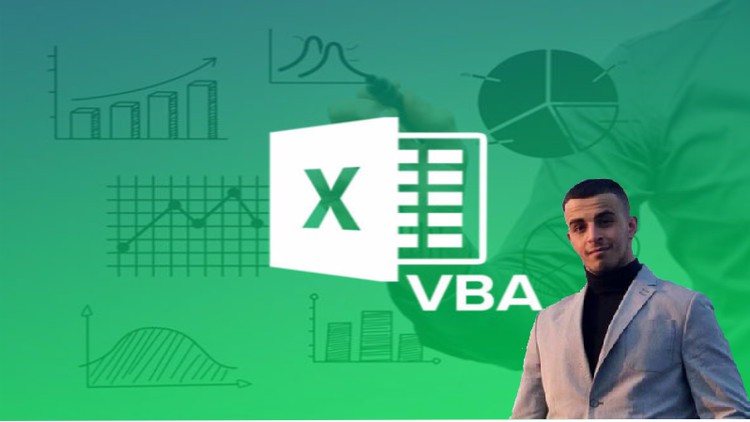 What you will learn
Create plenty of small projects to learn the basics of VBA
Understand VBA programming structure and concepts
Learn the best way to write a VBA code on Excel
Understand how to use the macro recorder
Be able to autome different tasks with VBA on Excel
Enhance your current Excel projects with VBA programming
Description
Working with microsoft Excel is not always easy and learning to automate your work with the use of VBA is even harder. Indeed, VBA is a programming language that is really useful in Microsoft Excel especially if you want to be able to automate all the tasks that you want to accomplish. If you :
- Are in school and want to learn how to program With VBA
- Need to learn Excel VBA for work or task automation
- Want to start a personal project that requires you to have Excel VBA knowledge
- Simply want to learn a new skill and improve your Excel knowledge
Then you will love this course. Not only you will by the end of this course have a complete understanding of how the VBA programming language works but you will also be able to use it on a daily basis to improve the quality of the projects that you are creating on Microsoft Excel for work school or any other personal reason.
The structure of the course
The way this course has been created is to help you learn all the Basics that are around the use of VBA with Microsoft Excel. Indeed, with this course you will at first learn the power of Macros with Microsoft Excel. This will already allow to automate the majority of the task that you are currently doing on Microsoft Excel. Then, When you will understand how to properly record your own macro you will learn all the programming behind a macros and write with the use of VBA your own macros. This way you will be able to autome every task that you are doing with microsoft Excel and make every program that you create way more efficient.
Also, another really important aspect about this course is that it will help you learn by practice. In other words, for each element that you will learn you will have a lot of practice. This goes for the macro recording part as well as for the macro creation part. Also, this course has plenty of small projects that are integrated. This will allow you to be able to use all the theoritical knowledge that will will learn and put it into application with this course.
For who is this course designed
If you have a passion for Microsoft Excel and always wanted to learn how to use this program in an efficient way, then this course is definetly for you. Indeed, this course have been created in order to help everyone that start it get all the information you need to be able to work efficiently with excel. Not only you will be able to create more advanced applications by integrating VBA and macros in your spreadsheet but you will also be able to make your life way easier by automating all your tasks. Also, all the futur programs or apps that you will create with Excel will have more advanced features and will become more easier to use.
Why should I take this course
If you want to learn how to properly work with VBA programming language and Microsoft Excel then you should definetly take a look at this course. Not only you will learn all the basics of Macros but you will also learn how to effectively write your own programs directly on microsoft Excel. This will alow you to be way more effective at work since you will know how to automate the majority of the tasks that you are currently doing on microsoft Excel.
There is no risk involved in taking this course
This course comes with a 100% satisfaction guarantee, this means that if your are not happy with what you have learned, you have 30 days ​to get a complete refund with no questions asked. Also, if there is any concept that you find complicated or you are just not able to understand, you can directly contact me and it will be my pleasure to support you in your learning.
This means that you can either learn amazing skills that can be very useful in your professional or everyday life or you can simply try the course and if you don't like it for any reason ask for a refund.
You can't lose with this type of offer !!
ENROL NOW and start learning today :)
Content
The basics
Introduction
What is Excel VBA
Understanding how an object oriented language work
Introduction to Excel for Developpers
Macro creation
Introduction to Macros Part 1
Introduction to Macros Part 2
Introduction to Macros Part 3
Introduction to Macros Part 4
Introduction to Macros Part 5
Introduction to Macros Part 6
VBA Programming
VBA Programming Part 1
VBA Programming Part 2
VBA Programming Part 3
VBA Programming Part 4
VBA Programming Part 5
VBA Programming Part 6
VBA and Details
VBA and Details Part 1
VBA and Details Part 2
VBA and Details Part 3
Conclusion
Reviews
There are only example of the VBA and no the understanding of the full code and how to use it. None the less i have learned many thing from this course.
Repetitive of the words made boring. More number of concepts expected. Not much difference have seen in different classes i mean repetitive of the topics.
First of all, the communication skills of the presenter are horrible. He uses the same expressions e.g. "basically", "pretty simple", "perfectly fine" in every other sentence. He does not seem to have a script, he seems to rather improvise what he wants to show. Often he says "I don't know" "maybe", "it's up to you", for example when naming macros. All this makes listening/following hardly bearable. The subtitles / transcript also contain a lot of wrong words and misleading phrases. Secondly, the course only shows how to use macros in very simple and limited cases, which have very few real world (e.g business) applications or are easier to implement with already existing excel functions (like format copying). I understand that one has to start with basic examples, but the presenter should move on from that to more difficult examples much faster. I got the course for free, so I am not going for a refund, but if I had paid for it, I would definitely complain to udemy.
Classes are good. Explanations are not that great. The programming tutorials should provide clear explanations, avoid unnecessary repetition, and include guidance on code formatting to better assist beginners in understanding coding concepts.
Please enable the Closed Caption feature to better understand the presentation. It's a struggle to understand the tutor's English.
Se o nome fosse "Apresentando macros do MS Excel e alguns conceitos básicos", daria 4.5 estrelas. Conteúdo extremamente básico; não combina com o nome do curso. Não acrescenta nada para quem já conhece Excel e VBA. Não trás conhecimentos suficientes para quem não conhece programação em VBA conseguir desenvolver suas aplicações. Quanto aos recursos didáticos: O microfone do professor estava baixo e com pouca nitidez na maior parte das aulas, atrapalhando o entendimento do que era dito (atrapalhava até o gerador de legendas, que não entendia direito o que era falado). O professor deveria ter deixado a configuração do Windows no modo "não perturbe" ou ter regravado as aulas onde alarmes do Windows tocaram e janelas de notificação apareceram; bem como quando sons do ambiente (cachorro latindo, etc) tiraram o foco do aluno da aula.
"I found the MS Excel course to be a great match for me. It equipped me with essential skills such as formulas, data analysis, and visualization. The practical approach of the course allowed me to apply what I learned to real-world scenarios, improving my efficiency in tasks and problem-solving. Overall, the course helped me grow both professionally and personally, and I now feel confident in using Excel for various purposes."
Every second word is either BASICALLY, SIMPLY, or PRETTY SIMPLE. Very annoying and hard to understand.
First of all thank you for the classes , New things can be added - pivots ,graphs, real time project and other functions.
The course is pretty basic. Only for beginners. Could have added more complex examples. Overall good course.
This course is good where you can learn about the basics of VBA. Can include some practice exercises.
The educator has experience and knowledge worth exploring by the students/preachers. And this is the second course of the same educator i have taken. The first one was the basics if excel. Nice. Easy to understand. Patient and calm voice to continue learning skills with.
This course talks about very basic Excel VBA content. If you are a new starter and know nothing, this course would definitely help a lot. If you already have some knowledge about how to write VBA code, this one is too simple to watch.
Mustafizur
October 17, 2022
Unnecessary explanation of same thing again and again, lack of practice challenge and VBA code is not explained.
Mohammad
September 14, 2022
pembelajarannya bagus dan seru hanya saja kurang adanya ilustrasi sehingga saya masih perlu memahami nya lebih dalam dan jauh lagi. Semoga kedepannya makin bagus.
Coupons
| Submit by | Date | Coupon Code | Discount | Emitted/Used | Status |
| --- | --- | --- | --- | --- | --- |
| - | 11/6/2020 | 2B0C92B296BA6FA31287 | 100% OFF | 40000/8254 | expired |
| - | 11/22/2020 | 04CEF68ABF308744B587 | 100% OFF | 40000/6776 | expired |
| Angelcrc Seven | 11/30/2020 | 84DA895ECD419AD5F50F | 100% OFF | 40000/2940 | expired |
| Angelcrc Seven | 12/16/2020 | 46CF461002EE046185A4 | 100% OFF | 40000/3457 | expired |
| Angelcrc Seven | 12/27/2020 | 1E87A7C0F52A60EB78CF | 100% OFF | 40000/3349 | expired |
| - | 1/3/2021 | B27CF98510E52E0F8EF0 | 100% OFF | 40000/7054 | expired |
| AhmedELKING | 1/26/2021 | 44FF1DD951590338C8F7 | 100% OFF | 40000/5958 | expired |
| AhmedELKING | 2/2/2021 | DB4CCBFCB63F4404C5CE | 100% OFF | 40000/4226 | expired |
| Angelcrc Seven | 2/11/2021 | 4FF5BCC6E38AF8AC34FD | 100% OFF | 40000/3028 | expired |
| - | 2/19/2021 | 7523C1FE134372234A66 | 100% OFF | 40000/1259 | expired |
| - | 3/2/2021 | 2BA667AA6B12B218E08F | 100% OFF | 40000/2259 | expired |
| - | 3/10/2021 | B538B6F93A4D45025CBA | 100% OFF | 40000/2720 | expired |
| Angelcrc Seven | 3/22/2021 | 27C4F2BE315B525430CB | 100% OFF | 40000/2931 | expired |
| - | 4/2/2021 | AA55B54A724ADF451BBE | 100% OFF | 40000/2873 | expired |
| - | 4/11/2021 | AAA082258890D50FE6AE | 100% OFF | 40000/2972 | expired |
| - | 4/20/2021 | 2BC4762E9ADA4A055BB0 | 100% OFF | 40000/4023 | expired |
| ANUBHAV JAIN | 5/2/2021 | 03221E8CA4718F9F5E58 | 100% OFF | 40000/4231 | expired |
| - | 5/12/2021 | 1ABCDD0594BCE61FA5B0 | 100% OFF | 40000/2118 | expired |
| - | 5/21/2021 | 3042D8EEF988F06215DC | 100% OFF | 40000/3756 | expired |
| - | 6/3/2021 | 479EF10DBE30A94A7B79 | 100% OFF | 40000/3743 | expired |
| - | 6/22/2021 | 584215B0276142433886 | 100% OFF | 40000/236 | expired |
| Angelcrc Seven | 7/3/2021 | 845AA5C559DD595584AA | 100% OFF | 40000/5994 | expired |
| Angelcrc Seven | 8/24/2021 | 0E585E2F1E92727EBCDC | 100% OFF | 40000/3243 | expired |
| Angelcrc Seven | 9/10/2021 | 72275261ABD8C1D335A5 | 100% OFF | 40000/3172 | expired |
| - | 9/18/2021 | E86BF6B4A648B034C8B3 | 100% OFF | 40000/2076 | expired |
| - | 9/28/2021 | COURSEROCKS.COM | 100% OFF | 40000/2759 | expired |
| - | 10/5/2021 | 6C3697AD1CDCCC30F9D5 | 100% OFF | 40000/3360 | expired |
| Angelcrc Seven | 10/23/2021 | 35830FBFF47D8F5F427E | 100% OFF | 40000/1964 | expired |
| - | 11/6/2021 | E96E3746EB9DF1C408EA | 100% OFF | 1000/655 | expired |
| Ignacio Castro | 11/27/2021 | 0DDC3EE83F8BF218388B | 100% OFF | 1000/839 | expired |
| Ignacio Castro | 12/6/2021 | FCDB518F418D999F0CE1 | 100% OFF | 1000/972 | expired |
| Angelcrc Seven | 12/20/2021 | BD3892FF730230508175 | 100% OFF | 1000/908 | expired |
| Angelcrc Seven | 12/28/2021 | EE3F6345DCE5B335768D | 100% OFF | 1000/983 | expired |
| Angelcrc Seven | 1/21/2022 | 2B8DC75B4448B803827F | 100% OFF | 1000/933 | expired |
| Angelcrc Seven | 2/6/2022 | EF46BA2B64AADD72F935 | 100% OFF | 1000/586 | expired |
| Angelcrc Seven | 2/13/2022 | 9EB31C6B62A1FEFBB3D7 | 100% OFF | 1000/967 | expired |
| Ignacio Castro | 2/24/2022 | E2AEB45EB16383973FEB | 100% OFF | 1000/957 | expired |
| Angelcrc Seven | 3/5/2022 | 40C86AE33BA2A6366264 | 100% OFF | 1000/937 | expired |
| Angelcrc Seven | 3/16/2022 | D7D5964C993DAB845D37 | 100% OFF | 1000/902 | expired |
| Angelcrc Seven | 4/16/2022 | CF8F91BFA64CA3C40887 | 100% OFF | 1000/830 | expired |
| Angelcrc Seven | 4/28/2022 | 777D6A9E770716805BCC | 100% OFF | 1000/669 | expired |
| Angelcrc Seven | 5/8/2022 | 82D0C4B4AC8CD6E18FF6 | 100% OFF | 1000/964 | expired |
| - | 5/16/2022 | 4FE321B7385D183DF363 | 100% OFF | 1000/992 | expired |
| - | 5/27/2022 | F9E98CEE404999851E04 | 100% OFF | 1000/815 | expired |
| - | 6/5/2022 | 261E72A2D2C0A34B1D09 | 100% OFF | 1000/811 | expired |
| - | 6/18/2022 | D750C55D923EFD2850BC | 100% OFF | 1000/992 | expired |
| - | 6/27/2022 | 86BC45223E7EF703F792 | 100% OFF | 1000/923 | expired |
| - | 7/6/2022 | 7637C2040F5182707D05 | 100% OFF | 1000/615 | expired |
| - | 7/16/2022 | 91073A8C07D8CFF07AC5 | 100% OFF | 1000/993 | expired |
| - | 8/8/2022 | B0FE0B41AF690E032E37 | 100% OFF | 1000/947 | expired |
| - | 8/16/2022 | 410BA9DD31DD6FDBEABA | 100% OFF | 1000/878 | expired |
| - | 8/26/2022 | 657773A975E1793A7392 | 100% OFF | 1000/987 | expired |
| - | 9/5/2022 | EF73AA5155AF95DD0EB1 | 100% OFF | 1000/964 | expired |
| - | 9/14/2022 | 7F04D5C2CAF02F2CD97A | 100% OFF | 1000/582 | expired |
| - | 9/23/2022 | 5DE0A8D79386335FA164 | 100% OFF | 1000/643 | expired |
| - | 10/6/2022 | BABAC0A1C784663BDF65 | 100% OFF | 1000/854 | expired |
| - | 10/21/2022 | 6139EF7585EB0F3D37CF | 100% OFF | 1000/737 | expired |
| - | 10/23/2022 | 57433410445471735B0A | 100% OFF | 1000/840 | expired |
| - | 11/5/2022 | 0340C919F7E089282077 | 100% OFF | 1000/923 | expired |
| - | 11/14/2022 | E4FCAB4C474193DD7846 | 100% OFF | 1000/823 | expired |
| - | 11/23/2022 | 53EAD24B8DE9FB878EA2 | 100% OFF | 1000/962 | expired |
| - | 12/4/2022 | C62EF8E9B4730D4E29A2 | 100% OFF | 1000/986 | expired |
| - | 12/14/2022 | F7F02AB7F5C57CC98395 | 100% OFF | 1000/977 | expired |
| - | 12/17/2022 | FD6D2E81AF220133D041 | 100% OFF | 1000/841 | expired |
| - | 1/5/2023 | 24B9FA09968D81BCEBB7 | 100% OFF | 1000/993 | expired |
| - | 1/15/2023 | 56E6D8E46A500D1FB956 | 100% OFF | 1000/891 | expired |
| - | 1/29/2023 | 170ECA9390E05D40B09F | 100% OFF | 1000/658 | expired |
| - | 2/5/2023 | 40446FA4EE5CDD295B65 | 100% OFF | 1000/889 | expired |
| - | 2/25/2023 | 7E3BBAB5C2BE70A5BAEE | 100% OFF | 1000/925 | expired |
| - | 3/5/2023 | BF761D9F1F62B73833A4 | 100% OFF | 1000/587 | expired |
| - | 3/16/2023 | 09015E4DBD752BB7891F | 100% OFF | 1000/997 | expired |
| - | 3/25/2023 | 7C100CE689CAC8227C13 | 100% OFF | 1000/816 | expired |
| - | 4/5/2023 | B1A6B8482824B69211C3 | 100% OFF | 1000/946 | expired |
| - | 4/16/2023 | 0078286C85354FD11619 | 100% OFF | 1000/978 | expired |
| - | 4/27/2023 | C12B365DA83BADC74B33 | 100% OFF | 1000/958 | expired |
| - | 5/6/2023 | DC25FDC420175D293A9F | 100% OFF | 1000/915 | expired |
| - | 5/26/2023 | 40C291F227B8536A9A06 | 100% OFF | 1000/953 | expired |
| - | 6/7/2023 | AF5C9D2162B623E877FE | 100% OFF | 1000/981 | expired |
| - | 6/23/2023 | 11DE45AB206956D6E129 | 100% OFF | 1000/972 | expired |
| - | 6/28/2023 | E45B34A8880FEAC9781C | 100% OFF | 1000/992 | expired |
| - | 7/6/2023 | 1F3D492137DC0152E4E3 | 100% OFF | 1000/919 | expired |
| - | 7/17/2023 | 6F798D15C6D167EBBFA6 | 100% OFF | 1000/912 | expired |
| - | 7/28/2023 | 1638F83EC274530B0E80 | 100% OFF | 1000/238 | expired |
| - | 8/14/2023 | 33373557F770D9BB02D8 | 100% OFF | 1000/738 | expired |
| - | 8/28/2023 | A677FD01841B649CE865 | 100% OFF | 1000/797 | expired |
| - | 9/7/2023 | 44937BB121EC51333F32 | 100% OFF | 1000/971 | expired |
| - | 9/15/2023 | 66DF50161F33F0B70650 | 100% OFF | 1000/938 | expired |
| - | 10/7/2023 | 20D7AA11834211D2E6C6 | 100% OFF | 1000/918 | expired |
| - | 11/6/2023 | A9C7B0F3A1B3F5190123 | 100% OFF | 1000/759 | expired |
| - | 11/21/2023 | C30A3142EBFA6959BDF3 | 100% OFF | 1000/982 | expired |
Charts
Price
Rating
Enrollment distribution
11/3/2020
course created date
11/6/2020
course indexed date