A Mini Course on Time Management
7 steps you can use immediately to become more productive and master time management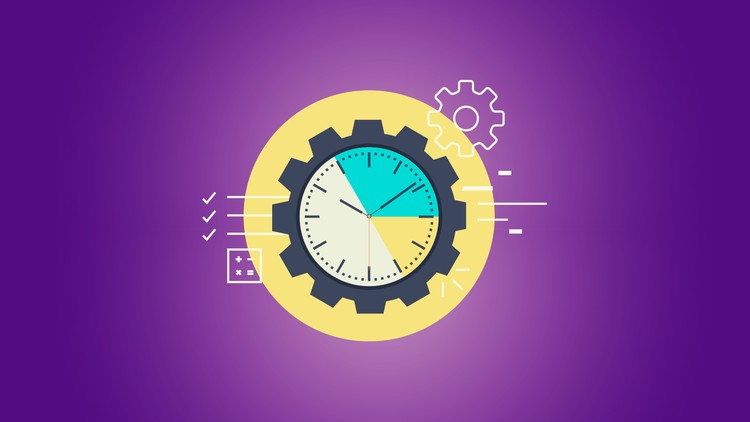 What you will learn
Use these 7 specific steps to immediately increase your productivity
Avoid one of the biggest time management traps almost everyone falls into
Description
QUESTION: What If You Could Get Twice As Much Done Tomorrow As You Have Any Day This Year?
Six years ago, I was sitting in the passenger seat of a car with my friend.
My friend turns to me and says "It's incredible how much I've gotten done in this year! So much has changed."
And all I could do is smile. Because for me, almost nothing had changed.
The truth is that we all want to use your time well. But in order to do so, you need to know certain principles you'll never learn in school.
I didn't want to face another year where nothing changed. That's why I went after the answers. And it's also why I made this course.
Inside, I'm going to share with you 7 specific steps you can take today to become more productive, taken from my course How To Double Your Productivity By Tomorrow Morning. If you take these ideas and apply them, I think you'll become more productive than you ever have before.

Here's a sample of what you'll learn inside:
These two words from a 2,000 year old book completely changed how I look at Time Management. Here's what they are, and how to use them [Lecture 2]


The "Time Management Trap" - If you don't know what it is, chances are you're making it [Lecture 3]


What to do every morning to skyrocket your productivity [Lecture 4]


How you can do 3 hours of work in 1 hour [Lecture 5]


How to always know what to work on [Lecture 6]


Why you need to make these 3 plans to manage your time well [Lecture 7]


The 80/20 Rule no one talks about and is more important to productivity [Lecture 8]


My Time Management Worksheets - I'll give them to you so you can use them now [Lectures 9 & 10]


Why achieving your goals is like filling a water bucket [Lecture 11]
And more...
To start the course, just click the "Start Learning Now" button. It's short, and free...
See you inside,
Brandon
Content
Framework
Everything You Need To Know About This Course
The 2,000 Year Old "Secret"
The Time Management Trap You Need To Avoid
7 Specific Steps To Becoming More Productive
What You Need To Do Every Morning
How To Set Up Your Work Time
What To Work On (it's not as obvious as you think)
Make These 3 Plans To Make Massive Progress
The "Other" 80/20 Rule
The "Time Management Sheet" Part 1
The "Time Management Sheet" Part 2
Next Steps
Time Management and a Bucket of Water
BONUS: Want More?
Reviews
The course is definitely informative, and it provides good information on how to effectively manage your time.
This was hands down the best course i came across on udemy about Time management.. The explanation was so clear and simple to understand. I really needed this. I also have a question. Is there a possibility where you can conduct a course on Active listening? That would also be really helpful for me:). Thanks alot for your time.
This course is really nice to give you a new perspective on time and your daily routine to improve your time investment, especially when nowadays it is just the era of short attention spans and a lot of distractions. Thank you Brandon
I'm still taking the course. This popped up on Lesson 5, in the middle of the course. So far, I feel like it will help me grow my capabilities and be more productive.
While I'm sure this course is beneficial, I found the speaker to be very drab and did not grab my attention at all. Unfortunately, I will be discontinuing this course.
Great course! I got a lot of nuggets out of this that I'm ready to start implementing into my daily ritual. Ready to jump start my morning off right and just bought my timer and am ready to chunk time so I can focus on my 10x activities for each day!
I took the course because I felt like most of my time was being wasted in ventures / rituals that did not give me a return. I was right. This course was a true eye-opener and well worth my time investment.
The instructor is super focused on delivering the core techniques and all of them seems practical and valuable to implement in our routine.
It was a really good course, short and specific! I believe he hits the nail on the head when it comes to the majority of people. I could benefit from these simple yet effective approaches to making more of (investing) our time. GTL
The topics were good. I liked the reference to the Miracle Morning and SAVERS. I've read the book and practiced SAVERS in the past. There were some different ways of doing things discussed in the training I found beneficial. The 4 stars instead of 5 rating is due to the visual aspect of the training. The titles in the background made it hard to read the content. It also would be nice to have the presenter on video for at least part of the training. Overall a good course.
This course had some new perspectives on managing your time and deciding what is important for your daily success.
Yes, its a very good course, I am going to right away start implementing the Morning Ritual, work on the tasks which give me highest returns and most importantly to not find excuses to not do my work. thanks for giving this free.
Was, not what I was expecting, but it was a good surprise overall. I believe that somethings might not apply to me directly my I can adjust just a little to make it work. It was helpful
Have taken many time management courses and this one provides good reminders of how to manage your time
The use of background text/text watermarks behind the primary text on screen is visually jumbled and distracting. The content is okay and I agree with the concepts presented, but so far they are fairly simple and could be presented in a shorter amount of time. Time-management! :)
Charts
Price
Rating
Enrollment distribution
3/18/2016
course created date
8/15/2019
course indexed date