INTERNET MARKETING MASTERY - Learn how to Earn Money Online
Discover Location Independent Careers that Allow You to Travel the World While You Work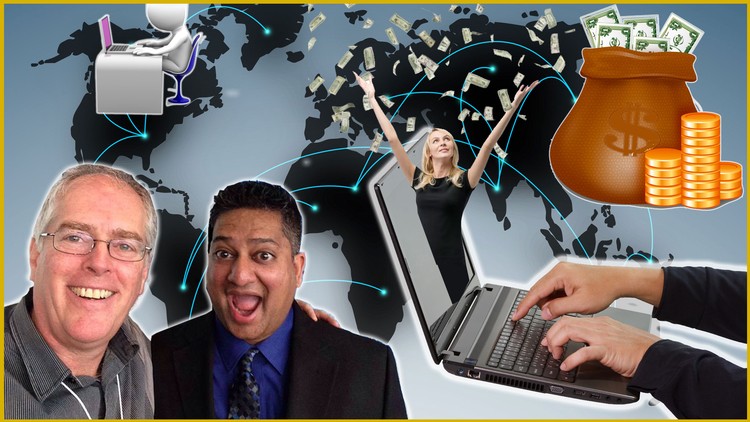 What you will learn
Discover the opportunities available for remote workers
Have ideas for income earning businesses, freelance and careers that are location independent
Description
Traveling the world is the dream for many people. There are thousands of exotic places to visit and we are constantly inundated with magazines full of amazing photographs of incredible scenery.
The problem is Time and Money.
In this course, Scott Paton and Ricky Shetty teach you the options you have for making location independent careers and businesses. Imagine cruising down the NIle River in Egypt, while working on a pet project for a well-paying client.
Today, you embark on the first stage of that journey, deciding what area of business you will be an expert in. After this course, you will have a starting point for either using the skills you already have or deciding on Skills and talents to develop as you prepare for a new lifestyle: Digital Nomad!
Don't wait! Register today!
Content
Generate Multiple Streams of Location Independent Income
Be the Obvious Expert
Video Courses
Coaching
Group Coaching and Masterminds
Kindle Books
Website & Graphic Design
Social Media Marketing
Affiliate Marketing
Teaching ESL
Wrap Up
Join our Facebook Group
Help your Fellow Students
[Bonus]
Special Thank You!
Reviews
the content is pretty practical but as for me as a first encomer to this series of courses it left a disappointing impression in the begging because of the shooting location beauty and light wasn't cool in addition to some internet lag but then i got attracted more and more to the content
Cant beleive people paid for this, (i got it free) has made me think there is money to be made on the internet. Some very basic video recording made on webcams, with some basic ideas and suggestion on how to make money, example, maybe write a ebook, make a website, make videos, make poor udemy course :D....etc just Google Internet meony tips would be better than folling this course.
This course is full of great information. There are lots of takeaways and great ideas on how to make money abroad. During this course you should definitely keep a notepad next to you or put notes into your cell. The more courses I complete of Scott and Ricky's the more excited I get about starting my blog and earning money while travelling!
It's worth of my time to learn about this course. It opened me a lot of possibilities working in a digital nomad.
It's all a bit generic, I'm not learning much at all. The quality of the video content is pretty poor
Absolutely no substance. Looks like teaching: "how to write an e-book about how to write an e-book about how to write an e-book...and so on" Who does not know what it means.....google a bit ...It's like herbalife or other ponzies. Really "how to become Digital Nomad"???....what a waste of time...go on YouTube and get 10x more professional, valuable and with less total non-sense videos.
The course offers useful information about how to be a digital nomad and get your liberty back. Thank you Scott and Ricky for the inspiration.
No new info for me This course helped me realize that i can get free info if I just search a bit more on the internet The course was not worth 10 Pounds. It's worth 1 Pound. Want my money back ( 9 pounds) :-j
This course provides several practical ideas on what we can do to to provide multiple streams of income. I am going to try this out over the next few weeks, by multipurposing some of my existing projects, just to see what I can do. Excellent motivational and educational course.
It explains step by step how to start an independent business - either if you want to do it in you spare time, at home, OR decide to pack and travel the world. The course gives enough resources to start small and make it as large as you want! The secret is simple: take action and follow the steps outlined in the course!
I loved the way they elaborated multiple ways of income as it is very important and we have to be consistent and don't give up.
I love this course. Great ideas on how to generate an income while traveling have been discussed closely in a friendly and easy to follow way. I highly recommend this course to anyone who wants to earn an income while traveling or at home. Good ideas for working at home also. Thanks Guys!
Short but very good course on becoming a digital Nomad. Especially the part about coaching is interesting to me, as well as working as a conversational language teacher. Also I'm very excited about the Facebook group - clear recommendation!
I've been following Scott's courses for a long time now. He's a highly skilled instructor and always over delivers. What got me excited about this course is, this is where I am now. I'm currently transitioning out of my brick and mortar business, creating specialised online courses and coaching programs while looking to release the shackles. I'm working towards a life where all I need is a laptop and an internet connection! If you want to break free from the nine to five and you're looking for the answers to enjoying location independent income while being a sought after expert in your field then this course will help equip you with the skills and confidence to move forward.
Coupons
| Submit by | Date | Coupon Code | Discount | Emitted/Used | Status |
| --- | --- | --- | --- | --- | --- |
| - | 1/28/2020 | 2DF9A261E2AD7A84FBEE | 100% OFF | | expired |
| Angelcrc Seven | 4/9/2020 | EXPIRESAPR11 | 100% OFF | 40000/2694 | expired |
| - | 7/24/2020 | IMMEMOEXPJULY272020 | 100% OFF | 40000/92 | expired |
| - | 7/24/2020 | TMSDNEXPJULY272020 | 100% OFF | 40000/41 | expired |
| - | 10/30/2020 | ILMMLHEXPNOV2020 | 100% OFF | 40000/2649 | expired |
| - | 1/16/2021 | IMMLHJAN182021 | 100% OFF | 40000/5170 | expired |
6/2/2017
course created date
11/21/2019
course indexed date