Make Effective & Easy Marketing Videos Using InVideo
Learn simple, effective techniques to make beautiful social media & web promo videos using InVideo
Video & Mobile Marketing
category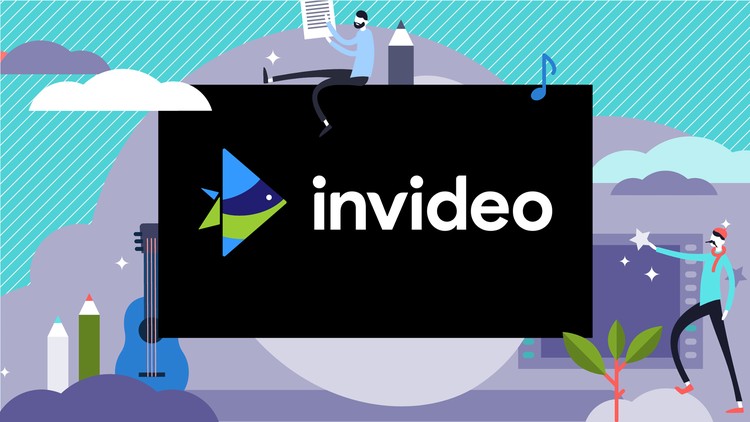 What you will learn
Learn to create marketing videos for Instagram stories, Facebook videos, Whatsapp videos, etc. to promote your business
Learn everything you need to know to get started quickly and effectively using InVideo
Create professional eye-catching videos that grab people's attention online
Description
Are you ready to take charge and learn quick and easy methods for creating and editing powerful web and social media promo videos.

Whether you are an entrepreneur, employee, content creator, teacher, author, or social media maven, over the last few years it has become CRUCIAL to know how to do a little bit of everything online, including how to make your brand stand out with videos.
With this course as your guide, you'll learn how to confidentially and professionally create and manage your OWN unique marketing and promo videos for your website, blog, eCourse, eBook, presentations, or social media pages.
-No design skills required.
-No expensive software required.
-Beginners and busy people welcome.
Save time, money, and sanity by learning how to finally make your own videos without having to always pay someone else to do them for you.
In this course you will learn:
Easy and quick ways to create professional web & social media videos in minutes using InVideo (*FREE and premium accounts available.)

Learn the most essential and useful tools in InVideo

Absorb the most important video design principles as we work together making real social media videos for a real business

Understand how to better choose and organize type, images, colors, and layout in your videos

How to take your regular logo and put it on a transparent background in four minutes or less

Get a birds-eye view of the design process from concept to final product by following step by step case studies.
This course was created especially for complete beginners as well as people who fight with technology who want to gain new and valuable video-making skills that can be used every day. You can watch and follow along with me as I show you through case studies how I make professional-looking social media videos using the drag n' drop web-based video program, InVideo.
Empower yourself now by enrolling in this course and join our growing learning community! Click the "Take This Course" button in the upper right corner and let's get started building your new video creation skills using InVideo today.
Who this course is for:
Entrepreneurs and business owners that want to create attention-grabbing videos - FAST!

Marketing Professionals

Advertisers

Social Media enthusiasts

Freelancers

Soloprenuers
Content
Introduction
Introduction to InVideo
Get Started
Creating Videos
Using Pre-Made Templates
Article to Video
Blank Template
Bonus Lecture- Additional Content
Bonus Lecture
Reviews
The teacher teaches how to make good videos in just 30 minutes, the audio of the teacher's voice is very bad, the sound is very low, but it is possible to learn.
I had bigger expectations, but as a beginner guide it's not that bad. Recommended for people who haven't use any kind of video editing software and would like to start from somewhere. If you came from Adobe Premiere or similars it's really easy to do anything without explanations.
I did not know that video is made by using Invideo. Great system. But the teacher should speak a little bit louder and clearly.
no video audio clarity just a pure waste of money best go to youtube and you will get much better videos
This is a poor training. It just shows basics of using Invideo which you can pick up very easily from the InVideo website. I was expecting in-depth tutorials on how to get the best out of inVideo, but each video was a basic run through on just 3 of the InVideo options. Unless more in-depth topics are to be added later, this would only be useful to anyone wanting to see some of the things you can do with InVideo, and I suspect you can find that out and more on the InVideo slaes page.
Coupons
| Submit by | Date | Coupon Code | Discount | Emitted/Used | Status |
| --- | --- | --- | --- | --- | --- |
| Lee Jia Cheng | 6/10/2020 | JUNEFREE | 100% OFF | 40000/5108 | expired |
| Angelcrc Seven | 6/18/2020 | INVIDFREE | 100% OFF | 40000/2155 | expired |
| - | 6/26/2020 | INFREE | 100% OFF | 40000/519 | expired |
| - | 7/2/2020 | JULFREE | 100% OFF | 40000/369 | expired |
| Lee Jia Cheng | 8/27/2020 | FREEBIEEE | 100% OFF | 40000/3038 | expired |
| - | 9/13/2020 | DA238635F4D620503A15 | 100% OFF | 40000/2062 | expired |
| - | 10/14/2020 | 88AF420A37BEB210A213 | 100% OFF | 40000/869 | expired |
| Angelcrc Seven | 10/30/2020 | 0A965651FE372FC54A9D | 100% OFF | 40000/556 | expired |
| - | 11/8/2020 | OCTSALE | 94% OFF | | expired |
| - | 11/20/2020 | 1D034C5933877792A48E | 100% OFF | 40000/1861 | expired |
| mouzz | 11/25/2020 | 72F5910C8DC3137955CA | 100% OFF | 40000/867 | expired |
| - | 12/19/2020 | 3EF159FA8F7D57237E4C | 100% OFF | 40000/1212 | expired |
Charts
Price
Rating
Enrollment distribution
5/16/2020
course created date
6/10/2020
course indexed date
Lee Jia Cheng
course submited by