Decision Trees, Random Forests, AdaBoost & XGBoost in Python
Decision Trees and Ensembling techniques in Python. How to run Bagging, Random Forest, GBM, AdaBoost & XGBoost in Python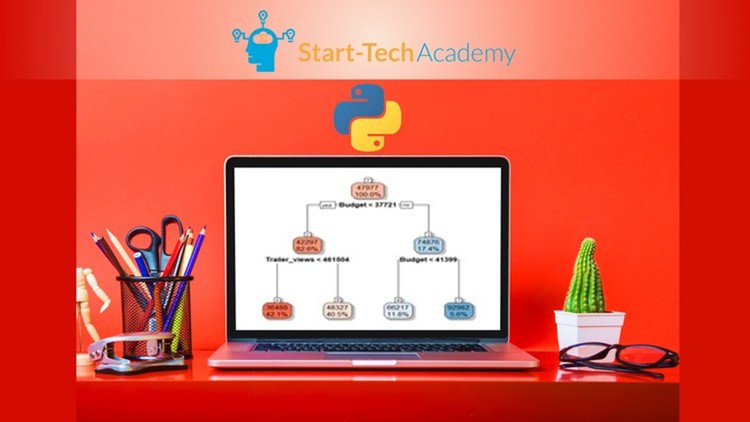 What you will learn
Get a solid understanding of decision tree
Understand the business scenarios where decision tree is applicable
Tune a machine learning model's hyperparameters and evaluate its performance.
Use Pandas DataFrames to manipulate data and make statistical computations.
Use decision trees to make predictions
Learn the advantage and disadvantages of the different algorithms
Description
You're looking for a complete Decision tree course that teaches you everything you need to create a Decision tree/ Random Forest/ XGBoost model in Python, right?
You've found the right Decision Trees and tree based advanced techniques course!
After completing this course you will be able to:
Identify the business problem which can be solved using Decision tree/ Random Forest/ XGBoost of Machine Learning.

Have a clear understanding of Advanced Decision tree based algorithms such as Random Forest, Bagging, AdaBoost and XGBoost

Create a tree based (Decision tree, Random Forest, Bagging, AdaBoost and XGBoost) model in Python and analyze its result.

Confidently practice, discuss and understand Machine Learning concepts
How this course will help you?
A Verifiable Certificate of Completion is presented to all students who undertake this Machine learning advanced course.
If you are a business manager or an executive, or a student who wants to learn and apply machine learning in Real world problems of business, this course will give you a solid base for that by teaching you some of the advanced technique of machine learning, which are Decision tree, Random Forest, Bagging, AdaBoost and XGBoost.
Why should you choose this course?
This course covers all the steps that one should take while solving a business problem through Decision tree.
Most courses only focus on teaching how to run the analysis but we believe that what happens before and after running analysis is even more important i.e. before running analysis it is very important that you have the right data and do some pre-processing on it. And after running analysis, you should be able to judge how good your model is and interpret the results to actually be able to help your business.
What makes us qualified to teach you?
The course is taught by Abhishek and Pukhraj. As managers in Global Analytics Consulting firm, we have helped businesses solve their business problem using machine learning techniques and we have used our experience to include the practical aspects of data analysis in this course
We are also the creators of some of the most popular online courses - with over 150,000 enrollments and thousands of 5-star reviews like these ones:
This is very good, i love the fact the all explanation given can be understood by a layman - Joshua
Thank you Author for this wonderful course. You are the best and this course is worth any price. - Daisy
Our Promise
Teaching our students is our job and we are committed to it. If you have any questions about the course content, practice sheet or anything related to any topic, you can always post a question in the course or send us a direct message.
Download Practice files, take Quizzes, and complete Assignments
With each lecture, there are class notes attached for you to follow along. You can also take quizzes to check your understanding of concepts. Each section contains a practice assignment for you to practically implement your learning.
What is covered in this course?
This course teaches you all the steps of creating a decision tree based model, which are some of the most popular Machine Learning model, to solve business problems.
Below are the course contents of this course on Linear Regression:
Section 1 - Introduction to Machine Learning

In this section we will learn - What does Machine Learning mean. What are the meanings or different terms associated with machine learning? You will see some examples so that you understand what machine learning actually is. It also contains steps involved in building a machine learning model, not just linear models, any machine learning model.

Section 2 - Python basic

This section gets you started with Python.

This section will help you set up the python and Jupyter environment on your system and it'll teach you how to perform some basic operations in Python. We will understand the importance of different libraries such as Numpy, Pandas & Seaborn.

Section 3 - Pre-processing and Simple Decision trees

In this section you will learn what actions you need to take to prepare it for the analysis, these steps are very important for creating a meaningful.

In this section, we will start with the basic theory of decision tree then we cover data pre-processing topics like missing value imputation, variable transformation and Test-Train split. In the end we will create and plot a simple Regression decision tree.

Section 4 - Simple Classification Tree

This section we will expand our knowledge of regression Decision tree to classification trees, we will also learn how to create a classification tree in Python

Section 5, 6 and 7 - Ensemble technique
In this section we will start our discussion about advanced ensemble techniques for Decision trees. Ensembles techniques are used to improve the stability and accuracy of machine learning algorithms. In this course we will discuss Random Forest, Baggind, Gradient Boosting, AdaBoost and XGBoost.
By the end of this course, your confidence in creating a Decision tree model in Python will soar. You'll have a thorough understanding of how to use Decision tree modelling to create predictive models and solve business problems.
Go ahead and click the enroll button, and I'll see you in lesson 1!
Cheers
Start-Tech Academy
------------
Below is a list of popular FAQs of students who want to start their Machine learning journey-
What is Machine Learning?
Machine Learning is a field of computer science which gives the computer the ability to learn without being explicitly programmed. It is a branch of artificial intelligence based on the idea that systems can learn from data, identify patterns and make decisions with minimal human intervention.
What are the steps I should follow to be able to build a Machine Learning model?
You can divide your learning process into 4 parts:
Statistics and Probability - Implementing Machine learning techniques require basic knowledge of Statistics and probability concepts. Second section of the course covers this part.
Understanding of Machine learning - Fourth section helps you understand the terms and concepts associated with Machine learning and gives you the steps to be followed to build a machine learning model
Programming Experience - A significant part of machine learning is programming. Python and R clearly stand out to be the leaders in the recent days. Third section will help you set up the Python environment and teach you some basic operations. In later sections there is a video on how to implement each concept taught in theory lecture in Python
Understanding of Linear Regression modelling - Having a good knowledge of Linear Regression gives you a solid understanding of how machine learning works. Even though Linear regression is the simplest technique of Machine learning, it is still the most popular one with fairly good prediction ability. Fifth and sixth section cover Linear regression topic end-to-end and with each theory lecture comes a corresponding practical lecture where we actually run each query with you.
Why use Python for data Machine Learning?
Understanding Python is one of the valuable skills needed for a career in Machine Learning.
Though it hasn't always been, Python is the programming language of choice for data science. Here's a brief history:
In 2016, it overtook R on Kaggle, the premier platform for data science competitions.
In 2017, it overtook R on KDNuggets's annual poll of data scientists' most used tools.
In 2018, 66% of data scientists reported using Python daily, making it the number one tool for analytics professionals.
Machine Learning experts expect this trend to continue with increasing development in the Python ecosystem. And while your journey to learn Python programming may be just beginning, it's nice to know that employment opportunities are abundant (and growing) as well.
What is the difference between Data Mining, Machine Learning, and Deep Learning?
Put simply, machine learning and data mining use the same algorithms and techniques as data mining, except the kinds of predictions vary. While data mining discovers previously unknown patterns and knowledge, machine learning reproduces known patterns and knowledge—and further automatically applies that information to data, decision-making, and actions.
Deep learning, on the other hand, uses advanced computing power and special types of neural networks and applies them to large amounts of data to learn, understand, and identify complicated patterns. Automatic language translation and medical diagnoses are examples of deep learning.
Content
Introduction
Welcome to the Course!
Course Resources
Setting up Python and Python Crash Course
Installing Python and Anaconda
Opening Jupyter Notebook
Introduction to Jupyter
Arithmetic operators in Python: Python Basics
Strings in Python: Python Basics
Lists, Tuples and Directories: Python Basics
Working with Numpy Library of Python
Working with Pandas Library of Python
Working with Seaborn Library of Python
Machine Learning Basics
Introduction to Machine Learning
Building a Machine Learning Model
Simple Decision trees
Basics of decision trees
Understanding a Regression Tree
The stopping criteria for controlling tree growth
The Data set for the Course
Importing Data in Python
Missing value treatment in Python
Dummy Variable creation in Python
Dependent- Independent Data split in Python
Test-Train split in Python
Creating Decision tree in Python
Evaluating model performance in Python
Plotting decision tree in Python
Pruning a tree
Pruning a tree in Python
Simple Classification Tree
Classification tree
The Data set for Classification problem
Classification tree in Python : Preprocessing
Classification tree in Python : Training
Advantages and Disadvantages of Decision Trees
Ensemble technique 1 - Bagging
Ensemble technique 1 - Bagging
Ensemble technique 1 - Bagging in Python
Ensemble technique 2 - Random Forests
Ensemble technique 2 - Random Forests
Ensemble technique 2 - Random Forests in Python
Using Grid Search in Python
Ensemble technique 3 - Boosting
Boosting
Quiz
Ensemble technique 3a - Boosting in Python
Ensemble technique 3b - AdaBoost in Python
Ensemble technique 3c - XGBoost in Python
Quiz
Add-on 1: Preprocessing and Preparing Data before making ML model
Gathering Business Knowledge
Data Exploration
The Dataset and the Data Dictionary
Importing Data in Python
Univariate analysis and EDD
EDD in Python
Outlier Treatment
Outlier Treatment in Python
Missing Value Imputation
Missing Value Imputation in Python
Seasonality in Data
Bi-variate analysis and Variable transformation
Variable transformation and deletion in Python
Non-usable variables
Dummy variable creation: Handling qualitative data
Dummy variable creation in Python
Correlation Analysis
Correlation Analysis in Python
Conclusion
Conclusion
Bonus Lecture
Reviews
A very good course. I think it would be excellent with a more detailed explanation on the topic of decision trees and ensemble models. and ensemble models. About code and explanation in python was excellent. I highly recommend it.
the speed at which the course is taught is excellent.. Description of concepts is very good and the explanation helps in immediate application i=of the concepts
Could have been more comprehensive with math behind decision tree. There was no mention of information gain which defines how a split happens.
It was very nice. I would note that you can also use the code below in lieu of dropping a category after using pd.get_dummies: df = pd.get_dummies(df,drop_first=True)
It's very good course to introduce you into ML in Python. The course is focused on practice. I'd add more theory but probably it is better as it is for majority of students :)
Awesome Course. This Course Content is up to mark according to industry requirements. One must join this course to master Decision Trees, Random Forests to take their skills to the advanced level.
The course was really well explained. I appreciated the theory as well as the practical work covered in the course!
The course is good but suffers from terrible and pathetic english. One of the instructors pronounce jupyter notebook as JUPITER notebook. Also the course is not engaging at all because of the way instructors speak. The instructors should make a script and give it to some one who can speak well. Really disappointed. Communication has completely ruined this course which otherwise could have been something great.
Not good at all. Zero Elaboration on why parameters should be chosen. Anyone can read the documentation, was expecting more.
Tirthankar
February 1, 2021
Great course! Very simple to understand and makes the student confident for self-exploration of these topics. However, the PPTs/Theory Lectures could have been made way better & interesting. Therefore, not giving a 5* even though I would definitely recommend this course to anyone who is serious about advanced ML topics.
Instructor is not engaging. it is such an interesting topic but the instructor slow delivery is pulling the life out of it. The presentation that we are looking at, the written martial is complicated and not at all easy to understand. the presentation could have been a bit easy and more understandable and interesting. Conclusively : this course is Difficult to understand.
This is a very good course on DT and RF. As mentioned in the feedback for Linear Regression course, please consider adding more questions/tests in regular interval between the topics. Thank you for such a wonderful course.
Overall good course, only missed some related case study which uses decision trees to solve their problems
Step by step walk through of a quasi real life analysis. Very straight forward to learn how to code different tools. Some concepts are only introduced. For example it would help a slide to explain confusion matrix or how ensemble techniques get to a final score.
It was amazing and really informative course and an excellent instructor, my thanks for both of them and thank you Udemy.
Coupons
| Submit by | Date | Coupon Code | Discount | Emitted/Used | Status |
| --- | --- | --- | --- | --- | --- |
| - | 12/11/2019 | DEC2019FREE | 100% OFF | | expired |
| - | 12/24/2019 | 2019DECFREE | 100% OFF | | expired |
| Lee Jia Cheng | 1/20/2020 | JANFREE2020 | 100% OFF | | expired |
| Lee Jia Cheng | 1/30/2020 | JAN2019FREE | 100% OFF | | expired |
| - | 3/13/2020 | MARCH2020 | 67% OFF | | expired |
| - | 4/13/2020 | APRILFREE20 | 100% OFF | 40000/5849 | expired |
| Lee Jia Cheng | 4/21/2020 | APRIL2020F | 100% OFF | 40000/7409 | expired |
| - | 4/28/2020 | APRIILFREE20 | 100% OFF | 40000/3532 | expired |
| Lee Jia Cheng | 5/2/2020 | MAY2020F | 100% OFF | 40000/2569 | expired |
| Lee Jia Cheng | 5/15/2020 | MAY20FRE | 100% OFF | 40000/4199 | expired |
| Lee Jia Cheng | 5/27/2020 | MAYTRI2020 | 100% OFF | 40000/4011 | expired |
| Lee Jia Cheng | 6/9/2020 | JUNEFIR2020 | 100% OFF | 40000/3306 | expired |
| - | 7/4/2020 | JULY4AH | 100% OFF | 40000/4890 | expired |
| Angelcrc Seven | 8/12/2020 | SUGFR20 | 100% OFF | 40000/9270 | expired |
| ahmed.mustafa.1982@gmail.com | 8/30/2020 | AUGLAS2020 | 100% OFF | 40000/9867 | expired |
| Angelcrc Seven | 9/19/2020 | XSEPTION | 100% OFF | 40000/1768 | expired |
| Angelcrc Seven | 9/29/2020 | CONSEPT2020 | 100% OFF | 40000/5530 | expired |
| Angelcrc Seven | 10/10/2020 | OCTFREE20 | 100% OFF | 40000/4102 | expired |
| - | 10/27/2020 | OCTXXVI20 | 100% OFF | 40000/377 | expired |
| - | 11/17/2020 | NOVXVI20 | 100% OFF | 40000/2904 | expired |
| Angelcrc Seven | 7/23/2021 | DTRF1JU | 100% OFF | 40000/11500 | expired |
| - | 8/22/2021 | DTPYAUFR1 | 100% OFF | 40000/3816 | expired |
| - | 10/23/2021 | DTRO1FRF | 100% OFF | 40000/4314 | expired |
| - | 2/8/2022 | F0FC5B | 100% OFF | 1000/777 | expired |
| - | 3/3/2022 | F95EA4B | 100% OFF | 1000/761 | expired |
| - | 3/31/2022 | M7131EE | 100% OFF | 1000/947 | expired |
| - | 4/11/2022 | A1800F5 | 100% OFF | 1000/800 | expired |
| - | 4/30/2022 | OWVCPI | 100% OFF | 1000/984 | expired |
| - | 5/7/2022 | CJFMUW | 100% OFF | 1000/920 | expired |
| - | 5/18/2022 | BJSPHY | 100% OFF | 1000/949 | expired |
| - | 5/31/2022 | SCNGPGZ | 100% OFF | 1000/979 | expired |
| - | 6/30/2022 | ZNQPSHY | 100% OFF | 1000/823 | expired |
| - | 7/8/2022 | FDWACQY | 100% OFF | 1000/997 | expired |
| - | 7/17/2022 | ZUEQHEO | 100% OFF | 1000/979 | expired |
| - | 7/30/2022 | UUPZOOC | 100% OFF | 1000/821 | expired |
6/6/2019
course created date
11/20/2019
course indexed date